As you should know by now, our attention has now shifted to the 2016 NFL Draft as it relates to the prospects. From now until the draft takes place, we hope to profile as many draft prospects as we possibly can for you. Most of these player profiles will be centered around prospects the Pittsburgh Steelers are likely to have interest in.
Breakdown of Texas Tech running back DeAndre Washington.
#21 DeAndre Washington/RB Texas Tech: 5'8/2 204
The Good
– Compact build, thick, powerful lower half
– Laterally quick, lower half allows him to plant and explode off either foot, makes cut and gets upfield with explosiveness
– Tough runner, breaks arm tackles, difficult to bring down with just one defender
– High football IQ, excels on zone schemes, reads flow of DL and reacts to it quickly, showing the ability to bounce and bend runs
– Ability to create in small space makes him an asset as a route runner, capable of separating underneath
– Works hard in scramble drills, makes self a reliable checkown/safety valve
– Willing pass protector, identifies rush, and gets square with moderate success
– Extremely productive career who got a lot of work out of the backfield
The Bad
– Will get knocked for overall size
– Doesn't have breakaway speed
– Small hands (9 inches) and creates some issues catching and holding onto the football
– Cuts have to be more decisive, too much wasted motion breaking down and making defender miss
– Does not have a return background
– Bounced back but has one serious injury on his record
Bio
– 2015: 1492 yards rushing, 6.4 YPC, 14 TDs, 41 receptions
– Career: 3411 yards rushing, 5.6 YPC, 23 TDs, 124 receptions
– Tore ACL in right knee in November of 2011, missed and redshirted in 2012
Tape Breakdown
Washington, like several of the players I've profiled, was someone I was introduced to down in Mobile for the Senior Bowl. Though his game didn't jump out at me, it's tough to gauge a running back in non-tackling drills anyway, he's someone I've kept in the back of my mind since.
It's easy to think playing at Texas Tech, he didn't get many chances to touch the ball and benefited from its spread scheme. But neither of those are entirely true. He definitely did get tons of opportunities to run the ball, Texas Tech built their offense a good deal around the run, similar to what Chip Kelly has done. While they were a primarily zone run team, I saw power, dart, and work out of two back sets, something you don't get in a "standard" spread look.
Washington was productive and didn't just have wide open lanes to run in. He's able to create and make players miss in space while showing power and the ability to run through arm tackles. Powerful lower half and shows the balance to break these two Baylor tackles for a first down.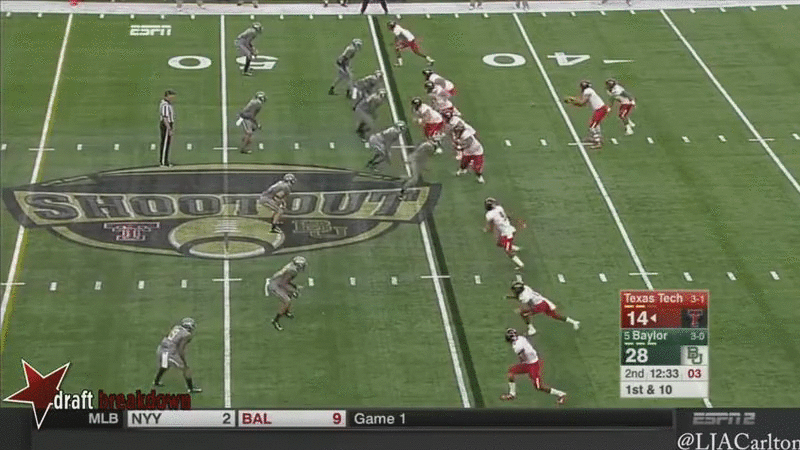 You see the quickness too, with that lower half able to plant and change directions. Like here one-on-one versus TCU.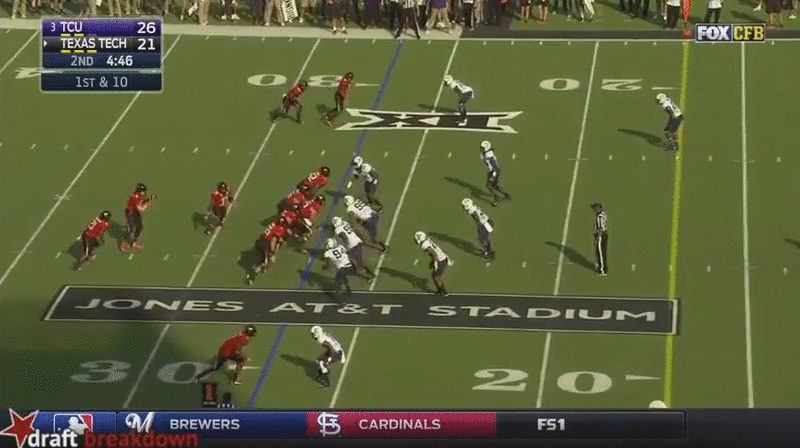 He combines that with a football IQ and ability to find the lane, even outside the structure of the play, without dancing and creating big negative losses. Hole opens up to the right on the goal line and Washington has the lateral agility and vision to find, hit it, and score.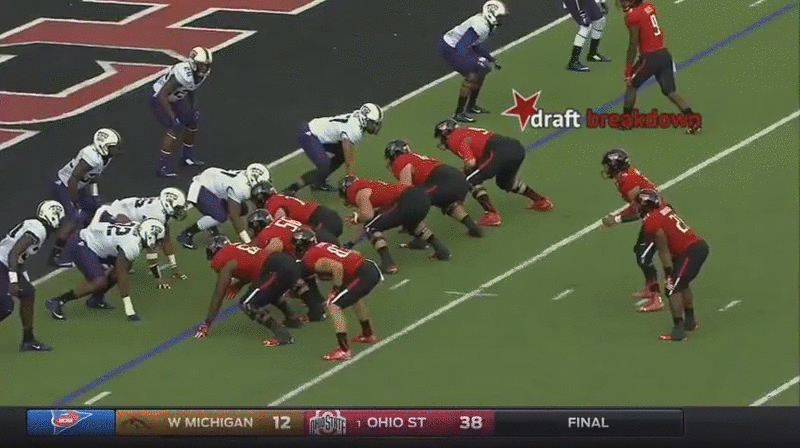 One more from the TCU game. Again, Washington has the vision to see the LDE's hat crash down, bouncing this run off tackle to the perimeter for a nice pickup.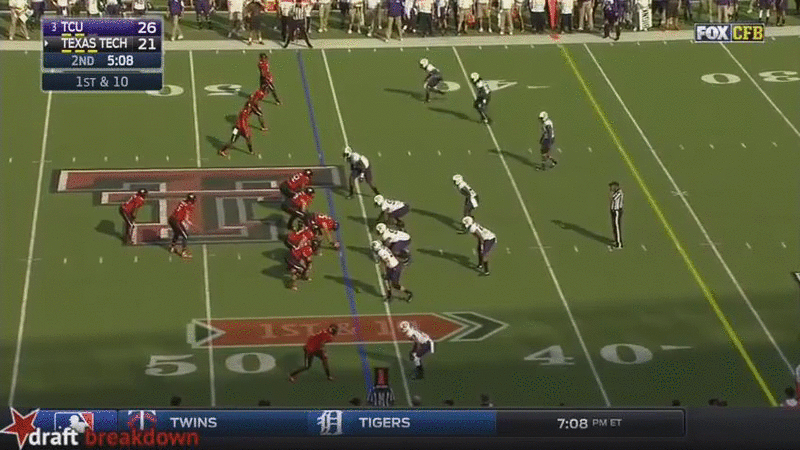 I admire his fearlessness in pass protection too. Even if he isn't perfect, he quickly identifies the blitz and gets square, having the low center of gravity to do a decent job of anchoring.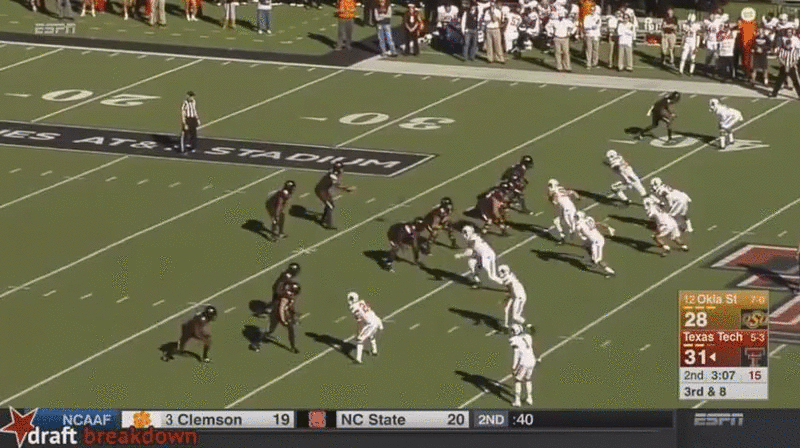 The negatives weren't prevalent and some things, like a lack of breakaway speed, are a little difficult to show in GIFs. Though in his career, he finished about middle of the pack in career fumbles, I saw two in the three games I watched. Sometimes, they're created by Washington working so hard to extend the play, he's susceptible to gang tackles and guys trying to pry the football out.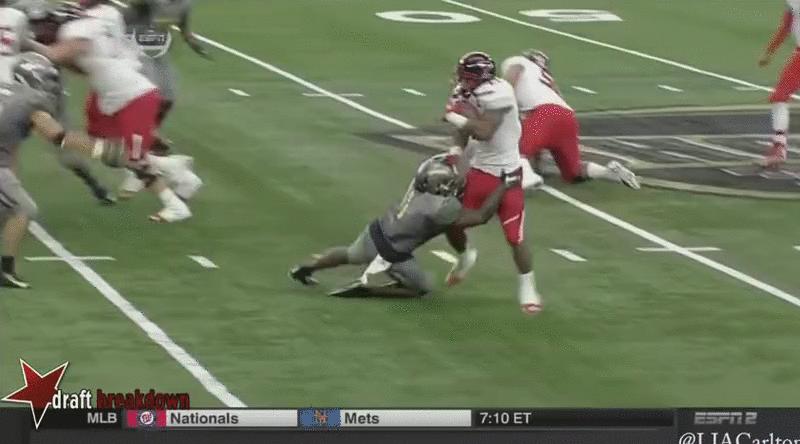 This comparison is pretty obvious given their size, and unfortunately, it carries a negative connotation now, but there's a pretty clear Ray Rice comparison to make here. On the field, they're similar in size, explosiveness, pass protection, and work out of the backfield. Washington also reminds me a bit of Bilal Powell of the New York Jets.
Washington's name gets lost in an above average class of backs, there are a ton of players I like, and he's going to wind up being strong value to someone on Day 3.
Projection: Early 4th
Games Watched: vs TCU, at Baylor, vs Oklahoma St, Senior Bowl