As you should know by now, our attention has now shifted to the 2016 NFL Draft as it relates to the prospects. From now until the draft takes place, we hope to profile as many draft prospects as we possibly can for you. Most of these player profiles will be centered around prospects the Pittsburgh Steelers are likely to have interest in.
Another day, another corner. Look at small school sleeper Harlan Miller.
#1 Harlan Miller/CB SE Louisiana: 5'11/7 180
The Good
– Aggressive, finds and attacks the football, and plays catch points very well with his length
– Skinny lower half but able to transition out of pedal quickly and decent explosion, covers ground in a hurry
– Capable of tracking the ball over his shoulder in man coverage, times his jumps well
– Shows change of direction ability and overall, stays in-phase on man coverage
– Reads QB eyes well, understands route combinations, and though he gambles, creates big plays
– Attempts to be a physical corner, willing to press, and knows when to release to avoid penalties
– Experience as field and boundary corner
– Punt return value
– Quality starting experience and a productive career
The Bad
– Awful frame, rail-thin, skinniest lower half of perhaps any draftable prospect in this year's class
– Aggressive to a fault, takes chances, goes for the interception too often, will have to be reined in because he's vulnerable of getting beat
– Drag down tackle because of his frame, struggles to get off blocks, and should not be counted on in run support
– Straight line speed is questionable (4.65 40)
– Small school, did not face much FBS competition, one school over last two years
Bio
– Three-time First Team All-Conference as a DB, First-Team Conference as a PR in 2015
– Senior Bowl invite, had a great week and held own versus FBS competition
– 2015: 49 tackles, 4 INTs
– 11 career interceptions
– Returned 15 punts for 157 yards in 2015, long of 38
Tape Breakdown
Miller is one of the more popular small school players and really earned buzz after an excellent, consistent Senior Bowl week. That's huge for anybody but especially a small school guy like him, who had limited exposure to top-flight competition.
He's an aggressive, attacking player, who uses his length to play the pocket as well as you can ask for. Guy just makes plays on the football.
You'll see it here on this hitch route against Ohio.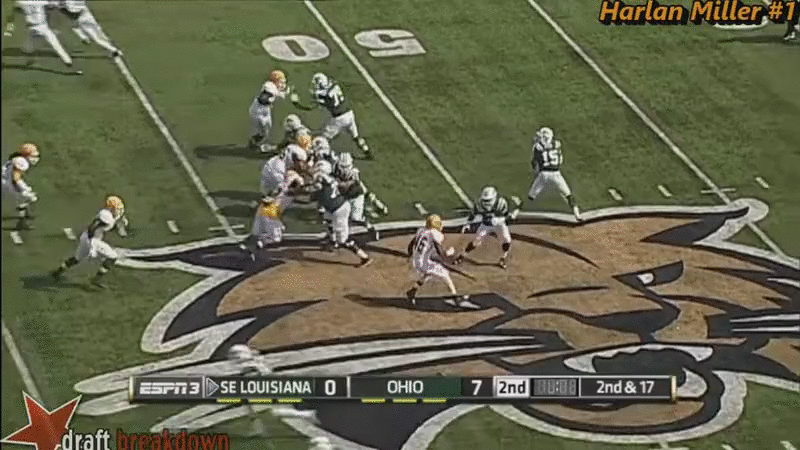 And here vertically in a big-game moment versus Nicholls State. It's a risky play, and he's all some separation, but the gamble pays off.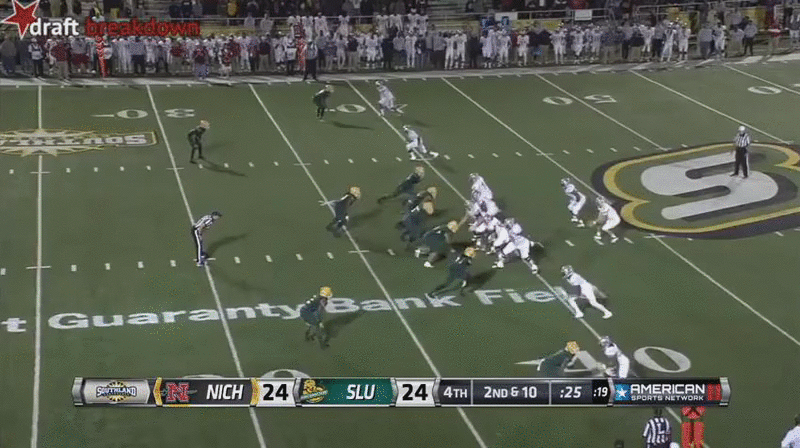 In off man, he reads the eyes of the quarterback and jumps this route at the top of your screen, picking the pass off.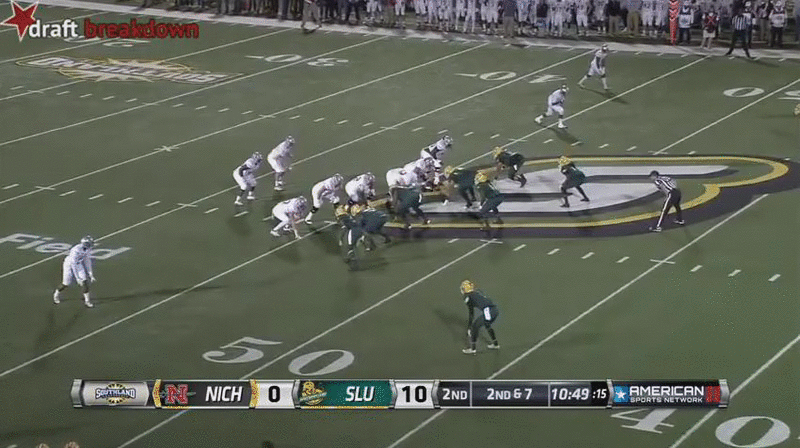 But Miller's aggressiveness exists to a fault and too often, he was so hungry for the interception, he'd get beat over the top or allow the catch. Here's an example of the latter.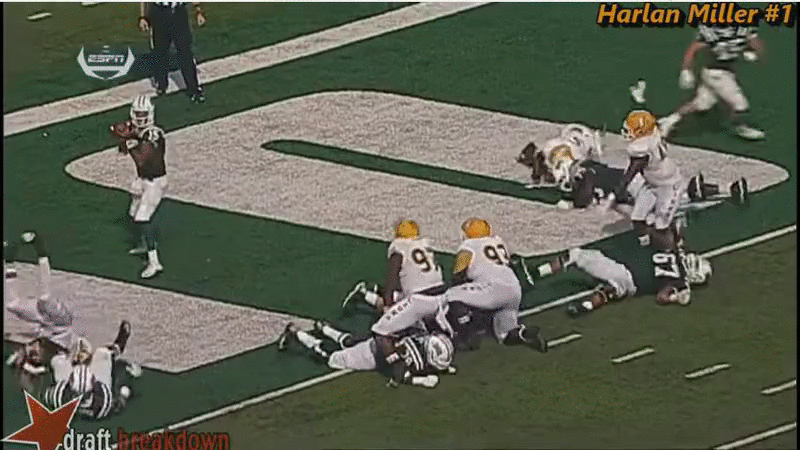 This should have never been a catch. Miller has the breakup, at the least, but goes for the pick, lags behind, and gives it up.
And here, he's peaking in the backfield as the receiver scoots behind, moving the sticks on third down.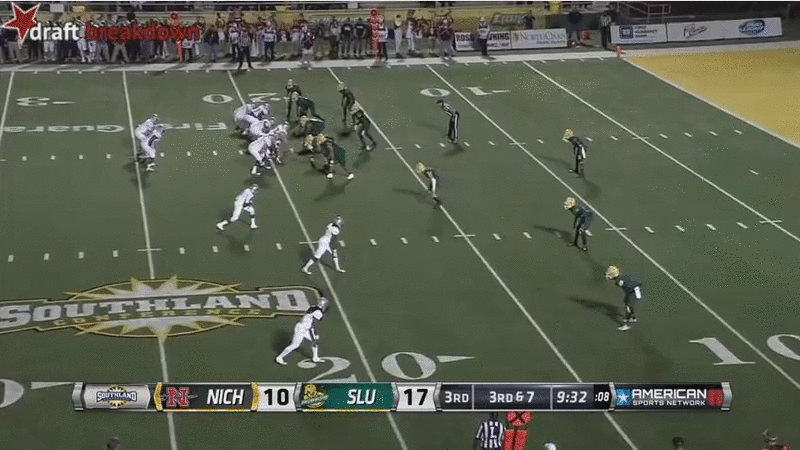 His frame is simply awful. He's tall, sure, but has no muscle. Incredibly thin player with ankles that look like mine. That was shown in his testing where he didn't impress in the broad (9'10") or the agility drills (4.43, 7.44) which were some of the poorest times of his group. Maybe he trained locally and not somewhere else and didn't get as much time to put in, who knows, but the numbers aren't great. His 40 time was slow, too, and that's big when trying to compare a player's speed against FCS competition. 4.65 isn't cutting it.
He also did just six reps on the bench press, the fewest of anyone at Indy. I'm legitimately afraid his ankle is going to snap off one game. Must bulk up.
You'll see those issues on the tape, too. Whether it's getting washed by stalk blocks or struggling to drag down big, bruising running backs.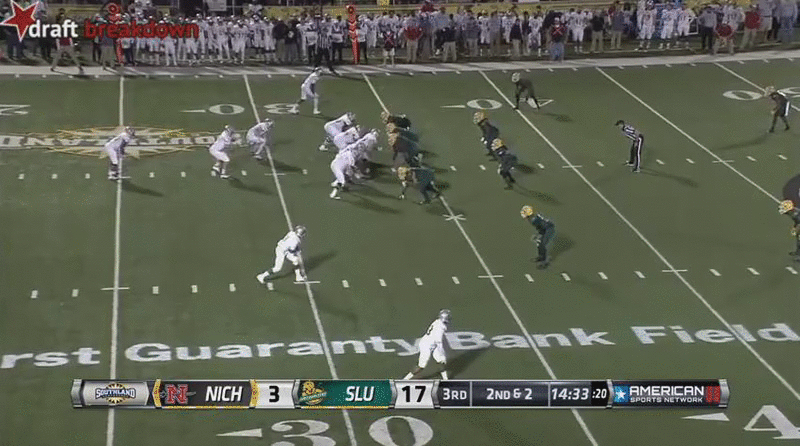 Had id not been for the help he received, Miller is going on a ride no corner wants to take. It isn't that Miller is contact adverse. He just isn't built to deal with it.
I liken him a bit to Asante Samuel. A little bit taller but thin-frame ballhawks who would give little in the run game but could be a menace in the secondary. He has traits to excel in man or zone coverage, though I'd be more inclined to put him in the former. But he, like most small school players, are raw, and again, his frame has to be totally reworked.
If you saw my post yesterday, you know Pittsburgh simply doesn't go after small school corners. So a fit here would be unlikely, but in three years, Miller could make an impact in the league.
Projection: Mid-Late 4th
Games Watched: at Ohio, vs Nicholls St, Senior Bowl