As you should know by now, our attention has now shifted to the 2016 NFL Draft as it relates to the prospects. From now until the draft takes place, we hope to profile as many draft prospects as we possibly can for you. Most of these player profiles will be centered around prospects the Pittsburgh Steelers are likely to have interest in.
A profile of one pre-draft visitor. Miami (FL) strong safety Deon Bush.
#2 Deon Bush/SS Miami (FL): 6'1 205
The Good
– NFL frame, cut and certainly looks the part
– Shows explosion on tape and in timed numbers (36 inch vertical, 10'3" broad)
– Monster hitter, loves contact, and will be regarded as an enforcer over the middle
– Seems to take proper angles to the football
– Disciplined in run fills, competent alley defender
– Shows impressive range as a centerfielder and able to contest catch points
– Played variety of assignments, single high, I the box, slot corner
– Special teams coverage experience, even in 2015
– Turnover creator, even if it didn't always come in the form of interceptions
The Bad
– Needs to be a more disciplined, consistent tackler, misses too many
– Aiming point on tackles over the middle has to be lower, at risk for personal fouls
– Timed speed is not fantastic (4.64) and profiles more of a strong safety
– Hips look a little stiff coming downhill and changing direction versus the run
Bio
– 32 game starter over four years
– 2015: 50 tackles, 3 TFL, 1 INT
– Career: 168 tackles, 10 TFL, 9 FFs, 4 INTs
– Forced four fumbles in 2014
– Four star recruit out of high school
– Miami, FL native
Tape Breakdown
Bush is a classic what you see is what you get. I don't want to say he can't play in coverage but it's certainly not where he's going to thrive. And that's our real goal here when we boil down to it. How will a player best succeed? If we can't determine that, or take advantage of it, then the player has little chance of success.
Simply, Deon Bush can hit you in your earhole. Absolutely destroys Tyler Boyd over the middle.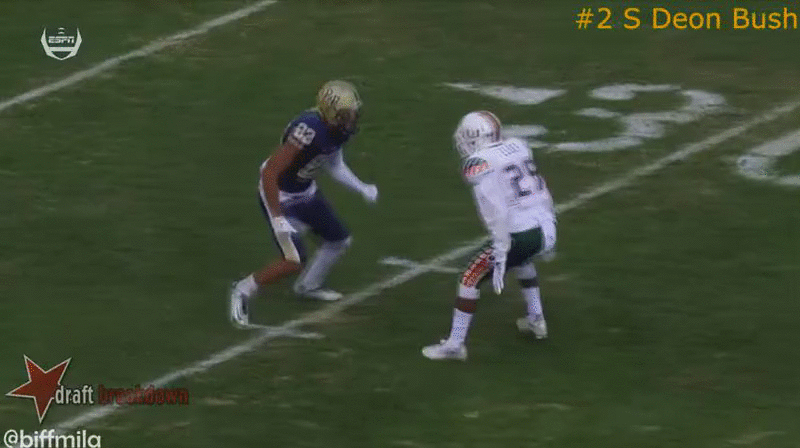 Or this one covering a kick versus FSU in 2014, forcing a fumble the Hurricanes would recover.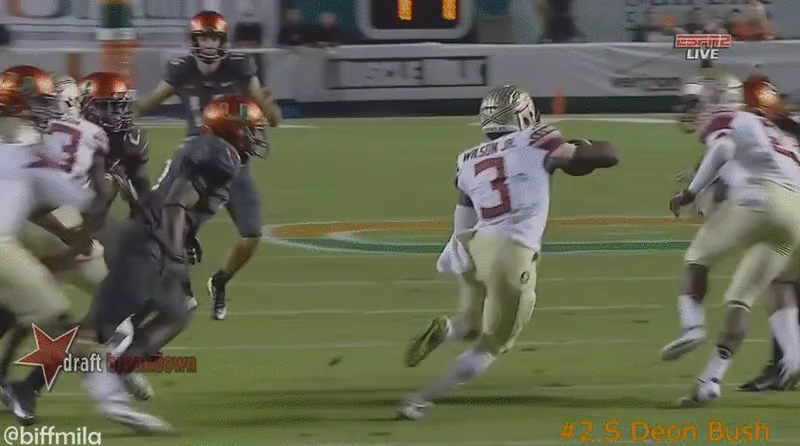 Or how about this one on the first play against Nebraska? Play that Robber technique and he'll crush you over the middle.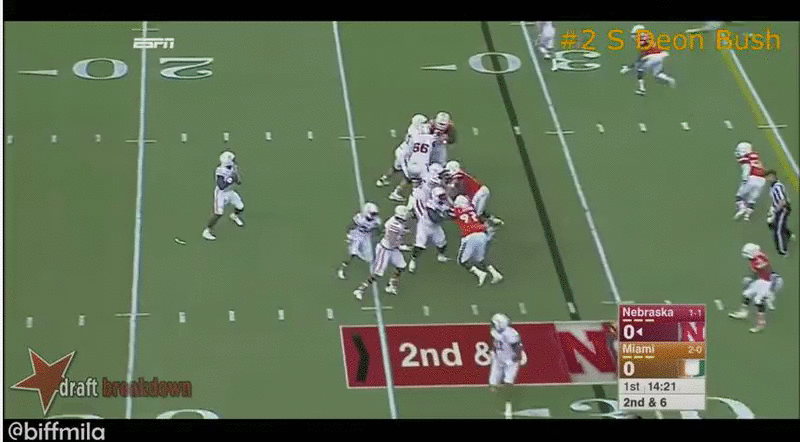 That doesn't mean he is devoid of coverage ability either. His range is a little underrated. Watch him track this Jameis Winston throw down the seam and snatch it away.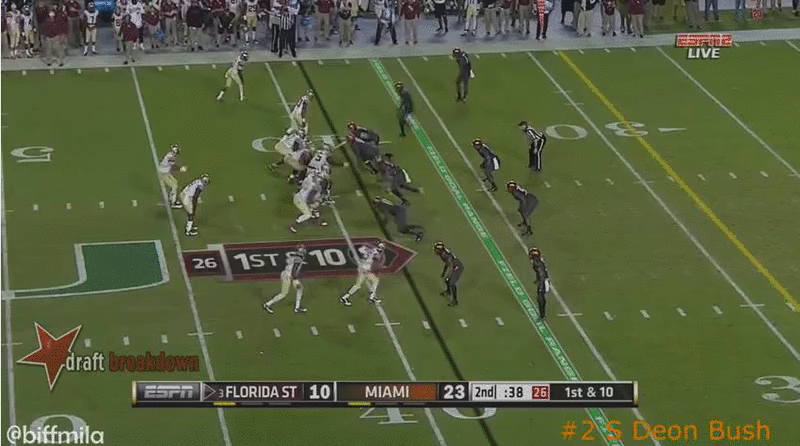 But like any rocked up, ball of energy, he can play a little out of control. His aiming point needs to be lower and he'll miss too many tackles. Here's an example of the latter against Duke.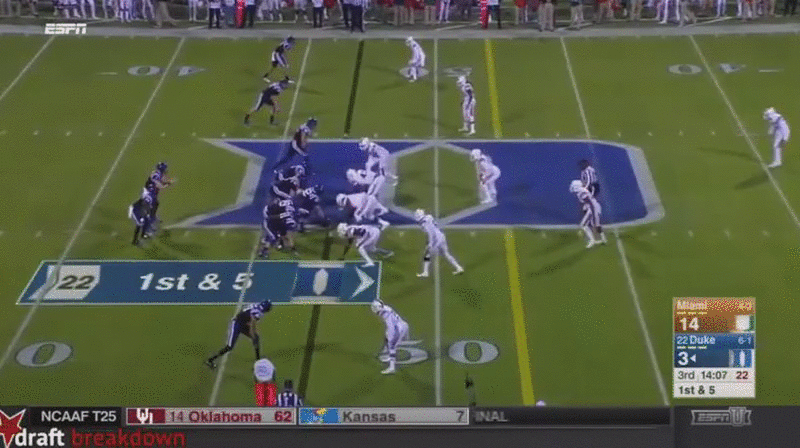 And he has to know when to pull up. Ejected for targeting against Nebraska at the end of this play, on a pass that was tipped. Helmet-to-helmet contact and Bush was kicked out.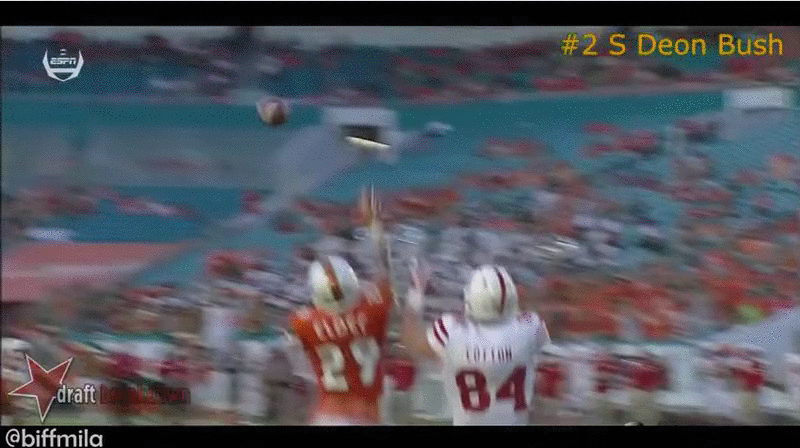 There are some very obvious parallels to Mike Mitchell here and generally, they're valid. Though Bush needs reigned in, so did Mitchell, and given Carnell Lake's ability to do that, how few penalties his guys give up is the something that goes unnoticed by almost everyone, I'm confident Bush is a moldable lump of clay. He isn't my favorite safety prospect but he is a good one.
Projection: Mid-Late 3rd
Games Watched: vs Florida St (2014), vs Nebraska, at Duke, at Pittsburgh