As you should know by now, our attention has now shifted to the 2016 NFL Draft as it relates to the prospects. From now until the draft takes place, we hope to profile as many draft prospects as we possibly can for you. Most of these player profiles will be centered around prospects the Pittsburgh Steelers are likely to have interest in.
Kicking off the week with one of the top prospects at his position. Florida corner Vernon Hargreaves III.
#1 Vernon Hargreaves III/CB Florida: 5'10 /4 204
The Good
– Twitchy corner with quick feet, change of direction ability
– Explosive, impressive vertical that he consistently times well and compensates for lack of height/length
– Shows hard punch on his jam and ability to have his hands and feet work in sync in press man
– More than willing run supporter who flies downhill to the ball and willing to sacrifice his body
– Transitions quickly out of his pedal and closes space downhill, powerful break step to generate explosion and translate to power
– High energy, emotional player, feisty, and has ability to throw receivers off their game
– Risk-taker but processes info and reacts quickly, playmaker
– Heady player, looks to rip ball out in gang tackles
– Experience as the field and boundary corner
– Played man, zone, and signs of pattern reading
– Battle-tested, SEC competition, not uncommon to shadow opposing #1 WR
– Highly decorative career and durable
The Bad
– Lacks length and hand size, 30 5/8 and 8 3/4 respectively
– Smaller frame gets him pushed around on stalk blocks by big, long receivers, and can get bumped off coverage in man to man at the top of the route
– Has to go low on his tackle against the run, ankle biter who is more vulnerable to missing
– Doesn't show hand strength to play the pocket on jump balls or ability to rip football out against the run
– May give up separation vertically and have trouble getting back in-phase, has been beat vertically
Bio
– Three year starter
– Left school as a true junior
– AP All-American First-Team in 2015, Second-Team in 2014
– 10 career interceptions, including four in 2015
– Missed only one game over three years, 2015 vs East Carolina with minor leg injury
– One of his classes' top prospects out of high school, MVP of Under Armour All-American Game, and had over 50 scholarship offers
Tape Breakdown
Hargreaves is a great player with the mentality that he's an elite one. That's a terrific combination to have. As we always do, we start with the run game, still a must for Steelers' corners. While Hargreaves lacks some size and isn't a clean tackler, he gets the job down with desire and explosion.
Goes low on this jet sweep versus Alabama but quickly takes the receiver down.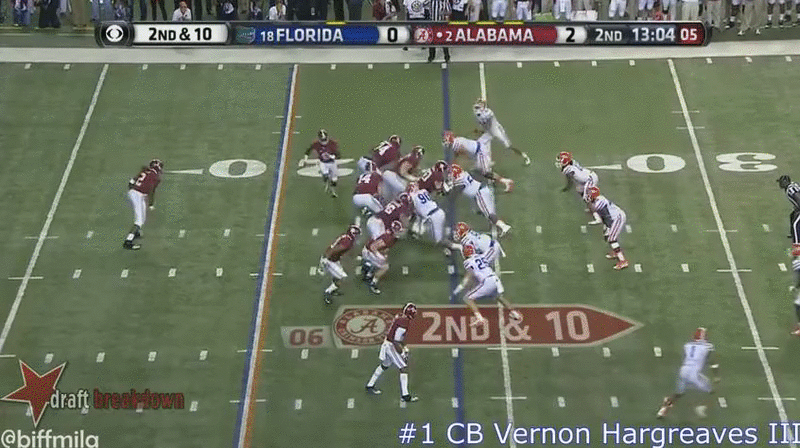 And a strong finish against Amari Cooper in 2014. His tackling technique is not ideal but it gets the job done. And the fact his effort is as good as it gets indicates that he will get better with improved technique.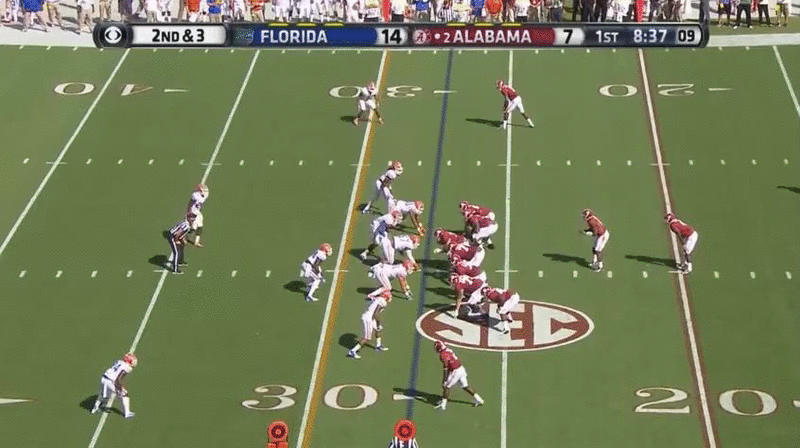 All corners need good feet and hands. Hargreaves has both. Even though this winds up being a run, it's a strong punch off the line with his off hand. He's able to get his feet moving and punch again. He might not be big but he has the skillset to play press man.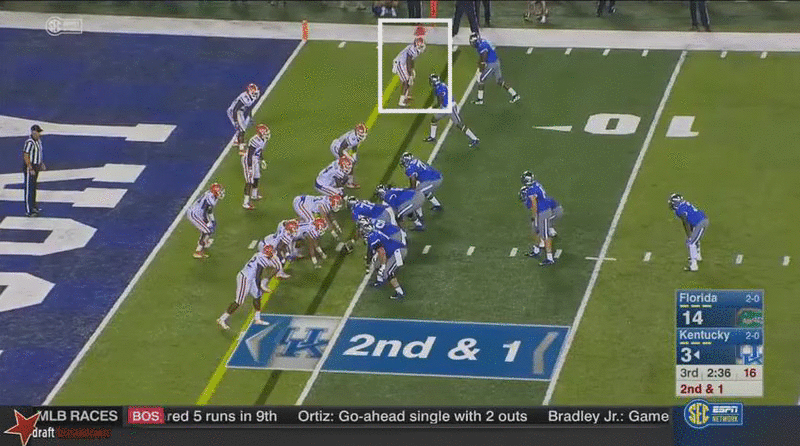 Off man coverage. Hargreaves able to use his peripherals to watch the QBs shoulder and break on the ball. The receiver clearly ran the wrong route so all these clues are coming from the QB. He jumps it picks it off, and winds up with a big return.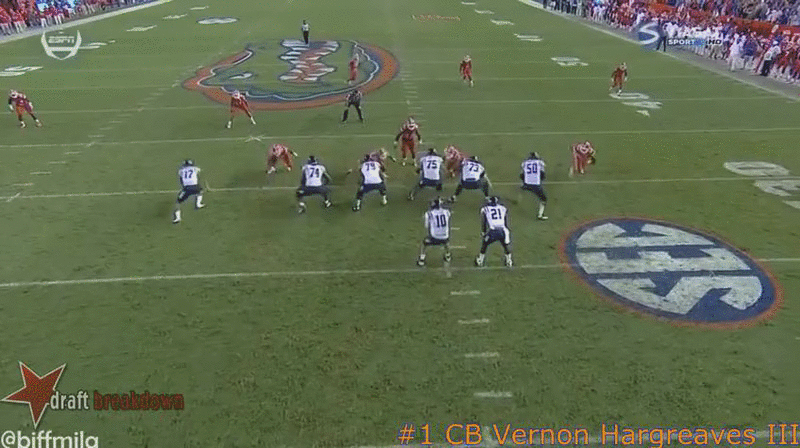 Sometimes though, his lack of height and length just gets in the way, like it does for any shorter-side corner. Fade versus Cooper. Both go up and high point the ball but Cooper has superior height and length, plucking the ball away and coming down with it.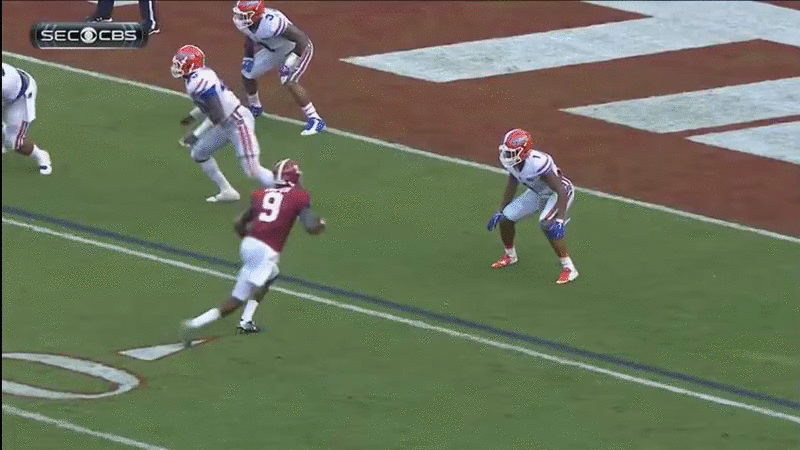 Ditto for the 2015 matchup vs the Crimson Tide. Hargreaves shows his hops but simply can't make a play on the ball.
Negatives in the run game with his size hurting him. Needs to go low, especially versus Derrick Henry, and he whiffs. Goes for a huge gainer.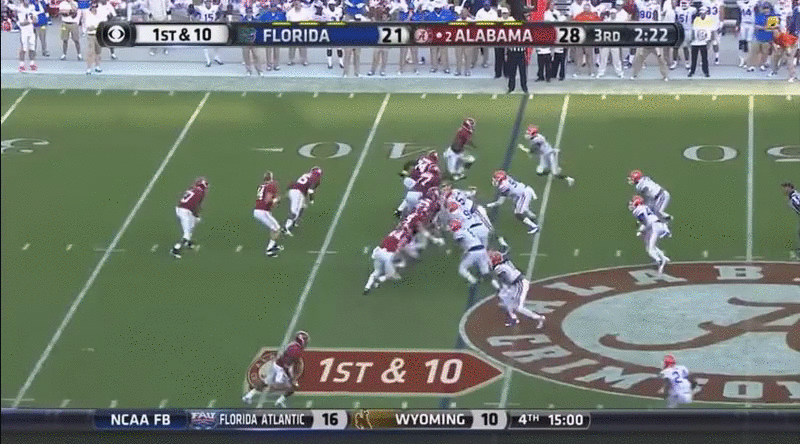 What Hargreaves lacks for in size, he makes for in almost everything else. Excellent man corner. And someone who will not be on the Steelers board at 25, unfortunately.
Projection: Top 15
Games Watched: at Alabama (2014), at Kentucky, vs Ole Miss, vs Alabama