As you should know by now, our attention has now shifted to the 2016 NFL Draft as it relates to the prospects. From now until the draft takes place, we hope to profile as many draft prospects as we possibly can for you. Most of these player profiles will be centered around prospects the Pittsburgh Steelers are likely to have interest in.
Today, a profile on Stanford ILB Blake Martinez.
#4 Blake Martinez/ILB Stanford: 6'2 237
The Good
– Physical, attacking player who can a deliver a blow
– Able to execute his run fills, break down, shoot, and wrap up runners in the hole
– Doesn't look to duck blocks, takes them on but use his hands well to stay clean and avoid getting stuck
– Strong, upper body strength, and able to hold the point of attack
– Effort, chases the ball, doesn't quit on plays
– Sifts through trash versus the run, takes proper angles overall, and doesn't waste steps/time, identifies target and takes quickest path
– Productive career
The Bad
– Below average athlete who struggles to defend the perimeter, get out into space
– Ton of false steps, needs to read his keys, guesses too often and is late getting in position
– Needs to finish plays more consistently, will fall off some tackles in space
– Struggles to get to spots on the move, better coming downhill in his run fill than scraping over the top
– Stiff in his change of direction, best in a line coming downhill
– Asked to only zone drop and will struggle in any man schemes in the NFL, tall in pedal and could struggle to be a three down linebacker
Bio
– Two year starter
– Third-Team AP All-American Senior Year
– 2015: 141 tackles, 6.5 TFL,1 FF, 1 INT
– Played volleyball and basketball in addition to football in high school
Tape Breakdown
I feel the need to apologize in advance. I try to avoid making reports sound predictable and cliché, but this one turned out to be your typical white inside linebacker report. But that's what I see.
Now, I don't think Martinez is perfect with his technique and IQ. Once he finds the ball, he rallies and attacks, but he took a ton of false steps. Almost to the point where I am considering it was a coaching point. Both of these came in pretty clear pass situations. It wasn't even a moment where you're reasonable to expect run.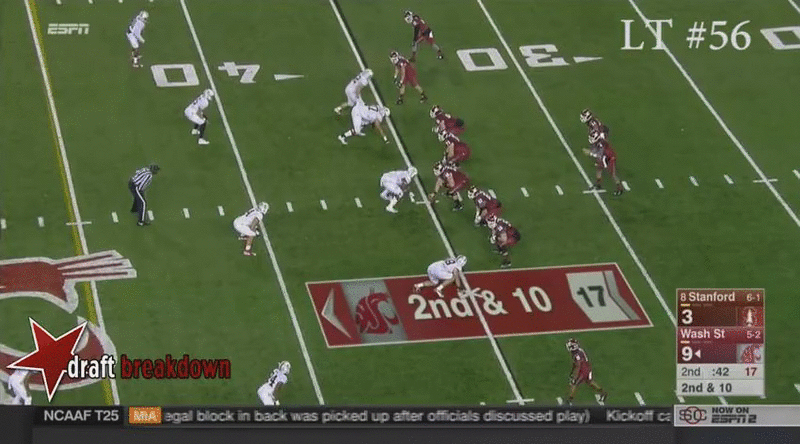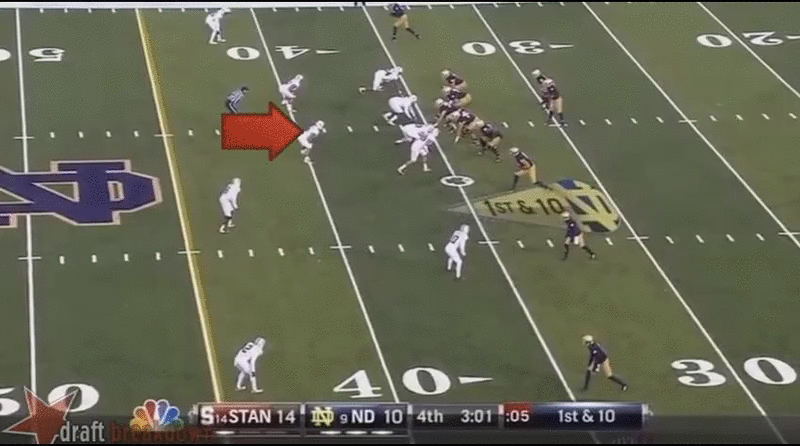 But the positives. We like the positives. The dude can hit. Can fill the alley. Martinez is someone who won't duck, work around blocks. He'll take them on, fight them off, and make the tackle.
Runs through the pulling left guard on his way to the back.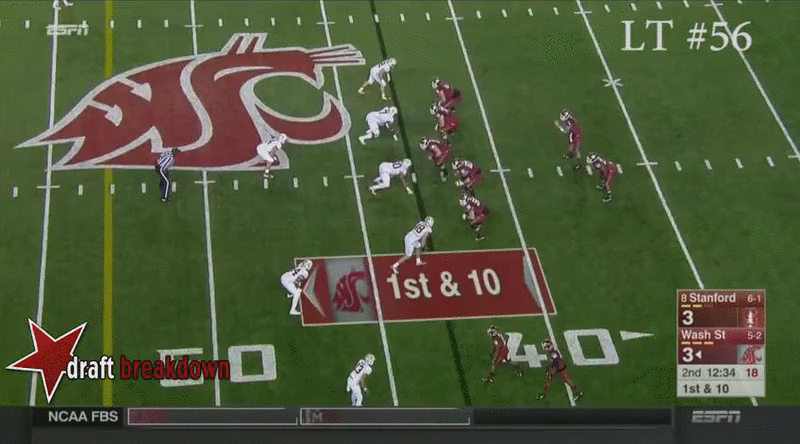 He sifts through the trash, handles the chaos very well. Probably my favorite play of the three games I took in. Stays on his feet vs the cut block, works over the engaged linebacker, and makes the open field tackle against the back.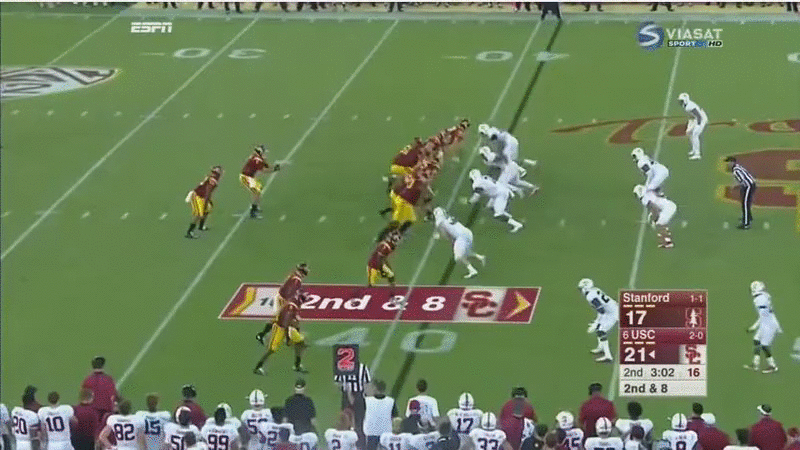 Though he timed well at the Combine, I don't see it often translate to the tape. Struggles on the perimeter. He fights off the cut block but can't close the angle off on the perimeter as the back scoots down the right sideline.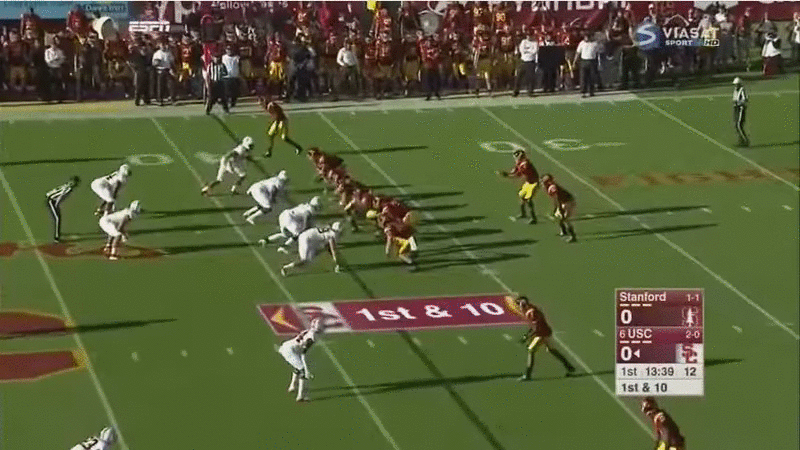 And then there are some plays where he moves like a baby deer. Watch him Slip 'n Slide his way down at the end of this play. Lacks balance and the ability to stay on his feet at times he totally should.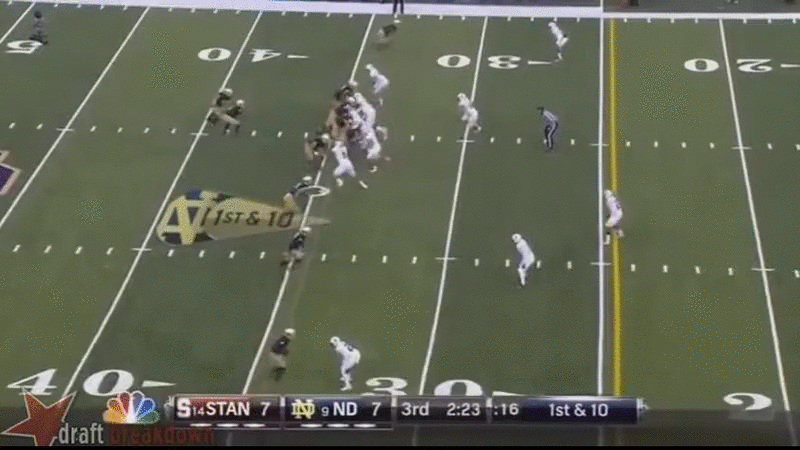 Inside linebacker is a position the team will absolutely address at some point in the draft. And I can see Martinez making a fit as a special teamer. Get downfield, shed blocks (huge for coverage units), and make tackles. He could carve out a Terence Garvin role. But anything more than that? Eh, he'd look more like Sean Spence. Barely serviceable and better off being a core special teamer, if you can help it.
I do my best not to have any preconceived nations before I watch a player, but I'll admit I had some high hopes for Martinez. Frankly, I came away a little disappointed. Not asking him to be Ryan Shazier, but I was looking for some more athleticism.
Projection: Early-Mid 7th
Games Watched: at Notre Dame (2014), at USC, at Washington St