As you should know by now, our attention has now shifted to the 2016 NFL Draft as it relates to the prospects. From now until the draft takes place, we hope to profile as many draft prospects as we possibly can for you. Most of these player profiles will be centered around prospects the Pittsburgh Steelers are likely to have interest in.
Back to the front seven with outside linebacker Kamalei Correa.
#8 Kamalei Correa/OLB Boise St: 6'2/5 243
The Good
– Explosive player, more so with his hand down than standing up, who is good for a splash play off the edge each game
– Uses his hands well in both phases, able to stab and create separation as a pass rusher to dip the edge while setting the edge and getting off blocks in the run despite a lack of natural strength/length
– Ability to convert speed to power as a rusher, packs a strong initial punch capable of knocking tackles off their base
– Versatile, played both sides, up and down, with left/right hand in dirt, off ball in sub-package and base
– Drops into coverage at least a few times per game though they're always shallow zones, no man/man
– Flashes versatility as a pass rusher, has just enough moves to show you that he's thinking, and uses them effectively
– High amount of production and had a durable career, never missed a game
The Bad
– Uninspiring frame who lacks length (31 5/8 inch arms)
– Not innately strong, uses explosion to create power
– Will have to play with his hand up at next level and shows less explosion in a two point stance
– Some minor technical rush problems, needs to how tighter hands on his bull rush to create power and leverage
– Did not time exceptionally well at the Combine
– Has not played a lot of football
– Slight though expected statistical regression in 2015
Bio
– Two year starter, 27 career games
– Left school as a true junior, only three years in college
– 2015: 11 TFL, 7 sacks, 3 FF
– 2014: 19 TFL, 12 sacks, 2 FF
Tape Breakdown
Correa is a difficult evaluation. With his frame, there is zero debate about his home at the next level. Standing up as an outside linebacker in an odd front. But he's just show explosive with his hand down, it almost feels like a waste.
As the right end, watch him burst off the line and absolutely steam roll the left tackle. Daaaang.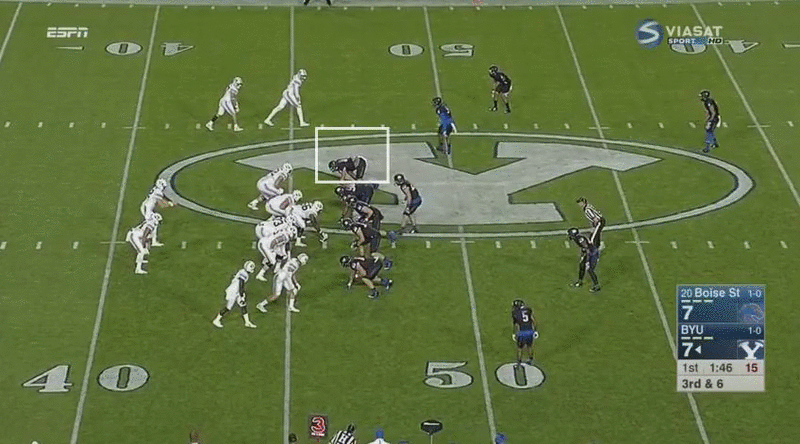 And again here against this Virginia left tackle.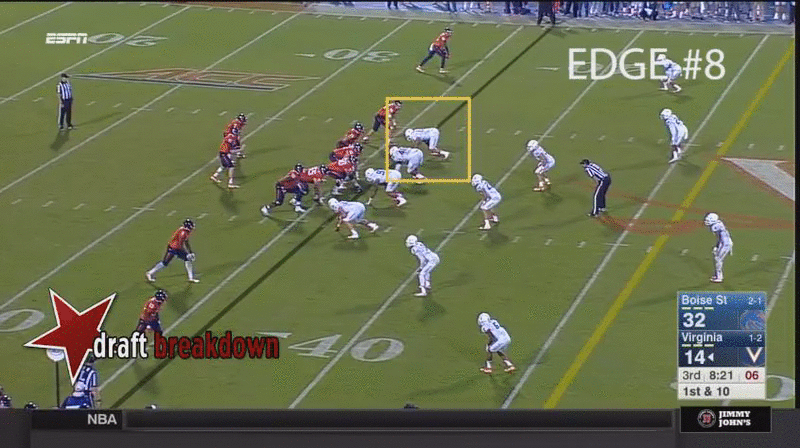 Despite being undersized and underpowered, he stays clean and works off blocks, allowing him to set the edge.
As the ROLB, Correa closes the door as the back tries to bounce this run.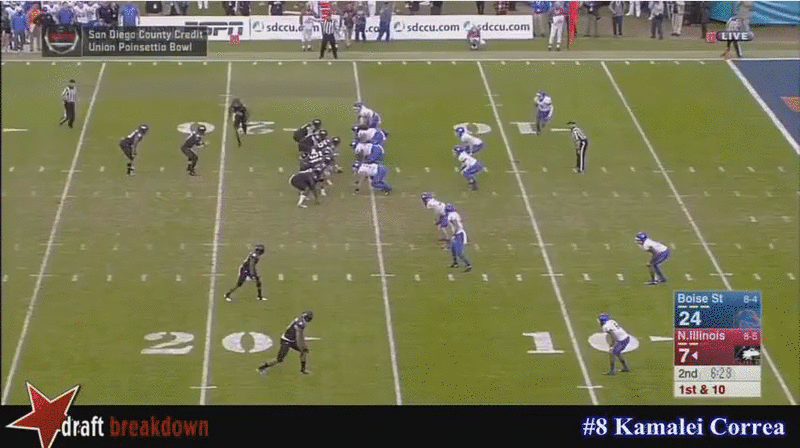 Like his hand use. Quick hands, stays clean, and able to stab lineman to create separation. Owns the NIU left tackle on a play that resulted in a strip sack recovered by Boise.
And to be clear. It's not that he can't be explosive out of a two point stance. He just isn't as naturally drawn to it and his poor vertical and broad jump numbers but his solid ten yard split and overall 40.
The obvious negatives weren't many, to be honest. Want to see tighter hands on his bull. The right tackle is able to anchor and stop Correa pretty easily here.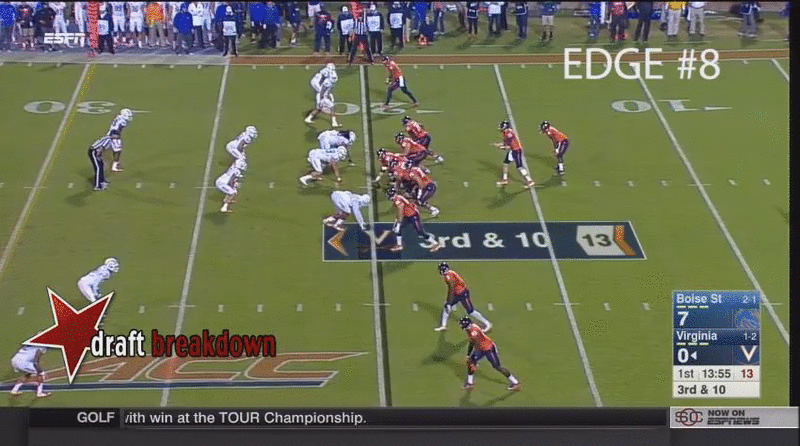 And on some inside runs, he can get stuck on blocks due to a lack of length and strength. Can't work off the left tackle in the GIF below.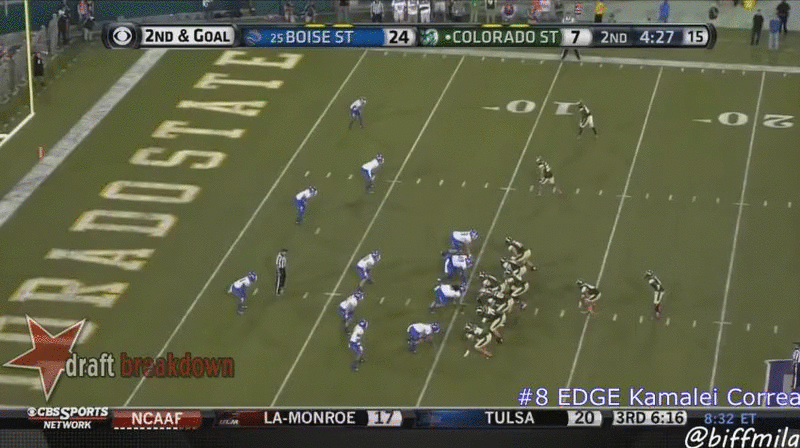 Correa is a decent prospect in a class that does not have elite talent. His ability to set the edge is crucial, even if he isn't a big, strong-anchored player, though it's far to wonder if that will translate in the NFL. But given the fact he's already technically sound and he has a chance. Technique can overcome innate limitations. That understanding makes him a better prospect coming out than Jarvis Jones, even though their build and measurables. But is he going to be an explosive enough pass rusher or struggle with the same woes as Jones? It's dicey and when there's doubt, it's troubling.
He may very well fit into that "too early for 25th, too late for 58th" space it feels so many players are in. I wouldn't hate the pick, and I think he'll be a more potent pass rusher than Jarvis, but I can't help but escape those some feelings that crept in when they took Jones. A coin flip, a "I'm not sure how this one will turn out." The failure of Jones doesn't drive my picks, that's logic built on sand, but when you feel that way about a player, you don't pull the trigger unless the value is awesome.
Projection: Late 2nd-Early 3rd
Games Watched: at BYU, at Virginia, at Colorado St, vs Northern Illinois (Bowl)
https://www.youtube.com/watch?v=BYrMxHQ-SeY