As you should know by now, our attention has now shifted to the 2016 NFL Draft as it relates to the prospects. From now until the draft takes place, we hope to profile as many draft prospects as we possibly can for you. Most of these player profiles will be centered around prospects the Pittsburgh Steelers are likely to have interest in.
Profile of Indiana left tackle Jason Spriggs.
#78 Jason Spriggs/OT Indiana: 6'7 305
The Good
– Prototypical size with ideal length (34 1/8 inch arms) and frame to add weight to
– Rare athlete who moves without effort, covers a ton of ground on his kickslide
– Explosive out of his two point stance, can reach from the backside, and able to combo block without issue
– Gets his arms extended in pass protection and creates space between he and the defender
– Hand fighter and able to reposition his hands and get a second punch
– Nasty demeanor and looks to finish his blocks
– Improved technically as year went on and more tape I watched
– Durable with as much experience as you can ask for
The Bad
– Too many technical issues for a guy who has the starting experience and exposure that he has
– Can lunge as a run blocker, get overextended, and vulnerable to falling off blocks
– Tendency to shoot his arms too early before he's established a strong base and loses power on his punch
– Despite athleticism, struggles to mirror on inside rushes/counters
– Height makes it a constant struggle for him to get low and establish leverage and hand placement
Bio
– Four year, 48 game starter
– Captain in 2015
– 2nd Team All Big-Ten senior season
– Team captain in high school, also participated in basketball, lacrosse, and track & field
Tape Breakdown
Offensive lineman typically aren't "fun" to watch in this fantasy football driven world. But Spriggs is the one big ugly each year that draws headlines, a tackle who can move like a linebacker. The Combine confirmed what we already knew with a 4.94 40 and the second best short shuttle drill (4.44). That's no fluke and watch just even a few moments of tape and you'll see it.
As the left tackle in all of these clips, watch Spriggs fluidly move into the 2nd and 3rd level on this run, stick to the defender in space, and help keep the running back clean as he tears down the right sideline.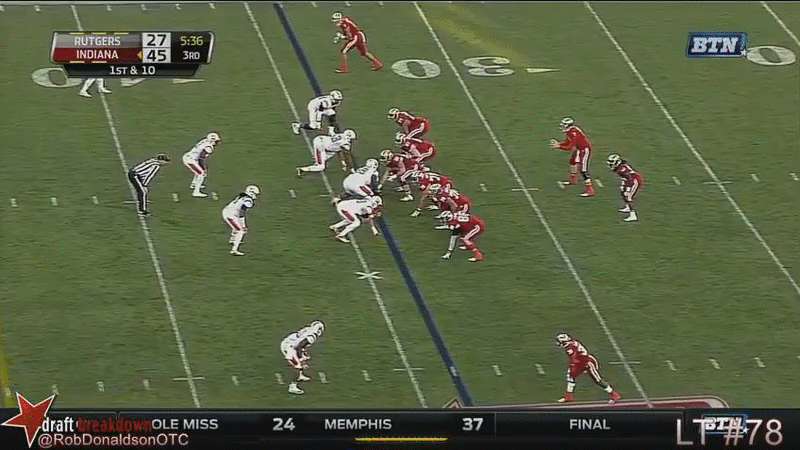 More subtly, watch him reach block and hook the three tech in the bowl game against Duke. That's NFL-level stuff.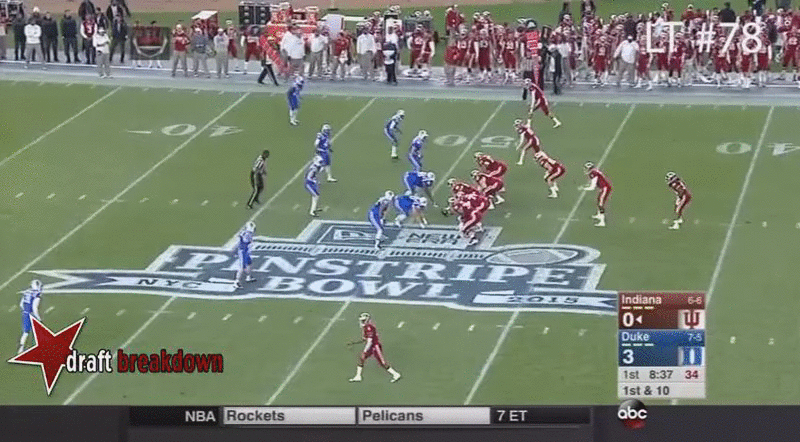 But he isn't just a super-athlete who wants to be finesse. He can be nasty and wants to finish his blocks. Watch him just straight up destroy this Duke defender. My goodness.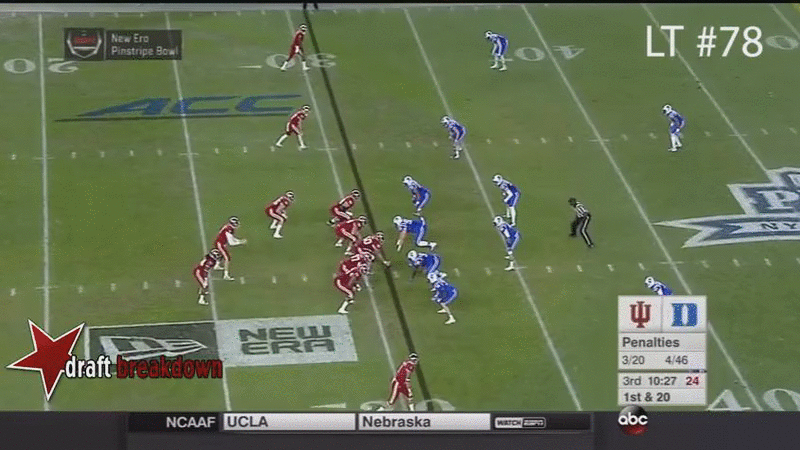 While all that is incredibly attractive, it doesn't tell the entire story. And despite being a starting left tackle since he was 18, there are some bad habits he has to kick. And there's no patch he can just slap on.
In pass protection against the left tackle, watch Spriggs shoot his arms before the end is close, not creating much power on his punch, lunging into it. He has to try and hang on as the end looks to split the B gap.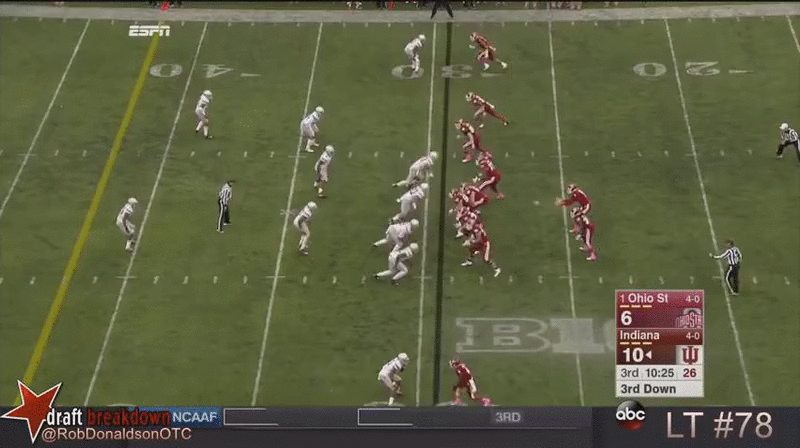 Though he is able to engage on this drive block, you can see Spriggs drop his eye level and lunge, showing flatback. Going to fall off at the next level. Not able to generate power and use your hands to stick.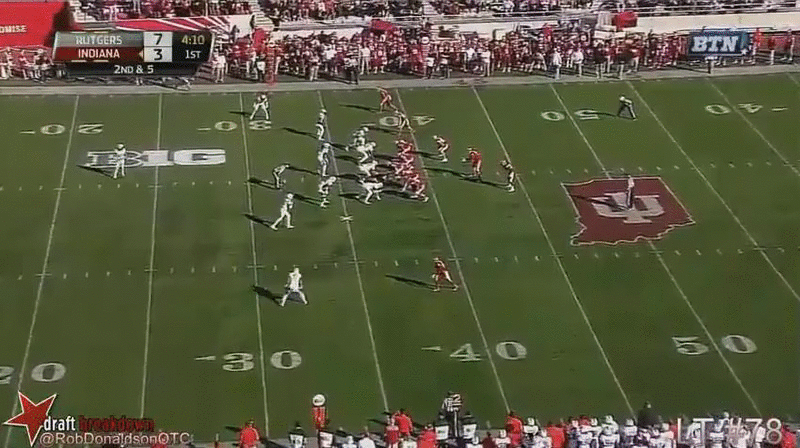 Most of the mirroring issues I saw were inside moves in space, but here's an example of a spin that beats him to the outside.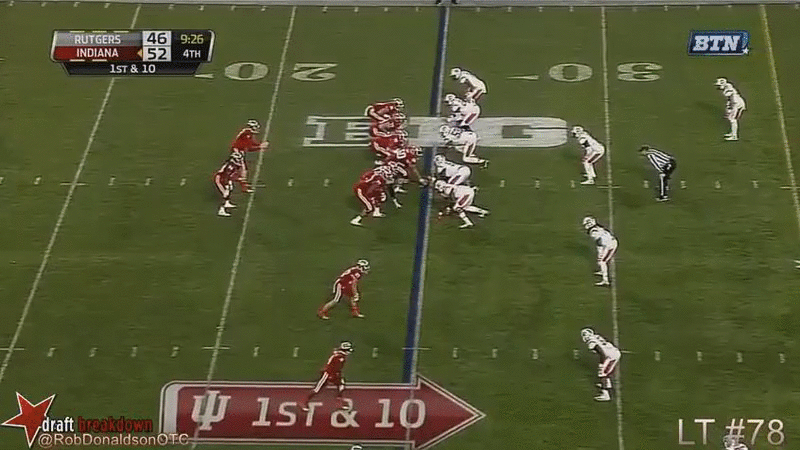 Seeing those issues from a fourth-year tackle is discouraging. If he was new to the position, raw, it'd be understandable and you'd be more confident in quickly fixing it. But some bad habits settle in and are tough to break. Steelers' fans have experienced that with Mike Adams. That doesn't mean Spriggs is Adams, and actually, I can see some comparisons to Marcus Gilbert.
Athletes who had technical issues – different ones, though – and Gilbert was able to correct his and thrive. Or he could go the way of Jah Reid, who was never able to quite figure things out and has only stated 17 career games.
Watching more of Spriggs, I liked him more and it looked like he had worked on some issues by the bowl game. But in a tackle class that does not have much depth, Spriggs will get pushed up a little bit too much in the eye's of scouts.
Projection: Late 2nd-Early 3rd
Games Watched: at Ohio St, vs Rutgers, vs Duke (Bowl), Senior Bowl