As you should know by now, our attention has now shifted to the 2016 NFL Draft as it relates to the prospects. From now until the draft takes place, we hope to profile as many draft prospects as we possibly can for you. Most of these player profiles will be centered around prospects the Pittsburgh Steelers are likely to have interest in.
A look at a highly discussed small school corner. Deiondre' Hall.
#1 Deiondre' Hall/CB 6'2 190 Northern Iowa
The Good
– Tall, leggy corner, with incredible length, some of the longest arms of any defensive backs ever (34 3/4 inch arms) with big hands (9 3/4)
– Shows surprisingly little stiffness in his turn, able to punch, flip, and run without a loss of speed
– Physical, violent tackler who looks to finish
– Played variety of assignments and coverages, versatile, experience w/ inside and outside leverage, man/zone, press/off, moved to safety during senior season
– Uses length to recover and impact to the catch point, allows him to stay with passes stubbier corners can't
– High energy, confident guy, talks a big game
– Shows high effort and doesn't quit or dog plays
– Tons of starting experience and durable
– Ballhawk with impressive INT numbers
– Special teams value as a returner and coverage player
The Bad
– Timed poorly at the Combine (4.68) and questions about long speed and ability to stay at corner will likely come up
– Allows too much separation at the top of the route, gets a little out of phase, and is relying on length to get him back into the play
– Needs to play pocket, find the receiver's eyes and get back in-phase
– Moved to safety, looked uncomfortable, and if he stays, will have to learn position plus make FCS jump
– Though shows fluidity in his turn, more stiff in space when breaking down for an open field tackle
Bio
– Three-year full-time starter and made six starts in 2012, true freshman season
– 2015: 82 tackles, 6 INTs
– Career: 13 career interceptions, 11 over his final two years
– Sparse kick return value and was on punt/kick coverage unit over final two years
– Broke hand during the second game of this season, played with brace for about five weeks
– Moved to free safety during sixth week of the season after starter became injured
– No Division One offers coming out of school, Kansas and Missouri offered walk-ons as a receiver
Tape Breakdown
Viscerally, Hall is as impressive as they come. He even said, I'm not sure if it was a joke or not, that some scouts would look at him and ask him to "hold up his arms" just to be in awe of how long they are. 34 3/4 inch vines for a corner is gotta be a record and beats most offensive linemen. Factor in a dude who jumped 37 inches in the vertical and he can cover a lot of space. At the Senior Bowl, you'd see him get out of phase but recover with those ridiculous arms.
But as much as we want to talk about the length he has, there's one play that sticks out above all. And it has nothing to do with size. But heart. Check out this effort to run this play down. Want to know if a guy has a motor and doesn't quit? Here's all you need. Hall is at the top of the screen.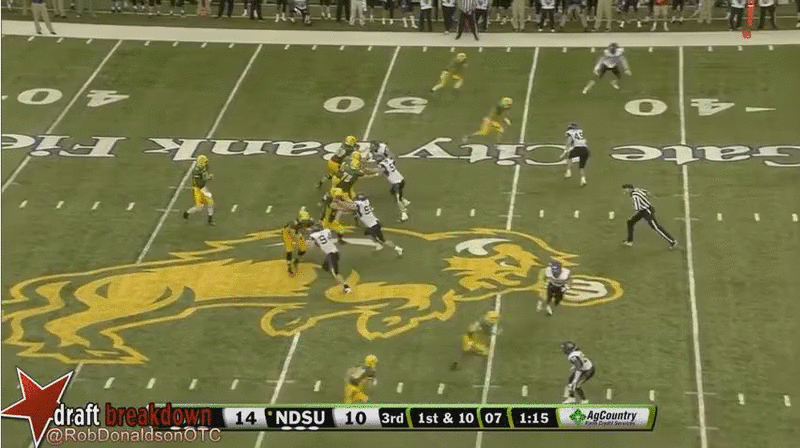 Not his responsibility, he never breaks stride (unlike the other DB) and makes an open field tackle to save the touchdown.
He's a physical cat who doesn't shy away from contact. In this clip, we're in December, and Hall has been moved to safety. Comes up and fills the alley to stop the running back. Not the cleanest form but he prevent the back from getting into the third level. And that's critical. Stuck his nose in there.
Wrap up and finish violently. One of my favorite examples from Hall.
Hall needs to work on playing the pocket better and it's a two-fold issue. Going for the interception instead of playing the man and staying in-phase at the top of the route. We'll look at both. Here's an example of the former, going for the pick, and missing, coming up with air.
And here's the latter. Receiver pinned the sideline, Hall should be able to make this play. Some separation at the top and Hall doesn't show violent hands to knock the ball out. Getting even a piece of it is going to guarantee a completion.
And we're seeing some of the struggles in his mid-season transition to safety. Awful angle to the ball here, had no chance of impacting this end zone play.
That 40 time is probably going to encourage the league to keep him at safety and much like DeAndre Houston-Carson, we're looking at a competition jump and position adjustment. And Hall has had even less time than Houston-Carson, who started the season there and worked out there in pre-draft events. In some more heavy Cover 2 schemes, where length is prized, you could see him stick there. You can play around with him but getting him comfortable at one spot is key. Remember how the Steelers tried to use Shamarko Thomas as a nickel corner in his rookie year? Results weren't pretty.
Though there are some really attractive qualities, that size and fluidify in his turn is downright remarkable, I'm looking at a super raw player that needs time to develop. The NFL isn't particularity kind to such a thing so much like a puppy or your first car, you hope he goes to a good home. A team like the New England Patriots would make a ton of sense considering they turned Devin McCourty from corner into a top-five safety.
Pittsburgh rarely deals with FCS players and I wouldn't expect that to change with Hall.
Projection: Early 4th
Games Watched: vs Illinois St (2014 – playoff), at North Dakota State, vs Portland State (playoff), Senior Bowl