As you should know by now, our attention has now shifted to the 2016 NFL Draft as it relates to the prospects. From now until the draft takes place, we hope to profile as many draft prospects as we possibly can for you. Most of these player profiles will be centered around prospects the Pittsburgh Steelers are likely to have interest in.
A look at the highly decorated Michigan State center Jack Allen to start off your week.
#66 Jack Allen/C Michigan St: 6'1/4 297
The Good
– Undersized but plays bigger with a strong base and anchor
– Strong hands and proper placement to allow him to control the defender
– Better athlete than you'd expect, snaps out of his stance, and has plenty of experience pulling and getting out in space
– Throwback with a nasty streak with a desire to finish his blocks
– Works hard to try to get separation in pass protection, get his arms extended, even if he lacks length
– Strong Senior Bowl showing, held own despite top competition, fights hard and just wins one-on-one battles
– Tons of starting experience and a well-accomplished player
The Bad
– Lacks length, undersized all around (31 3/4 inch arms, 77 inch wingspan)
– Though he does have built-in leverage, will pop up sometimes and lock his back/lower half out, giving defender the advantage to get under him
– Needs to keep feet moving through contact on his drive blocks, will stop and causes him to lose power and fall off blocks
– May be lacking dominant trait, good, not great in all areas
Bio
– Four year starter with the Spartans, 47 in all
– 42 at center, 5 at left guard
– Saw action at left tackle in two games in 2015 due to in-game injuries
– 2015 1st Team AP All-American
– Co-captain for senior season
– Three-time All-State wrestler in high school
– Gained weight quickly, went from 215 pound class in 2009 to 285 in 2010
Tape Breakdown
I'll get into the analysis in a second but let me share this story written in the Chicago Tribune's feature piece on Allen. He skipped his own graduation ceremony to attend practice, despite coaches making it optional for seniors to attend.
That's the kind of dude you're getting with Jack Allen and it's hard not to love that. Something that sounds like what Heath Miller would do, and maybe you can call Allen the Heath of the offensive line.
Sticking with offensive lineman parallels, I see some similiarities with him and B.J. Finney. From their size, to style, down to the fact they filled in at tackle when injuries struck though if we're being hyper-technical, Finney was on the right side, not the left like Allen.
To the tape, Allen is the guy that isn't going to look impressive off the team bus, but just gets the job done. That seems like a gross oversimpilcation in a draft process where every element is analyzed ten times over, but watching him in individual drills down in Mobile, the guy just held his own and one time and time again.
It partly stems from his attitude. Wants to finish plays, wants to put guys into the dirt. Out in space, watch him finish this block on the sideline.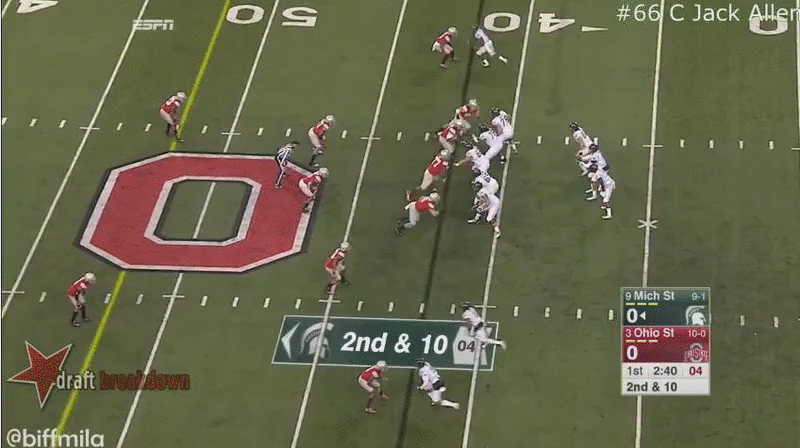 Here's him in a one-on-one rep against the defensive tackle with very little help, aside from a chip by the back releasing. Even with Allen lunging a little bit and not moving his feet for a moment, you can see the power he has in his hands to stay in control and not let the defender work off the block.
He may be undersized but has huge 10 1/8 inch hands that latch on and won't let go. He's Clamps from Futurama.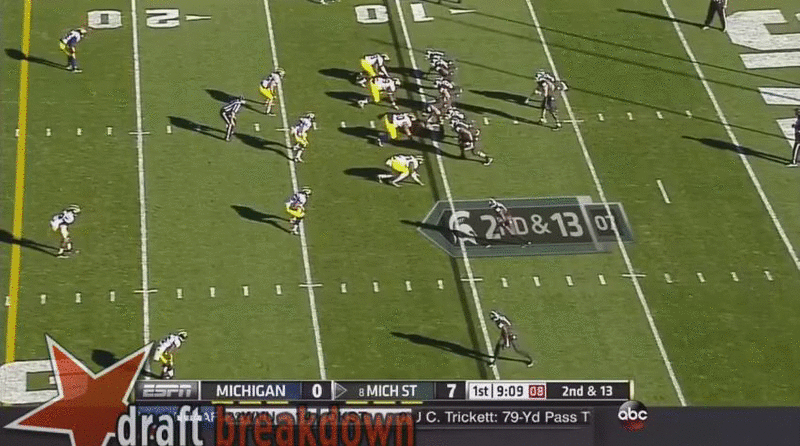 Like I wrote in the report, he's an athlete who quickly gets out of his stance and was asked to pull a ton for a center. Not an easy task. Watch him kick out Joey Bosa.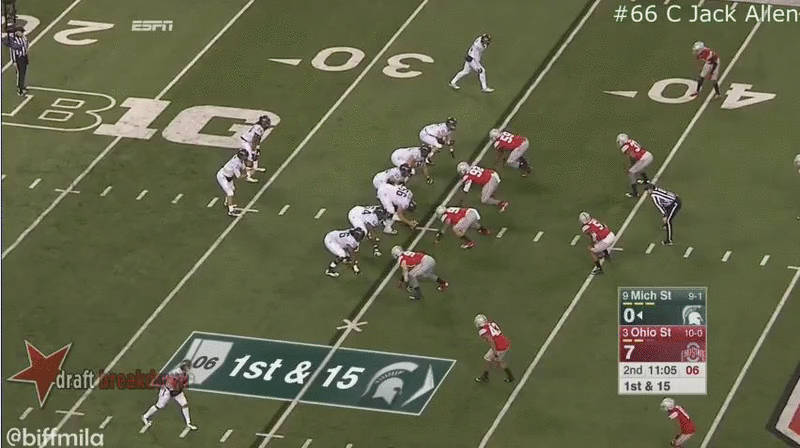 But when you combine a lack of length and occasionally, his feet going dead as a run blocker, he is pretty easy to shed. Watch the DT, #77, swim over Allen.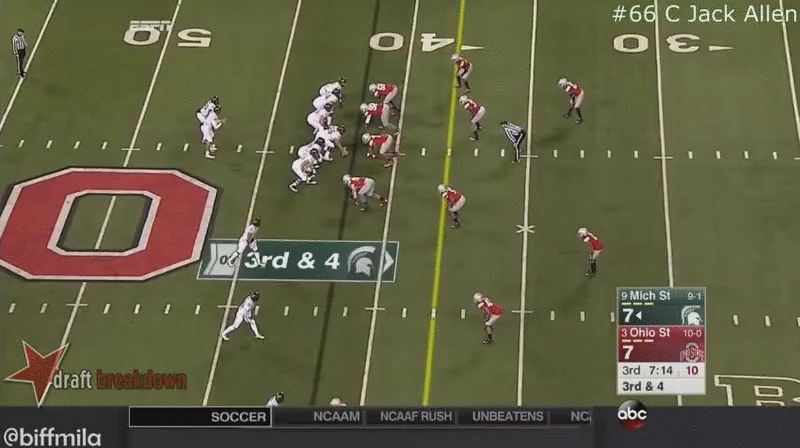 Or here on this run block, where the tackle is able to get under his pads and upright Allen. The center's strength allows him to hold on and he technically makes the block, but in the NFL, he could get run into the backfield and blow some of his own offense's runs up.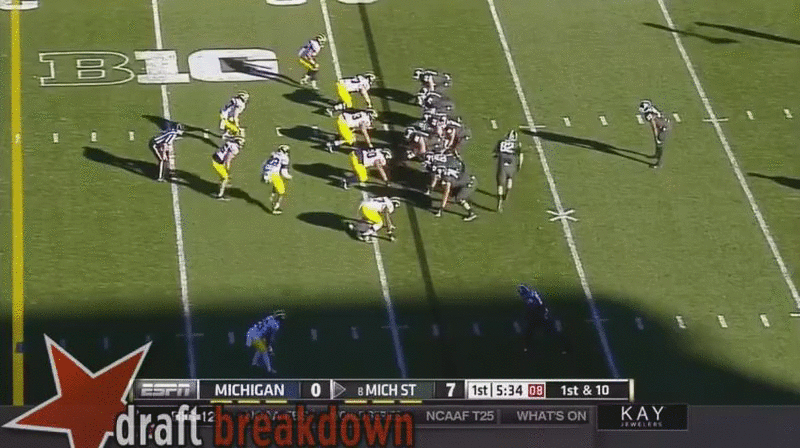 Allen is just one of those guys who is going to win. He isn't going to be at the top of anyone's board but whoever grabs him is going to have a player who will compete and carve out a role, probably in a starting lineup in 2-3 years. I am worried about where that journey will start. I liked Finney but he fell out of the draft completely, to the shock of myself and several others, and Allen could be in the same situation. Finney was even taller, heavier, and longer than Allen. Right or wrong, those things can really bump a player down.
No matter when and where he lands, some team is going to get good value with Allen. The Steelers are probably going to have three 7th round picks. Should Allen be there, I would have no qualms with taking him just because I know he's going to compete and make the room around him better.
Projection: Early-Mid 7th
Games Watched: vs Michigan (2014), vs Central Michigan, at Ohio State, Senior Bowl