As you should know by now, our attention has now shifted to the 2016 NFL Draft as it relates to the prospects. From now until the draft takes place, we hope to profile as many draft prospects as we possibly can for you. Most of these player profiles will be centered around prospects the Pittsburgh Steelers are likely to have interest in.
Breaking down Alabama corner Cyrus Jones.
#5 Cyrus Jones/CB Alabama: 5'9/6 196
The Good
– Quick, twitchy player who fluidly changes direction
– Transitions well, don't see stiffness in his hips, explodes out of break and closes space quickly
– Looks to have enough long speed to play in man to man concepts
– Drag down tackler but is not contact adverse
– Shows vertical and able to leap and high point the football in off coverage when able to track the throw
– Electric return game, can immediately contribute to the game's third phase
– Only played on the right side but experience as the field and boundary corner
– Experience with a variety of assignments in coverage, played in a complex defense that did a great deal of pattern reading
– Short but has above average length and hand size given his frame (31 1/4 inch arms, 9 1/4 hands per Senior Bowl measurements)
– SEC pedigree against top competition, tons of big-game experience
The Bad
– Short corner and will be knocked for size and where he can play at the next level
– Underpowered tackler who struggles to bring receivers down, and want to see more effort as the 2nd or 3rd player in a gang tackler
– Struggles to work off stalk blocks in the run game
– Problems finding the ball vertically in coverage, loses track and can't play pocket or make play on the football
– Vulnerable to getting faked out at the LOS on stems and head fakes, open the wrong way, and get himself out of position
– Most work at right corner, very little on the left
Bio
– Two year full-time starter, also started 5 games as a sophomore, 34 total starts
– Career: 108 total tackles, 7 INTs, 4 FFs
– 12.6 yards per punt return in 2015, led college football with 4 TDs
– One of the top athletes coming out of college, prolific wide receiver and defensive back
Tape Breakdown
Though I'm running the risk of making you click out of this article immediately, Jones reminds me a bit of Antwon Blake. Not identical, there are distinctive things Jones and Blake do better than each other, but the overall makeup is similar.
Jones is a quick, twitchy player who exhibits no stiffness in his turn and shows explosion. Like the job he does at the top of the screen here. Mirror the release, and pin the receiver to the sideline.
He came up with clutch plays in big games, too, having a dominant performance in the playoff game against Michigan State. As the half is winding down, and the Crimson Tide holding onto a 10-0 lead with the Spartans driving, Jones high points this fade and picks it off.
Despite just one season as the punt returner, he made his mark with four touchdowns. That included one against MSU, a dynamic return for a touchdown and sealing the win for Alabama.
I don't mean to lean on the Michigan State game, I'll show other clips below, but I thought it honed in on his positive and negative traits. In zone, when he can get his eyes on the ball, he can make plays on the ball. Same on a crossing pattern when his back isn't turned. But when it is, and he's getting vertical, he loses sense of the football, and does a poor job reading the receiver's body language (eyes, hands) and making plays on the football.
Fails to disrupt the catch point on this vertical shot. Very similar to Blake in this regard.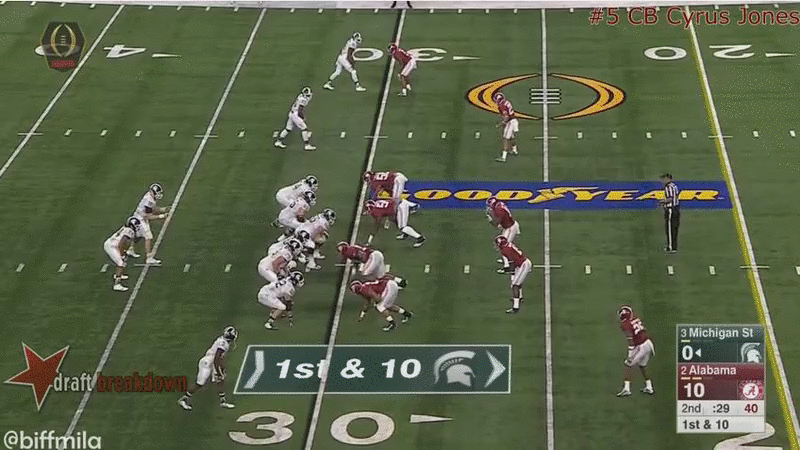 Jones is undersized and underpowered, he struggles to bring runners down. Against Georgia, he is thrown off by the receiver, who picks up a decent gain despite Jones having initial leverage as the force player.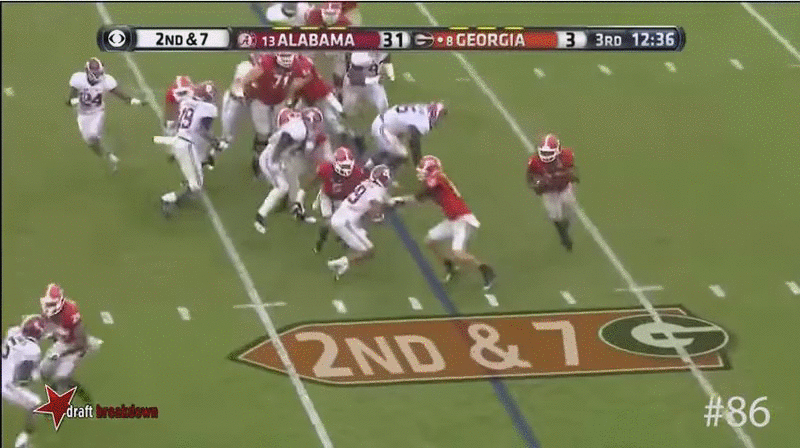 Granted, that's Nick Chubb, one of the top runners in college football, but it gives an NFL talent for us to go off of. And Jones will struggle. It's where he differs from Blake, who when healthy, is physical and plays much bigger.
It's hard to figure out the exact cause but he simply has trouble staying on his feet. Some problems with balance. Saw it at Mobile (though field conditions probably played a minor role) and saw it at moments on tape. Watch him Mario-Kart banana peel it at the bottom of the screen.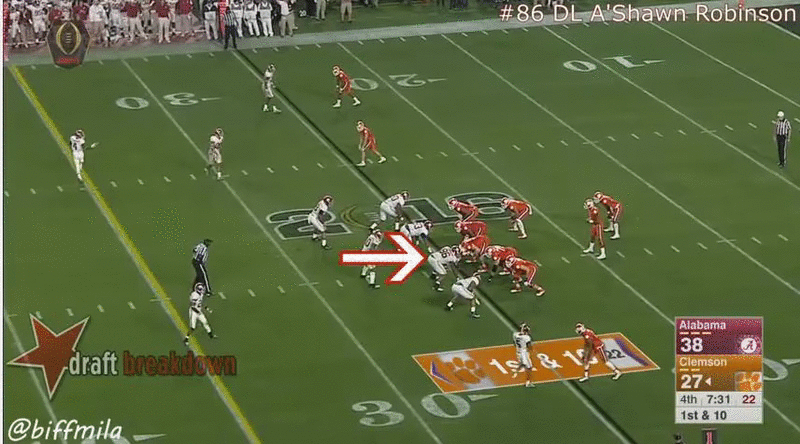 That's another similarity with Blake, who constantly struggled with his footing. I have no good explanation for it outside of maybe getting longer cleats.
As twitchy as he is and capable of mirroring at the LOS, he can get beat off the line. Not because of a lack of size but opening up the wrong way and getting fooled on the receiver's stem. In the title game, the receiver at the bottom beats Jones inside on the slant as the corner turns the wrong way, allowing a ton of separation. Receiver makes the catch and eventually scores.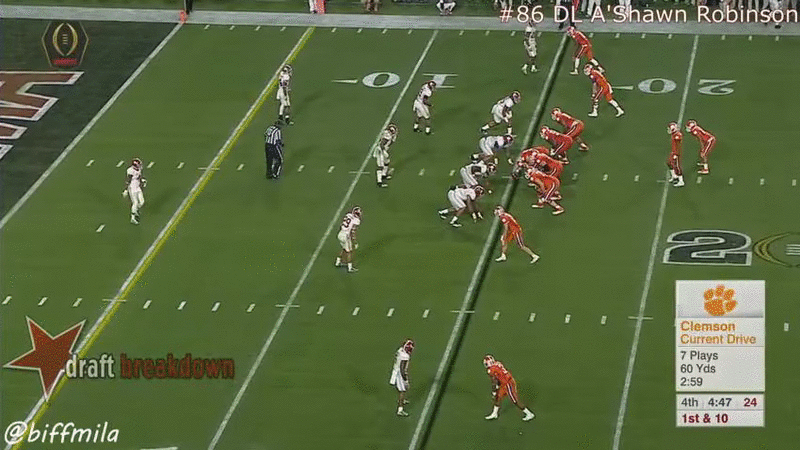 Jones can be a dynamic return man but I'm having trouble figuring out what system he could thrive in defensively. In a Cover 3, tackle the catch system like in Pittsburgh, he'll be able to make plays on the football, but his tackling woes is going to bite him, just like it did Blake. In a man scheme, he can turn and run, but he's struggling to locate the football. These are things I saw at the Senior Bowl, not just in the four games of his I broke down.
It's making me sour on his pro potential even though I have a soft spot for the vertically challenged, like myself. Jones is just going to struggle to find a permanent home in the NFL, similar to former Alabama corner Javier Arenas.
Projection: Early-Mid 6th
Games Watched: at Georgia, vs LSU, vs Michigan State (playoff), Clemson (playoff), Senior Bowl