As you should know by now, our attention has now shifted to the 2016 NFL Draft as it relates to the prospects. From now until the draft takes place, we hope to profile as many draft prospects as we possibly can for you. Most of these player profiles will be centered around prospects the Pittsburgh Steelers are likely to have interest in.
Given Heath Miller's retirement, we wanted to breakdown a tight end today. Here, we're turning our attention to Tyler Higbee.
#82 Tyler Higbee/TE Western Kentucky: 6'6 250
The Good
– NFL size with plus length, certainly looks the part
– Impressive athlete with a burst out of his three point stance, doesn't pop up and gets to speed quickly
– Stems his routes well and is able to create separation
– Adjusts to poorly thrown footballs well, extends away from his frame, and has a large catch radius
– Open field threat and size makes him difficult to bring down by just one defender
– Makes tough catches in traffic and the chaos doesn't bother him
– Gives effort and is a physical run blocker who is willing to mix things up, even if it isn't his strong suit
– Asked to pass protect more than your typical college TE
– Moved all over the line, core of the formation, H-Back, displaced from formation
The Bad
– Doesn't possess innate strength as a blocker and doesn't generate a tremendous push
– Struggles on drive blocks and has to clean up technique a bit, falls off and takes some false steps off the line
– Need to see a little better effort in scramble drills, working to the quarterback
– Only one season of significant production, one year as starter
Bio
– 2015: 38 receptions, 563 yards, 8 TDs
– Never had more than 15 catches or 230 yards in any other season
– Converted to tight end from receiver for the start of the 2013 season
– Dealt with left knee injury, caused him to miss five games, including bowl game and Senior Bowl
– Redshirted in 2012 after freshman season
– Team captain senior year of high school
Tape Breakdown
Higbee is a bit of the happy medium in college tight ends. He's athletic and can offer a good bit to your passing offense while giving good effort and doing just enough as a blocker to be passable with room to improve. But in this age, it starts with what you can do as a receiver, and there's no debate to be had that this is his stronger suit.
Gets out of his stance quickly, pushing off his outside foot to generate power and speed, bends across the field, extends his hands away from his frame, and makes the catch.
He's a YAC threat, too, making this Marshall defensive back look silly in the open field, turning this five yard drag into a 25 yard gain.
I dig this play from Higbee. Another bending route across the field but watch him stem it halfway through to get that extra bit of separation from the defender trailing him. Clean catch and doesn't look to duck out of bounds.
As a blocker, I loved this play not just because it's a nasty crack, but because he sacrificed his body in the 4th quarter with his team leading by 20. That's effort, heart, and being a team-guy.
There are deficiencies as a run blocker. Out of a two-point stance, he fails to stick to the linebacker, who sheds and makes the tackle behind the line of scrimmage.
Similar issue here, Higbee lined up at the top of the screen, but out of a three point stance. Falls off the edge defender on the run to his side.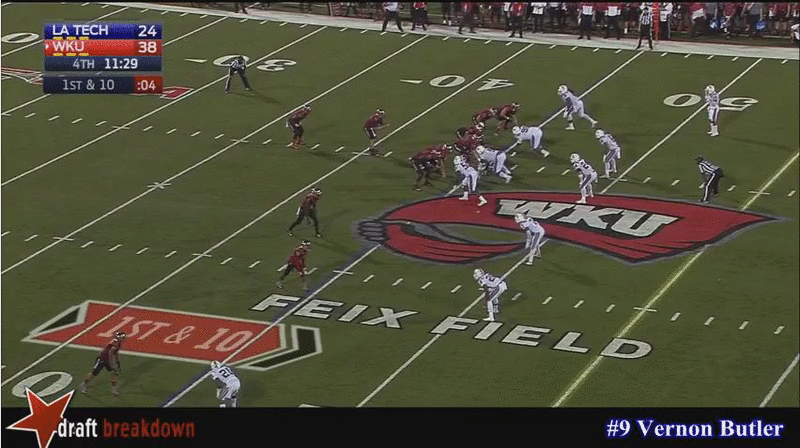 But I am more interested in what he can do as a run blocker and when he has an angle and can seal – not that it is too terribly difficult to do – he can be successful. Watch him at the bottom of the screen.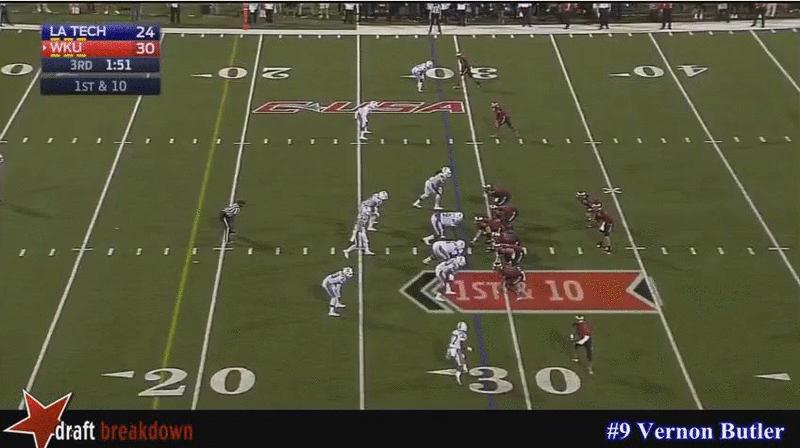 Higbee would be a small deviation from the norm, placing athleticism over blocking and hoping his effort and willingness to get his hands dirty is enough to start and James Daniel is capable of coaching him up.
Hopefully, that knee injury isn't too much of an issue and he can work out this weekend or at worst, at the Hilltoppers Pro Day. Remember, his body of work is pretty limited. One season starting, cut short to just nine games because of the injury. The more opportunities to watch him, the more comfortable an organization will be in selecting him.
This isn't a great tight end class and Higbee isn't a great tight end prospect, but I like his athleticism and I like his effort. And those are excellent starting points for any mid-round tight end. If the Steelers don't go for a Hunter Henry in the first, or a Nick Vannett in the third, this could be a target in the fourth.
Projection: Late 3rd-Early 4th
Games Watched: vs La Tech, at Indiana, vs Marshall
https://www.youtube.com/watch?v=jjFAihvWNB0
https://www.youtube.com/watch?v=Oin-LskyPbY