As you should know by now, our attention has now shifted to the 2016 NFL Draft as it relates to the prospects. From now until the draft takes place, we hope to profile as many draft prospects as we possibly can for you. Most of these player profiles will be centered around prospects the Pittsburgh Steelers are likely to have interest in.
One of my favorite cornerbacks that I've watched so far. Auburn's Jonathan Jones.
#3 Jonathan Jones/CB Auburn: 5'9/1 186
The Good
– Has the speed and explosion to play the position, ran a 4.33 40 and jumped 36 inches in the vertical
– Times his jumps well and the vertical translates to the field, able to high-point the football and contest catch points
– Twitchy player capable of staying on top of underneath routes in man coverage
– Does nice job of staying in-phase at the top of routes, getting in-phase to the receiver's hip
– Sticks his face in against the run, plays bigger than his frame suggests
– Good, not great, open field tackler but willing and better than you'd expect
– High effort player who chases the ball, doesn't quit on plays, even when he misses tackle on first attempt
– Versatile, appeared to flip and play both CB spots into senior season, experience at field and boundary
– Experience in press and off coverage
The Bad
– Obviously undersized with short arms and small hands (30 1/4 and 8 3/4 respectively)
– Moments of little brother syndrome where lack of size/strength allows him to be shrugged off by bigger ballcarriers
– Stuck on too many stalk blocks, can get washed easily by receivers with big, long frames who simply overpower him
– Needs to show better technique near the catch point, can get anxious and look back, leaving him unable to track the ball and lose positioning
– Could do a better job opening his hips earlier against vertical concepts, lets WRs eat up too much space
– Understanding of run fits have to be better, use leverage more to his advantage
– Medical history and a series of injuries/surgeries
Bio
– Two year starter
– 2015: 69 tackles, 13 pass deflections, 1 INT, 1 FF
– 6 INTs in 2014, 9th in the NCAA
– Broke ankle slipping on wet stairs prior to start of 2013 season, missed first four games, suffered hamstring injury in BCS title game later that season
– Underwent "minor" surgery on foot in April of 2015, did not miss any time, but later said the injury slowed him down during his senior season
– National champion in 110 meter hurdles senior year of high school
Tape Breakdown
Yeah, yeah, yeah, you're already looking at his size and dismissing him. I don't care much about size. I care about talent. Give me the 5'9 dude who can play over the 6'1 guy who can't. I'll beat you on Sundays. And seriously, Jones has some serious talent.
I love small corners who play big. Who are physical, give effort versus the run, and don't quit. Jones shows all those traits. Putting on the Alabama tape, you're watching him go against Derrick Henry, arguably the most powerful runner when he gets up to speed. While Jones wasn't perfect against him, anyone who is willing to stick their face into the fray against a guy like that earns major points in my book.
And there are several examples of clean, open field tackles from him against other competition.
In 2014, after the rest of the Tigers' defense couldn't bring Dak Prescott down, Jones cleans things up downfield.
He closes space in a hurry, driving on this swing route to the back and finishing with a violent collision.
Even when Jones is shrugged off because of his size, he doesn't quit on plays. "Makes the tackle after missing" shouldn't be your #1 attribute, that mentality of never-say-die is endearing. And that's what happens against Laquon Treadwell, one of the top receivers in this year's class.
But we're not here just to highlight Jones' ability to tackle or stop the run. After all, he's a corner. So let's look back to 2014 where he finished with six interceptions. That included a two pick day of Prescott, who was intercepted only 11 times all year long. Tracks this post corner route and high points the ball in the end zone. Big play.
You see that 36 inch vertical translate here, high-pointing and knocking the ball away in the end zone.
That doesn't mean he is without his warts. As an undersized player, he gets pushed around more than you want. Struggles to get off blocks by bigger WRs.
Watch the receiver at the bottom just drive him out of the play – and the frame.
There are also some problems with him in coverage. Some things that need to be cleaned up.
Poor job on this fade. Needs to swipe down with his hands instead of up. You'll create more of an impact on the receiver's wrists than trying to swipe up. And won't hurt yourself in the process.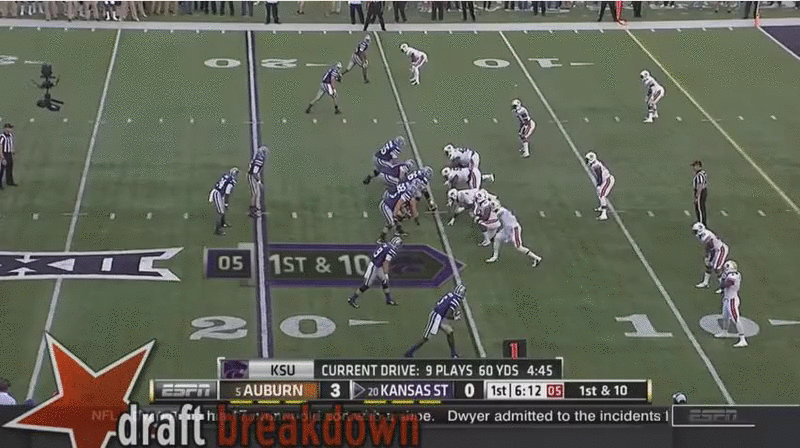 On this vertical shot against Alabama, Jones is in perfect positon to make a play on the ball and break the pass up. But he tries to cheat and look back, as if the ball is coming right to him, and isn't able to impact the catch point. It apparently wasn't caught for a TD but a negative play regardless.
Jones has experience playing press and off. After Auburn made a coaching change after 2014, bringing in Will Muschamp to be the DC, Jones began playing much more off man, where he'll arguably fit best in the NFL. But that experience and versatility is a nice feather in his cap.
Though you may grouse about another short corner, Jones plays big. And the team has no qualms about guys of his size. Brandon Boykin, Antwon Blake, Senquez Golson. Jones has all the traits the Steelers look for. Fast. Blake is one of the fastest players on the team, Boykin was a potent return man, and Golson ran a 4.46 in 2014. Starting experience in the SEC. Steelers take a ton of those guys, including Golson last year. Production. The team wanted interceptions and Jones had six his junior year. And confident, tough guys who play physical. Jones shows those traits in almost all of the tape I watched.
He received high praise at the Senior Bowl from Gus Bradley and Sterling Shepard. Shepard called him one of the toughest dudes while Bradley said Jones was a player who opened his eyes. I can totally see this being a player the Steelers' fall head over heels for and though it's just a guess, fully expect him to be brought in for a pre-draft workout. He's the yin to their yang. The Reese's to their peanut butter cup. And could become one of their classic, mid-round cornerback draft picks.
Projection: Mid-Late 3rd
Games Watched: at Kansas St (2014), at Mississippi St (2014), vs Louisville, vs Ole Miss, vs Alabama, Senior Bowl