As you should know by now, our attention has now shifted to the 2016 NFL Draft as it relates to the prospects. From now until the draft takes place, we hope to profile as many draft prospects as we possibly can for you. Most of these player profiles will be centered around prospects the Pittsburgh Steelers are likely to have interest in.
A breakdown of defensive end Lawrence Thomas.
#8 Lawrence Thomas/DE  6'3/4 286: Michigan State
The Good
– Wide, thick body with a big lower half, good length for frame (33 1/4 inch arms)
– Has strength to hold the point of attack vs the run
– Runs hard to the football on the perimeter, doesn't give up on plays, admirable hustle
– Versatile, played both end spots (normally strong side) and experience as one and three tech in subpackages
– Shows IQ, will get hands up as a pass rusher to get in the way of throwing lanes and bat down passes
The Bad
– Late off the ball, last guy to fire off the ball and engage
– Extremely limited pass rusher that doesn't have a defining move, yet alone a secondary one, tries an inside spin but is largely ineffective
– Stuck on blocks vs run and a pass rusher, latter may be partly related to scheme
– Hand use doesn't exist and has to have a strong punch
– Injury history early in career
Bio
– Two year starter, 27 career starts
– 2015: 38 tackles, 6 pass deflections, 5 TFL, 3 sacks
– Career: 6 career sacks
– Worked as a linebacker in first season, moved to defensive end, then fullback, defensive tackle in 2014, and defensive end in 2015
– Made 7 catches for 78 yards in three starts as a fullback in 2012
– Tore labrum freshman year and suffered lower back injury in 2013
– Served as a punter, running back, and wide receiver, in addition to linebacker in high school
Tape Breakdown
Ten years ago, I think Lawrence Thomas would have had a clear, successful path in the NFL. Today, it's a lot tougher.
Thomas can plug the run. He's appeared to drop some weight, listed at 305 and looking as such at Michigan State, but came into the Combine weighing in at 286. So to preface, maybe it is unfair to judge him based off his tape if he's slimming down, and it's worth pointing out he performed well at Indy. A 4.98 40 and a 35 inch vertical is a good place to start.
Still, I can't ignore the tape completely and it always wins out. To start with the good, as we always do, Thomas really runs hard to the ball. Ton of effort to stay with the play, even on the perimeter.
This is my favorite example. Thomas is lined up as the nose and runs to the sideline to chase this swing to the back, chipping in on the tackle.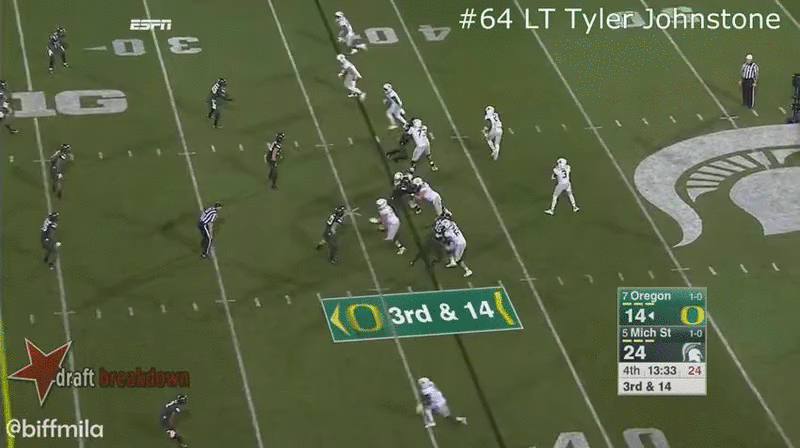 And here again in the same game, running downfield to chip in on the tackle at the very end.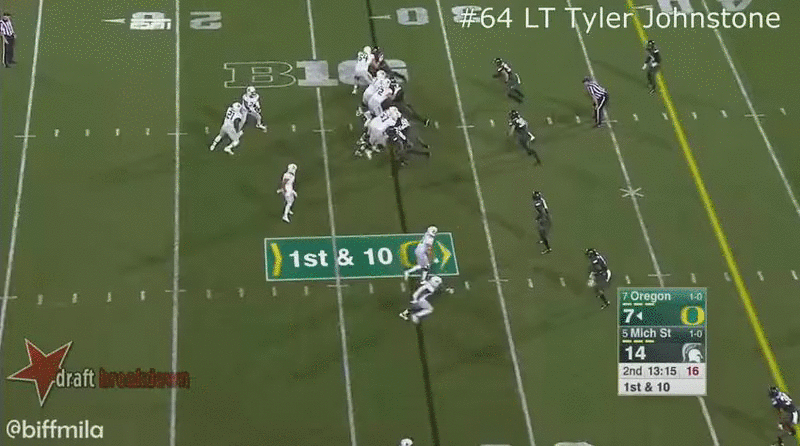 As we've professed many times before, John Mitchell loves guys with that type of play demeanor.
But most of my notes are littered with scribblings about him getting stuck on blocks and being late off the ball. Saw it in all three games I watched.
Completely stuck on this rush by the right tackle. And this is against Western Michigan…not exactly a powerhouse.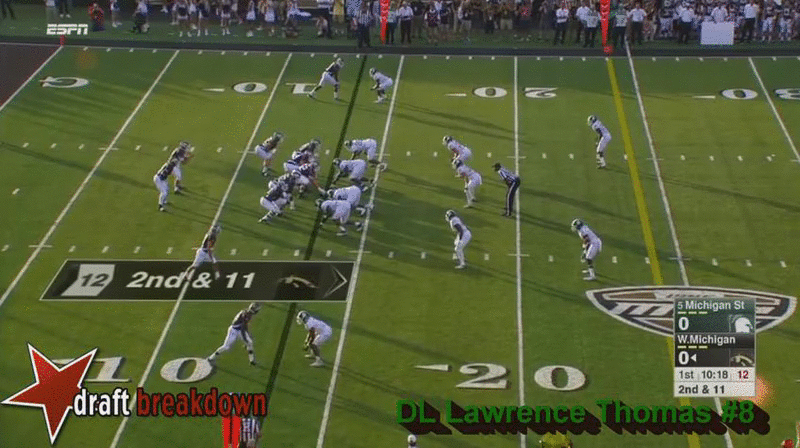 There's some explosion here but you can see Thomas take a false step, stepping with his left foot off the snap and then exploding instead of just exploding off his foot.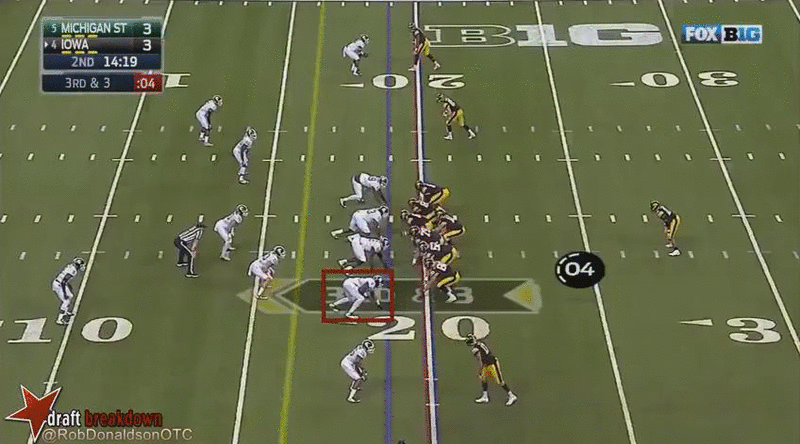 And then there are multiple instances oh him just being late. Like here, at right end, the last guy off. Don't even look at the other end, that isn't fair, but the interior linemen.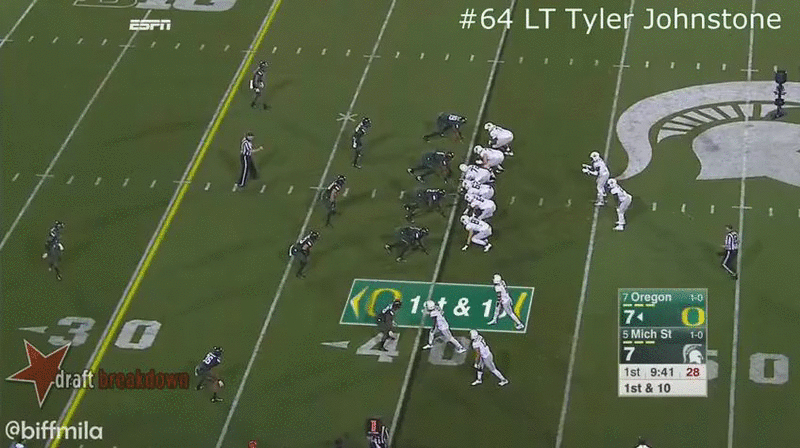 And here, again as the right end.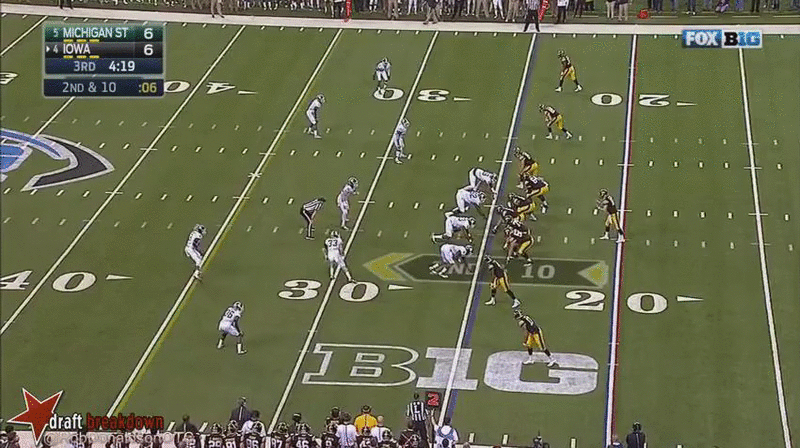 Thomas had slimmed down for the Senior Bowl, he actually came in at 281, and looked a little more explosive with a better spin move, but it's still a big projection to think he can be successful as a pass rusher. And if he can't, his value is immensely diminished.
Reminds me a lot of Bobby Richardson, who probably should've been drafted but wasn't and wound up playing a ton in New Orleans last year. I don't know if Thomas can have that sort of success but the skillset is similar.
Projection: Early-Mid 7th
Games Watched: vs Western Michigan, vs Oregon, vs Iowa, Senior Bowl