As you should know by now, our attention has now shifted to the 2016 NFL Draft as it relates to the prospects. From now until the draft takes place, we hope to profile as many draft prospects as we possibly can for you. Most of these player profiles will be centered around prospects the Pittsburgh Steelers are likely to have interest in.
A breakdown of another wide receiver. CSU's Rashard Higgins.
#82 Rashard Higgins/WR Colorado St: 6'1/3 196
The Good
– Solid height with length and big hands to his frame (32 1/4 arms, 9 3/4 hands)
– Natural hands catcher who extends away from his frame and capable of making difficult, contested catches
– May lack top end speed but shows burst and second gear when pressing vertically, a smooth route runner that does not waste much motion
– Nuanced hand use as a route runner, able to break the arm of the DB or shoulder dip vertically to create separation or stay on the track of his stem
– YAC capable and tougher to bring down than you might anticipate given his frame
– Tracks and reacts to the football well and ability to contort body in mid-air to adjust to the football
– Tough kid willing to go and extend across the middle for the football
– Most experience outside and isolated in 3×1 but has played in the slot
– Durable and tons of starting experience
The Bad
– Not a very muscled frame, svelte build, and overall frame just appears average
– Needs to consistently sell his routes better, doesn't use his eyes and hips on most occasions, clear difference between the ones he's been coached to sell and the one's he hasn't
– Has to do a better job of creating space beyond physical tools, which will be a bit limited in the NFL
– Effort blocker but average at best, isn't forceful on his cracks and stalk blocks aren't anything overwhelming or powerful
– Want to see him be a little more explosive on horizontal and underneath concepts, plant and drive to create separation
– Lacks development in understanding man/zone rules, sight adjustments based on coverage, maybe primarily out of the slot where he is more uncomfortable than isolated on the outside, where the coverage is easier to discern
– Statistical regression from 2014 to 2015
Bio
– 37 game starter, three years
– Declared early, leaving school as a true junior
– 2015: 75 receptions, 1062 yards (14.2 avg) 8 TDs
– 2014: 96 receptions, 1750 yards (18.2 avg) 17 TDs
– Finalist for Biletnikoff Award in 2014, 1st-Team AP All-American
– Played basketball and ran track in high school
Tape Breakdown
Higgins was one of those guys I was excited to finally sink my teeth into. Had heard a lot about him, definitely knew some people loved him, but had no idea what was truth and what was fandom. It took me a little while to see it but by the end, I definitely warmed up to him.
When I think of Higgins, I think of hands. In the conventional sense, the ability to extend them away from his frame, create a bigger catch radius, and make difficult, contested catches.
The pass is a little high but Higgins finds it, extends, and quickly puts the ball away before getting upfield and picking up YAC.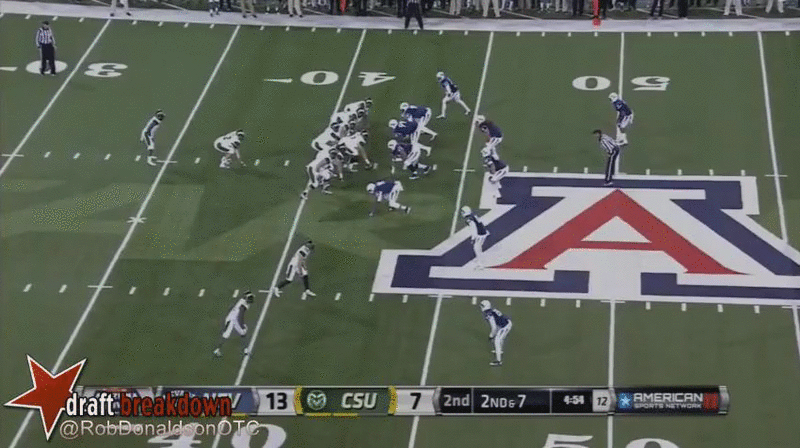 But his hands go beyond making catches. He's an advanced route runner that is able to use his upper body to keep separation and win in man coverage.
Stems outside off the line and presses vertically. But watch Higgins' left arm hold the defender's right downfield. It's subtle and isn't going to be called in college or the NFL, and creates a bit of separation between the two. Defensive backs like to be able to feel the receiver and Higgins isn't letting the corner do that. He takes his arm off in time as the ball is near, adjusts to it, and makes the grab. This is nuanced route running and some impressive tape, especially for a true junior who's played college ball for three seasons.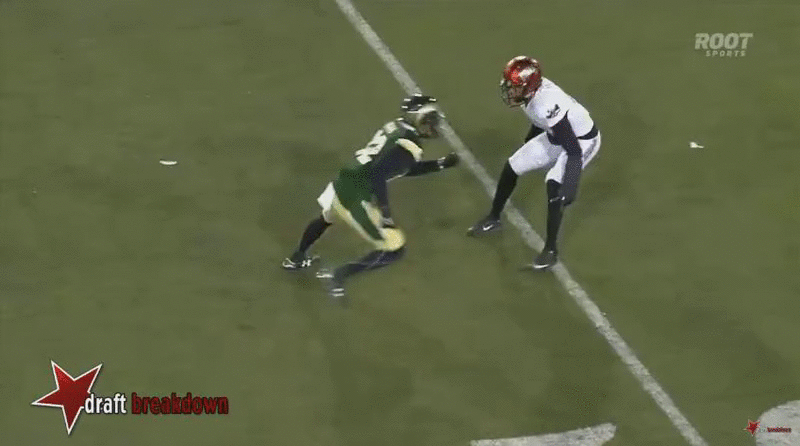 Look at it in this stillshot, Higgins pinning his left arm over the corner's right.
At the top of the screen, this is a nice shoulder dip to stay on his route down the sideline. Doesn't allow himself to get bumped off it, keeping course and his speed. The pass is high and incomplete but again shows the nuances of Higgins' game.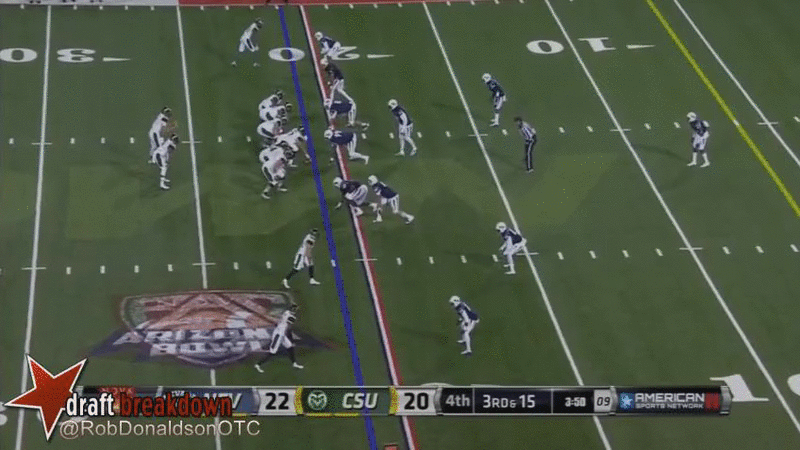 Though his top end speed may not blow anyone away, I see a second gear in his game, especially when pressing vertically. Sort of a sluggo here with Higgins starting on a slant and gaining inside leverage before planting and driving upfield. Watch him buzz away from this corner and create space. Again, he's at the top of the screen, the #1 receiver to the offense's left.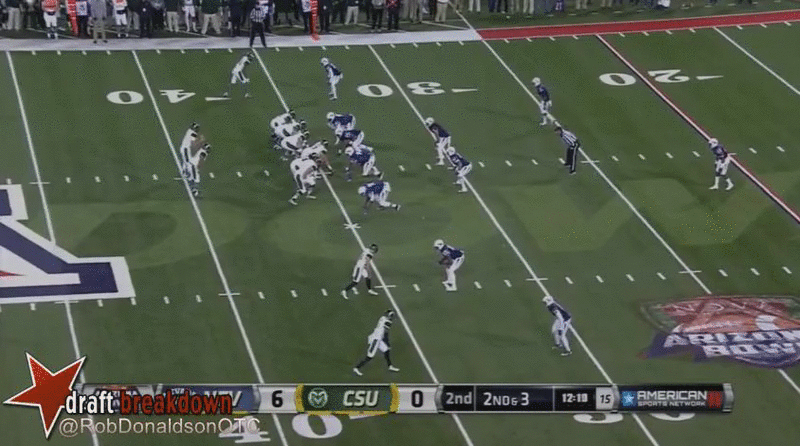 The number one issue I saw with Higgins is the need to put a better effort to selling his routes with his eyes and hips. Cornerbacks don't read feet. They read eyes and hips, and as Coach Shakira told us, hips don't lie. I've seen Higgins sell post routes well but not much else, leading me to believe he's been really coached up to sell those but less so on other route concepts.
With the corner sitting off in coverage, Higgins does nothing to try and sell this backshoulder fade. Just runs to his spot and turns. If it's press, sure, you don't have to do as much because the cornerback's back is to the ball and you just need late hands/eyes to pluck the ball. But when the CB can read your route? Gotta sell it more. The corner easily breaks on it and bats the ball away.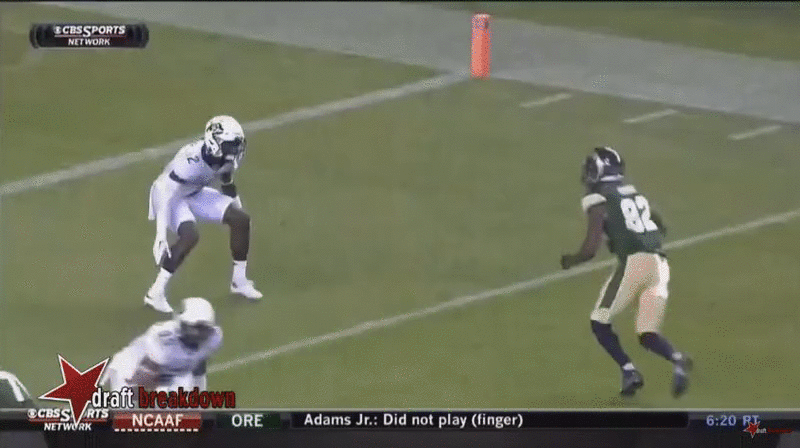 And though he can stay on his route vertically, he might have some more trouble versus stronger corners underneath. This one just destroys him.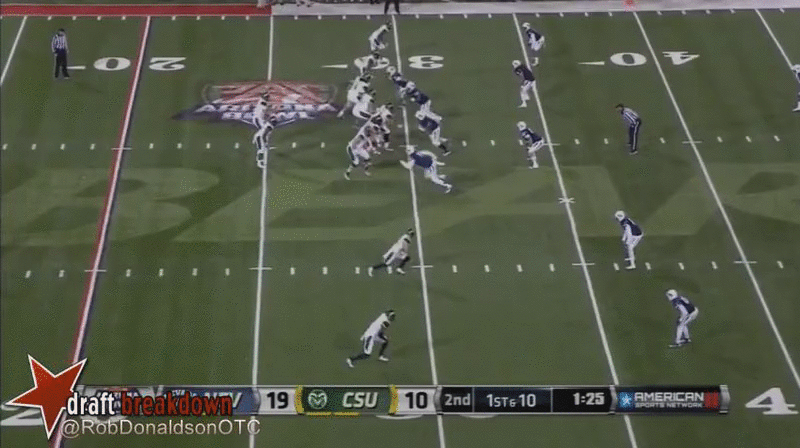 I don't see Higgins to ever be a bonafide #1 because of some of his limited physical tools. And that is worrying me a little of where he'll fit in the NFL. Didn't spent much time in the slot and his worst tape came from there. Doesn't have the pure size/speed to be an X and isolated like he was at CSU and he isn't the imposing, blocking-capable Z receiver either. But receivers come in all shapes and sizes and it's a little unfair to paint with that broad of a brush. Higgins has that mix of reliability and explosion to make him an all-around threat. If he can sell his routes a bit better, with the nuances he's already shown, he can be a money guy to trot out in 11 personnel, the base of most offense's already.
Projection: Mid-Late 3rd
Games Watched: at Colorado, vs Boise St, vs UNLV, at New Mexico, vs Nevada