As you should know by now, our attention has now shifted to the 2016 NFL Draft as it relates to the prospects. From now until the draft takes place, we hope to profile as many draft prospects as we possibly can for you. Most of these player profiles will be centered around prospects the Pittsburgh Steelers are likely to have interest in.
Today's profile is on someone who could wind up in Pittsburgh. Penn State defensive end Carl Nassib.
#95 Carl Nassib/DE Penn State: 6'6/7 277
The Good
– Intriguing size with top athleticism for his size, ideal length (34 inch arms)
– Shows impressive get off, explosive out of his stance
– Toolsy pass rusher who can win in multiple ways, speed around the edge, speed to power, dip/rip
– Shows a violent punch on contact and capable of controlling the LOS, especially when faced against a TE
– Can take over games, flashes of being a dominant player
– Smart player who does the little things like getting his hands up to disrupt throwing lanes
– Surprisingly able to leverage defenders despite height issues
– Runs hard to the football
– Has some experience dropping into coverage, relative to size, looked comfortable dropping into curl/flat zone
– Football family
The Bad
– Unique body type and did not show explosion at the Combine (28.5 vert, 9'6" broad)
– Looks to fire out of his stance so hard he can get himself overextended
– Limited positionally, left end only
– Could stand to get stronger against the run, hold the POA of attack
– Has not played a lot of football, one year starter, dealt with injury, did not play much prior to 2015
Bio
– 13 career starts but left two games very early because of injury
– 2015: 19.5 TFL, 15.5 sacks, 6 FFs, sacks were a school record
– Rest of Penn St career: 5.5 TFL 2 sacks
– Never started a game in high school or prior to 2015 with Penn State
– Younger brother of Ryan Nassib, 4th round pick of the Giants in 2013
– Father, cousin, also played football
– Came into school at 6'6 218 pounds as a walk-on, earned scholarship in 2013
– Biology major
Tape Breakdown
Nassib is someone who caught the eye of the Big Ten and now, the NFL. It's a crazy story, to go from a high school afterthought, longshot walk-on, to a one-year starter who set the conference on fire and is a slamdunk to get drafted. No matter where he goes, he's been a success no one anticipated.
He's an interesting body type, an unusual build. 6'7, 272, Nassib is an impressive athlete. Though it's only against Buffalo, you want to see players dominate, especially at the end of the game. And that's what Nassib did, with two sacks and a forced fumble on the final drive. Here's a look at the forced fumble, bending and beating the right tackle on his way to the QB.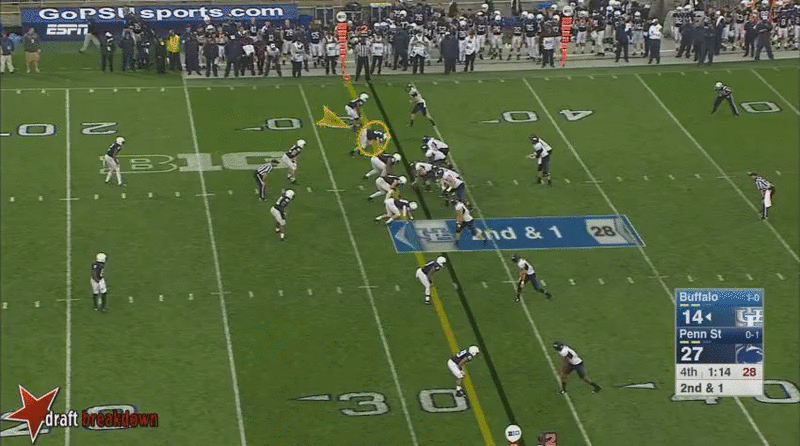 Against better competition, Nassib shows the ability to get skinny and turn the corner against the Ohio State right tackle.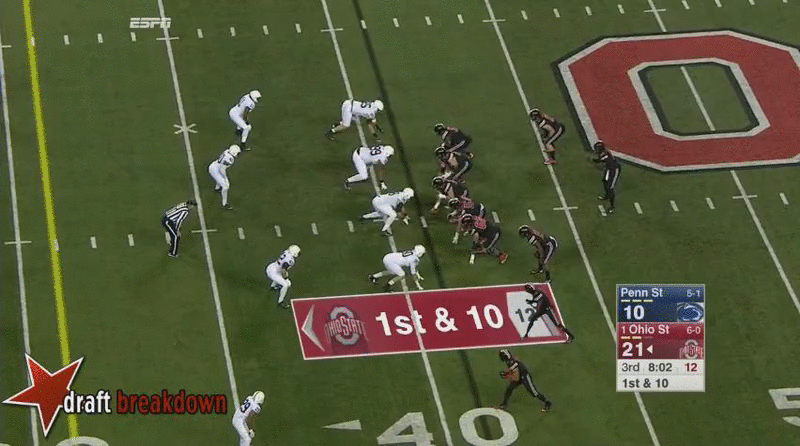 I appreciate the hustle, too. After getting juked pretty badly by Braxton Miller, Nassib stays with it and dives back in to make the tackle in the backfield.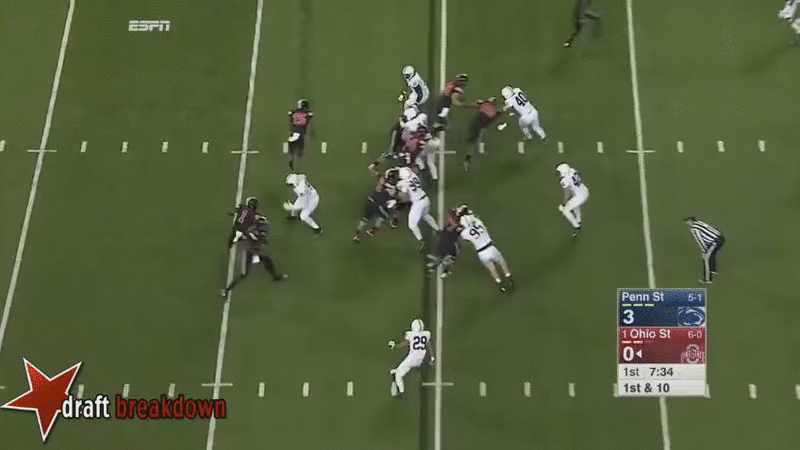 And the dude can just plain hit you. Stunts inside as the looper and absolutely destroys this Temple quarterback. Whew.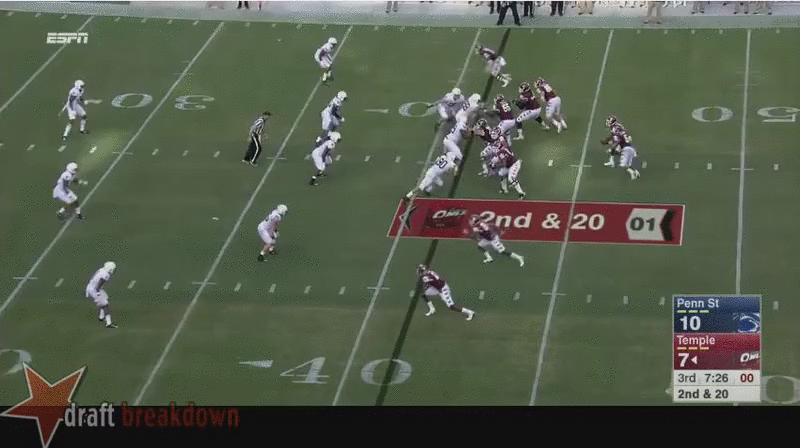 But as a raw player, there are some technical aspects to clean up. Nassib fires out hard on the snap but doesn't always bring his lower half, causing his eyes to drop and get really overextended. At the top, look at this screencap of Nassib completely flat against the OSU right tackle.
And then there's this, Nassib flailing and falling to the ground, out of the play before it begins.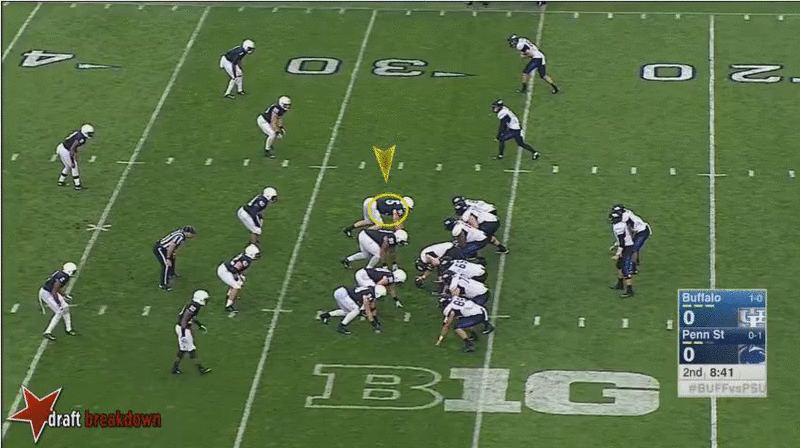 Most will call him a 4-3 end. And that's fair. But as sub-package football dominates the league, positions blur and roles become more important. It opens a 3-4 team like Pittsburgh to Nassib. Five years ago, there wouldn't have been a good fit for him in their base defense. Too light/weak to play end, not nimble enough in coverage to play outside linebacker.
But can he play the three tech in a 2-4-5 and get after the quarterback? Yes. Can he kick over to end in some faux 3-3-5 looks with one of the outside linebackers playing with his hand down, as the Steelers showed a couple looks of? Absolutely. Can he stand up occasionally, drop enough to mix up his assignment, and rush off the edge? You bet.
Schemes today gives him that extra versatility and makes him more attractive to the Steelers, who have already shown interest in him.
Still, he's a developmental player who is way behind in terms of football years from almost everyone else in this year's draft. Not sure what he's going to give you in year one. But the Steelers could be in a position to wait if they bring in a veteran DL piece and James Harrison returns at OLB.
Projection: Late 3rd-Early 4th
Games Watched: at Temple, vs Buffalo, at Ohio State, Senior Bowl
https://www.youtube.com/watch?v=1Z_ApDnRgF4