As you should know by now, our attention has now shifted to the 2016 NFL Draft as it relates to the prospects. From now until the draft takes place, we hope to profile as many draft prospects as we possibly can for you. Most of these player profiles will be centered around prospects the Pittsburgh Steelers are likely to have interest in.
We're back, hitting the secondary pretty hard again with a profile on corner Artie Burns.
#1 Artie Burns/CB Miami (FL): 5'11/7 193
The Good
– Exceptional length for his frame, 33 1/4 inch arms
– Uses length to advantage, boundary corner who can pin receiver to sideline and eliminate space, rides receiver out
– Instinctive and reacts quickly, transitions downhill and closes space in a hurry
– Not an overly physical player but looks for contact, sticks nose in versus the run and gang tackles
– Shows ability to find and track the ball in the air, body control and balance in mid-air
– Special teams experience, even in senior season
– Productive 2015 campaign
The Bad
– Speed reputation doesn't always show up on tape or his timed number
– Struggles at catch points, need to play through the pocket with stronger hands, occasionally makes a play but is overall shrugged off
– Struggles when giving space to receiver in off man, doesn't open up gate soon enough and will jam too long, potential for defensive holding calls beyond five yards
– Lean frame allows him to get beat up at the line by thicker receivers
– Lacks significant starting experience
Bio
– Two year starter, 23 games, left school early as a true junior
– 2015: 6 INTs, All-ACC Second Team by coaches
– Elite hurdler in high school and college, broke 38 year old American junior record in the 60 meter hurdle
– Three time state champion hurdler in high school
– Four star recruit out of HS
Tape Breakdown
Burns checks all the baselines. Long. Fast. Productive in a Power 5 conference. Watch him basically play as the receiver here, locating the ball and showing superb body control along the sideline.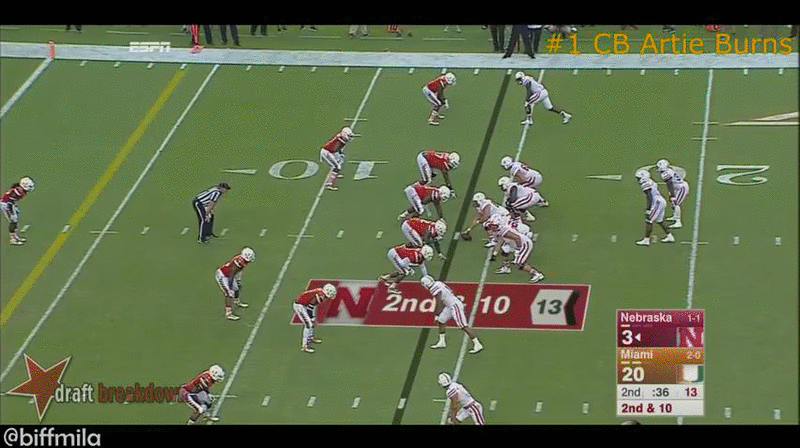 With the length that he has, he can pin receivers to the sideline when serving as the boundary corner as he often did the The U. You can see it at the top of your screen in the GIF below.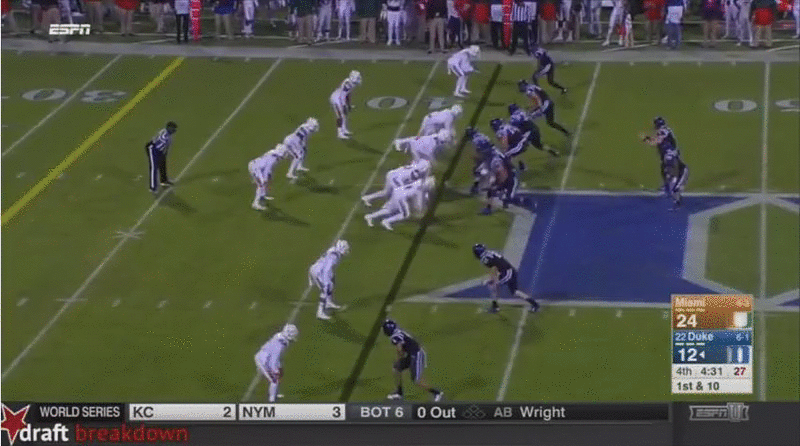 Knowing me, and what I look for, the ability to play the pocket is huge on my litmus test. Want to be a shutdown, man corner? That's what you have to do. Not always going to get to play the ball. And Burns struggles here. Needs more violent hands to chop down on the receiver's hands and create breakups.
Jump ball in the end zone? Have to make the receiver earn it and Burns really doesn't.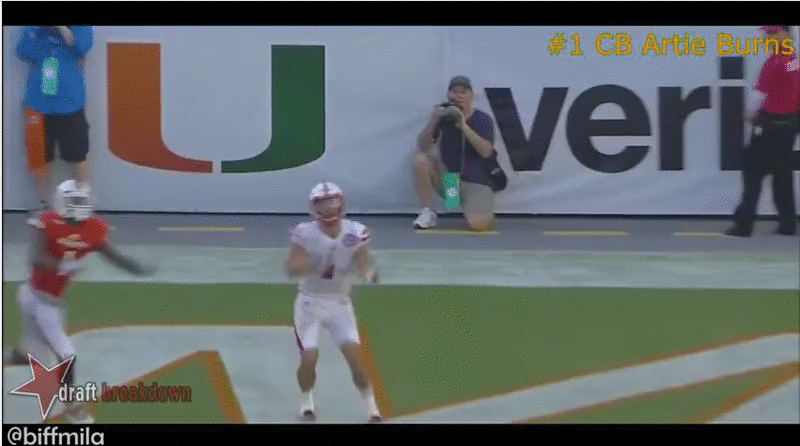 And here again versus Duke, boxed out by the receiver. Burns finishes the play with the tackle, he is pretty physical, but he needs to get stronger to compete against the big frames he'll routinely see in the NFL.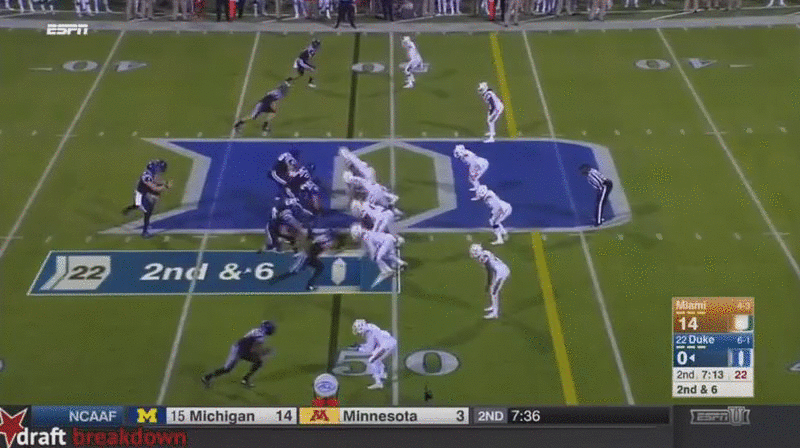 The common knock on him is that he's stiff. That's probably a little exaggerated, I'd like to think any hurdler has flexibility, but you see pockets of it on tape. Misses this tackle on kick coverage as the Panthers' return man cleanly jukes him.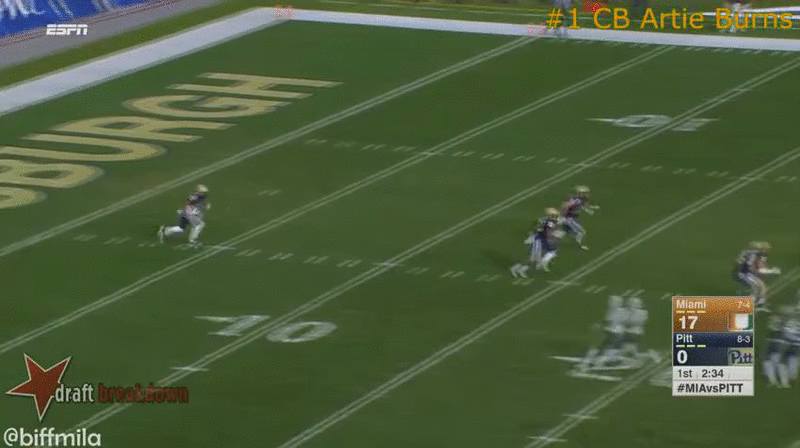 Burns is plenty fast, sure, but I didn't see the elite speed that he was hyped up to be. A 4.46 at the Combine is wholly impressive but tied for just 10th of his position. On tape, I saw a guy who got beat in some footraces I didn't expect him to lose.
His best fit wil come in a press man scheme. Punching with the away hand and riding the receiver will cut down on space the receiver has while helping open up Burns hips. That isn't the dominant concept Pittsburgh runs and he simply is not an ideal fit for Keith Butler.
Projection: Late 2nd
Games Watched: at Duke, vs Nebraska, vs Pittsburgh