As you should know by now, our attention has now shifted to the 2016 NFL Draft as it relates to the prospects. From now until the draft takes place, we hope to profile as many draft prospects as we possibly can for you. Most of these player profiles will be centered around prospects the Pittsburgh Steelers are likely to have interest in.
After a couple days off to cover free agency, we're back to our draft profiles. Here, we look at Minnesota cornerback Eric Murray.
#31 Eric Murray/CB Mnnesota: 5'10/5 199
The Good
– Physical player, far from passive, and capable of wrapping up quickly and forcefully in the open field
– Used to playing press man, desire to mix things up and throw his body around
– Closes space quickly and stays clean, works off blocks efficiently and doesn't get washed
– Sticks his nose in against the run
– Shows good enough feet and transition, doesn't pop up and won't show much stiffness flipping his hips
– Time well at Combine, athletic numbers
– Shows power on his punch
– Tons of starting experience and durable, no injury history
The Bad
– Physical to a fault, far too grabby in coverage, has to learn to play cleaner, and is a pass interference call waiting to happen
– Will occasionally struggle with his run fills
– Needs to show better technique in pass man, often punches with the wrong hand, and doesn't get his hips open, also needs to lower his hands and aiming point on his punch
– Inconsistent at catch points, can play the pocket but don't see it enough
– Mostly limited to boundary corner in the tape viewed
– Low interception numbers, not particularly productive in that regard
Bio
– Three year, 39 game starter for Gophers
– Two career interceptions, but forced three fumbles in 2015
– Split time between running back and cornerback in high school
– Ran a 4.49 40 at Combine, 39.5 inch vertical, 10'4" in broad, 7th best three cone time of position (4.05)
Tape Breakdown
There should be no argument over what type of mentality Murray plays with. He's regarded as a quiet player who doesn't talk much trash but his physicality speaks volumes.
Sticks his face into the ball against Aaron Green, popping the ball out and creating the turnover on 3rd down in the red zone. Big time play.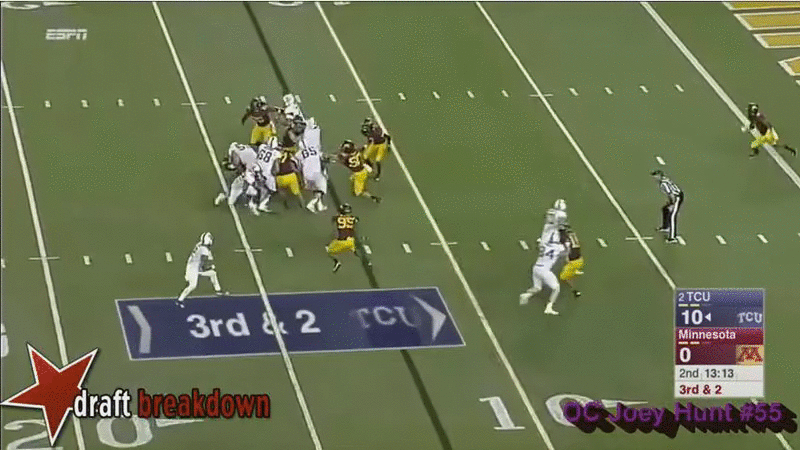 Watch him close space quickly and light up the receiver running the speed out. Murray can definitely hit and from that standpoint, makes him an attractive option in Pittsburgh.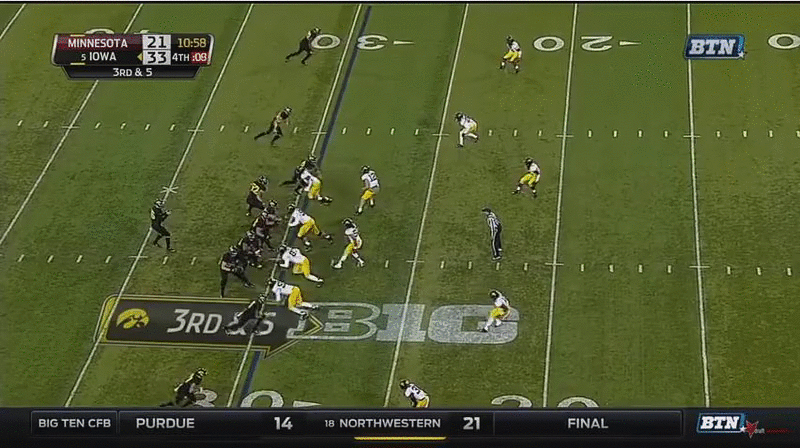 Technically, Murray struggles in press man. Cornerbacks need to punch with the hand opposite of the receiver's stem. Failure to do so results in not being able to get your hips open and getting beat. We see that here versus TCU at the bottom of the screen.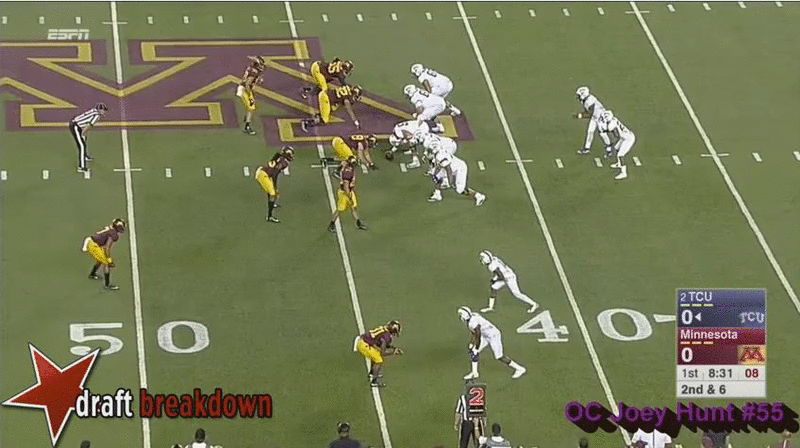 He gets bumped off his coverage pretty easily here by Michael Thomas. For a player we know is physical, this is weak.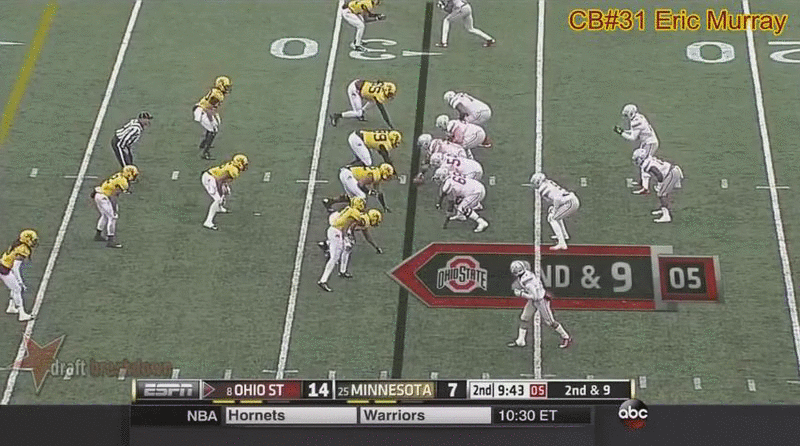 Because he was a physical corner and played on the boundary, he honestly wasn't targeted a ton. So it's hard for me to show many examples of what I think is Murray's biggest problem. Far too grabby in coverage.
Like this one against Iowa.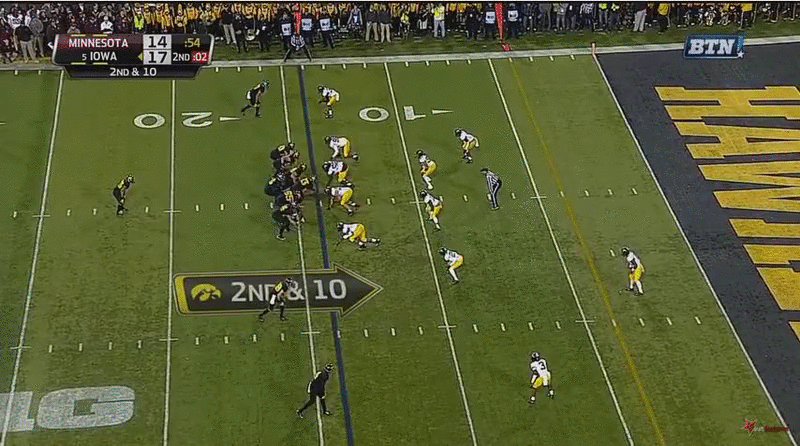 It's easily exposed in one-on-ones at the Senior Bowl. There was one known instance where Murray ripped off Braxton Miller's helmet. Here's what I wrote at the time.
"Also able to separate from Eric Murray on a dig and make the catch despite Murray – in his natural, aggressive state – somehow ripped Miller's helmet off."
I had an interesting discussion about Murray with some friends down in Mobile. It's undeniably true it's better to have players who are overly physical than passive – Mike Tomlin's "woah" rather than "sick 'em" attitude – but it doesn't absolve Murray of the issue. How can he play in off man? Can he find the balance between feeling the receiver and not dragging him down to draw an obvious flag?
Murray is a little faster, a little smaller than Brandon Browner, but that's my current thought process to him because they're grabby, penalty-heavy players. Carnell Lake has done great work in teaching his guys how to play clean, but there have been ones like Cortez Alen who have yet to figure out. He's a good coach but can't transform everyone. I wouldn't hate a Murray pick but realize there is a pretty large floor with him. Could fall out quickly.
Projection: Mid-4th Round
Games Watched: vs Ohio St (2014), vs TCU, vs Iowa, Senior Bowl