As you should know by now, our attention has now shifted to the 2016 NFL Draft as it relates to the prospects. From now until the draft takes place, we hope to profile as many draft prospects as we possibly can for you. Most of these player profiles will be centered around prospects the Pittsburgh Steelers are likely to have interest in.
Breakdown of late round UNC quarterback Marquise Williams to kick off the week.
#12 Marquise Williams/QB North Carolina: 6'2 225
The Good
– Thick frame that is difficult to bring down, can shake defenders off and keep the play alive
– Shows arm strength, flashes of throwing the deep ball on target
– Will make tough throws into tight windows, ball comes out with velocity and a spiral
– Tough, stands tall in the pocket, composed under pressure, will take a shot to make a throw
– Keeps his eyes downfield while showing proper carriage of the football
– Above average athlete who can extend the play outside the pocket and be a threat in the open field, not blazing fast but someone to account for, size/bulk makes him an adventure to tackle, used on several designed draws
– Shows ability to go through full field progressions
– Has solid base to work from, able to transfer energy and deliver throw with power
– Ability to throw on the run, square his shoulders and deliver an accurate ball
– Offensive line, schemes, and poor snaps did not help him, not the best supporting cast
– Lots of experience as a starter and a productive career
The Bad
– Maddeningly inconsistent player in most phases of his game
– Bouts of horrendous accuracy, missing the easiest throws an offense can design
– Struggles with ball placement father down the field you go, does much better when asked to throw outside shoulder vertically because he has more of a defined target and doesn't have to lead the throw, more of an issue when having to place the ball to inside shoulder and middle of the field
– Has difficulty processing information, especially against zone, will stare down throws and doesn't anticipate/read obvious defenders
– Occasionally will drift in the pocket, leave when there's no pressure and no reason to
– Has to speed up progressions
– Shotgun based offense, never under center, many throws with a low degree of difficulty
Bio
– 33 game starter for Tar Heels
– 2015: 3072 yards, 24 TDs, 10 INTs, 61.2% completion rate
– Career: 7961 yards, 65 TDs, 25 INTs, 61.3% completion rate
– Over 2400 yards rushing in career, 26 TDs over last two seasons, 35 in career
– Kicked out of school in spring of 2013 for academic problems, returned in the fall
Tape Breakdown
Look. Williams is going to get compared to Ben Roethlisberger. It isn't accurate, it isn't fair, but when there are plays like this, because of his size, it'll come up.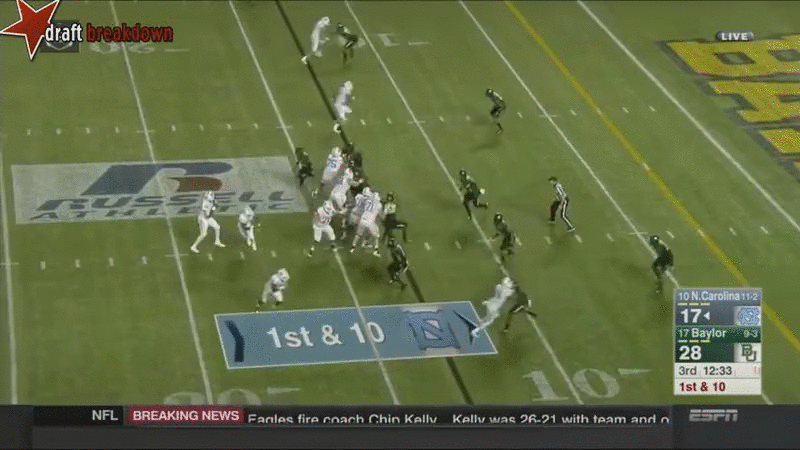 He's one tough cookie, too. Will stand tall in the pocket and get rocked in order to make a throw. A convenient skill to have considering his line was mostly junk, especially at left tackle, against a slew of top-notch ACC pass rushers.
And when the pocket breaks down, Williams stays composed, able to keep his eyes downfield and climb.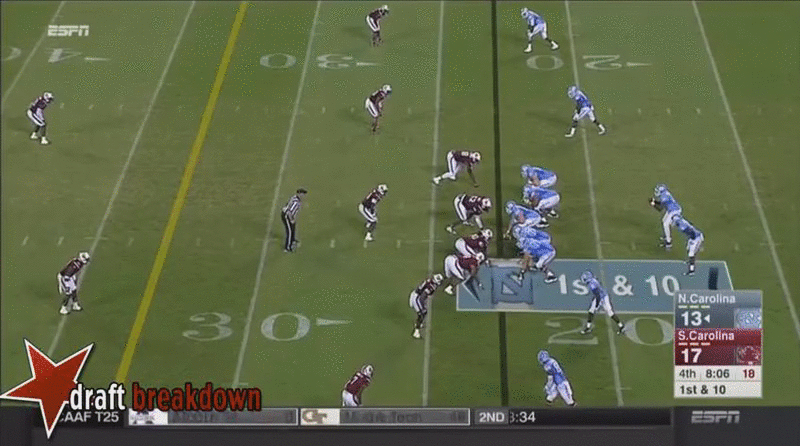 While he won't outrun many people, he's a quality athlete for his size and with that bulkier frame, can be tough to bring down. Nice look at his shiftiness on this zone read.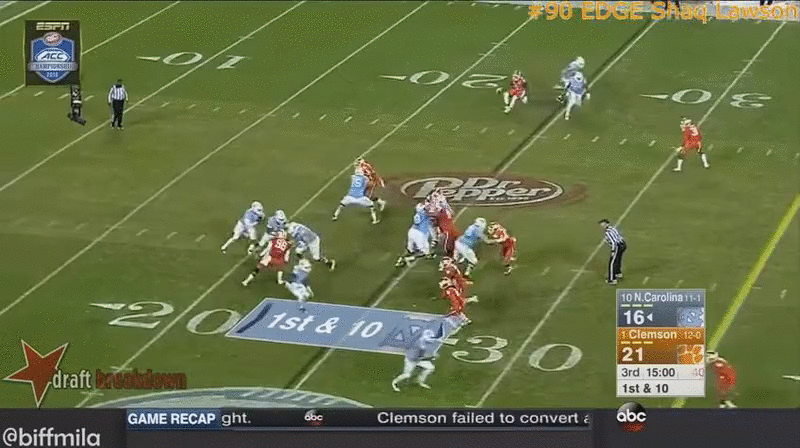 But there is so much bad tape on Williams' resume. Hold your nose, run away variety. I could create a whole movie montage of him missing the easiest throws. Here's just two of them.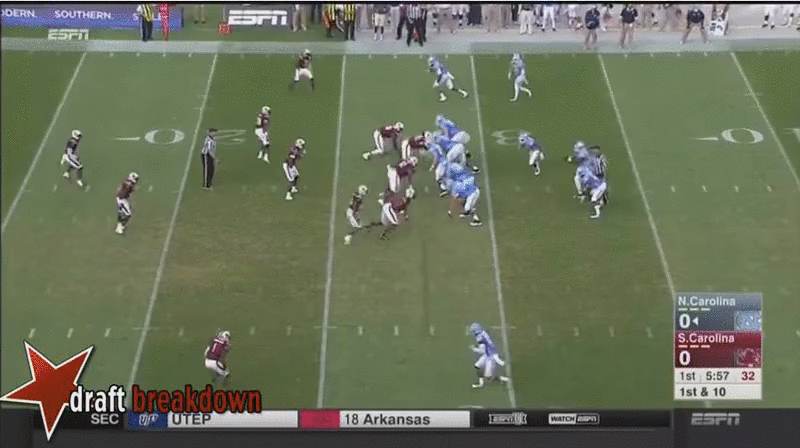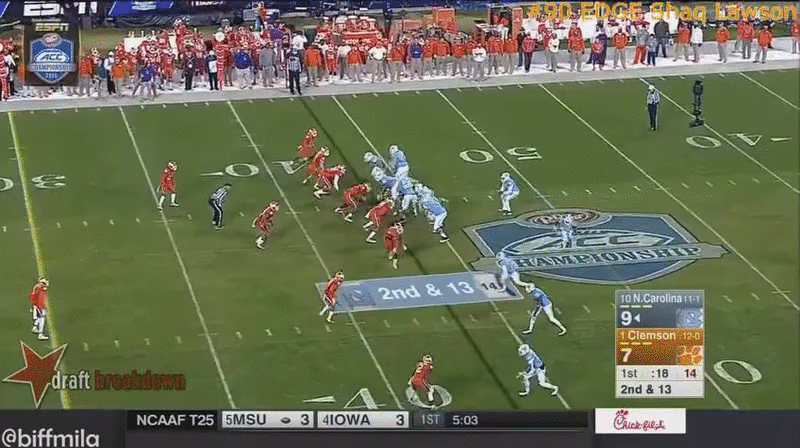 Lots of UNC fans don't think he has a great arm. I think It's good enough, and I've seen him rope the nine route with strength, but when he has to lead the throw downfield instead of say, pinning it along the sideline, his accuracy wanes. This post is way too far behind and the ball hangs, letting the CB make a play on it and nearly pick it off.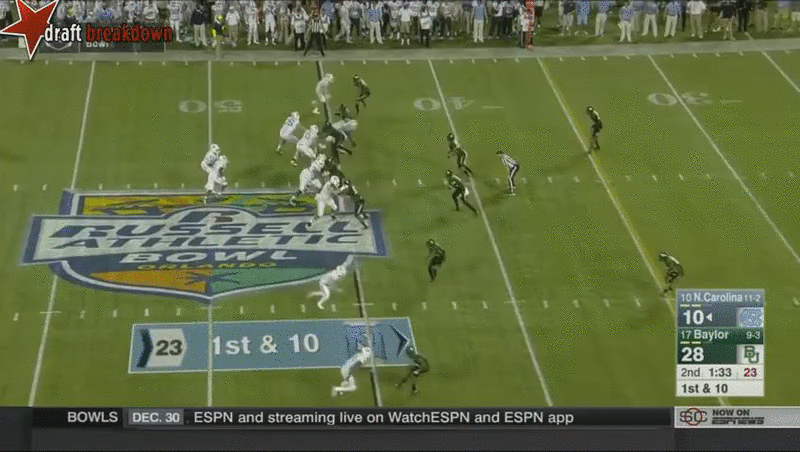 He'll become oblivious to defenders, especially in zone coverage. Against South Carolina in Week One, all three of his interceptions came versus zone. Two of them in the end zone. Including this one.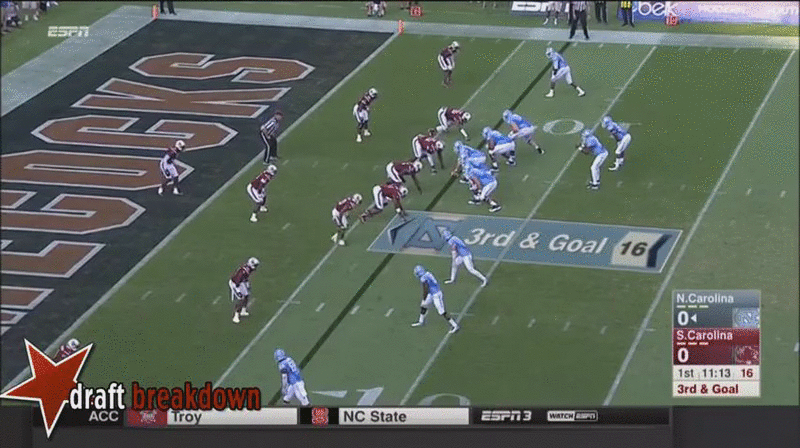 Williams was kicked out of school in the spring of 2013 for academic problems with himself admitting he got lazy, gained weight, and lost focus. He obviously worked his way back into the school, the team, and became a starter. In a feature piece by dailytarheel.com, there's a great paragraph that shows the dedication he found to work his way back.
"Williams wasn't in school, but he was still on the team — he took that to heart. A clock always nearby, he awoke to daily 5 a.m. alarms for workouts, just like the team. He watched film, just like the team. He waited until 2:15 p.m. to lift, just like the team. And most importantly, he essentially slept with a playbook under his pillow."
It's a great story, and Williams enjoyed a heck of a career, but the tape is just not doing it for me. I mocked him to the team in the 7th as a flier, not knowing a ton about him, but after breaking him down, I can't even justify a draftable grade. There are flashes, and I admire his competiveness, but there ugly bubbles to the surface far too often.
Some think he could make a position switch, akin to Tyler Murphy. But Williams is much thicker, slower, and I don't see traits that transfer to playing wide receiver. It's quarterback or nothing and the latter feels significantly more likely.
Projection: Priority UDFA
Games Watched: at South Carolina, vs Duke, vs Clemson, vs Baylor (Bowl)