As you should know by now, our attention has now shifted to the 2016 NFL Draft as it relates to the prospects. From now until the draft takes place, we hope to profile as many draft prospects as we possibly can for you. Most of these player profiles will be centered around prospects the Pittsburgh Steelers are likely to have interest in.
One of the most exciting players we'll profile this year. Texas Tech WR Jakeem Grant.
#11 Jakeem Grant/WR Texas Tech: 5'7 168
The Good
– Incredible change of direction, stop/start ability, as proficient as you'll ever see
– Highlight reel, big play ability, who shows it nearly every game
– Agility, acceleration is phenomenal, turns on a dime, has the flexibility to move the way almost no defender can match
– Straight line speed comes close to matching timed speed, one of the fastest players in the draft
– Electric kick return threat, special teams playmaker
– Flexibility allows him to sell his routes, stem vertical and then break down underneath
– Tough player, doesn't go down as easily as you'd expect, and competes, won't duck out of bounds and willing to take on defenders
– Despite frame, a willing and serviceable blocker
– Highly productive career, especially during his senior season
The Bad
– Clearly, severely undersized, one of the smallest players in the draft
– Lack of frame limits his catch radius and will have trouble adjusting to passes thrown slightly off target
– Too many drops, bit of a body catcher, and lack of size makes it easy to knock the ball out of his frame
– Unrefined route runner, almost freelances, and mainly used on concepts that quickly got him the ball on the perimeter, elongated run game
– Tendency to hop off the line and on his cuts instead of planting and exploding
– Sometimes moves so quickly he loses his balance and slips/falls, has to play more under control
– Has to keep working hard on scramble drills, particularly short to long, sometimes stops and gives up too early
– Limited schematically to the slot and does not have a true NFL role, needs an open-minded and creative offensive coordinator
Bio
– 2015: 90 receptions, 1268 yards (14.1 yards per catch) 10 TDs, 26.1 yards per kick return, 2 TDs
– Career: 255 receptions, 3289 yards, 27 TDs, 4 KR touchdowns
– Broke Michael Crabtree's yardage record, 4th all-time in receptions at TTU
– All-state player in track and field in high school
– Father of three
Tape Breakdown
Rarely do I attach emotion to watching a player. You stay as impartial as possible. Watch the tape, not enjoy or root for it. But man, Grant is one of those guy's that is just fun to watch. The highlight reel plays he makes are unique to him. And you can't help but root to see the next one.
I could post 20 of these. I want to post 20 of these. But I also want this page to load before the draft so I won't.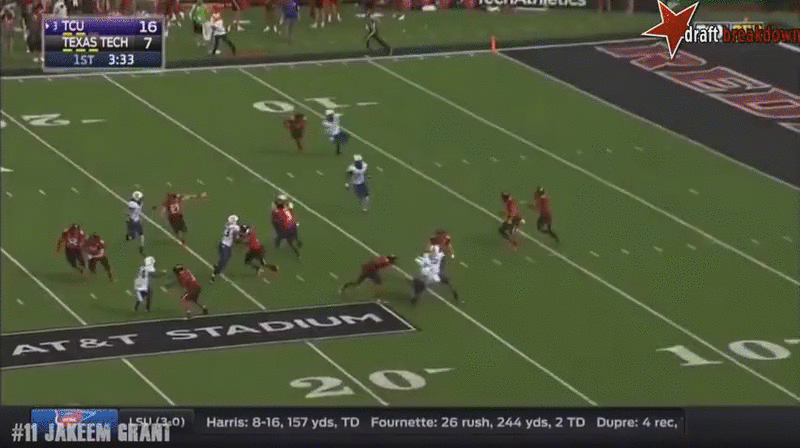 But it isn't just on kick returns where he makes his mark. His ability to break down, change directions on a dime, and make people look silly is just unparalleled by anyone else in the draft.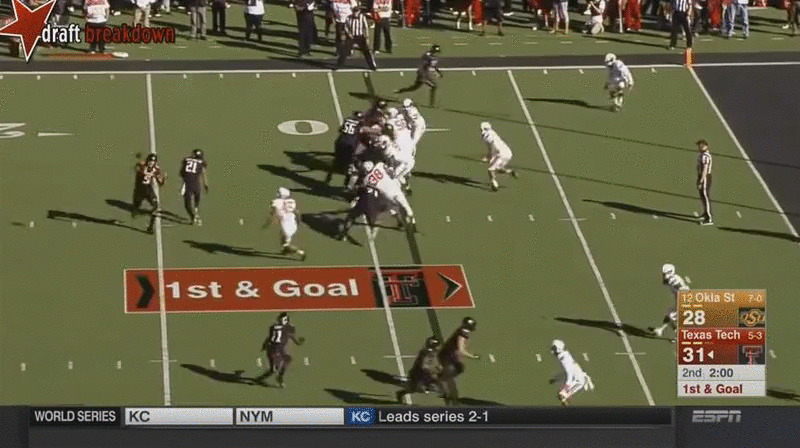 He put on a clinic against LSU, including this incredible play.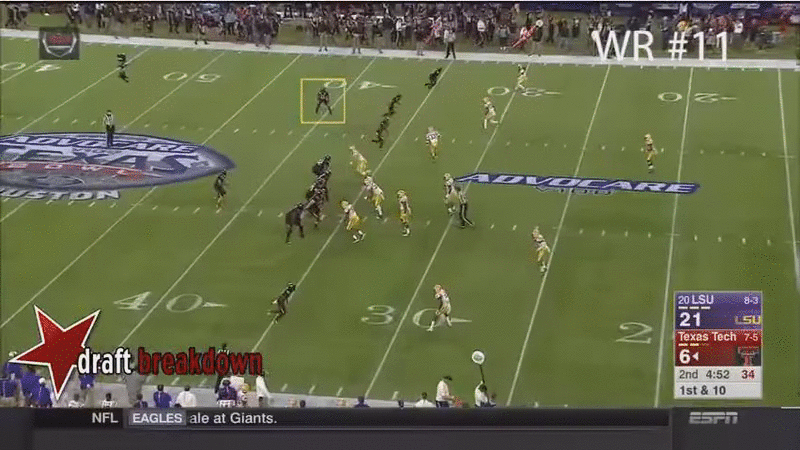 But all that glitters is not gold. Grant's best plays are undeniably intoxicating. Throw on a highlight reel and you'll take him in the third round. Watch more snaps, the good and the bad, and you'll obviously get the complete picture.
He struggles to consistently catch the ball cleanly. Be it because of a tendency to body catch, a lack of size which makes it easy to bump him and knock the ball out, or having to leave his feet more often to compensate for a lack of a catch radius, it is an issue.
Here's an example of the latter, Grant leaping for the pass, and being unable to come down with it. Leave your feet and you run the risk of getting popped in mid-air while limiting YAC ability.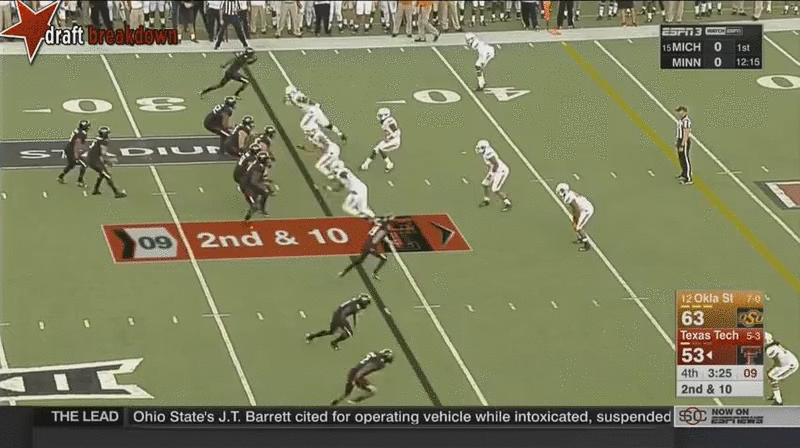 And though I love the way he sells this route vertically, and the ball is late, Grant lacks the strength to prevent the corner from ripping the ball out.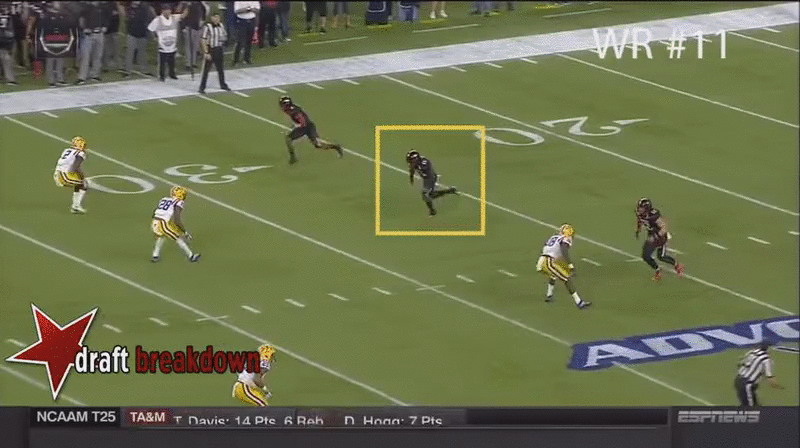 Though he sold the above route well, he is generally an unrefined route runner who was utilized on the elongated run game – smoke screens, flares out of the backfield, option plays as a running back. What he does border on freelances and is not an advanced route runner vertically. He can run the go with his speed but I didn't see him have to break on vertical concepts, like corner  or deep out routes.
He also has a tendency to hop off the line and at his break instead of planting and exploding out.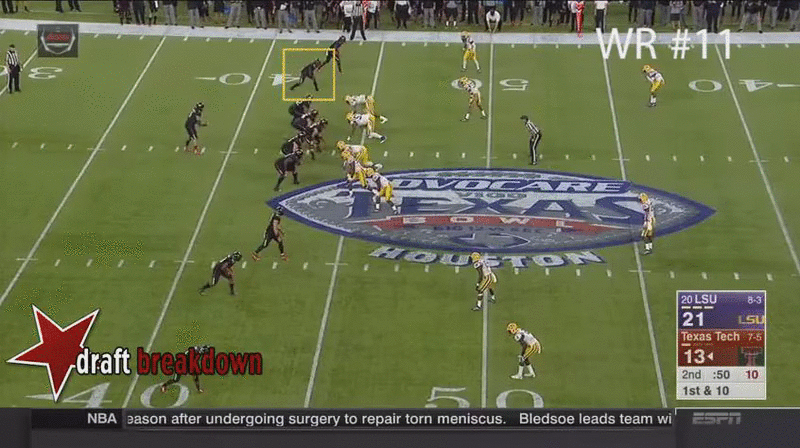 Grant's story is interesting though at times, incredibly dark and depressing. He grew up in a rough neighborhood, had friends that got in a bad crowd and killed, and Grant himself was stabbed underneath his chin in 2014. He is now trying to provide for his family with three children.
This feature piece by the Lubbock-Avalanche Journal covers things very well.
While it is easy to compare Grant to Dri Archer, severely undersized individuals with big play ability, Grant's change of direction and lateral quickness are clearly much better than Archer, who was more of a straight-line runner.
It is easy to fall in love with Grant, and with good reason, but there are warts that go beyond his size. And like Archer, Grant will have a similar problem. Finding a way to get him touches. It will be through more unconventional means and I don't think Grant will ever be a true, every-down receiver, even in the slot.
The huge increase in run/pass options though, which often feature a short swing or slant route, bodes well for Grant's chances of getting one-on-one chances in space.
And of course, his special teams ability is excellent.
Is it someone I'd like Pittsburgh to take? I'm not pounding on the table for it the way I did say, a Tyler Lockett, who I was smitten with. But I wouldn't mind it one bit. If Pittsburgh doesn't, a guy like Hue Jackson in Cleveland might pull the trigger. He'd fit the Browns' offense well.
Projection: Mid-Late 6th
Games Watched: vs TCU, vs Oklahoma St, vs LSU (Bowl)