As you should know by now, our attention has now shifted to the 2016 NFL Draft as it relates to the prospects. From now until the draft takes place, we hope to profile as many draft prospects as we possibly can for you. Most of these player profiles will be centered around prospects the Pittsburgh Steelers are likely to have interest in.
A breakdown of UCLA defensive tackle Kenny Clark.
#97 Kenny Clark/DT UCLA: 6'2/5 314
The Good
– Thick, large frame and lower half with large, 10 1/2 inch hands
– Incredibly strong, difficult to move, capable of anchoring and holding the point of attack even versus double-teams
– Gets arms extended, creates space between he and linemen, strong hands, and routinely in control versus drive blocks
– Creates power through his hips, uncoils and strikes with a powerful punch
– Shows an impressive bull rush, has the power to collapse the pocket and be an interior threat
– Balance and coordinated player, rarely off his feet
– High effort player who fights hard through double-teams, doesn't quit on players and effort doesn't slip late in games
– Refined hands as a pass rusher, lacks a consistent, go-to move, but will occasionally win with a rip or  push/pull
– Durable, no notable injury history in college career and started every game the last two seasons
The Bad
– Lacks ideal length for an odd front (32 1/8 inch arms)
– Average athlete and explosion, below average relative to the rest of the class
– Doesn't have a go-to pass rush move, limited arsenal and doesn't show anything besides his bull rush consistently enough
– Schematically limited to the interior, most work as the one tech, and probably limited to a two-gap defense
– Able to two-gap and hold point of attack but struggles to find the runner and shed, loses vision too often, needs to keep eye level up
– Infrequent, but moments where he turns his back in, loses vision of the LOS, seen in run and pass
Bio
– Two years as a full-time starter, 30 in career
– 2015: 75 tackles, 11 TFL, 6 sacks
– AP Third-Team All-American
– Four star recruit out of high school
Tape Breakdown
Ten years ago, Clark would've not only been a first round pick, he would've been a Top 15 selection. But with the NFL landscape ever-changing, Clark loses a bit of luster.
This dude is strong. An ox. No one moves him. Drive block, combo, double-team, it doesn't matter. Clark rarely gets blown off the ball.
Double-teamed here versus Arizona. Doesn't move Clark, the LDT, #97.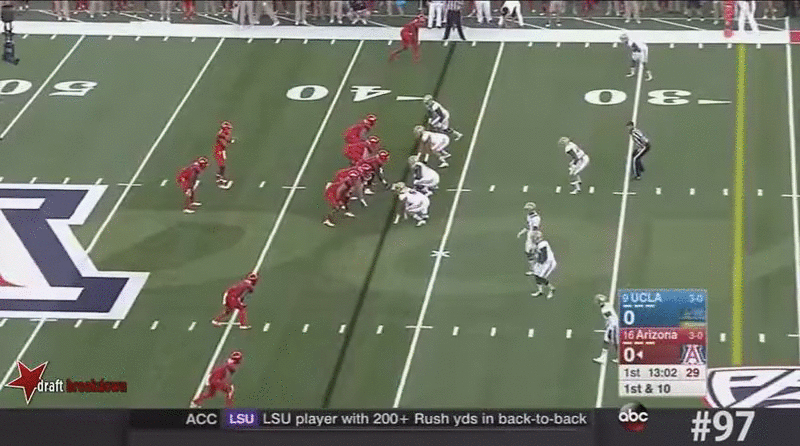 And even though he gets blown back about a yard here, he's able to reanchor and force the back to bounce his run one gap outside.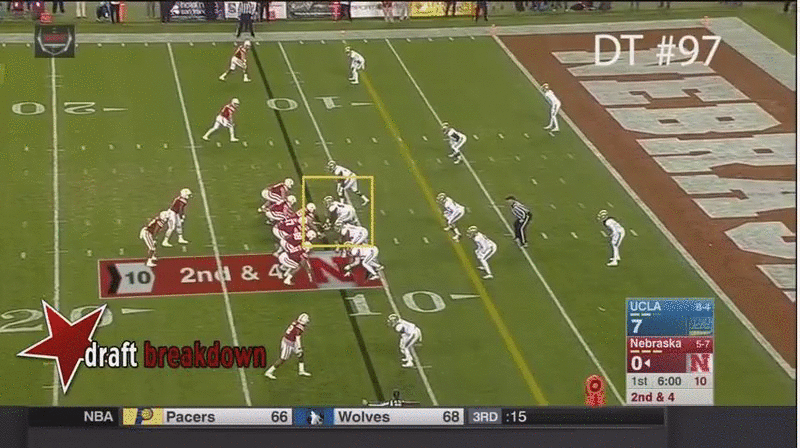 His ability to shoot his arms, uncoil his hips, creates leverage and power. Destroys this Arizona center, still giving effort despite winning big in the 4th quarter.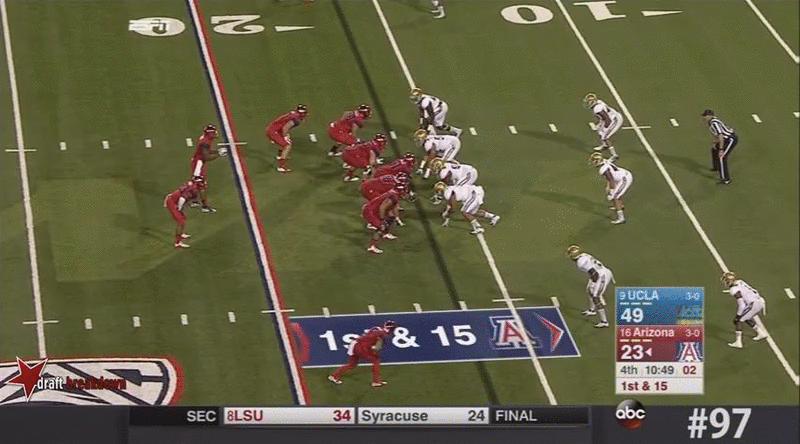 And that power converts over as a pass rusher, too. The guard here may have stepped on someone's foot at the end, but man, this is nasty.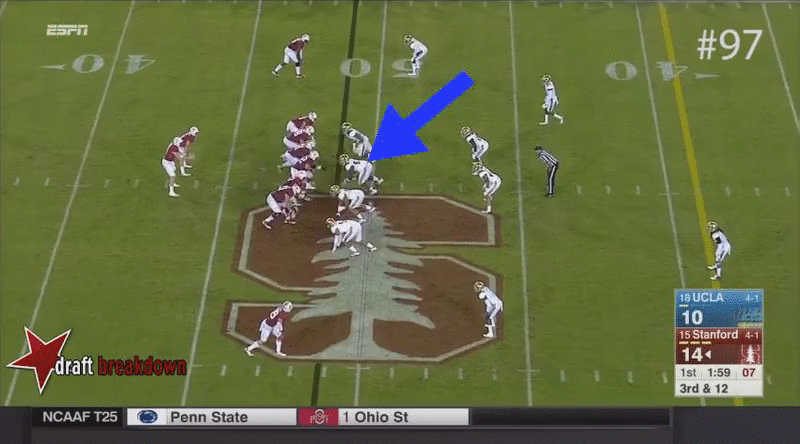 You can see a lot of fight and energy here, but he completely loses sight of quarterback Kevin Hogan, rushing upfield and right past him.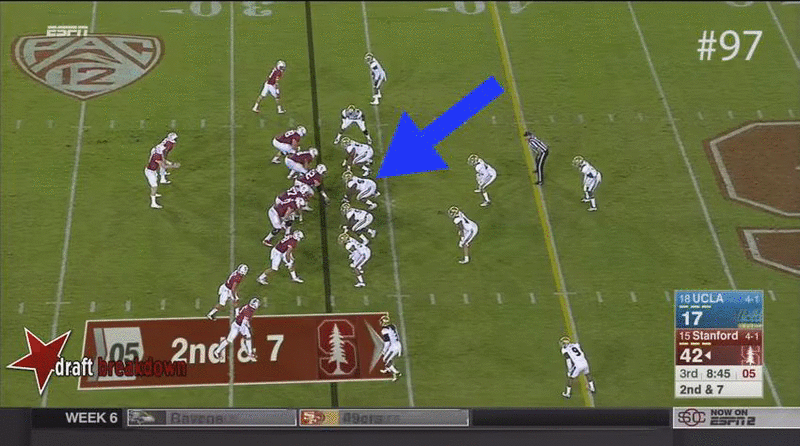 Similar issue here but against the run. Controls the line but sees the runner too late.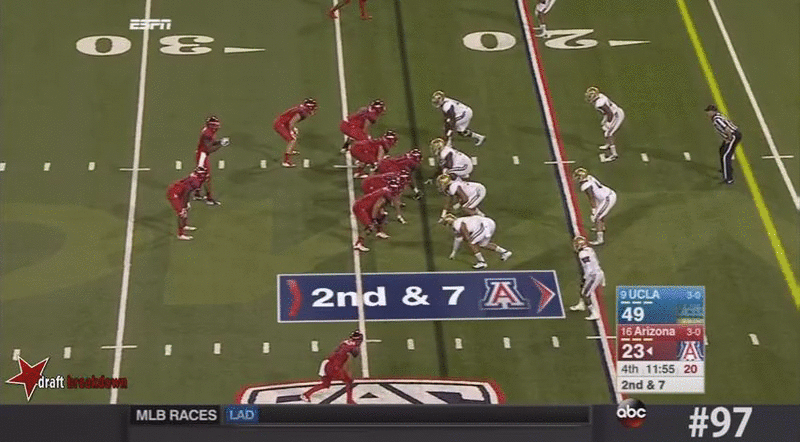 Clark has to be one of the top linemen to stop the run. Right up there with DeForest Buckner, Jarran Reed, whoever. But his inability to rush the passer on a consistent basis severely curtails his value, especially when he'll be in a 2-4-5 front 70% of the time. I just don't see it for Clark. But in a 4-3, as a one tech, he'll do his job as well as you can hope for. Think of Brandon Thompson in Cincinnati. But a more productive version.
Projection: Mid-2nd
Games Watched: at Arizona, at Stanford, vs Nebraska (Bowl)