As you should know by now, our attention has now shifted to the 2016 NFL Draft as it relates to the prospects. From now until the draft takes place, we hope to profile as many draft prospects as we possibly can for you. Most of these player profiles will be centered around prospects the Pittsburgh Steelers are likely to have interest in.
Back in the secondary with a profile on Clemson SS T.J. Green.
#15 TJ Green/SS Clemson: 6'2/4 209
The Good
– NFL frame, and triangle numbers with height/weight, length (32 inch arms), and timed speed (4.34 40)
– Physical, aggressive player downhill against the run, fills the alley well, and willing to sacrifice his body
– Overall, capable tackler who can bring down bruiser backs and doesn't show any fear or apprehension in doing so
– Plays hard, high effort player
– Takes proper angles to the football and doesn't waste steps/time
– Appears good enough at being able to flip his hips in coverage
– Slight return value
The Bad
– May not be the athlete that he's timed, good, but don't see special movement traits the way the Combine indicated
– Needs to see what he hits, keep his eyes up, too often leads with the crown of his helmet, injury and penalty risk
– Liability in coverage, struggles to get in-phase, will look back for the ball and allow separation, and generally looks uncomfortable
– Looks a little stiff in change of direction, trouble breaking down coming downhill
– Communication breakdowns that led to big plays
– Limited experience, three years in college football and just a one year starter
– Lacks ballhawking stats and could be limited schematically
Bio
– One year starter, left after true junior season
– 2015: 95 tackles, 5.5 TFL, 2 FF
– One career interception
– Averaged 21.2 yards per kick return on 21 attempts in 2014
– Came to Clemson as a receiver, caught two passes in 2013 before switching over to safety
Tape Breakdown
I'll tell you this much, Steelers' Nation. I like Green more than I do Jayron Kearse. Green, however, is limited schematically. Fortunately, it fits the teams needs. Green is a plus box safety who is willing and competent to stop the run.
The one game you want to watch is Alabama. Championship game, Derrick Henry. If you are willing to attack him and can bring him down, you can wrestle down most backs.
Attacks the alley and cuts Henry to bring him down.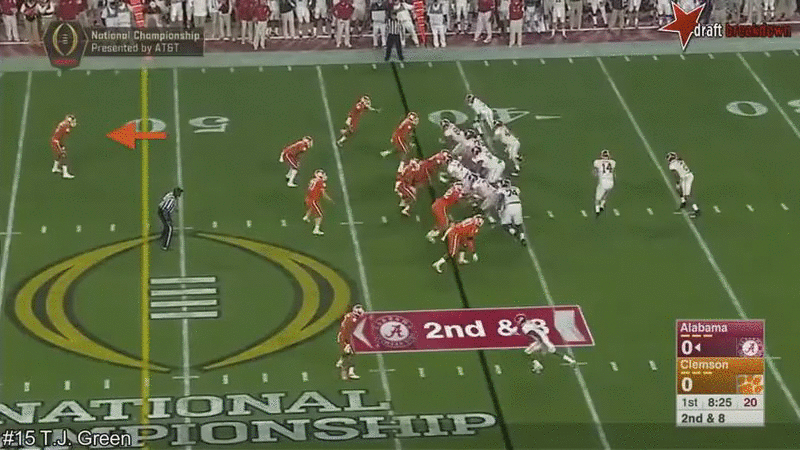 And here, he makes the solo tackle, wrapping up and dropping the big, bruising back.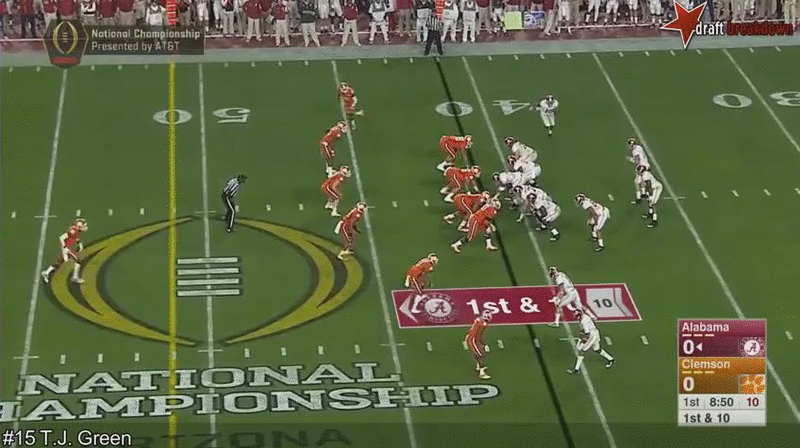 He plays the game in a violent way. A Mike Mitchell sense, teetering on the line of being too overzealous, but something that can be reined in. This isn't Vontaze Burfict, thankfully. Tosses Marquise Williams into the bench.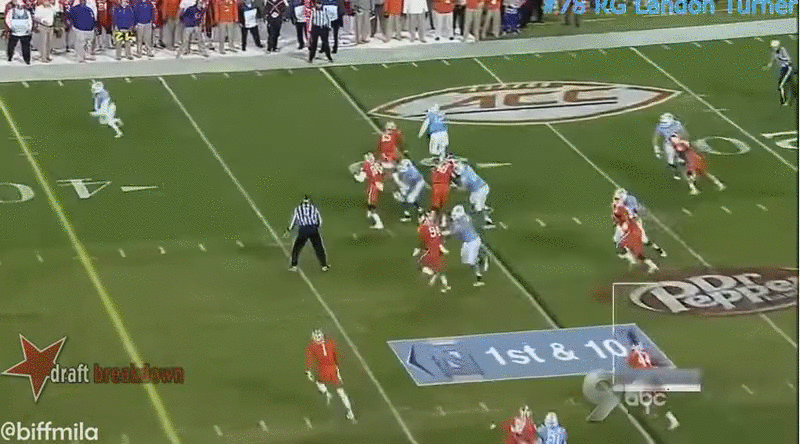 While he can hit you downhill, I worry about how reliable he'll be in coverage. Against Louisville, Green becomes the de facto cornerback with the real corner blitzing off the edge. Green looks back with no reason to on this vertical route, as if the ball would be land 20 yards on a vertical concept, allows a ton of separation, and has to make a desperate tackle to save the touchdown.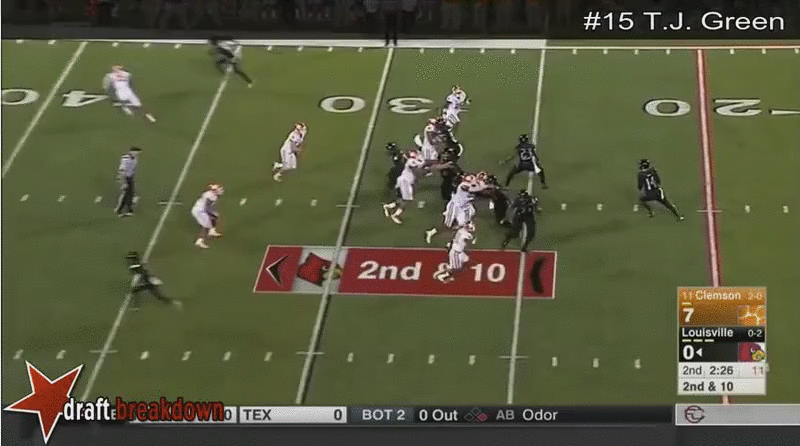 Green needs to see what he hits. Leading with his helmet too often and I'm legitimately worried he's going to suffer a serious neck injury. The picture is blurry with both players in motion but you never want to see two players collide with the crowns of their helmet.
And if you want to see the GIF, here it is, with Green getting trucked.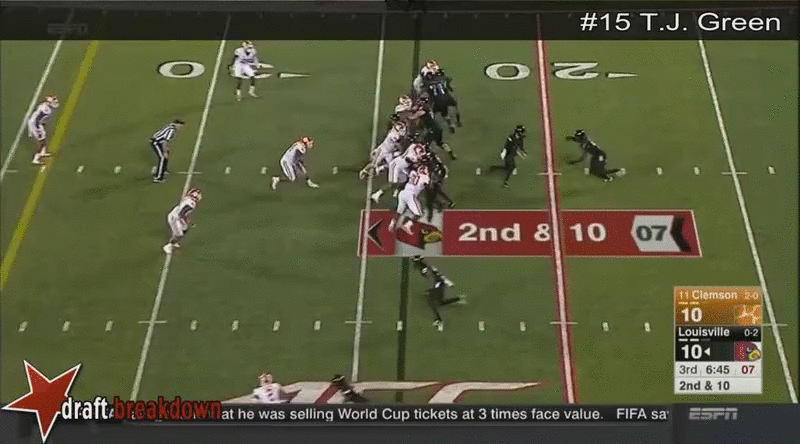 And here is the targeting call that got him ejected from the ACC Championship game. Another ugly helmet to helmet contact.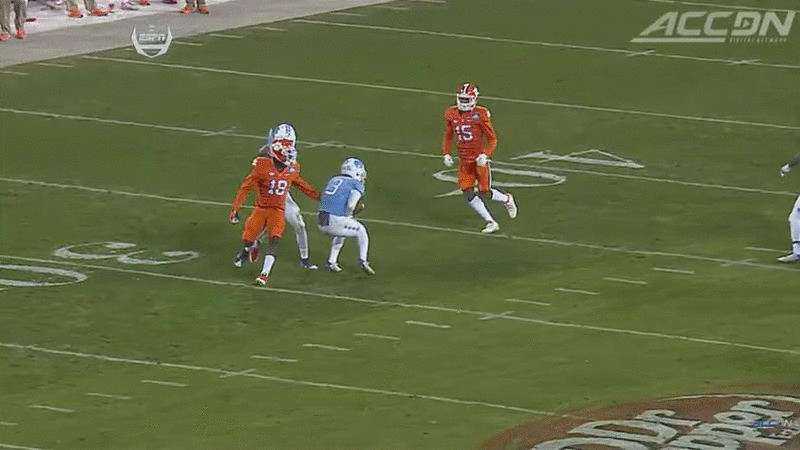 Green profiles best as a box safety who can thrive within eight yards of the line. Despite his timed speed, I don't see a tremendous athlete, and again, I'm shaky on his ability to cover. Now, he is young, and wholly inexperienced, so the upside card can be used here.
Given that, you can't expect Green to contribute on defense right away. Let him roll around on special teams for two years as he, frankly, learns how to play safety.
He's a fit in Pittsburgh, and for a lot of teams I'd imagine, if used correctly. Put him in the box, let him throw his weight around, and he'll be successful. Put him as the single high safety and you're not maximizing his skillset and odds are, he'll fail.
Projection: Early 4th
Games Watched: at Louisville, at North Carolina, vs Alabama (Bowl)