As you should know by now, our attention has now shifted to the 2016 NFL Draft as it relates to the prospects. From now until the draft takes place, we hope to profile as many draft prospects as we possibly can for you. Most of these player profiles will be centered around prospects the Pittsburgh Steelers are likely to have interest in.
To kick off the weekend, a look at safety Stefan McClure. 
#21 Stefan McClure/SS California: 5'11 205
The Good
– NFL frame, appears to have length, and overall has a well built frame
– Strong hands, reliable tackler, and plays with an edge and overall physicality
– Processes info quickly, read/react is strong, finds the football and rallies in a hurry
– Run fills are solid when he has a defined, close-ended target, force player on the edge
– Versatile and played all over the defense
– Good enough athlete to play in space, single high defender
– Injuries limited opportunity to play, best football could be ahead of him with experience
– Timed extremely well at his Pro Day (4.59, 38 inch vertical, 4.17 short shuttle, 6.9 three cone)
The Bad
– Severe injury history that creates some obvious red flags
– Angles against the run are inconsistent at best, plays too hesitantly at moment and doesn't seem to trust what he's seeing, struggles more to fill interior gaps than playing as the edge/force player
– Has more trouble reading his keys down near the LOS than he does in space
– Struggles to get enough depth in some of his zone drops
– Turns well but footwork in his pedal seems a bit clunky, on his heels
– Did not force many turnovers
Bio
– Suffered severe knee injury at the end of the 2011 season, tore his ACL, MCL, and meniscus in right knee, missed the entire 2012 season because of it
– Played in only five games in 2013 before tearing meniscus again in right knee
– Missed three games with a calf strain in 2014
– Three year captain, first player in school history to do so
– 28 career starts, 2 INTs, 0 FFs
– Aspires to get into broadcasting or become an athletic director after football career
Tape Breakdown
McClure is not a big name prospect and I had to hunt to find tape on him. Draft Breakdown has no dedicated games for him. But he is a player I interviewed, someone impressive to chat with in the 15 minute conversation we had. He also had a strong Pro Day and if there is such a thing, his stock is rising.
McClure is built well, a good enough athlete, reliable tackler, versatile, and will support the run. If you're looking for baseline marks in a safety, he hits them all.
He's playing linebacker here and scrapes over the top to secure the D gap, keeping his outside arm free, and forcing the quarterback inside to his help. Kevin Hogan is stopped on 3rd down and Cal gets off the field.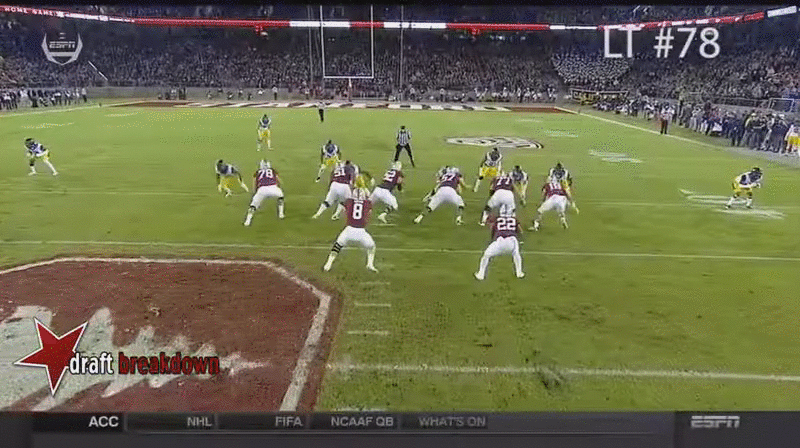 In space, he finds the ball in a hurry and can close.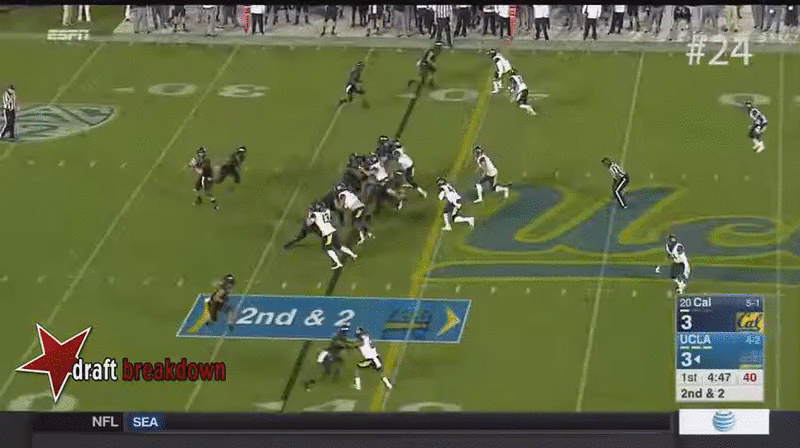 He processes information quickly. So much so, he actually overruns this route against UCLA.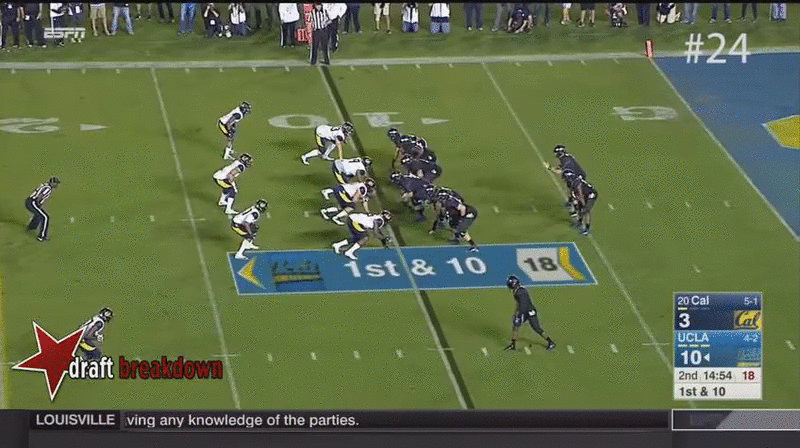 But his run angles lead a lot to be desired and it's an issue I saw in all the games I watched.
Opens up his hips completely here, working across instead of downhill. If Devontae Booker had been able to bend that run back to McClure's right, he's in no position to make the tackle. In fact, his hips open up as Booker cuts to his left. McClure appears to have lost vision on the back and guessed based on Booker's initial steps.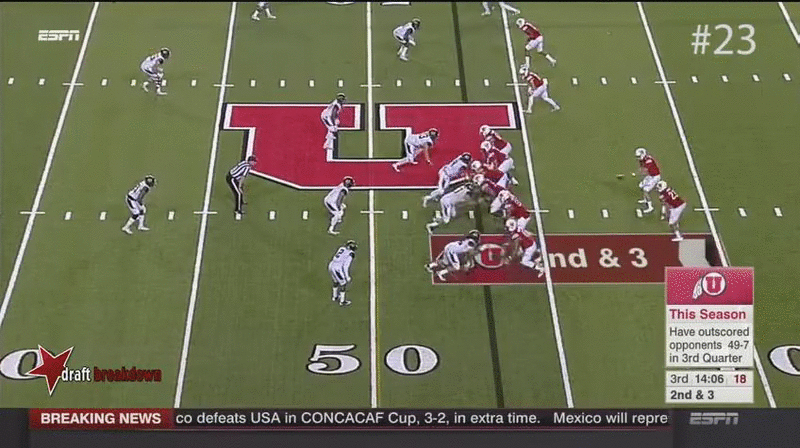 On this end around vs Stanford, McClure's angle is poor, too harsh, and all he winds up doing is taking out his teammates as the runner finds paydirt.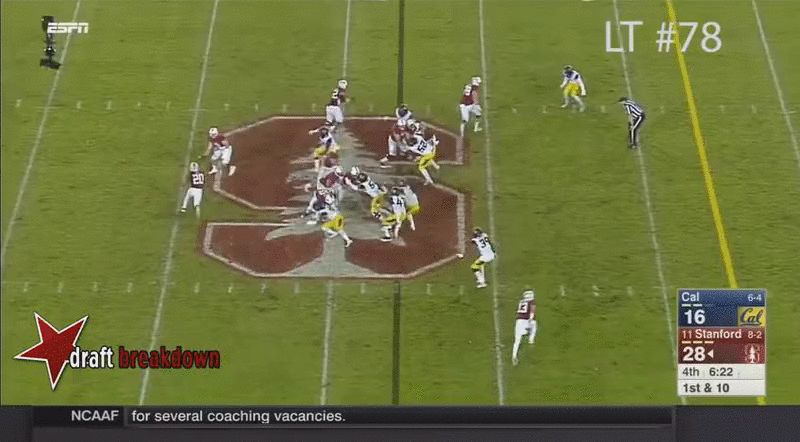 And though he makes a shoestring tackle on Booker, with his strong hands, his angle to fill the alley leaves a lot to be desire. Out of position.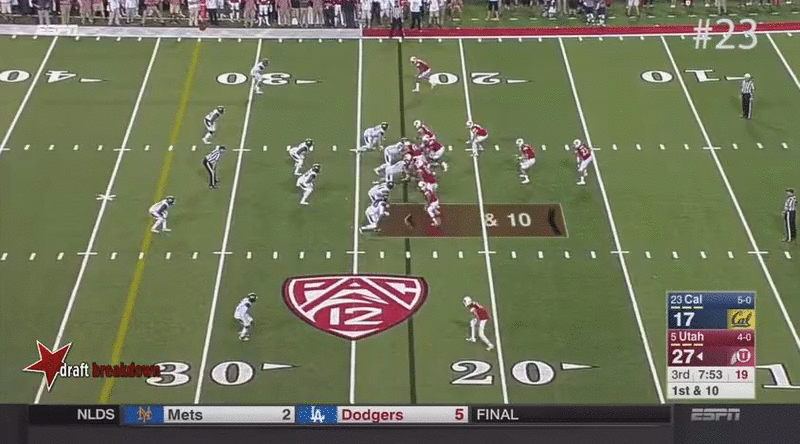 And clearly, the elephant in the room are the injuries. It'd admirable McClure fought back to play the entire 2015 season, all while being named captain during two of those injury-marred seasons. Those are some serious injuries, especially the first one in 2011 – ACL, MCL, meniscus. Medically, he could be off several teams' boards. I don't know for sure but it's an issue.
I'm not sure McClure will ever generate a "buzz" in media circles, because there are so many names in the hat, but in scouting circles, if someone is comfortable with his medical, I can see him being a draftable player. Because those injuries limited his ability to play, even practice, like they did, there's potential for him to have a lot of quality football ahead of him. If he can stay healthy.
Projection: Mid-Late 7th Round
Games Watched: at Utah, at UCLA, at Stanford