As you should know by now, our attention has now shifted to the 2016 NFL Draft as it relates to the prospects. From now until the draft takes place, we hope to profile as many draft prospects as we possibly can for you. Most of these player profiles will be centered around prospects the Pittsburgh Steelers are likely to have interest in.
A look at another quarterback: Ohio State's Cardale Jones.
#12 Cardale Jones/QB Ohio St: 6'5 253
The Good
– Huge frame, Cam Newton build
– Excellent arm, probably maxes out at around 65 yards, able to drive the ball downfield on the move or from an unsound base
– Shows proper weight transfer when throwing from a conventional base, able to create power on his throws
– Athlete, able to extend the play outside the pocket and scrambling downfield
– Size/mass makes him difficult to bring down, able to move the pile and run over players on the run, mobility
– Successful albeit short career, a winner
The Bad
– Incredibly raw in playing time and tape
– Not anticipatory, throws to open receivers after they've made their break, ball comes out late and can allow defender to close on the ball
– Accuracy on intermediate routes is poor and the ball is routinely thrown behind
– Does not have a feel for the pocket, leaves before he needs to, and too often runs himself into pressure
– Has to feel edge pressure better and hitch up into the pocket more often
– Shotgun/pistol based offense, no work under center
– Older than typical prospect, will turn 24 in September
Bio
– Only 11 career starts, 8 in 2015
– Career: 2323 yards, 15 TDs, 8 INTs
– 4.81 40, 36 inch vertical at Combine
– Won 2014 National Championship game, 16/23 for 242 yards, 1 TD and 1 INT
Tape Breakdown
If you even have a casual attachment to the draft, you probably have a pretty good idea of the type of player Cardale Jones is. Big arm, flashes talent, but health hazard raw.
There's no question he has a huge arm that he displays even when he's throwing from an uncomfortable base or on the move. Pressure, off his back foot, Jones is still able to put this ball in the back of the end zone for the touchdown.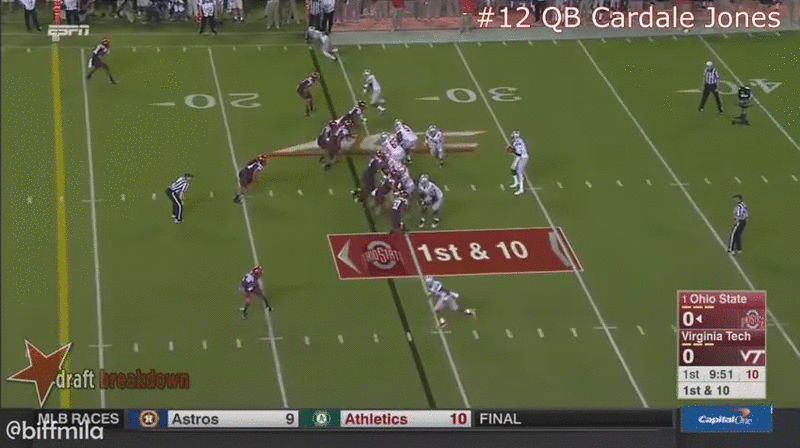 He is almost the same size as Cam Newton and might even have a bulkier frame. Uses it to his advantage. Tough guy to bring down and on this play against Maryland, punishes the defender along the sideline.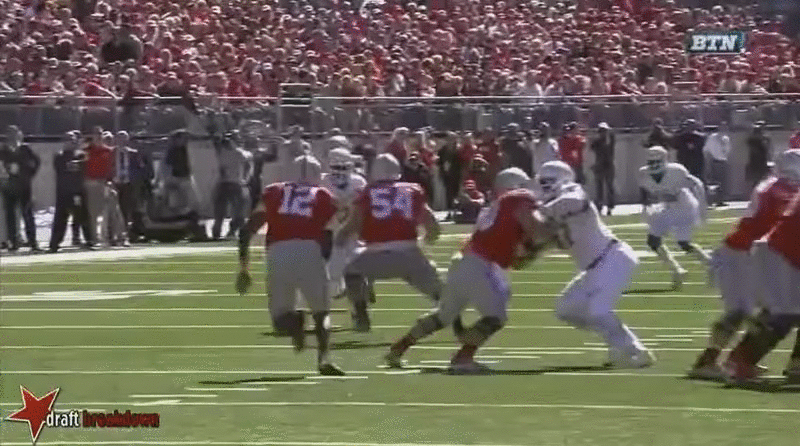 But when I look at the positives, that's the bulk of what I see. Big arm, big size. So many issues. Granted, that is partially expected with a player who has had so little playing time, and a lack of consistent time at that, but it doesn't make it any easier to justify.
Don't let his 62% completion rate fool you. His accuracy is inconsistent to poor. Against Penn State, he misses one of the easiest throws you can make, sailing this ball in the flat.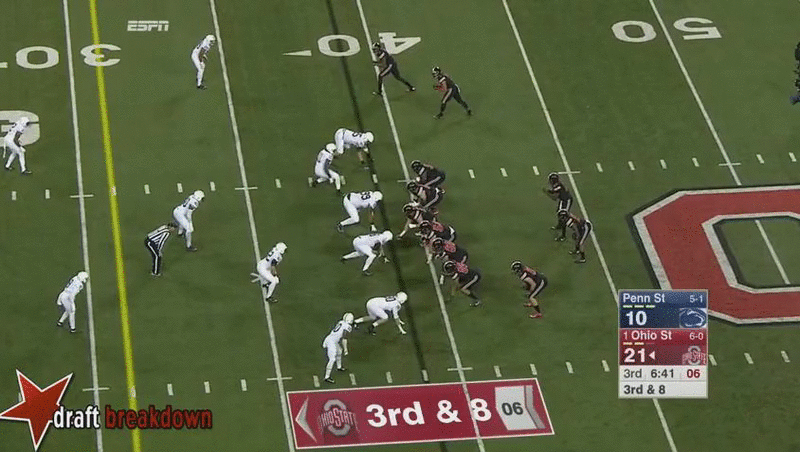 Third and 8 and a chance to give Ezekiel Elliott the ball in space? Gotta give your guy a chance.
I can't isolate the problem, whether it's his foot not pointing the right way or his hip not opening up, but too often, he's throwing behind receivers on intermediate crossing patterns.
Dig route to Mike Thomas he has to reach back for.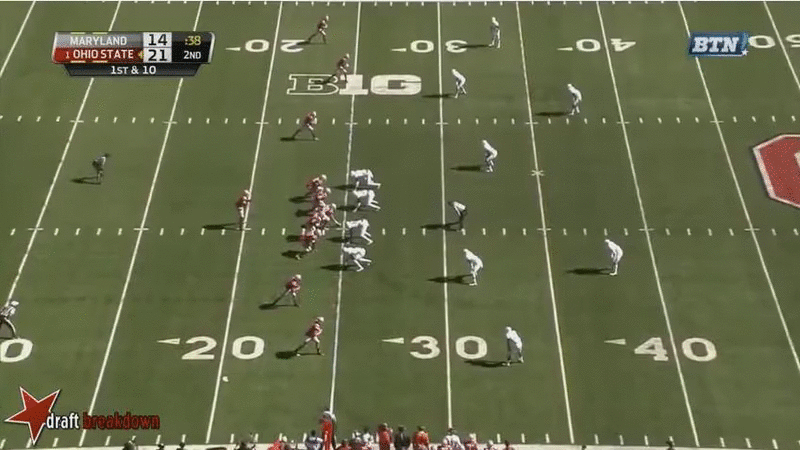 But the biggest issue with Jones is his current inability to make anything resembling an anticipatory throw. Every throw is late, after the receiver has broken off. Not hitting open spots or reading coverages and knowing what will be available.
Third and nine. Jones knows he has this throw. MIKE dropping into the middle hole. Slot corner in the flat. CB outside leverage. After coming off the flat, Jones waits for the receiver to show the numbers before getting the ball out. Gives the corner the time to get on top of the route and break it up.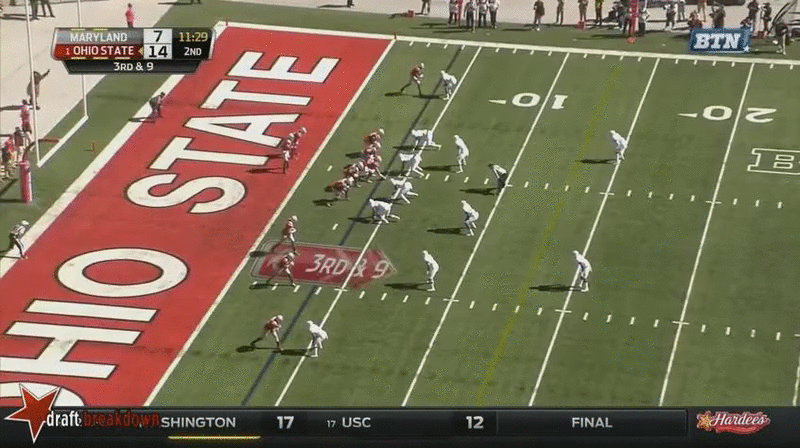 NFL quarterbacks have to trust what they see and hit open spots. Knowing he will become open, even if he isn't at the release point. Jones has a ton of ground to make up here.
Though he's mobile and keeps the play alive, he also invites pressure. Doesn't climb the pocket all the time. Flushes the pocket before there is a need to and runs into pressure.
This isn't actual pressure but Jones feels the rush, hitches, but then takes off to his right. No receivers in the area, all to the left, so he's forced to take off for just a short gain. Climb the pocket, keep your eyes downfield, look for an option. The interior pocket was still firm. There was no need to run out of it.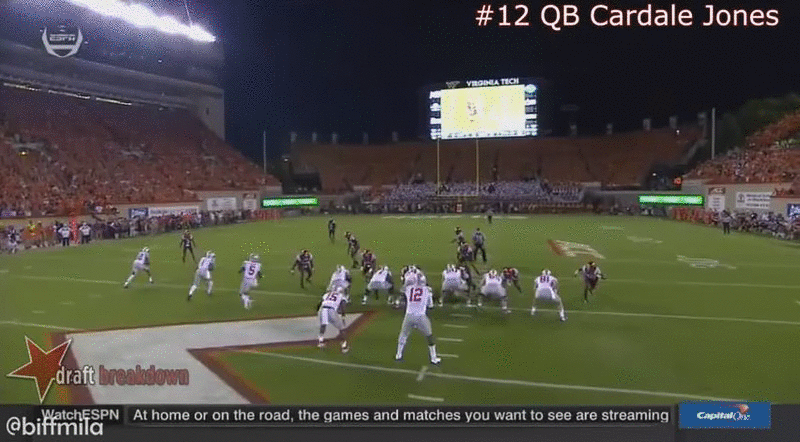 I'll admit I've gone back and forth on Jones. He does have potential and with Ben Roethlisberger hanging out for another 3-4 years, on the surface, Jones would be an ideal guy to groom. And hey, he's earned Roethlisberger comparisons and is a Buckeye – it's a match made.
But Jones isn't the only raw quarterback in the league. They all are. All could benefit by sitting and learning. So is there a more compelling reason for Jones? And we've seen so little of so many traits, does the fact he is big and has an arm, not incredibly unique traits, make him a worthy candidate?
He's also going to turn 24 in September. And if Roethlisberger plays four more years, Jones is now 28, and finishing up his rookie contract. What are the chances of getting a return on investment? Jones has to be "groomed" with little reps, simply figure it out, want to come back, and how long will you have him for? Mobile guys don't last as long.
You know I'm generally against taking a quarterback. But if they're going to take one, and, sigh, they probably will, grab someone else.
Projection: Late 3rd-Early 4th
Games Watched: at Virginia Tech, vs Maryland, vs Penn State