As you should know by now, our attention has now shifted to the 2016 NFL Draft as it relates to the prospects. From now until the draft takes place, we hope to profile as many draft prospects as we possibly can for you. Most of these player profiles will be centered around prospects the Pittsburgh Steelers are likely to have interest in.
My profile on one of the top QB prospects in this year's class. North Dakota State's Carson Wentz.
#11 Carson Wentz/QB North Dakota: 6'5/2 237
The Good
– Ideal NFL size with big hands (10 inch hands)
– Excellent arm, high velocity passer, able to throw comeback to the field effortlessly
– Ability to throw on the move to left or right (right-handed QB), square his shoulders, and make difficult throws
– Impressive athlete, ability to extend the play and is a threat in the open field, used on designed runs (QB Power)
– Tough player, has no problem taking a shot in the pocket or running someone over in the open field
– Experience working under center, in pistol, and out of shotgun
– More detail-oriented as 2015 season went on, sold playaction better
– Overall, no major issues with his release
– High character, very personable, hard to think anyone could say a bad thing around him, appears as a leader and someone who commands every room
– Productive, winner
– Athletic bloodlines
The Bad
– Not an anticipatory QB who became comfortable throwing to open players, not windows
– Tries to fire some passes with all his strength, reducing accuracy
– Has to do a better job hitching up into the pocket, too often stays on landing spot off his drop
– Ball placement needs work
– Can be fooled by advanced coverages (pattern reads)
– Carriage of football is inconsistent, shown to hold it high to his chest, but also times where he drops the ball down and away from hip when pocket becomes muddy
– Steps under center need repped, shorten his steps as he gathers and sets
– Played at FCS level, obvious competition worries
– Starting experience far from ideal
Bio
– 23 career starts, missed 8 games in 2015 with a broken right wrist, came back to play and win FCS Title game against Jacksonville State
– Two-time National Champion, captain in 2014 and 2015, 20-3 career record
– 2015: 1651 yards, 62.5 completion %, 17 TDs 4 INTs (7 games)
– 2014: 3111 yards, 63.7%, 25 TDs 10 INTs
– Sacked just 28 times last two seasons, once every 20.2 attempts
– 12 rushing touchdowns over last two seasons, 642 yards in 2014
– Helped beat Iowa State 34-14 in 2014
– Played football/basketball/baseball in high school
– Brother is a starting pitcher for NDSU, has a cousin who played tight end for NDSU, dad played linebacker in college at Northern State
Tape Breakdown
Obviously, with the Cleveland Browns trading out of the two spot, it's now certain no AFC North team is taking Wentz. But given that he's a near-lock to go within the top two picks, he's someone worth talking about. As a quick aside, I like this quarterback class, in that, I like the "Big Three" of Jared Goff, Paxton Lynch, and Wentz. It might seem trendy to really love one quarterback and really hate another, but I don't have that feeling. My order is Goff, Lynch, and then Wentz, but I like all three. Believe all three can be successful in the league.
Wentz has a sensational arm. If you're a quarterback who can throw the comeback to the field, you have a rocket arm and should have no issue doing everything the league is going to ask you.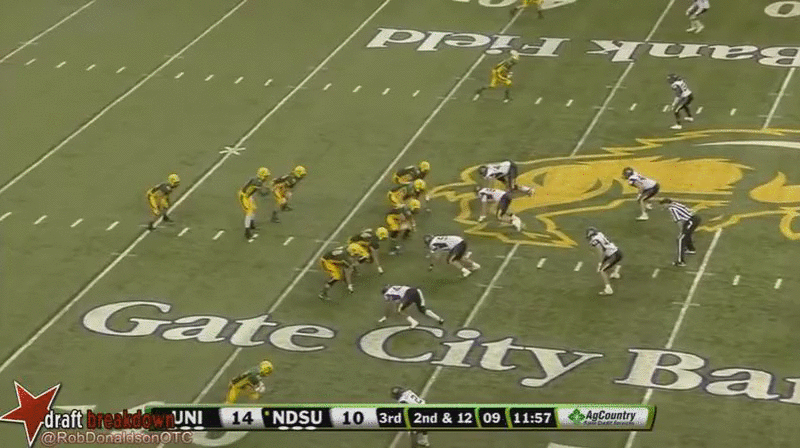 That's about a 25 yard throw downfield but with the added need to throw across three-quarters of the field to hit your target, it's impressive. Wentz did this a ton in the tape I saw and it really is something to get excited about.
Watch these two throws to the field. My two favorite throws of his. 4th and 7 against Northern Iowa, rocketing this one to the sideline and keeping the drive alive, and eventually leading his team to victory.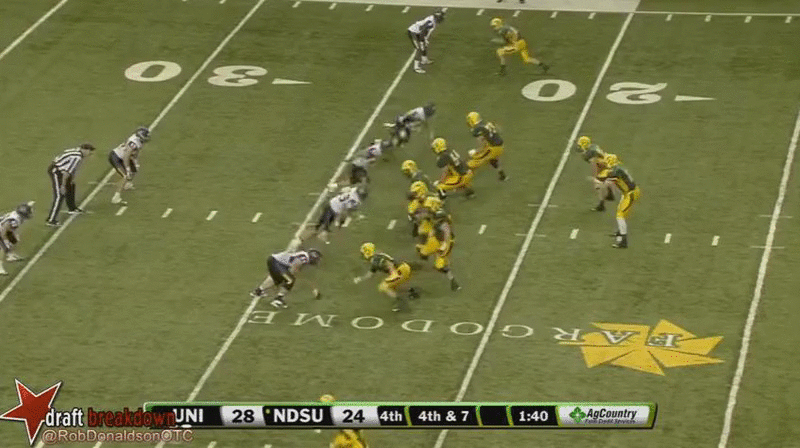 And again here in the opening drive in the FCS Championship game against Jacksonville State. Remember, he hadn't played a game in basically three months. Third and nine, bullet pass to the field. Unreal.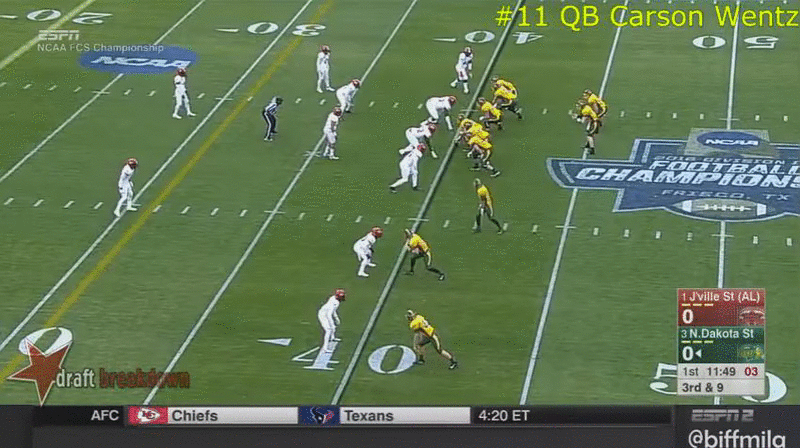 Wentz is the type of athlete who can create and extend the play behind the line of scrimmage, take off downfield, or be used on designed runs, like this QB power against Montana. Very Alex Smith like.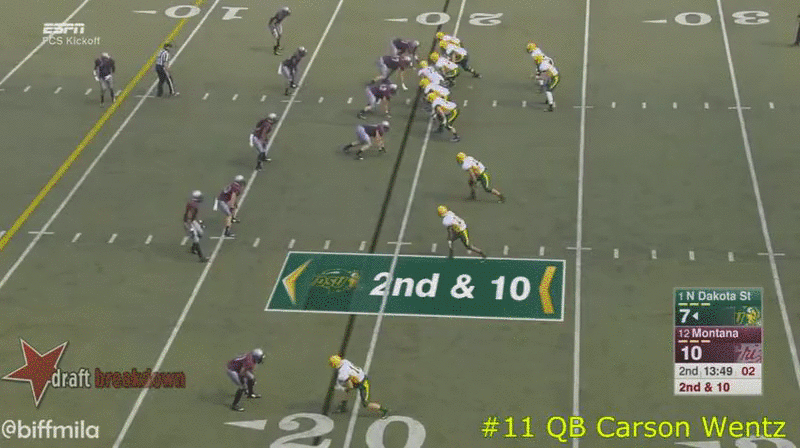 At Mobile, he was the best quarterback there, though any notion that he had an amazing week is probably exaggerated. He was good but certainly nothing that made me feel differently about him, good or bad.
But on the first day, Wentz was ushered in for the opening press conference. For as intense of a week as he was about to have, playing on a big stage in his NFL journey, he was as cool and calm as you can be. There's certainly an intangible element at play that is making him the top prospect he is. That might not matter to you or I, but for the coaches who plan to teach and work with him for, ideally, 10 years, it's huge.
Of course, there are drawbacks to my game. He's third on my list for a reason. He isn't nearly as anticipatory as Goff, and advanced coverages can fool him. In the title game, Wentz is trying to throw the out, but JSU is playing Trap/Palms coverage, with the corner trapping #2 on the out. Jumps the route, bats the ball, and it's picked off.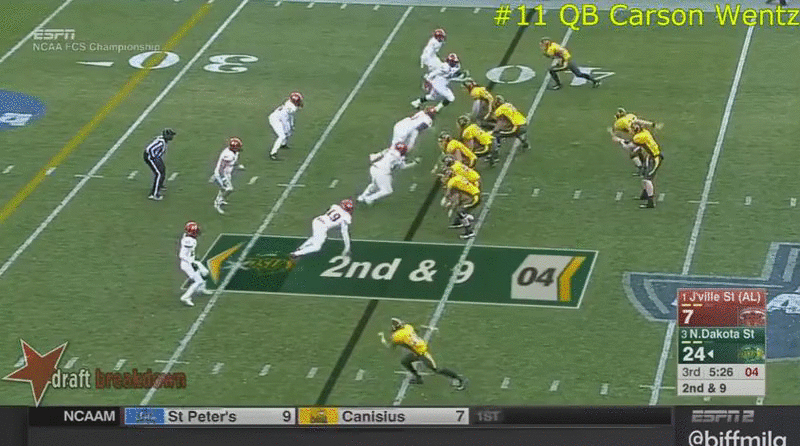 NDSU is up 24-7 and driving. Chance to seal the game. Interception reopened the door for Jacksonville State, though the Bison would still wind up winning comfortably.
I didn't fully watch this game, but I saw this clip and thought it highlighted one of Wentz's other problems. Though he is mobile and certainly is capable of extending the play, when he sits in the pocket, he won't always hitch to buy himself time. Stays on his spot and makes him a sitting duck.
I'm fine with him taking a sack here, but he has to move around and try to keep this play alive. Heck, just take off, pick up the first down, and end the game. This was in the 2014 FCS Title Game by the way, and Illinois State would take the lead on the next possession. To Wentz's credit, he led his team down for the victory, running for the game-winning TD.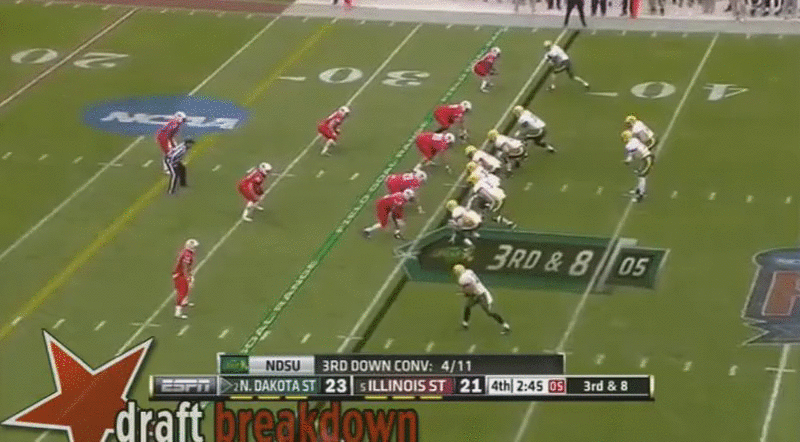 As it stands today, it seems likely that Wentz will be going to the Philadelphia Eagles. That's a strong coaching staff to work with him and an environment in which he can sit and learn. That's important for a lot of quarterbacks but for Wentz, it's pretty much a requirement. But he can start and thrive in this league, becoming someone franchise's quarterback. The Eagles, at least, hope so.
Projection: Top 2
Games Watched: at Montana, vs Northern Iowa, vs Jacksonville St (Playoffs), Senior Bowl