As you should know by now, our attention has now shifted to the 2016 NFL Draft as it relates to the prospects. From now until the draft takes place, we hope to profile as many draft prospects as we possibly can for you. Most of these player profiles will be centered around prospects the Pittsburgh Steelers are likely to have interest in.
Haven't broken down a lot of interior linemen so let's do that today. Arizona State guard Christian Westerman.
#55 Christian Westerman/OG Arizona St: 6'3/1 298
The Good
– Thicker, bigger build than what his weight indicates with solid length for frame (33 1/2 inch arms) and giant hands (11 7/8 inches)
– Strong, tight hands with a powerful punch in pass pro capable of stunning linemen
– Generates big push in the run game, understands pad level and uncoils hips to create power, and has a nasty demeanor
– Active eyes, looks to help in pass protection, and overall, picks up blitzes and stunts
– Anchors in pass pro, tough to move into the pocket
– Used on variety of blocking schemes, drive/down/trap blocks
The Bad
– Doesn't thrive in space, slow working to 2nd level and unable to engage on a consistent base
– Will struggle against quicker defensive lineman, not great laterally
– Want to see him get his arms extended a little more in the run game, doesn't always create the space he can, lineman can shed
– Three point stance appears a little more upright than it should
– Experience pull but not a remarkable athlete and can be late to his spot doing so
– Does not have a ton of starting experience
– Time all came at one position
Bio
– Two year starter for Arizona State, one career start for Auburn, 26 in all
– Spent two years at Auburn, transferred after 2012 season, was able to play immediately for ASU in 2013
– Dealt with ankle injury in 2012
– All 25 starts at Arizona State have come at left guard
– Five star recruit coming out of high school
– Arizona native
Tape Breakdown
I still don't believe it. Westerman looks like he's 315. Big, thick player, but at the Combine, he weighed in at 298 pounds. He moves people like he's that 315 pound dude.
As the left guard in all these clips, he sticks to his man, not letting him shed, and knocks him to the ground at the end of the play, as the QB scoots past on this designed draw.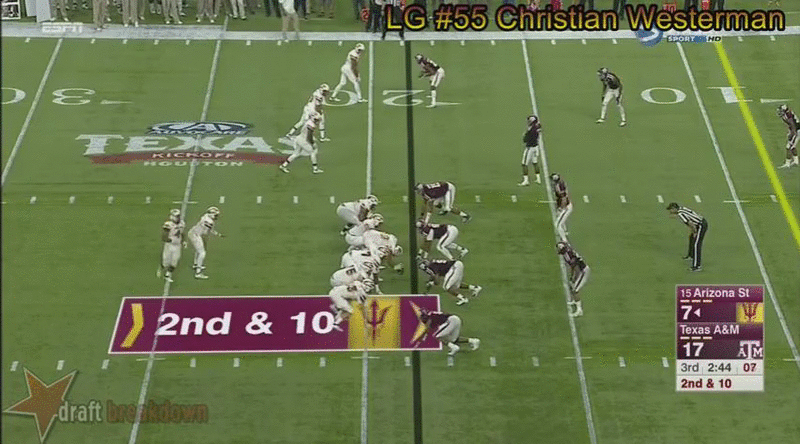 Watch this one a couple times. Westerman chips the end and then is able to get to the 2nd level, finishing this play by burying the USC linebacker and knocking his helmet off. Old school stuff.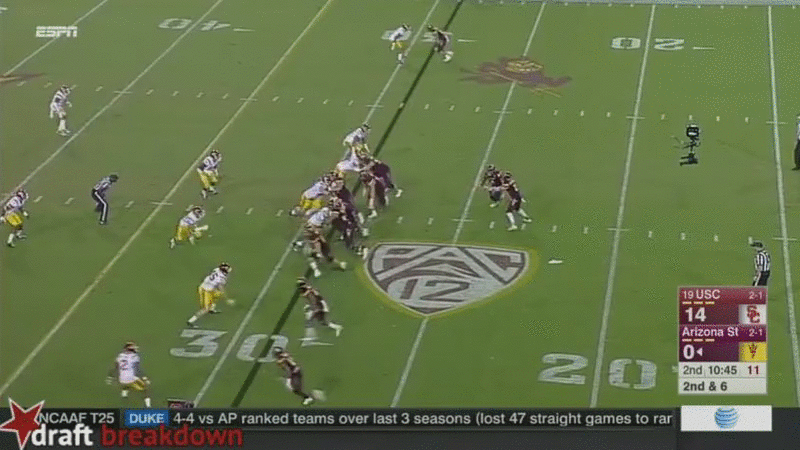 Those oven mitts he calls for hands pack quite the punch. Straight up Three Stooges slaps this USC defensive tackle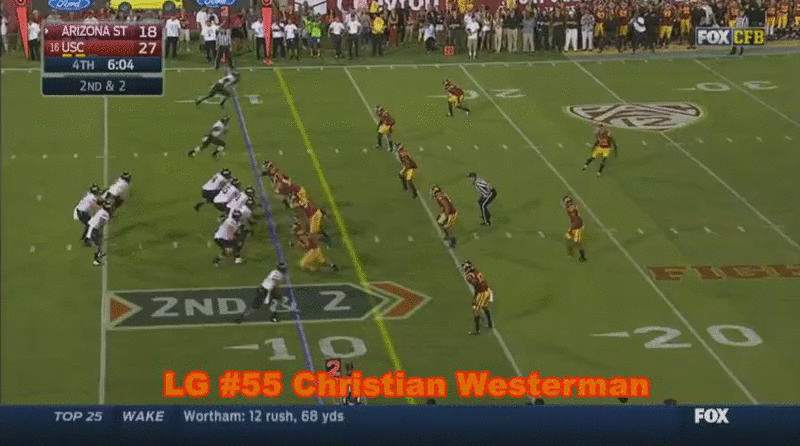 He's a heady player with active eyes to identify and pick up blitzes. Saw it a ton over the three games I watched. The RDE isn't his responsibility here but he's uncovered and helps out the left tackle, who misses the cut block, to keep the QB's path clear.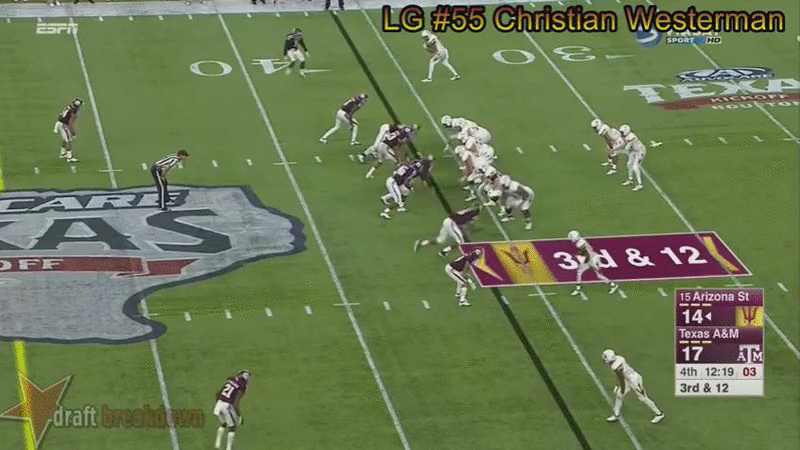 Though he has quick feet for his frame, he isn't the most athletic in space. Tries to pull here but can't meet the linebacker off the edge, who records the tackle for loss.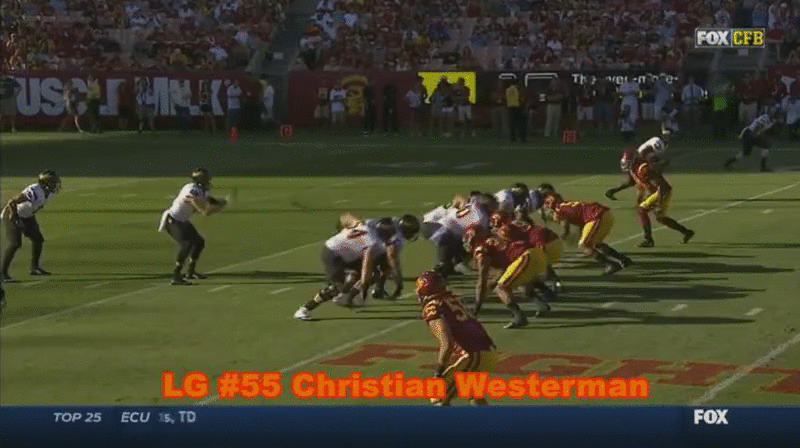 Also times where I want to see him get his arms extended. Sometimes too easy for defenders to shed. With how big Westerman is, and pretty good length, he needs to be more consistent is sticking and taking advantage of his physical advantages.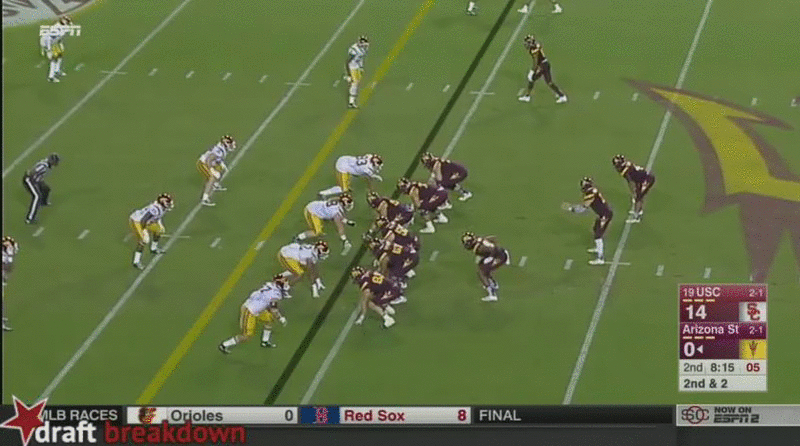 Overall though, it's a minor gripe, and I understand sometimes, defensive linemen are going to work off blocks. It's their job.
Overall, I like Westerman a great deal. One of many that make up a really strong, albeit not top-heavy, interior draft class. He can fit in a lot of systems, even if it's easy to pin him to a power scheme, and yes, that's where he'd thrive the most. But he isn't just a mauler. He can be an asset in pass protection, even if there are a couple things he needs to clean up.
The Steelers have shown interest in continuing to boost their interior line and if they're more serious about it than we think, Westerman would be a worthy selection at pick 89.
Projection: Early-Mid 3rd
Games Watched: at USC (2014), at Texas A&M, vs USC, Senior Bowl