As you should know by now, our attention has now shifted to the 2016 NFL Draft as it relates to the prospects. From now until the draft takes place, we hope to profile as many draft prospects as we possibly can for you. Most of these player profiles will be centered around prospects the Pittsburgh Steelers are likely to have interest in.
Breakdown of Notre Dame's Sheldon Day.
#91 Sheldon Day/DT Notre Dame: 6'0/5 293
The Good
– Excellent initial step, explosive off the ball, and general movement skills are impressive for his frame
– Quick, violent hands and doesn't get stuck on blocks as a pass rusher
– Tons of pass rushing moves, very refined, and able to string them together on the same play
– Successful one-gapper who can penetrate and disrupt
– Size creates built in leverage, hard to get lower than him
– Played all over Notre Dame's front, even asked to drop into coverage
– Shows rush lane integrity when asked to contain
– Good football IQ, processes info quickly
– Lots of starting experience
– Regarded as a leader, high character, with a bubbly personality
The Bad
– Clearly undersized who has plus length proportional to size but still short overall (32 5/8 inches)
– Much better one-gapper than two-gapper, struggles to hold the POA, plays significantly better when he gets to be the aggressor
– Has difficulty finding the runner and shedding versus the run
– Size will limit him schematically at the next level
– Sack production was below the line, production as a whole was just average
Bio
– 32 career starts
– 2015: 45 tackles, 15.5 TFL, 4 sacks
– Career: 32 TFL, 7.5 sacks
– Two-time captain
– Missed two games with MCL sprain in 2014
Tape Breakdown
Day has exceptional hands. Quick, violent, a good punch, and a ton of ways to win and disrupt. Does it from the interior and against tackles. Flashes them late here versus this Texas left tackle, collapsing the pocket and forcing the QB out of it.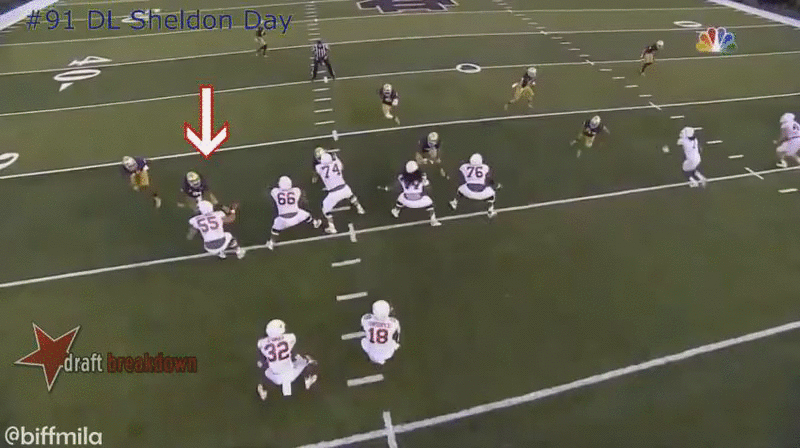 And along the interior, swimming over and then dipping the right guard.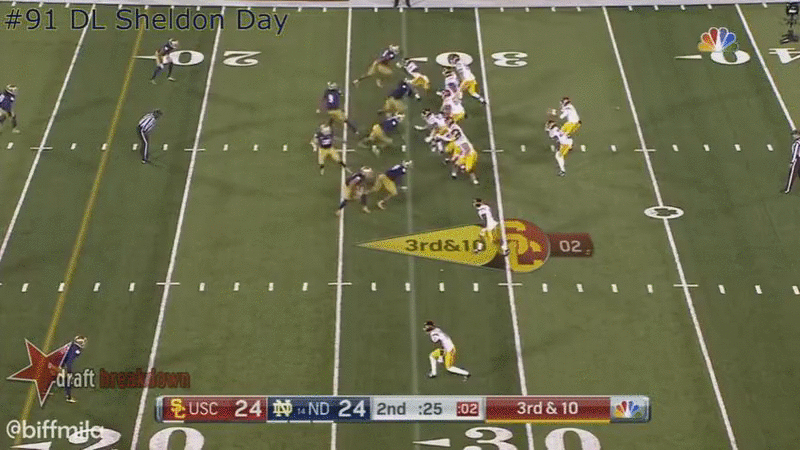 He's a much more advanced pass rusher than a lot of players I've studied. He'll continue to hone his craft in the NFL, but this guy has the full arsenal and plays with a ton of energy, bouncing around the field, and getting into backfields.
Though his Combine numbers didn't show much explosion, turn on the tape and you'll see a quick first step.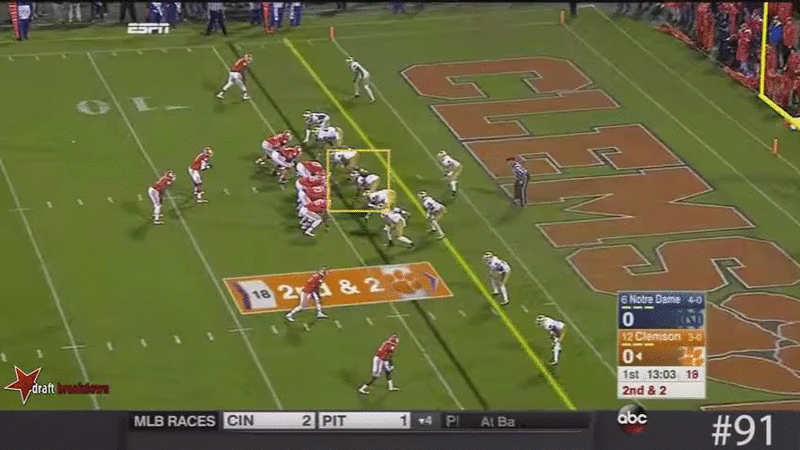 But when he can't wiggle his way through, and has to be more passive in a two-gapping role, Day struggles pretty mightily. Completely unable to work off this block and fill the B gap as the Clemson running back shimmies through.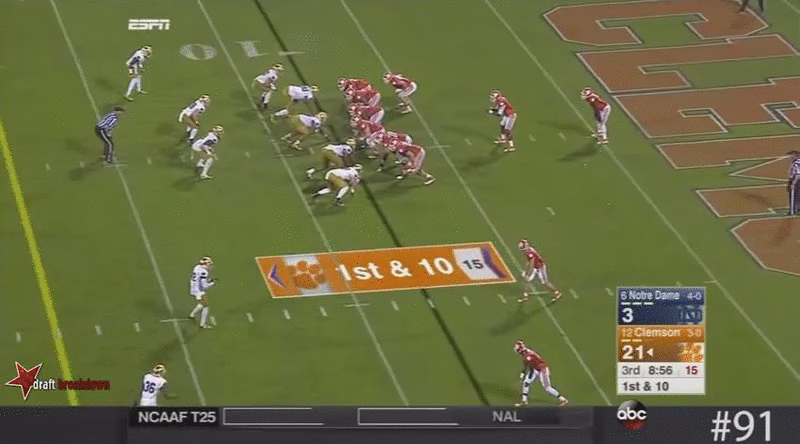 This is a little less egregious, the runner bounces it in part to Day holding the POA, but you can see the difficulty Day has with getting off this block the whole way through. It isn't for a lack of effort. You don't see him take many plays off. He just doesn't function as well taking up space.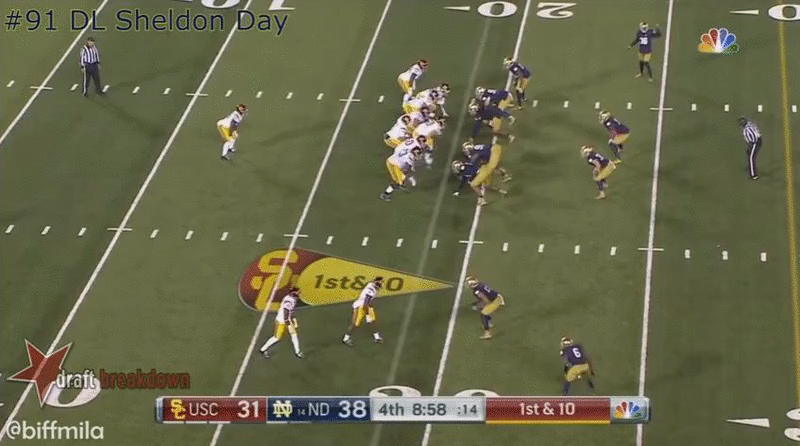 Day has the look of a strong pass rusher but I'm troubled by a lack of sack production. 7.5 in his career and 4.5 in 2015, his best season. That's a disappointing number for someone who exhibits all the traits you look for. If that was his max production in college, can we assume it will be that much higher in the NFL? I'm not asking for ten sacks. But the lack of production gives me some pause.
Having said that, there is a ton I love about Day's game and even meeting with him for just a quick moment at the Senior Bowl, he seems like a genuinely fun guy. And as a two-time captain at Notre Dame, you know he's well-respected. Lot to love on and off the field. But the lack of size, length, and anchor against the run really takes him out of the Steelers' equation. But I could see a team like the Cincinnati Bengals take a long look at him. Day is another great value pick in this deep class.
Projection: Mid-Late 3rd
Games Watched: vs Texas, at Clemson, vs USC, Senior Bowl