As you should know by now, our attention has now shifted to the 2016 NFL Draft as it relates to the prospects. From now until the draft takes place, we hope to profile as many draft prospects as we possibly can for you. Most of these player profiles will be centered around prospects the Pittsburgh Steelers are likely to have interest in.
Another profile of someone the Steelers have brought in for a visit. LSU tackle Jerald Hawkins.
#65 – Jerald Hawkins/OL LSU: 6055, 305
The Good
– Uses angles to his advantage against defenders in space
– Plays to the whistle
– Good technique run-blocking of firing low to high
– Assignment-savvy, knows when protections are sliding
– Uses length to his advantage, lets rushers into his body successfully
– Positions and rotates hips well to take away line of scrimmage
The Bad
– Lunges, drops head
– Uncomfortable kick-slide – disjointed, not smooth
– Slow to move laterally
– Gets a little too high when puling
– Lazy technique blocking on second level, uncomfortable in space
– Struggles sustaining blocks
Bio
– 34 1/4″ arms at combine
– Started 37 games for LSU (25 at RT, 12 at LT)
– Played football, basketball, baseball and track in high school
– Declaring as RJr.
– Played 754 offensive snaps in 2015, 834 in 2014 and 808 in 2013
– Ranked No. 15 player in state out of West St. Mary HS (Baldwin, La.) by Scout.com
Tape Breakdown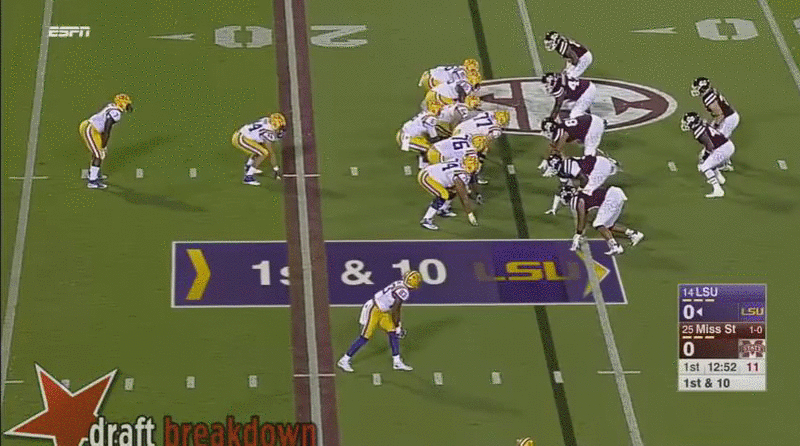 At left tackle, Hawkins shows his ability to play in space. He pulls around the TE and just clears the contain. This is what you want to see from a road grading OT against a CB, but I like the use of angles and extra shot in the back for good measure. Gotta have some fire from the big uglies.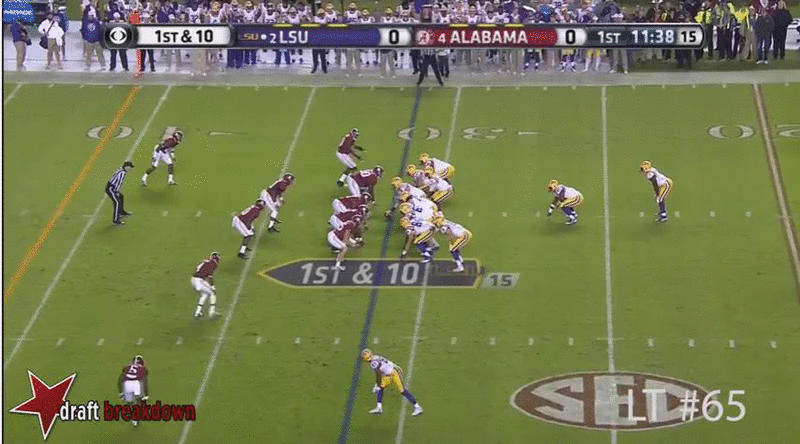 I also really like what Hawkins can do with his recovery when blocking. Here, against A'Shawn Robinson, he gets beat initially off the snap and pushed two yards into the backfield. Robinson's eyes get a little wide here and he slacks at tacking the block, waiting to take a shot at Leonard Fournette. That allows Hawkins the opportunity to recover. He anchors, re-places his hands and bulls Robinson into the ground. As they say, it's not how you engage on a block, it's how you finish it…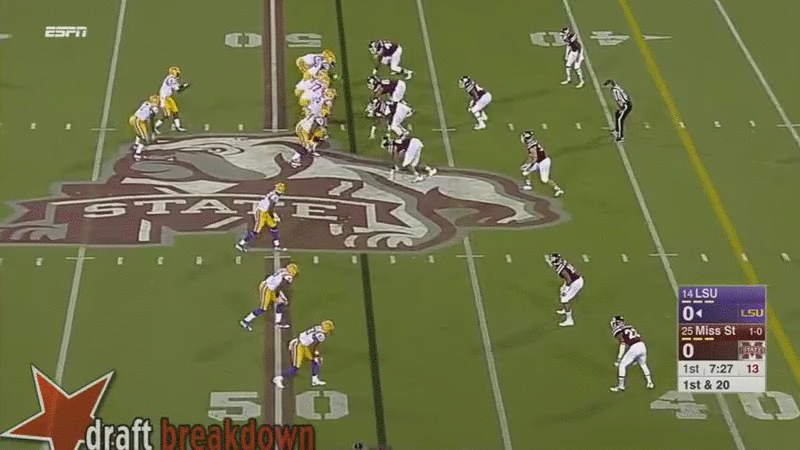 Hawkins tips his block here pre-snap by looking to his right at the DT he's going to downblock, but it doesn't matter considering the quality of the block. He engages low to high and explodes through the lineman, #88 Nick James (who is himself 6'5″ and 325). His anchor completely keeps James out of the play and he blocks well through the whistle. This is effectively what you'd want to see for this blocking assignment and it's well-executed by Hawkins.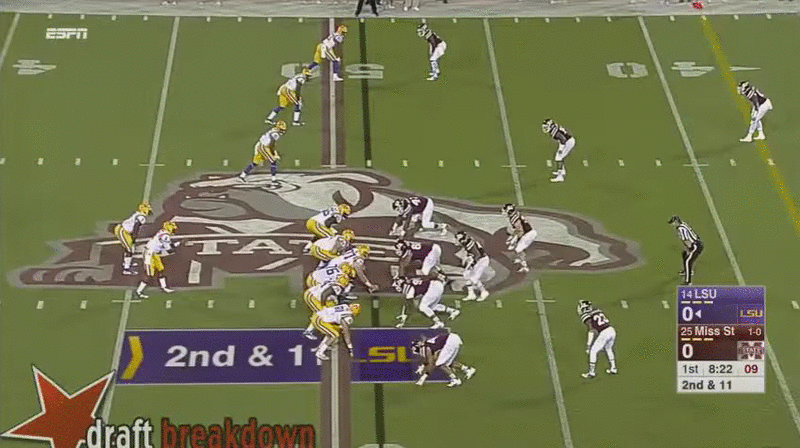 However, Hawkins needs to keep his head up. He ducks and lunges here, meaning the defender swims over him with minimal effort. In a situation like this, Hawkins needs to keep his eyes and hands locked into the center mass of the defender. He has plus physical tools and length, meaning all he has to do is not put himself into a bad situation like this.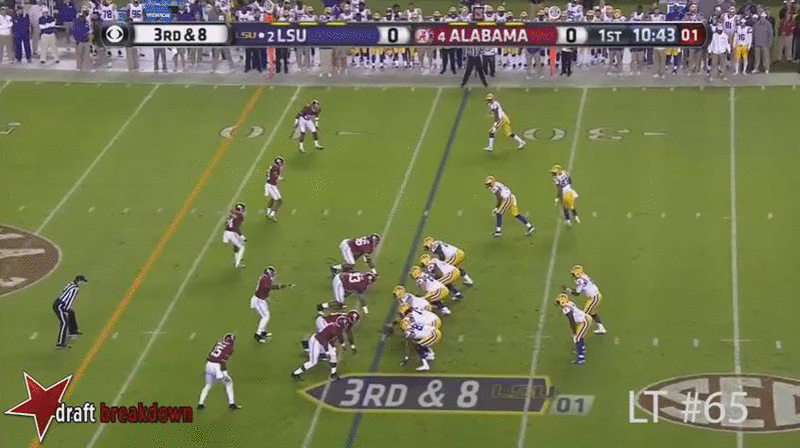 Lined up outside RT on an unbalanced line, that lunging gets Hawkins into trouble again. Alabama pass rusher extraordinaire Tim Williams beats him clean off the line as Hawkins drops his head and never engages cleanly.
Summary
When he sets his feet and engages to the center mass of the defender, Hawkins can play with anybody. However, that's not always the case. He's too inconsistent with pad level and his head to truly block with the best of them right now. Hawkins shows the potential to be a top-notch run blocker, where he typically shines. He generates power and drops anchor well there, and we've seen him move some very big bodies when it comes down to it.
In pass blocking or trying to move in space, Hawkins just looks stiff. He tends to have very tight hips and can't mirror rushers across his face or corral linebackers on the second level. As such, he probably projects best as a right tackle in a power-based blocking scheme. I don't think he works well enough to the second level to play guard (although he has the body), but I love his physical upside and long frame/arms.
One thing that I particularly like about Hawkins is his fire. He plays through the whistle when engaged, and he can mix it up too. He gets chippy and shows that down-and-dirty lineman mentality that will really help him succeed at the next level.
Projection: Early Fifth Round
Games Watched: Mississippi State, Texas Tech, Alabama