As you should know by now, our attention has now shifted to the 2016 NFL Draft as it relates to the prospects. From now until the draft takes place, we hope to profile as many draft prospects as we possibly can for you. Most of these player profiles will be centered around prospects the Pittsburgh Steelers are likely to have interest in.
One of the top small school players in this year's draft. South Carolina State defensive tackle Javon Hargrave.
#97 Javon Hargrave/DT South Carolina St: 6'1 309
The Good
– Well put together, incredibly dense with a huge lower half and bubble butt
– Strong, tight hands with a powerful punch capable of knocking OL off their base
– Impressive athlete for his size, ankle flexion to turn the corner
– Wins in a variety of ways as a pass rusher, arsenal of moves
– Explosive out of his stance, built-in leverage and uncoils his hips on contact, rises to drive linemen back and in general, be disruptive
– Strong, holds point of attack versus the run
– Works hard as a pass rusher, relentless at going after the football
– Violent, nasty player, a no prisoners mentality
– Dominant at FCS level, took over games, could not be blocked
– Rose to the occasion in every heavy-competition put in front of him, excelled in pre-draft events
– Has some versatility playing up and down the front
– Incredible productivity, rarely matched
The Bad
– Decent length relative to frame but on shorter side compared to most (32 inch arms)
– Faced poorer competition in FCS/games watched, make context difficult to judge, and will have to make NFL jump
– Want to see slightly better effort running after the football once it crosses the line of scrimmage
Bio
– 2015: 22 TFL, 13.5 sacks, 2 FF
– 16 sacks in 2014, including six against Bethune-Cookman (tied FCS record)
– Two-time All-American and conference Defensive Player Of The Year
– FCS Freshmen All-American
– Ran a 4.93 40, jumped 34.5 in the vertical, and 9'1" in the broad at the Combine
Tape Breakdown
Watching regular season games, it is a little difficult to find proper context when watching him play.But it's equally difficult to ignore just how dominate Hargrave was. Dude. Can. Play.
Hargrave has a ton of moves he can use to beat you. Against Arkansas Pine-Bluff, he swims over the tackle and – more impressively – has the flexibility to immediately turn upfield and chip in on the sack.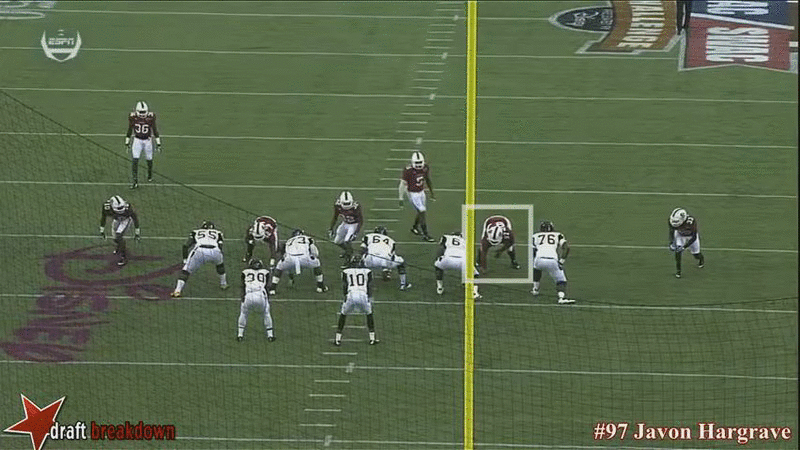 And this…this is plain nasty. Bench press the center, blow up the gap, and though the back bounces it, it's right into a host of his teammates.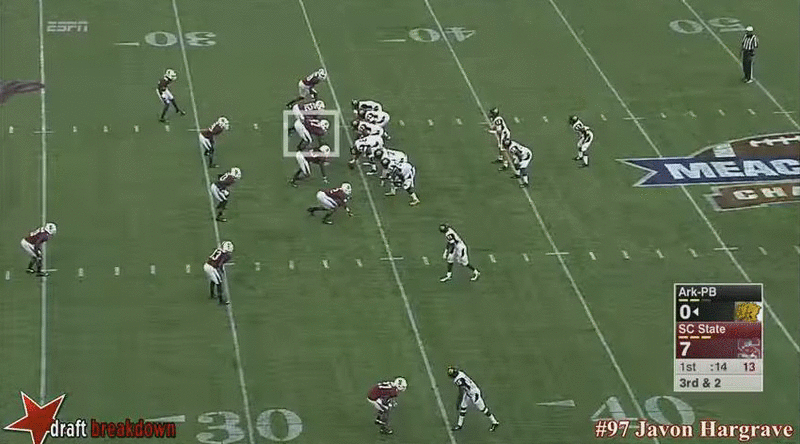 The power on Hargrave's punch with his arm extension bullies the left guard into the pocket, creating one of 13.5 sacks he'd record this year.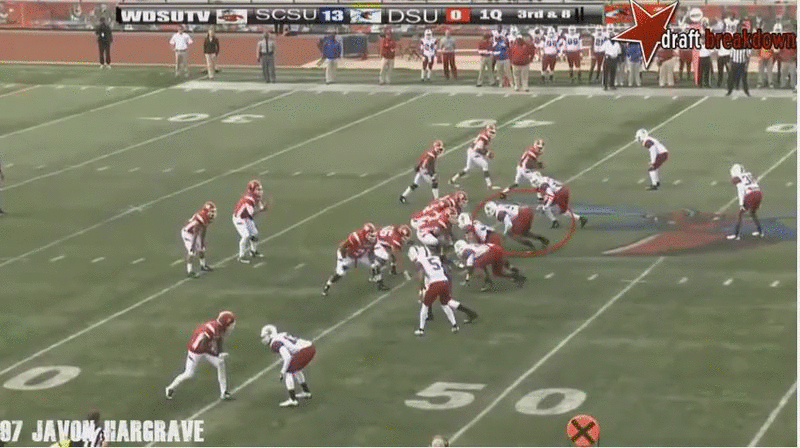 We're going way back for this clip to his sophomore year versus Furman. Shows he can play the run, too, flowing down the line from the backside to disengage and make this tackle.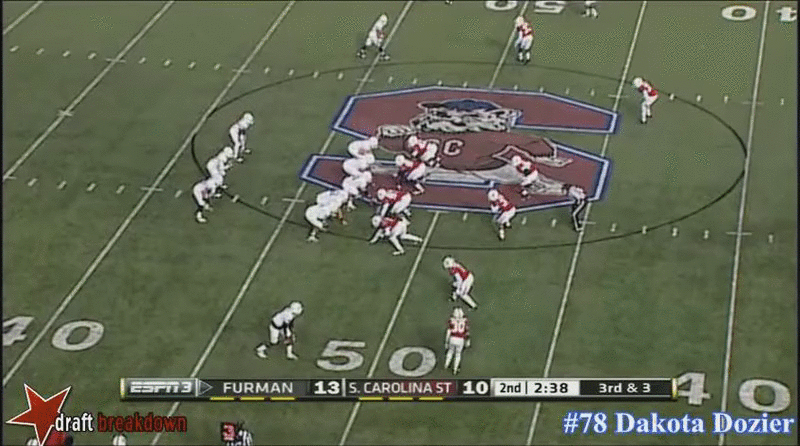 His ability to explode out of his stance and generate power, even knowing this is the FCS level, is downright remarkable.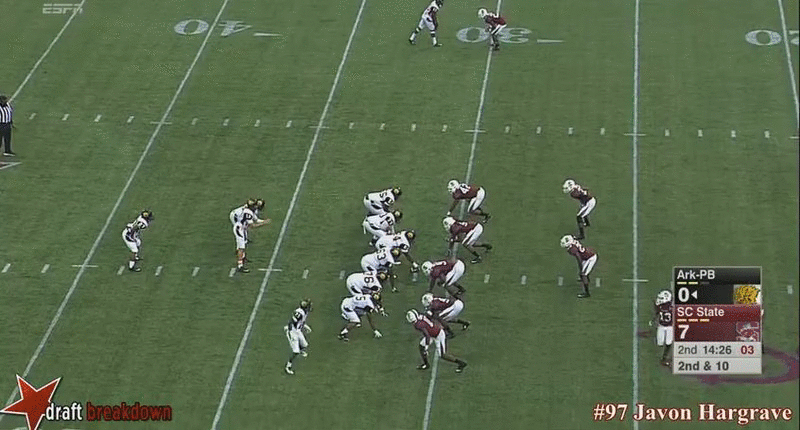 I always try to be balanced in my reports, show the good and the bad, but Hargrave is the first player I don't really have any negative tape on. Some of it, again, goes back to poorer competition level, but still, it speaks to the incredibly talented player he is.
Though it's easy to throw rocks at the school he played, what Hargrave has done in pre-draft events has been just as accomplished. He was invited to the Shrine Game, performed well, served as an injury replacement for the Senior Bowl, killed it there, and then tore up the Combine. Getting that look on a big stage against even competition was critical and should settle doubts about his ability to make the jump out of the MEAC.
He'll most likely fit in a 4-3 but he can play in any front. He can play the nose in a 3-4 and be an impact sub-package player, even fitting in a tiny bit at five tech. He didn't seem to play there this year but in that 2013 game against Furman, when he served as a rotational piece, he saw time as a five tech.
I know this is a major stretch, and by no means am I even coming close to this comparison, but I imagine the Hargrave tape is similar to what I would've seen if I could watch Joe Greene's North Texas tape. It was that level of dominance and to that extent, I'm dead serious.
But if Pittsburgh wants him, they're going to have to hope he falls and take him with the 58th pick. He's not getting to them at 89. No chance. And with how set this team seems to be on taking a safety there, the chances of Hargrave don't seem great – though they certainly do exist, given the Steelers' interest.
Projection: Mid-2nd
Games Watched: vs Furman (2013), vs Arkansas Pine-Bluff, at Delaware St, Senior Bowl
https://www.youtube.com/watch?v=BZcCxFXvShA
https://www.youtube.com/watch?v=dCsQX7Ji_Kw