As you should know by now, our attention has now shifted to the 2016 NFL Draft as it relates to the prospects. From now until the draft takes place, we hope to profile as many draft prospects as we possibly can for you. Most of these player profiles will be centered around prospects the Pittsburgh Steelers are likely to have interest in.
Another player brought in by Pittsburgh for a pre-draft visit. UCLA's Caleb Benenoch.
#74 Caleb Benenoch/OT UCLA: 6'5/4 311
The Good
– Impressive makeup, lot of length and big hands (34 1/8, 10), broad shoulders and big upper half, doesn't appear to have much bad weight
– Light on his feet, above average athlete for his frame, able to mirror and counter inside rushes
– Strong upper body, creates power and explosiveness when he uncoils his hip, who when showing proper hand placement, locks on and is tough to shed
– Violent, aggressive nature, finishes his blocks, has that old-school demeanor coaches love
– High hands in pass protection, plays with a lot of energy and ready to punch
– Wide base in pass pro, creates strength and ability to anchor when upper half is technically sound, and able to cover ground on kickslide
– Versatile, experience at right guard and right tackle
– Excellent starting experience despite playing just three seasons
The Bad
– Technically inconsistent overall, spotty player who rides peaks and valleys
– Hand placement needs a ton of work in pass protection, aren't tight enough, wind up outside defender's frame, exposing his chest and getting him pushed into the pocket
– Not getting enough extension on his punch, elbows hinged, loses leverage and saps him of power in pass pro
– Lower half has to keep working in run game, will get overextended and slip off drive blocks
– Feet sometimes stop moving on his punch, giving up the edge
– Forward body lean, especially on punch, needs to be more patient and let rusher come to him
– Eyes need to be a bit more active, will miss some stunts
– Have seen some false steps in pass protection
– May not be getting enough depth in pass protection as a guard
– Won't always immediately fire off the ball in road games, late recognizing the snap
– Opens up hips in pass protection, needs to keep shoulders square
Bio
– 35 career starts, 31 at RT, 4 at RG
– Declared as a true junior
– Four star recruit out of HS
– Born in Nigeria
– Last name pronounced "ben-en-KNOCK"
– Had committed to Michigan State and Texas before finally deciding on UCLA
– Ejected vs USC in 2013 for punching a player at the end of a play
Tape Breakdown
Benenoch, as one skim of the good/bad probably indicates, is a tough prospect to figure out. In a very broad sense, you can take away that physically, he has a ton of tools but technically, he has a long list of concerns. Not incredibly surprising for a guy who only played three seasons at the college level.
He's both a mauler in the run game and light on his feet in the pass. Floats like a butterfly and stings like a bee. Even with the running back downfield, making it easy for Benenoch (the RT) to give up, he finishes the play and piledrives this Wildcat into the Earth.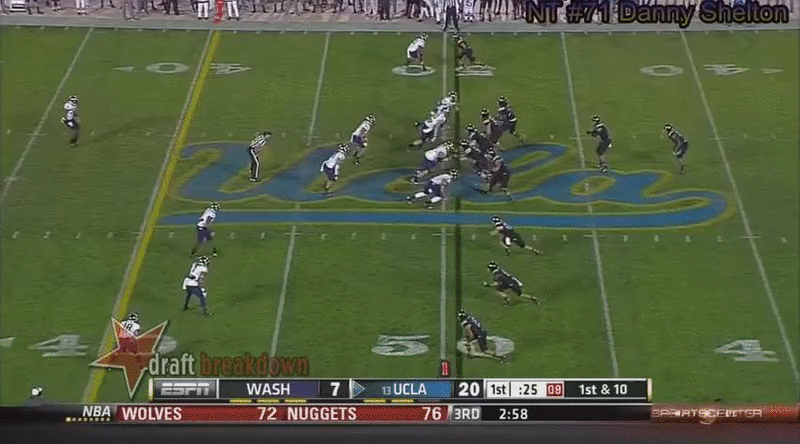 And again here at right tackle, showing light feet and the ability to mirror versus this spin move.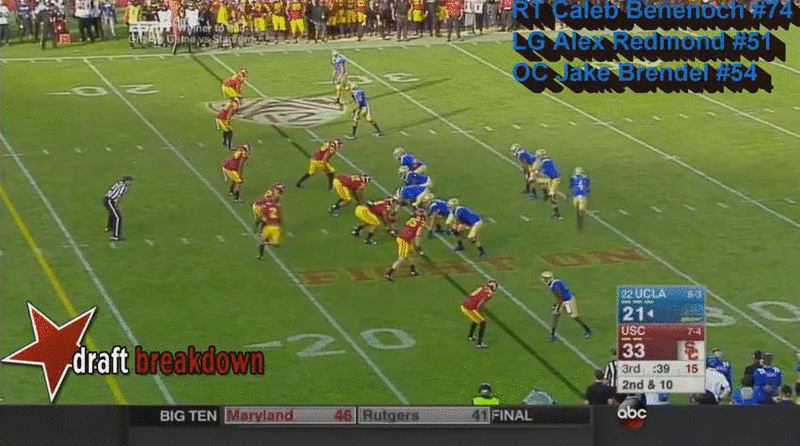 Let's take a look at his run blocking at right guard here against USC, a game where he started at right tackle but kicked inside to guard after an injury. Another pancake.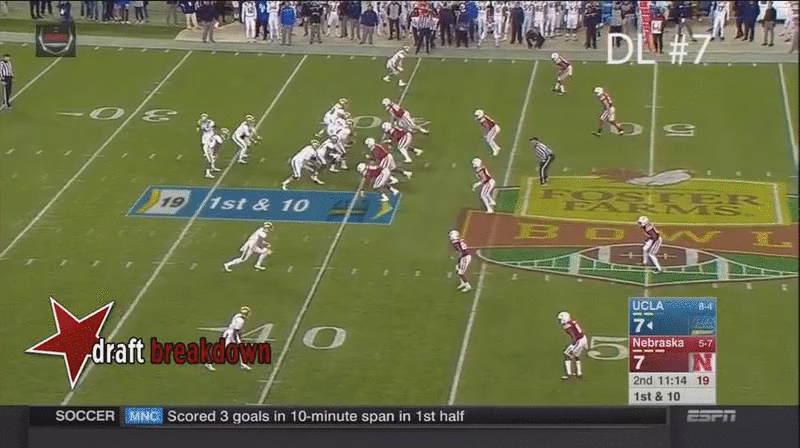 Though we see some issues here, Benenoch again at right guard, we can see the grip strength he possesses, sticking to Malik Collins, a Day 2 pick.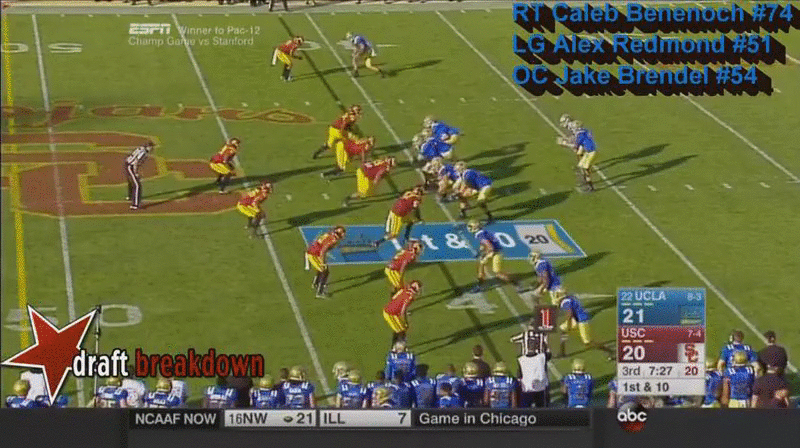 But he has a very fair share of problems. Technically, he has a long way to go. Watch him at right guard. No arm extension, elbows hinged, upright, walked into the pocket. Causes a sack, forced fumble, and a scoop and score for the Trojans.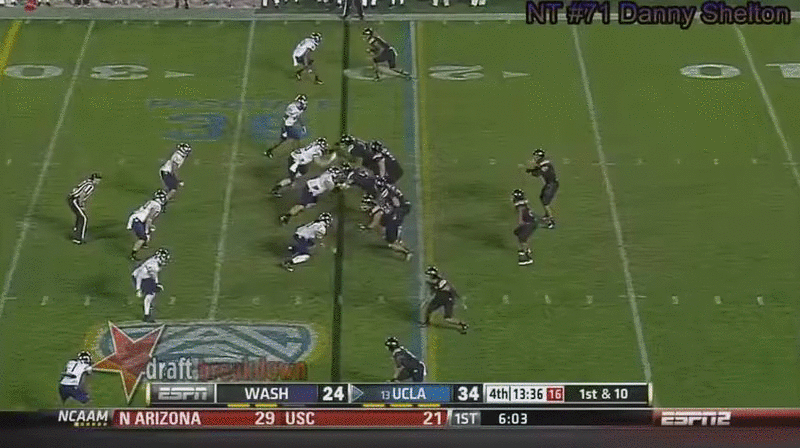 Back at right tackle, his lower half stops moving, and he falls off this drive block.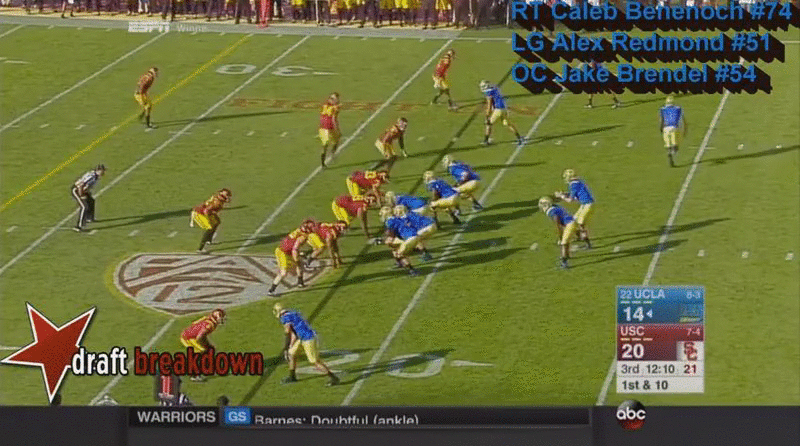 Back to the USC tape, at guard, his extension is a little better here, but his hands are outside, chest exposed, and he's run into the pockets.
Though I didn't see this issue a ton, there were times where his hips opened up in pass pro, causing him to get beat.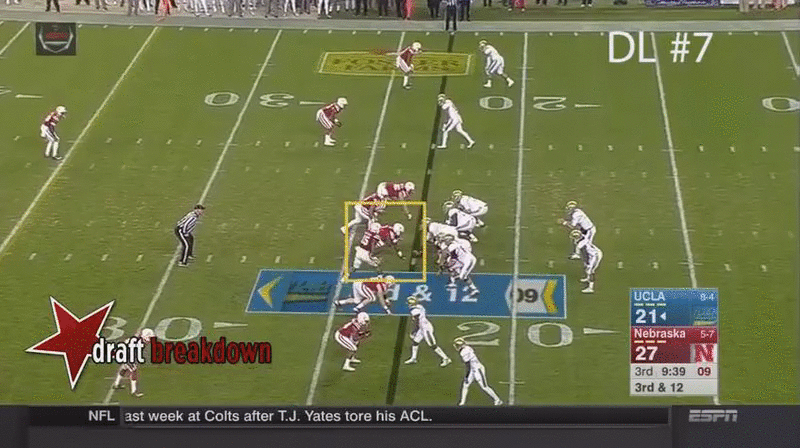 It's easy to see the allure and team interest in Benenoch. He has the potential, key word, potential, to be a starter in the league. He's younger, raw, but I see all the tools to excel. At first I thought he'd best fit inside, but the more I watched (my quest to find him at guard failed so I kept watching tackle tape), the more I was impressed with his overall body of work at tackle. He is not a starter in 2015, don't even let him near your starting quarterback, but Pittsburgh would be an ideal fit.
At guard or tackle, there is no expectation for a late-round pick to play right away. It would take a lot going wrong to force someone like him to see the field. He can rep and rep his heart away, clean up the numerous areas which need it.
Projection: Early-Mid 6th
Games Watched: at Washington (2014), at USC, at Arizona, vs Nebraska