As you should know by now, our attention has now shifted to the 2016 NFL Draft as it relates to the prospects. From now until the draft takes place, we hope to profile as many draft prospects as we possibly can for you. Most of these player profiles will be centered around prospects the Pittsburgh Steelers are likely to have interest in.
A look at another receiver – Chris Moore.
#15 Chris Moore/WR Cincinnati: 6'1 206
The Good
– Solid size with plus length (33 3/8 inch arms, tied 5th longest for position at Combine)
– Vertical threat without vertical speed, stays on track and doesn't get bumped off his stem with the ability to create separation at the very top of his route
– Explosive with natural ability to time his jumps and high point the football, wins most 50/50 balls, with 37 inch vertical (10'10" in broad)
– Hands catcher, extends away from his frame, and quick to the tuck, doesn't lose much speed and allows him to be a YAC threat
– Shows impressive body control along the sideline, capable of adjusting and making difficult catches
– High-effort player who won't take run plays off, sells them like they're passes, shows effort as a blocker
– Productive career with a gaudy average each season
The Bad
– Timed speed doesn't mesh with general notion of vertical threat (4.53 40)
– Mainly used vertically, will have to practice craft underneath just as much
– Has to clean up his steps off the line a bit, little too much wasted motion beating press and off man
– Effort but not a very competent blocker once he locks on
– Some injury concerns
Bio
– 2015: 40 receptions, 870 yards (21.8 yards per catch) 7 TDs, seven receptions went for 30+ yards (17.5% of total catches)
– Career average of 19.3 yards per catch, 22.1 over last two seasons
– Averaged 30.6 yards per catch senior year of high school (49 receptions, 1500 yards)
– Strong Senior Bowl week
– Broke collarbone twice, once in high school and again freshmen season, had to be redshirted
– Missed one game with leg injury in 2015
Tape Breakdown
There may be no better example in this class of someone who may not time in the 4.3's but can be one heck of a vertical threat. The statistics alone should help tell that story. The tape slam dunks it.
Moore has the timing and vertical to win those 50/50 balls as often as any receiver in this class. In the three games I turned on, that's what I saw the most often. Like this touchdown against Houston.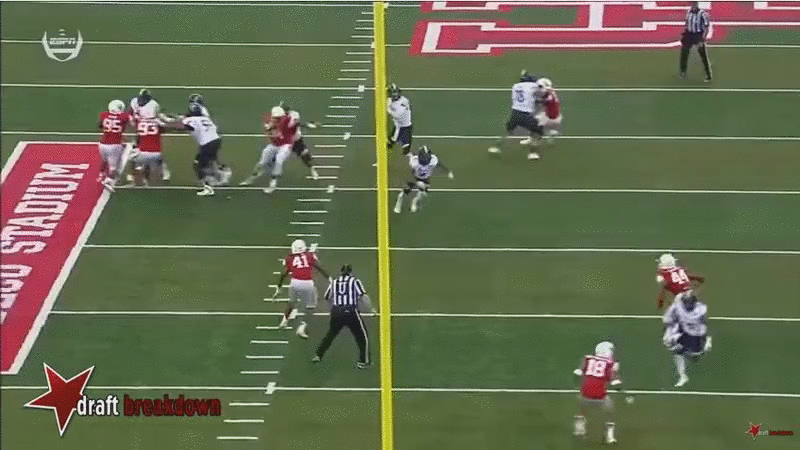 And in 2014, he takes advantage of some poor technique by the Hokies' corner en route to this score.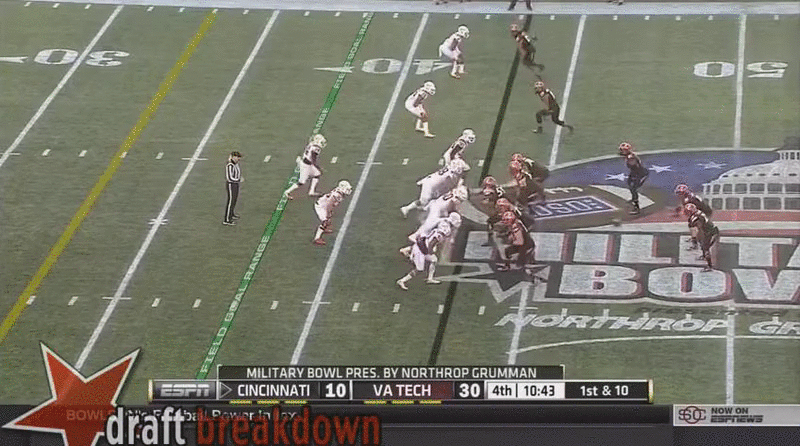 He's a hands catcher who quickly tucks the ball away. Nice snag here.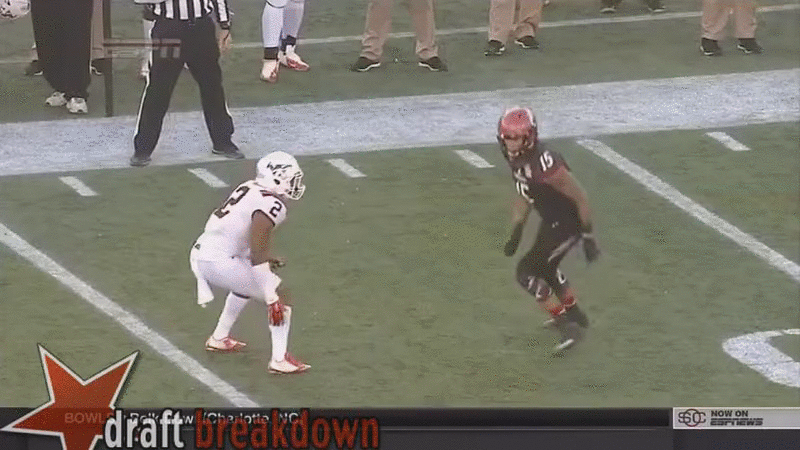 Some of his bigger problems are difficult to show on tape. He's dealt with injuries and who knows, maybe there's a team who isn't comfortable with him medically. And the data-heavy folks, which I understand, will look at his 4.53 speed and say it doesn't scream a vertical threat.
He was mostly used on vertical concepts with the Bearcats and though there are the tools to translate, he'll have to refine the short and intermediate routes.
If there is a negative, he'll drop the occasional pass. That's easy to say for any receiver so this is really nitpicking, but in this example, it comes with the Bearcats down three late in the fourth quarter in a game they would lose. Bad time to leave your feet and let one through your hands.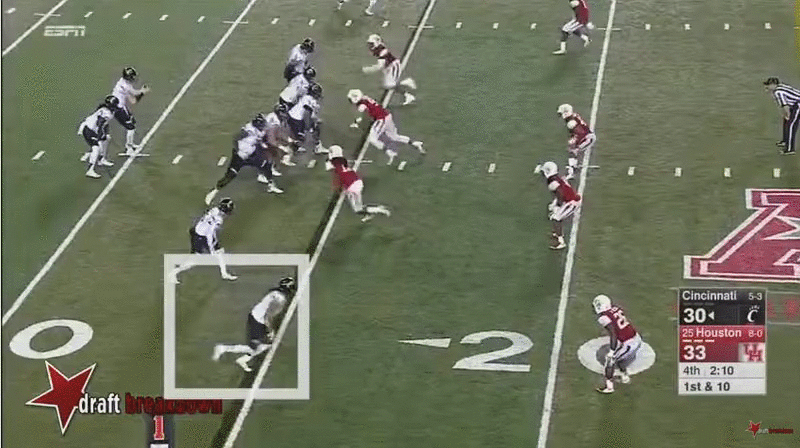 But on the whole, I wasn't able to poke many holes in Moore's game. Consider me a big fan and Moore one of the overlooked guys in this receiver class. Especially if you can get him in a vertical offense, like what Baltimore runs. I think, I hope, he'll go higher than most expect.
Projection: Mid-Late 3rd
Games Watched: vs Virginia Tech (2014), vs Temple, at Houston, Senior Bowl