As you should know by now, our attention has now shifted to the 2016 NFL Draft as it relates to the prospects. From now until the draft takes place, we hope to profile as many draft prospects as we possibly can for you. Most of these player profiles will be centered around prospects the Pittsburgh Steelers are likely to have interest in.
Another look at a corner. This time, Kansas State's Morgan Burns.
#33 Morgan Burns/CB Kansas St: 5'11 201
The Good
– Decent frame for the NFL level, has enough bulk to take on bigger receivers
– Shows straight line speed to cover vertical concepts
– Reads receivers eyes/hands well, times his jump, shows a vertical, and can contest vertical throws
– Frame allows him to bring down receivers in space
– Decent turn and doesn't show much stiffness, opens up his hips before WR eats up his cushion
– Heavy return value with a lot of production
– Experience as field/boundary corner
The Bad
– Not a twitchy or explosive in any facet of his game, change of direction in coverage appears average
– Isn't aggressive enough in run support, too many ugly tackle attempts
– Trouble working off stalk blocks in the run game
– Late reading keys and may be struggling to process info quickly enough
– Most work senior year came at left corner
– Does not have a ton of starting experience
Bio
– 24 career starts all over the last two seasons
– 2015: 38 tackles, 11 PDs, 1 INT, 1 blocked punt
– Big 12 Special Teams Player Of The Year in 2015, four-time player of the week
– 2015: 33.5 yards per kick return, 4 TDs
– 2014: Averaged 30.7 yards per kick on 12 attempts
– Team captain senior season
– Four career interceptions
– High school state champion in track in 100-400 meters
Tape Breakdown
Burns was a player I was excited about and in my first mock, sent him to the Steelers. Finding tape on him was tough, no dedicated games to him on Draft Breakdown, but I pulled together five games of Kansas State football.
It took awhile for me to find tape of Burns that I liked and most of it actually came in 2014. Maybe I picked bad games but his 2015 was just plain uneventful to bad. But let's look at 2014.
He has straight line speed, turning in a reported 4.38 at KSU's Pro Day. Even if that number was fudged a bit, Burns is definitely a fast guy. He has the speed to cover things vertically and with a vertical, can disrupt anything deep. Breaks up this fade against TCU.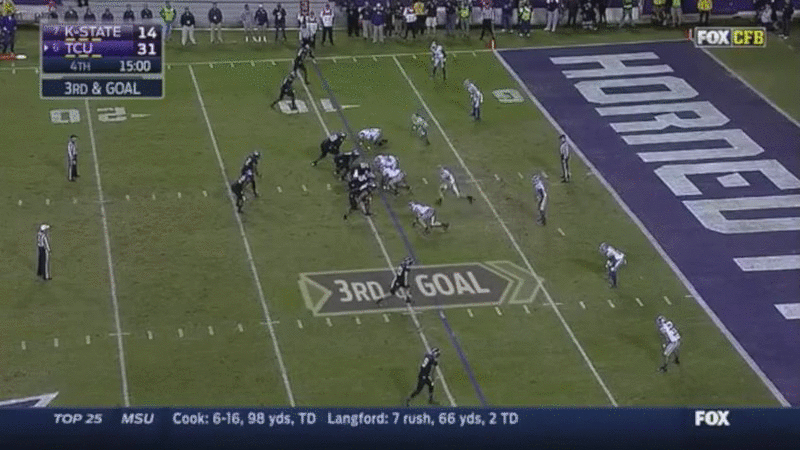 And this tip and breakup against Bryce Petty and Baylor.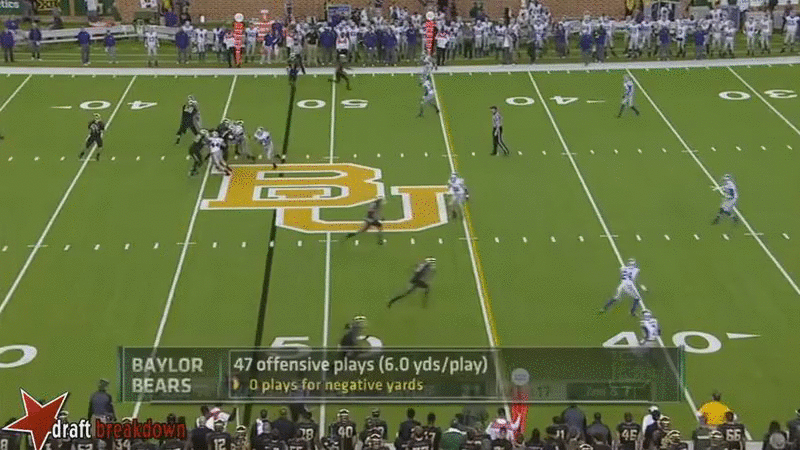 But he isn't a twitchy or explosive corner, particularly disappointing given his return background. Sterling Shepard whoops him inside on this post and then Burns compounds it by missing the tackle, giving up the score.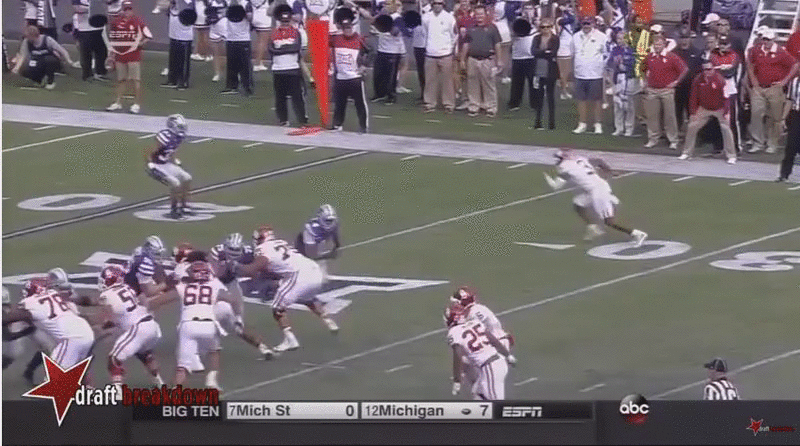 His run support is not aggressive enough. This from this year's bowl game, Burns as the left corner. Awful run support and lets the running back right through. One of the poorer plays I've found when studying corners this year.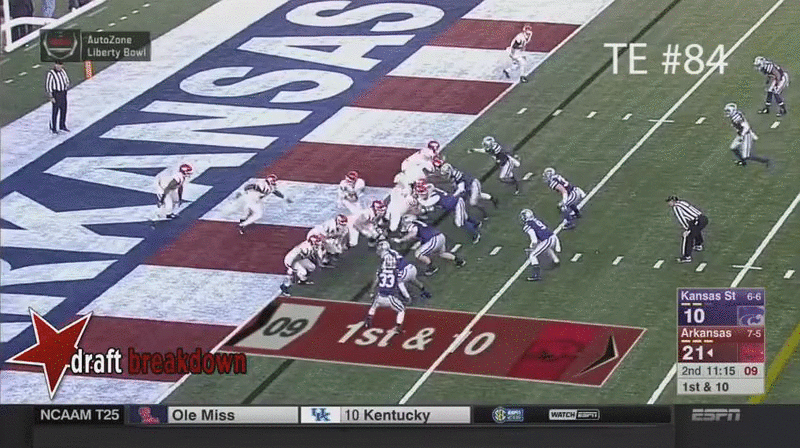 I'm not knocking him for his run fill, I assume it's fine, but watch how late he is finding the ball as the back pops out the other side. Several instances of Burns just being slow in his keys are reacting to the ball.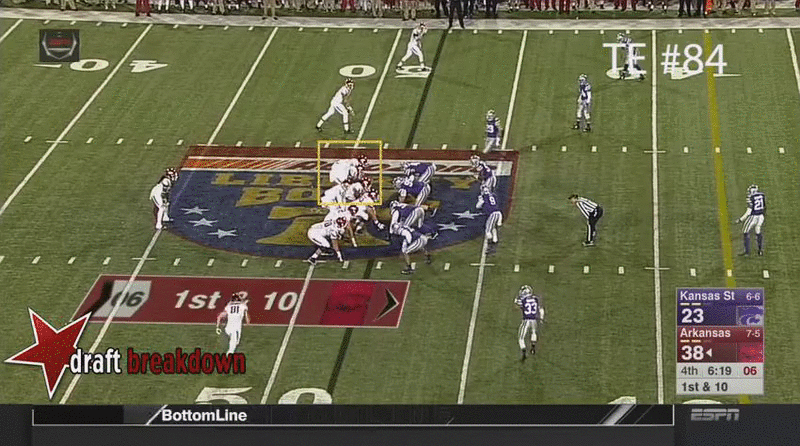 And though the kick return numbers are sparkling, a quick look through some of his big returns weren't that impressive, relatively speaking. They're still 100 yard returns, and that will always make them awesome, but rarely did Burns have to make someone miss. Got some great blocking. Tyler Lockett was a million times the better return man, even if the production looks all the same.
Overall, I can't help but come away feeling a bit disappointed with Burns. His speed will make him someone who can play in off man but that's really one of the few things I see going for him. But not everyone in the NFL is running four verts like college and Burns is a dull prospect.
Projection: Late 7th-UDFA
Games Watched: at TCU (2014), at Baylor (2014), vs Baylor, vs Oklahoma, vs Arkansas (Bowl)
https://www.youtube.com/watch?v=EuX3kR1BZRE