As you should know by now, our attention has now shifted to the 2016 NFL Draft as it relates to the prospects. From now until the draft takes place, we hope to profile as many draft prospects as we possibly can for you. Most of these player profiles will be centered around prospects the Pittsburgh Steelers are likely to have interest in.
Wanted to write about a few more running backs on the off chance Pittsburgh takes one late. Maybe it'll be Aaron Green.
#22 Aaron Green/RB TCU: 5'11 205
The Good
– Built well, NFL size with a relatively thick lower half
– Impressive burst, acceleration, quickly reaches top speed
– Laterally agile, change of direction is excellent, derived from lower body strength, capable of planting off either foot
– Above average speed in the open field
– Asset as a receiver, tracks the ball downfield well for the position
– Football IQ and effort as a blocker
– Benefited from open, spread offense but a productive career and senior season
– Football runs in the family
The Bad
– Poor vision beyond the structure of the play, misses too many open holes and practically runs into defenders
– Runs too upright, makes self too vulnerable
– Despite effort, not an effective pass protector who struggles to anchor
– Did not test well in straight line speed (4.56) and explosive events (32 inch vert, 10'0″ broad) at Pro Day
Bio
– 2015: 1272 yards (5.2 YPC) 11 TDs
– Career: 2426 yards (5.5 YPC) 20 TDs
– 36 career receptions, 3 TDs
– Father played at Baylor, uncle was Pro Bowl corner, brother who plays at Nebraska
– Originally committed to Nebraska, played there for one year, transferred after 2011 season, sat out 2012
– High-profile player out of high school, regarded as a top ten back
Tape Breakdown
Green's ability to change direction is by far his best quality. He's made some highlight-reel plays over his career in TCU's offense, one with holes you could drive a semi through. Laterally, he's quick, with a strong upper body he can use to explode from, slaloming through defenders.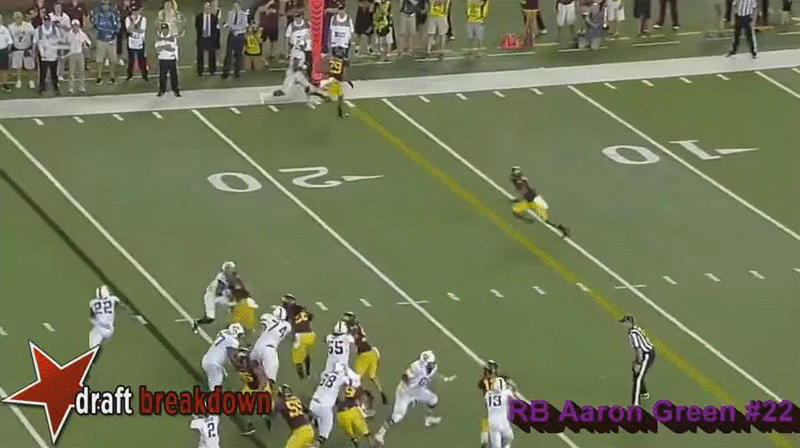 And here again versus Kansas State with the added IQ of switching hands from left to right.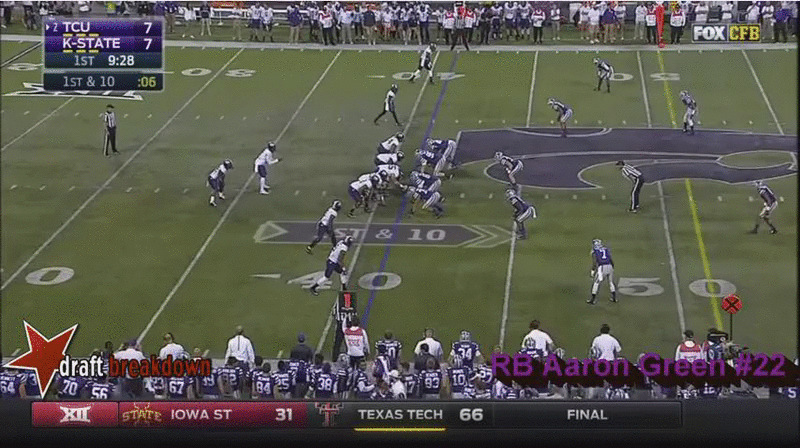 It was his Pro Day, so the numbers aren't completely trustworthy, but NFL.com has him at a 4.04 short shuttle and 6.89 three cone. Excellent numbers, especially the short shuttle, which would've been the best mark for any offensive player at the Combine.
Though he didn't catch a ton of balls at TCU, and his numbers weren't gaudy, he showed the ability to be a receiving threat. TCU opened up their bowl game two years ago with this WR pass, Green tracking the ball downfield for six.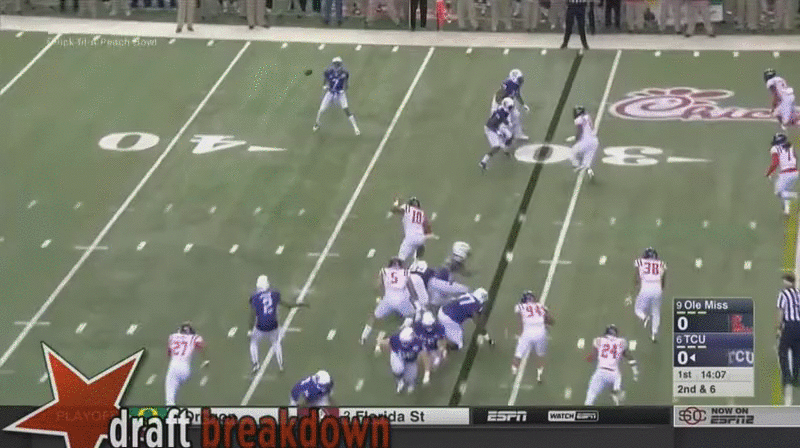 His vision, a critical and yes, obvious, element to the position, is below average. Misses too many lanes, runs away from too many other open ones.
Why would anyone cut left into the defender? We're beyond the structure of the play, past the LOS, so you can't even use that as an argument. Stay right, heck stay straight, and it's a guarantee Green is picking up the first down. Instead, he cuts into the teeth and is stopped short of the sticks.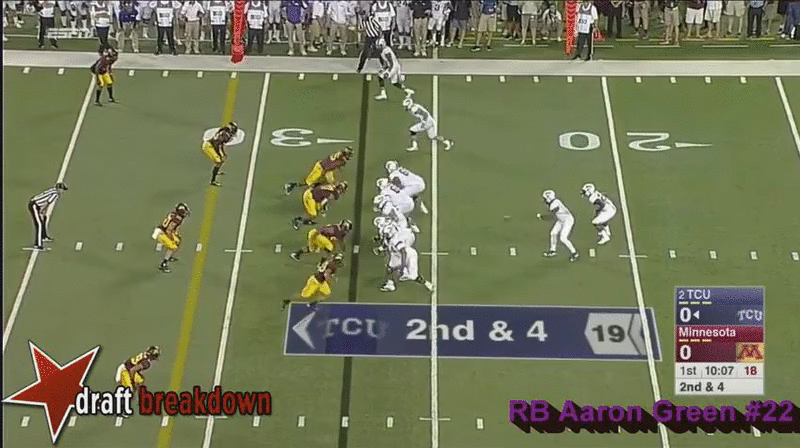 Though there is no real clean lane here, the whole play sorta gets blown up, I have no idea what the thought process is here. Bounce it the whole way around for the hardest fought zero yard carry in the world. Very lucky he didn't lose five or get a linemen called for holding. Stick your head down and churn out a yard up the gut. The preferable option.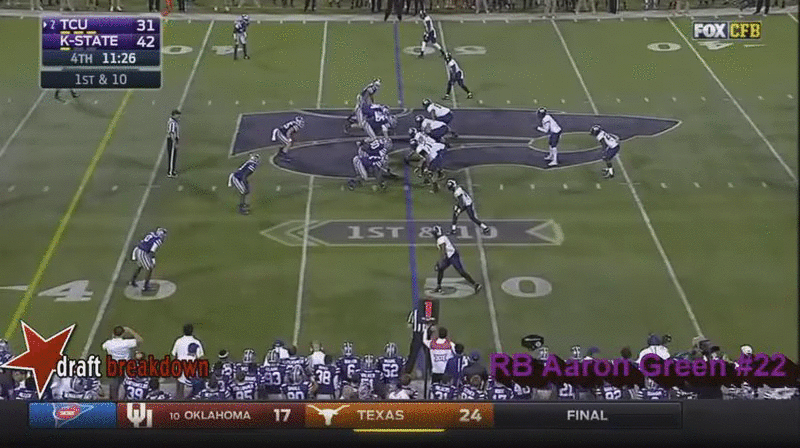 He gives some effort as a pass blocker but struggles to anchor in pass protection. Blown up here on the blitz. Did everything well, stayed square, hands inside, just not powerful enough.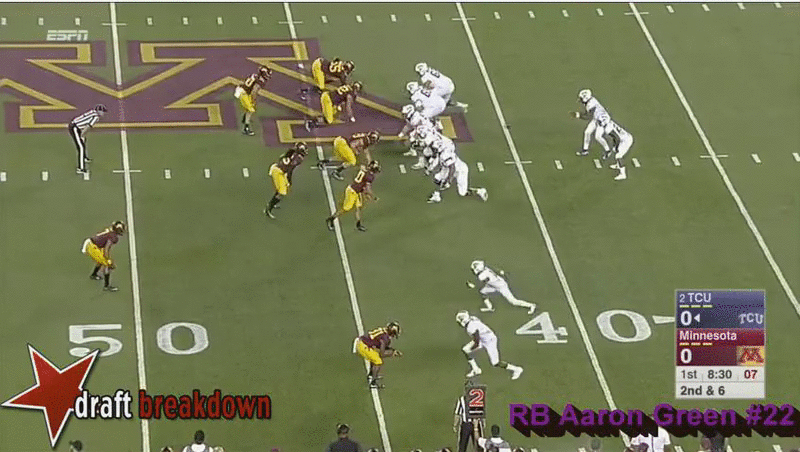 I've warmed up to Green a little bit after watching him be able to create in space. That simply isn't something every back is able to roll out of bed and do. But his vision still concerns me, especially transitioning out of a TCU offense where the run lanes were bigger in their spread system that unloaded the box. If that isn't fixed, he's going to have limited success in the league, and the occassional big play won't justify giving him consistent snaps.
Projection: Mid-Late 6th
Games Watched: vs Ole Miss (2014 – Bowl), at Minnesota, at Kansas St, Senior Bowl