As you should know by now, our attention has now shifted to the 2016 NFL Draft as it relates to the prospects. From now until the draft takes place, we hope to profile as many draft prospects as we possibly can for you. Most of these player profiles will be centered around prospects the Pittsburgh Steelers are likely to have interest in.
A look at someone I've talked about a good deal in my mocks. West Virginia linebacker Nick Kwiatkoski.
#35 Nick Kwiatkoski/ILB West Virginia: 6'2 243
The Good
– Impactful hitter, strong, able to bring runner down in space even when unable to breakdown and gather his feet
– Big hitter when he's able to line up his target, explodes on contact
– Gap disciplined against the run, willing to take on blockers, doesn't try to duck them
– Gets proper depth in most zone drops, usually hook zone responsibility, decent enough technician and doesn't look stiff or awkward dropping
– Desire to be around the ball, jumps on piles, looks to finish plays, all-out attitude
– Productive, durable career, no major injuries reported
– Leader, captain
The Bad
– Average straight line speed (4.73 40 at Combine)
– Step slow reading keys, fooled on playfakes too often, and struggles to get in position on zone drops
– Ineffective pass rusher when used off the edge versus OTs, lacks any moves and does not strike with much power, can only win versus RBs when he has size/strength advantage
– Can be hesitant on blitzes, want to see him be more aggressive, left some plays on the field
Bio
– 38 career starts
– 2015: 86 total tackles, 10 TFL, 3 sacks, 3 INTs
– Career: 189 tackles, 28 TFL, 6 INTs, 3 FF, 2 sacks
– Named WVU captain last two seasons and named captain of North team at the Senior Bowl
– Pittsburgh native, Bethel Park born
– Suffered back injury senior year in high school, missed two months but returned to finish out season
– Pronounced quit-KOW-ski
Tape Breakdown
I've talked Kwiatkoski up a lot on here because I like him and the more I write about him, the better the chances are I'll memorize how to spell his name. He profiles similarly to Blake Martinez though Kwiatkoski is a better athlete and functions better in space, giving him a leg up in the world of three receiver sets.
I happened to wind up seeing a lot of passes on the film I was able to pull up, games highlighting Trevone Boykin and a Arizona State wide receiver. Kwiatkoski dropped a ton into his hook zone in the Mountaineers' Cover 3/quarters look. He actually needed to get more depth the one or two times he dropped into the deep middle in a Cover 2 shell but generally, he covers ground and gets to his spot, showing a good-enough turn and fluidity.
The confined space of the end zone helps but he does a nice job working to his spot and taking away the #2 receiver, feeling the route and getting width as he feels the receiver drift.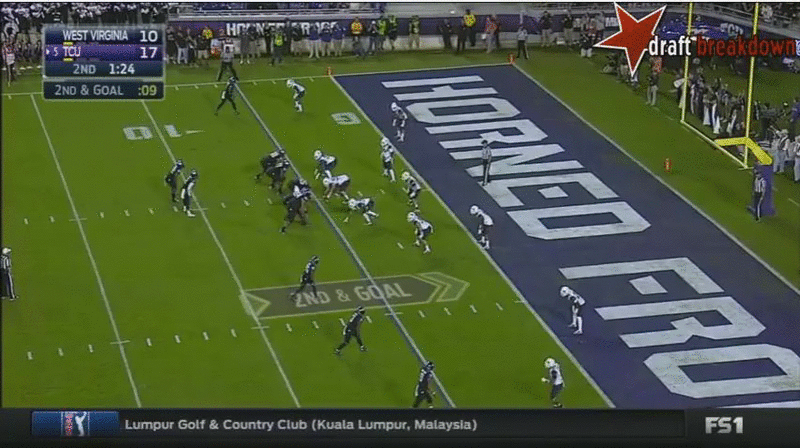 But he's a West Virgnia boy by the way of Pittsburgh so I know you want to see if he can hit. Yes. He. Can.
Find, close, pop in the open field.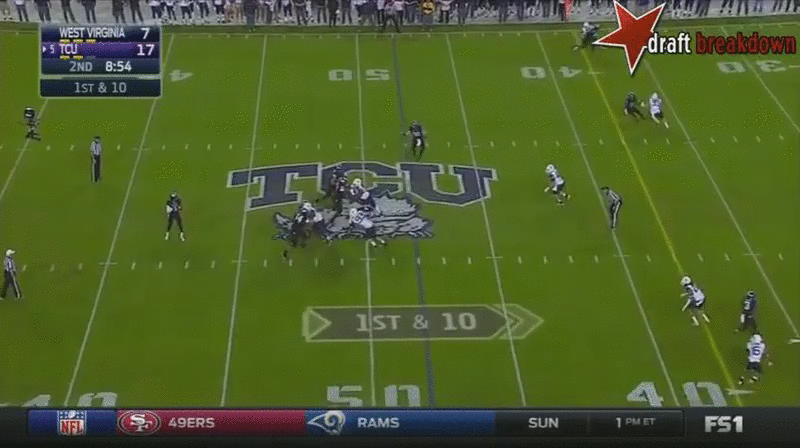 He has the strength to make open field tackles, even when he can't sink his hips and drive through, It makes his tackling ability and strong hands more impressive because in the NFL, you're not always going to get to line somebody up.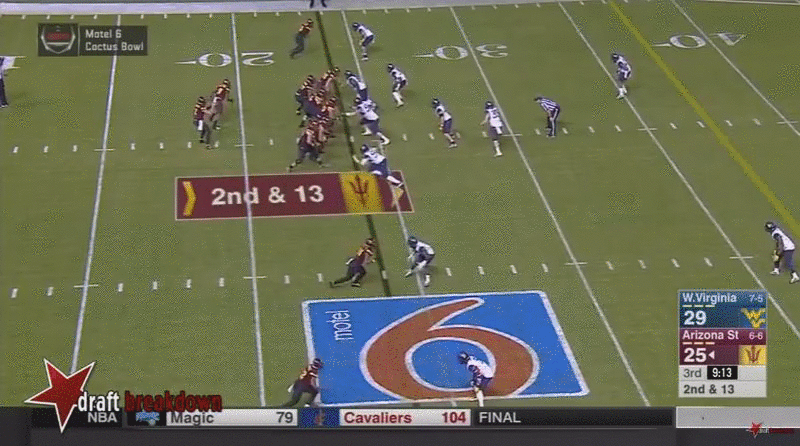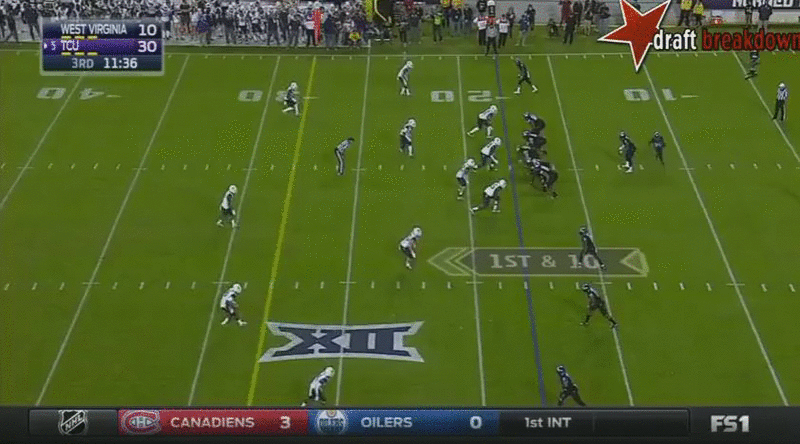 You probably didn't expect a Ryan Shazier comparison mixed in here but there is one trait they share. Poor pass rushers off the edge. No moves, no strength on his punch. Watch the left tackle Cody Whitehair stone him.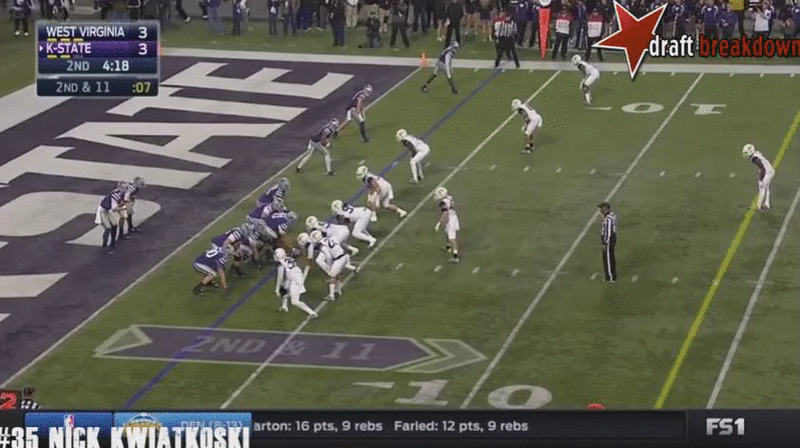 He is a little similar to Martinez in being out of position off the snap. But Martinez took false steps whereas Kwiatkoski just gets fooled and is late reacting.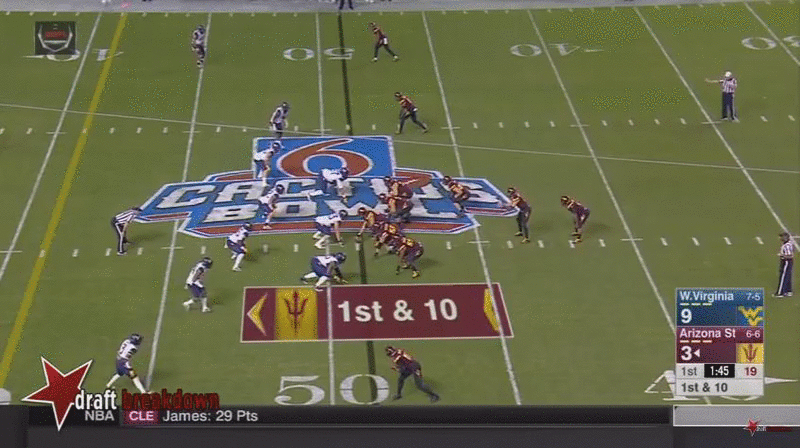 I've seen Kwiatkoski all over the board. From later on Day Three to Mel Kiper apparently calling him a Day 2 pick, I fall somewhere in between. It's easy to think of him as an old-school guy, and much of his makeup revolves around that, but that isn't the entire picture.
There's also the intangible element at play too we have only lightly touched on. I've never met him but everyone raves about the kind of guy he is. Seems infectious and earning captain status at the Senior Bowl is another feather in that cap.
He's a guy I want on my team. He'll go all 21 Jump Street on opposing coverage units – just destroy fools and even if it's chaotic, he'll get the job done. Ice Cube approves. So do I. Draft him, Tomlin.
Projection: Mid-Late 4th
Games Watched: at TCU, at Kansas St, vs Arizona St (Bowl), Senior Bowl