As you should know by now, our attention has now shifted to the 2016 NFL Draft as it relates to the prospects. From now until the draft takes place, we hope to profile as many draft prospects as we possibly can for you. Most of these player profiles will be centered around prospects the Pittsburgh Steelers are likely to have interest in.
Breakdown of Kansas State offensive linemen Cody Whitehair.
#55 – Cody Whitehair/OL Kansas State: 6036, 301
The Good
– Cognizant of "lineman downfield" penalty, actively remembers and stays within legal limits
– Good footwork allows him to pull cleanly, stay tight to the line
– Bull in "lowest man" situations
– Recovers from being beaten, keeps competing on broken reps
– Anchors and absorbs contact
– Keeps hands moving
– Good kick-step and slide, despite wider-than-standard base
– Doesn't hesitate to finish guys on the ground with another shot
– Passes stunts extremely well
The Bad
– Needs to keep his head on a swivel, find targets
– Worked almost exclusively from two-point stance, will need to adjust to NFL stances
– Sometimes a little too ready to let go for my tastes, needs to sustain blocks
– Has bad habit of lunging when double-teaming and extending outside his base
– Doesn't have the length to hold up against long pass rushers
– Struggles engaging at the second level
– Will be a 24-year-old rookie
Bio
– 2015 First Team All-Big 12 (by coaches), 2014 and 2013 Second Team All-Big 12 (by coaches), 2012 Freshman All-American (Phil Steele, ESPN.com)
– Started 51 of 52 games
– Played RT, LG and LT for the Wildcats
Tape Breakdown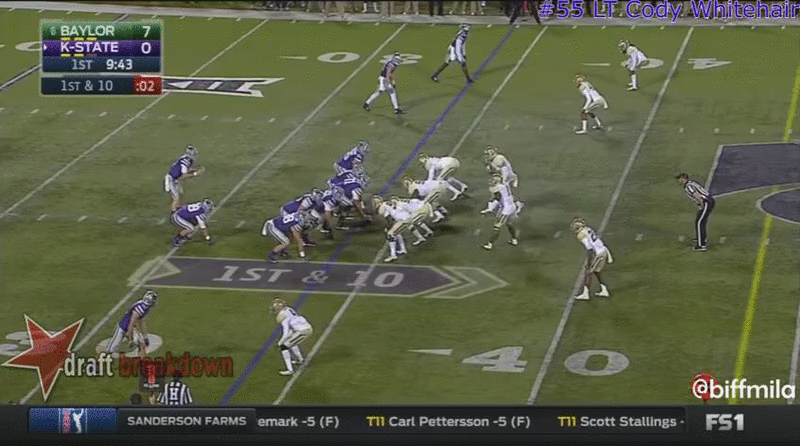 Matched up against Shawn Oakman here, Whitehair waits for Oakman to make first contact, which he does with a reaching right hand, giving up his shoulder. Whitehair then shoots in both hands and engages well. As soon as Oakman "lost his numbers" and turned his chest and center mass away, Whitehair was given an easy way to win this rep. He does just that, washing Oakman well down out of the play, adding a shove at the end for good measure.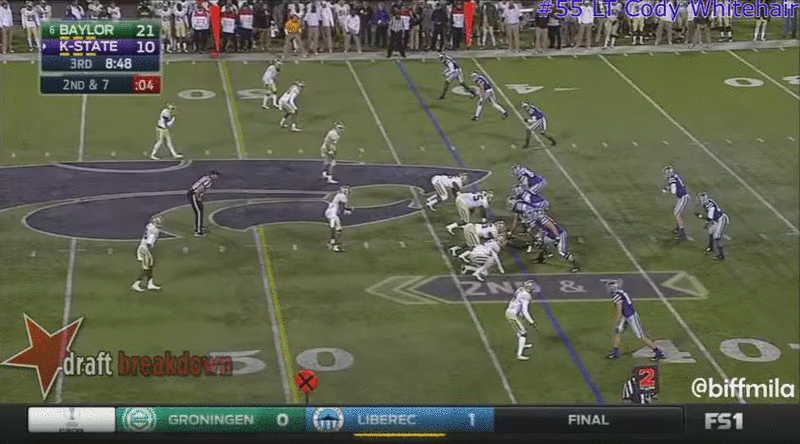 Whitehair is very smart with the way he uses his hands. As Oakman attempts an arm-over swim move, Whitehair counters with a quick punch to the exposed body of Oakman. That power (coupled with a dreadful base from Oakman) sends him sprawling. Great use of hands and punch when the hole is opened for the counter to be landed.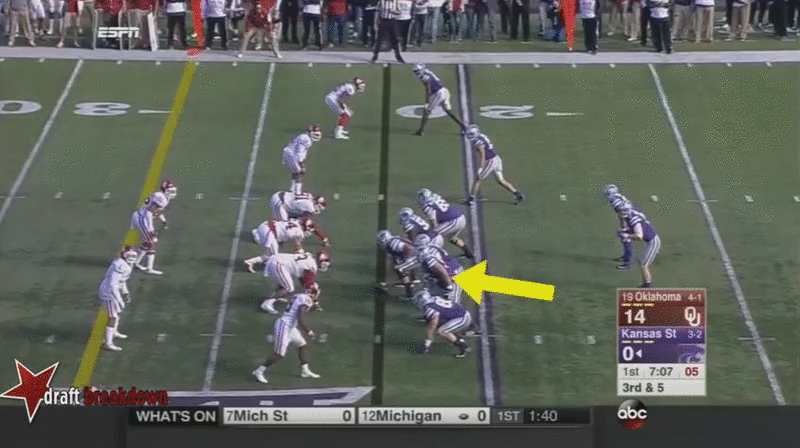 Whitehair doesn't have elite bend or athletic capabilities to mirror edge rushers. He just doesn't, but he compensates with brilliant use of technique and space. Eric Striker beats him initially vertically from the Wide 9 here, using his athleticism and bend to get around the edge. However, Whitehair's response is to use Striker's angle against him, riding him vertically behind the QB. No more needs to be done here. Really nice recovery abilities after being beaten to begin the play.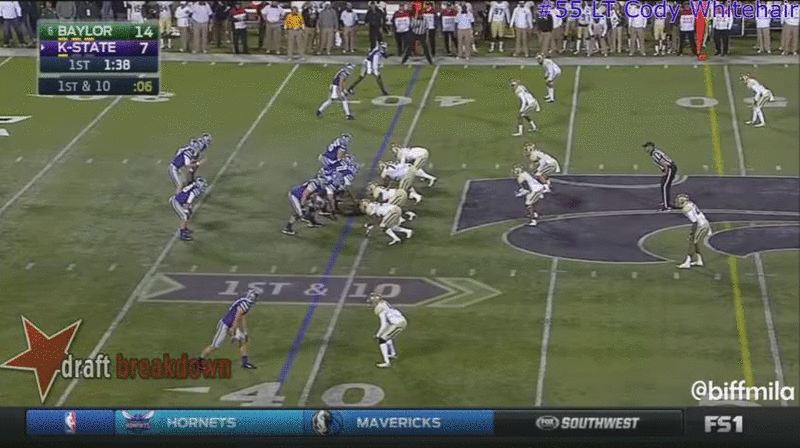 Look at the way Whitehair uses his space. He's content to let players duck and weave sideways as much as they want as long as he doesn't give up any ground. He's confident in his own lateral movement, and his mirroring abilities certainly are there. He'll let Oakman dodge sideways all day if he's not gaining any territory to the QB.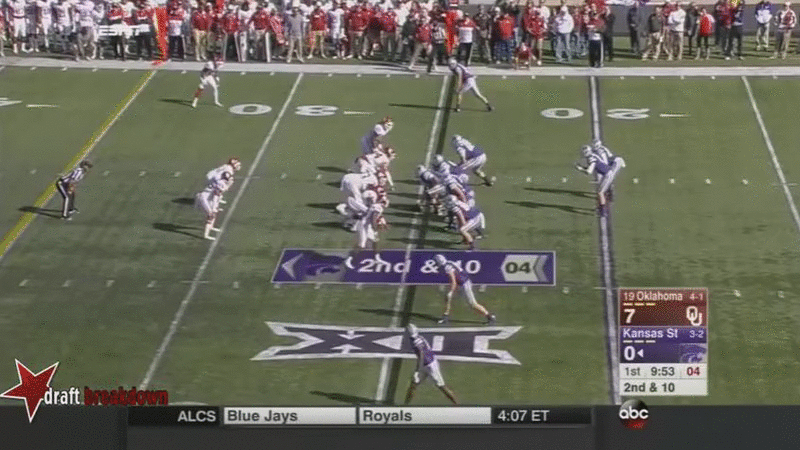 Whitehair has a simple standard for pass-blocking, and it looks like this. Anchor, be patient, and let the defender give himself away. When there's an opening, he'll take a punch, but otherwise he's content to just keep his back to the QB. Here, he never gives uber-athlete Charles Tapper any room to create a move. What does elite OL play look like? Never giving the defender a chance to make a play.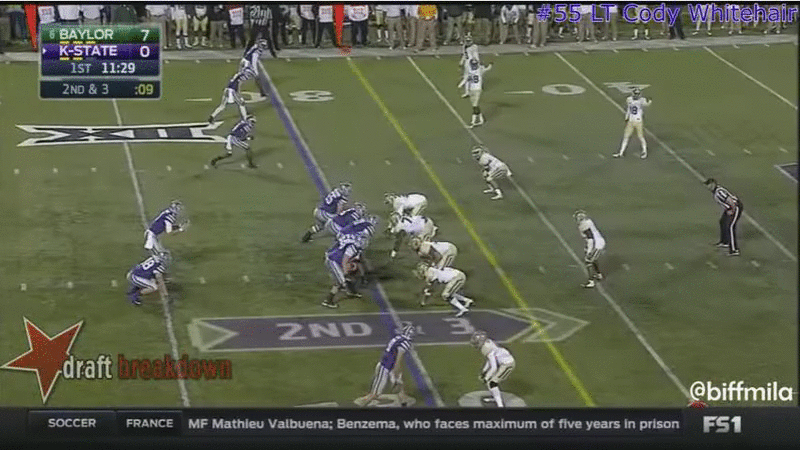 One thing Whitehair does particularly well as a lineman is work his way to the second level. Although he doesn't always manage to engage well once there, he gets off the line cleanly and flows well in space. Here, he's patient in working towards the linebacker and has the hip fluidity to be able to mirror him. Then, he sustains a clean, solid block through the whistle.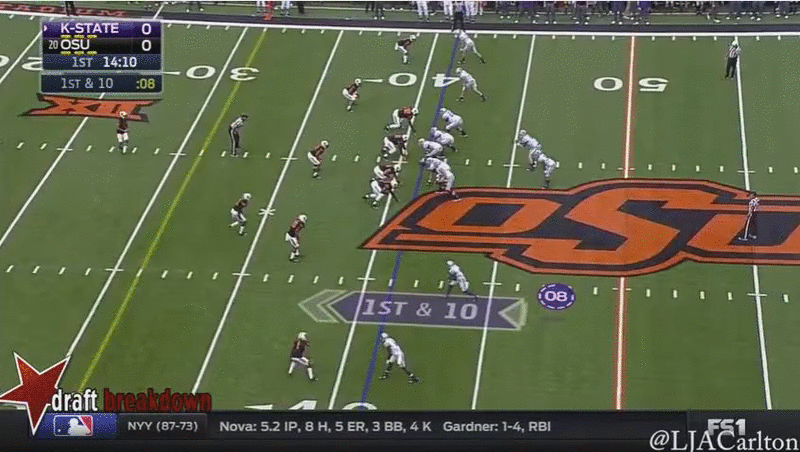 Very nice, tidy pulling technique from Whitehair. I love the way his head comes around as he hits the hole, looking for his defender. He explodes low-to-high and rocks the defender, but has to do a better job of engaging harder and not allowing him to slip away so easily. Ultimately, his assignment makes an assisted tackle because of that lack to cleanly and fully engage.
Summary
Quite simply, Cody Whitehair is a first-round caliber offensive lineman and I don't know why that hasn't been getting more consideration. He could step in at any one of the five OL spots and have a Pro Bowl-caliber season in his rookie year. That is pretty significant, considering there may be four other college tackles drafted above him in the first round.
Whitehair is easily one of the most pro-ready offensive linemen I've watched. He's patient, which is the key. He doesn't rush decisions, doesn't take unnecessary movement, or try to engage when the defender can still overwhelm him. Instead, he waits for the defender to show where to beat him (punch to the numbers, turn a shoulder, begin a move) and then uses that against them. His footwork is good, and his anchor is excellent.
That said, Whitehair doesn't have the frame to truly succeed long-term at left tackle, even though he has all the skills. Look for him to step in and have a dominant rookie season, as he'll carve out a starting niche somewhere. He's so ready that you're going to have to make a spot for him.
Projection: Late First Round
Games Watched: Baylor, at Oklahoma State, Oklahoma