As you should know by now, our attention has now shifted to the 2016 NFL Draft as it relates to the prospects. From now until the draft takes place, we hope to profile as many draft prospects as we possibly can for you. Most of these player profiles will be centered around prospects the Pittsburgh Steelers are likely to have interest in.
Your favorite. Looking at an undersized corner, Boise State's Donte Deayon.
#5 Donte Deayon/CB Boise St: 5'9 155
The Good
– Want and desire to play bigger than his tiny frame, mixes things up in press man and will sacrifice body on the edge against the run
– Quick feet and pedal, transitions out in a hurry, combines quickness and IQ to close on the short/intermediate game well, creating power on contact, explosiveness shown in tested events
– Ability to mirror receiver's release and has fluid turn
– Gets and stays in phase in man coverage, shows ability to look back for ball while staying hip-to-hip with receivers
– Missed fewer tackles than expected, will have to drag down bigger guys, but competent and shows ability to wrap
– Experience and success in man and zone concepts and played the field/boundary at left corner
– Quality starting experience and highly impressive production
– Limited work but showed ability to be a threat in punt return game
The Bad
– Criminally undersized, one of the lightest players in this year's draft and looks like a JV kid
– Frame presents numerous issues, lack of length will cause problems playing the pocket, run support expectations have to be minimal despite admirable effort
– Has to work around blocks instead of through, will compromise gap integrity
– Loves to look in the backfield, takes chance, and will get burned, getting beat over the top
Bio
– 2015: 38 tackles, 3 TFL, 4 INT
– Career: 155 tackles, 8 TFL, 17 INTs, 2 FF
– 6 interceptions in both junior and senior years
– 75 yard punt return TD vs Wyoming in 2014, 48 yard return in 2013
– Missed four weeks after undergoing knee surgery in 2015
– Played left corner only in games watched
– Jumped 37.5 inches in vertical, 10'7" in broad, 12 reps on bench at Pro Day
– Safety/running back in high school, rushed for over 1200 yards and 15 TDs during his junior season
– Ran track all four years of high school
Tape Breakdown
Ok, I swear I didn't realize he was this light when I committed to writing a report on him. I glazed over it in his bio, looked at his production, wanted to uncover some relatively unknown corners, and made Deayon my guy. And then I saw he was 155 pounds. Welp.
Though he wasn't a Combine invite, for comparison, I looked at all the players invited to Indy since 1999. Only one weighed 155 pounds, Aaron Lockett in 2002, who was drafted in the late 7th round, but never appeared in a game.
He's the lightest cornerback since 1999, surpassing the 164 pound Marvin Love in 1999. But ok, we get it. He's light. But that also means Boise State, a good team, chose to start a 155 pounder for three straight seasons. That means this guy had to do something right. Right?
The short (ba dum tish) answer is yes. 5'9, 155 didn't matter when he picked off 17 career passes. Like this one, tracking the ball vertically against BYU, going up and snagging the football. And oh yeah, that's taking it away from a 6'6 receiver.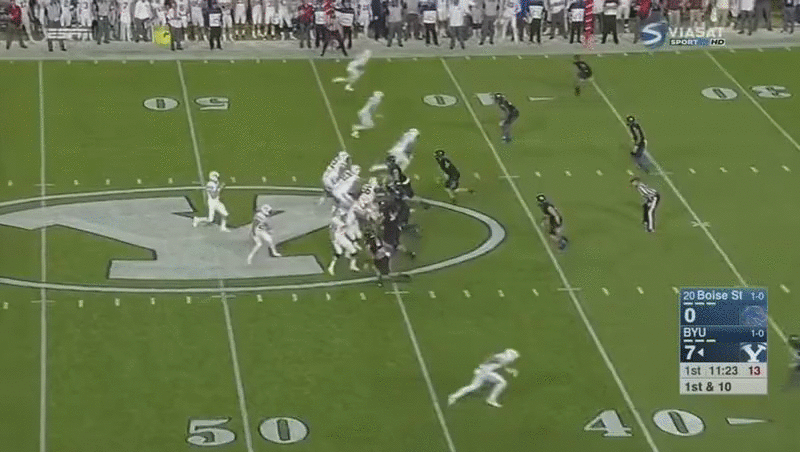 Quick feet to explode out of his pedal and close the distance on routes. Didn't see a ton of breakups but here's one versus Hawaii.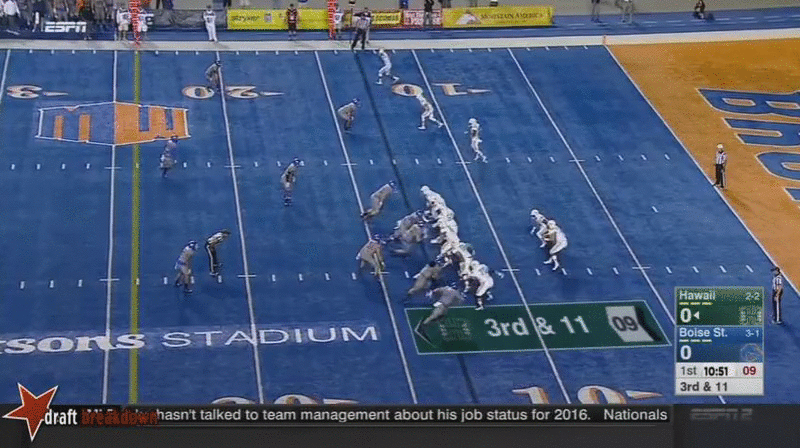 In the five games I watched, Deayon probably had about 10 tackle attempts. Only saw him miss one, and that came in the open field on an end around. He can finish things up pretty quickly, tackling this hitch without allowing any YAC.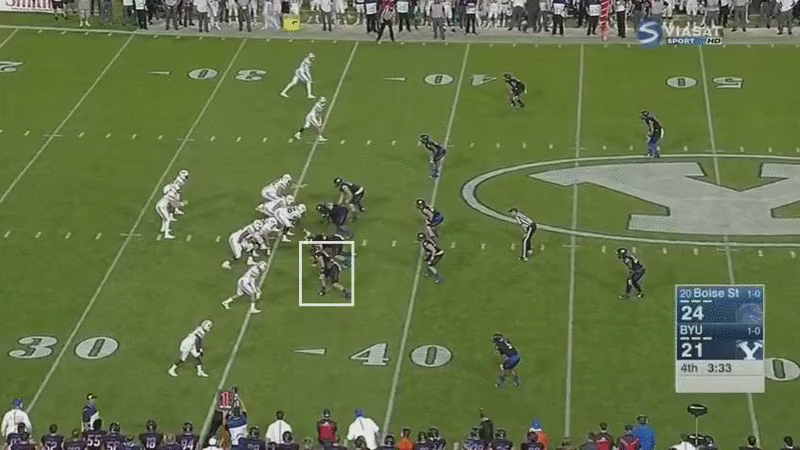 His main issue, as much as I will relent against it, is size. Jonathan Jones at 5'9, 186? Ok, we can work with that. It's a lot tougher case to make to coaches when you're 31 pounds lighter. Scouts might see it but the coaches are the decision makers. You don't need to see any GIFs to understand the problem that brings up.
Frame aside, he's a guy he will take chances. Causes him to get beat. Saw it most notably against Hawai'i where it happened twice. In the first clip, he gets caught on this double-move.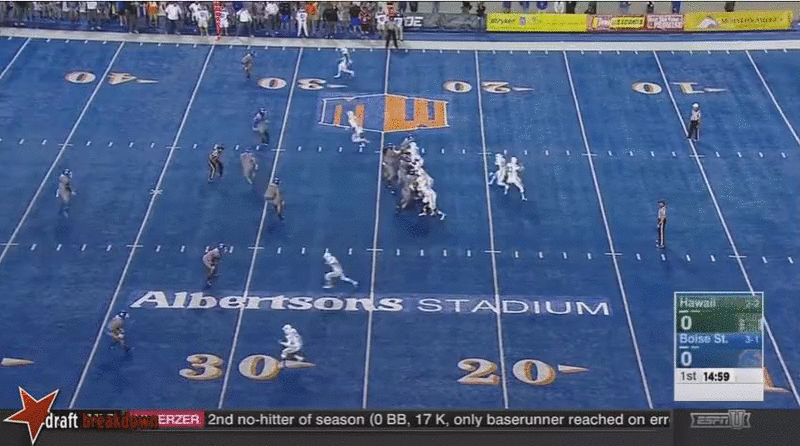 And later in the game, you can see him look in the backfield and lose his man down the seam. Should've been a catch but bailed out by a drop.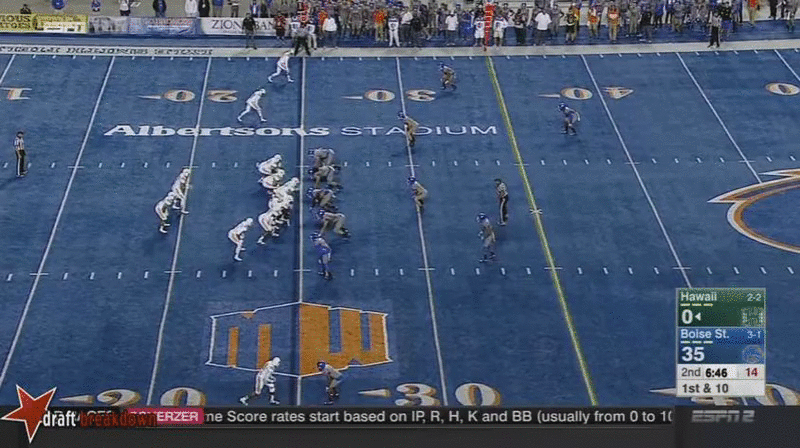 He's an interesting kid. Played well, did everything you can ask for in a career. But it's tough for me to imagine him being drafted for, unfortunately, things that are out of his control. If he does, it'll be like Lockett, taken within the last 10-15 picks of the draft. But I expect Bachelor-like interest in him as a UDFA when the stakes and money are lower. He'll fight, scrap, and is a fun dude to watch. Staying impartial here for my report and grade but I am rooting for him.
Projection: Late 7th-Priority UDFA
Games Watched: at BYU, at Virginia, vs Hawaii, at Colorado St, vs Northern Illinois (Bowl)
https://www.youtube.com/watch?v=BYrMxHQ-SeY