As you should know by now, our attention has now shifted to the 2016 NFL Draft as it relates to the prospects. From now until the draft takes place, we hope to profile as many draft prospects as we possibly can for you. Most of these player profiles will be centered around prospects the Pittsburgh Steelers are likely to have interest in.
Look at linebacker Eric Striker.
#19, Eric Striker — LB/Oklahoma/5'11"/227 Lbs/Senior
The Good
-Great burst off the line to beat tackles around the edge
-Able to dip and bend underneath blockers
-Fluid athlete in movements
-Smart football player that is assignment sound
-Appears comfortable and alert dropping into space in coverage
-Can match up with tight ends and running backs
-Unorthodox pass rusher that makes it difficult for blockers to get a read
The Bad
-Very small frame for position
-Doesn't have great play strength
-Can be pushed around against bigger blockers
-Short arms and lack of height gives him trouble in one-on-one matchups against run
-Struggles to set edge well as an anchor
-Limited pass rush arsenal
-Slow to diagnose what's in front of him
The Other
-Started 39 games at Oklahoma
-Recorded 23 career sacks, along with 46.5 tackles for loss
-Named Third-Team All-Big 12 in 2014, Second-Team All-Big 12 in 2015
Film Breakdown
There's a lot to like when watching film of Oklahoma standout linebacker Eric Striker, but he was a hard evaluation based on the way Oklahoma used him, as well as trying to determine where he'll fit in the NFL position-wise.
Although the numbers he put up during his career in Norman are eye-popping for a pass rusher and EDGE linebacker, the height, weight and short arms (31 1Ž4 inches) are turnoffs for me for a linebacker, especially one that will be asked to rush the passer against behemoth offensive linemen in the NFL.
While he was able to use his small stature and impressive explosiveness off the ball at Oklahoma to beat tackles with ease, he didn't really learn any combination or counter moves while with the Sooners.
Due to the lack of a pass-rushing arsenal, Striker relied solely on speed and athleticism as a Sooner, but that won't cut it at the next level simply because offensive linemen are better, and teams will know how to negate his speed on the edge.
That being said, he's terrific at timing snaps and racing past unsuspecting linemen quickly to get into the backfield to wreak havoc, which he made a habit of during his four years in red and white.
His speed and athleticism, combined with his high motor is very intriguing on the edge.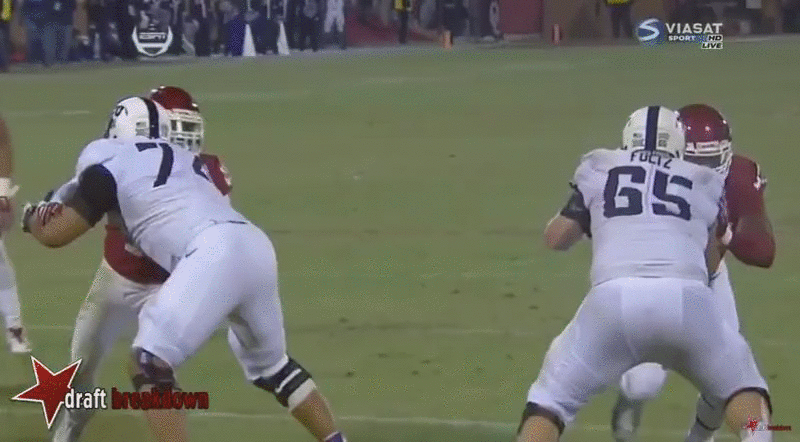 In each of the three clips above, you see the great athleticism off the edge, where he's able to use his speed and leverage to dip under the opposing tackle to get to the quarterback in a hurry.
In clip one, Striker is simply way too quick off the ball and around the edge against Alabama's Cyrus Kouandjio, who now plays for the Buffalo Bills.
Although Striker doesn't utilize hand-usage in a majority of his rushes, he has quick hands that can wipe away opposing blockers' limbs, allowing him to utilize his speed off the ball.
In the third clip against TCU, Striker does use his hands to rip inside the left tackle, giving him a clear lane to the quarterback. Despite not bringing him down for the safety, Striker was able to apply quick pressure, forcing a quick throw from the QB. He might not always get home, but he's a fearsome pass rusher that forces QBs to know where he is at all times.
As a high-energy guy with good athleticism, Striker makes himself that much better with a motor that is always burning hot.
While he's not a good read-and-react linebacker, Striker chases down a lot of plays and always wants to be around the ball with his great range.
The play above against TCU really stood out to me and showed me not only his athleticism, but also his will to make the play even after running past it.
Although he makes a habit of jumping into passing lanes with his hands up, Striker rarely gets his hands on the football. Despite flying past the throw on this play, Striker shows off his great ability to change directions quickly, planting his foot in the ground to turn around and make the play down the field.
He might not be a linebacker blessed with good football instincts, but his desire to make a ton of plays will put him on the field at the next level, regardless of his position.
In zone coverage, Striker is very comfortable dropping into space quickly, closing passing windows for QBs trying to sneak a throw past him.
Although his height gives him problems in these situations, his placement and ability to keep track of what's happening around him allows him to get by in coverage.
In fact, Striker recorded his first career interception this past season, adding to his 12 career passes defended.
Overall, Striker is competent in coverage. He's athletic enough to drop into zone coverage, while also being able to run with tight ends and running backs coming out of the backfield.
One area that I am really concerned with his Striker's tackling ability in space, along with his technique at wrapping up.
As a guy who really struggles with reading and reacting to what's in front of him, Striker is often caught flat-footed against running backs.
In this clip against Baylor, that's Corey Coleman coming through the hole at Striker, who is standing flat-footed and trying to figure out what's coming at him.
Once he realizes what's happening, he's quick enough to get into the whole, but is technique is bad.
He tries to go high against Coleman, who runs right through his arm tackle for a touchdown.
Despite his last name, Striker is not a physical linebacker by any stretch. He's not a thumper at all and really has to clean up his tackling technique to make a mark in the NFL.
Overall, Striker is a significant chess piece that his next defensive coordinator should have tons of fun playing with. Some say that Striker is ideal for a nickel safety, but concerns over his long speed makes me think that he's ideally a 4-3 WILL in the NFL who comes on in special packages, giving you a pass-rushing threat, as well as a guy who can drop into zone coverage.
I don't think he'll ever develop into a long-term NFL starter, but he should have a good career as a special teams standout who can also bring down QBs roughly five times a season.
If he can do that he'll be well worth a late-round pick.
Projection: Early-7th
Games Watched: vs. Alabama ('13), vs. Baylor ('14), vs. TCU ('15)