As you should know by now, our attention has now shifted to the 2016 NFL Draft as it relates to the prospects. From now until the draft takes place, we hope to profile as many draft prospects as we possibly can for you. Most of these player profiles will be centered around prospects the Pittsburgh Steelers are likely to have interest in.
Breakdown of edge rusher Alex McCalister.
#14, Alex McCalister — DE/OLB/Florida/6'6"/239 Lbs/Junior
The Good
-Rare arm length for position
-Keeps blockers off his frame due to long reach
-Great dip move to shoot under opponents bunch
-Bends edge quickly and has a knack for making plays behind line
-Creates extension well for position
The Bad
-Thin, lanky frame that raises durability questions
-Limited pass rusher who has no counter moves if initial rush doesn't work
-Little to no awareness as a run defender
-Only a part-time starter
-Dismissed from program before bowl game for repeated violation of team rules
Bio
-Combine record 86 1/2 inch wingspan
-Had longest arms of any defender (36 inches) at Combine
-Recorded 32 1/2 inch vertical
-13 career sacks and 18 tackles for loss in two seasons at Florida
Film Breakdown
A North Carolina prep star, Alex McCalister headed to Florida as a highly-rated recruit, whereupon he sat behind 2015 No. 3 overall pick, Dante Fowler, for two seasons.
Sitting behind a great pass rusher, one would think that McCalister would have picked up some pass rushing moves, but in fact the opposite was true as McCalister was essentially a one-trick pony off the edge during his time at Florida.
However, that one trick was largely effective throughout his time thanks to his long arms, good burst and ridiculous lower body athleticism, allowing the 6-foot-6 edge rusher to routinely dip under his opponent's punch while flattening out to the QB quickly for the sack.
But when McCalister wasn't able to get a great jump at the snap he was usually rendered useless as a rusher because he simply had no counter moves and really didn't know how to use his hands to create space on the edge.
While he was a significant threat as a pass rusher, McCalister played just over 40 percent of the snaps at Florida the last two years, showcasing his inability to be an every-down player.
A lot of that has to do with his lack of awareness against the run. He's not strong enough to hold up against the run, and he really struggles to diagnose what is happening on each play that he isn't looking to bend the edge.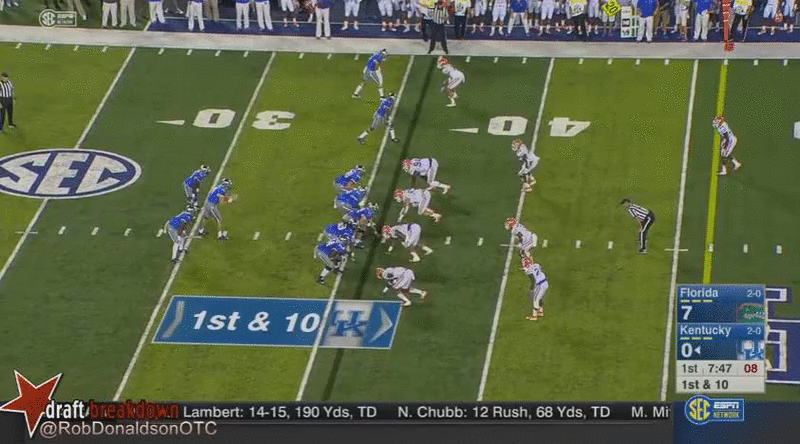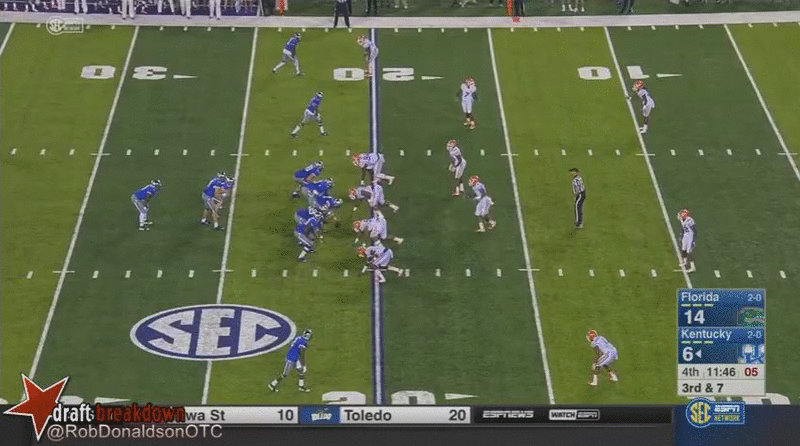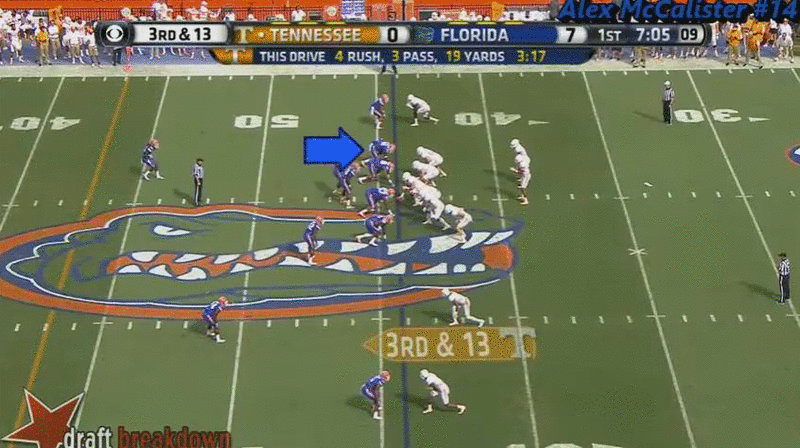 On each of the clips above you see the elite dip and bend around the edge from McCalister against right tackles who are simply no match for him.
McCalister does a good job of baiting the tackle into the early punch, which allows him to dive underneath it, forcing the tackle off balance, where he then is able to get around his opponent quickly to flatten out to the QB to make the play.
It might not look like much, but you can't block what you can't touch, and the fact that McCalister is able to get that low at 6-feet-6 is very, very impressive.
When not using his dip move, McCalister uses his exceptionally long arms to stun tackles, allowing him to work into the backfield with great extension.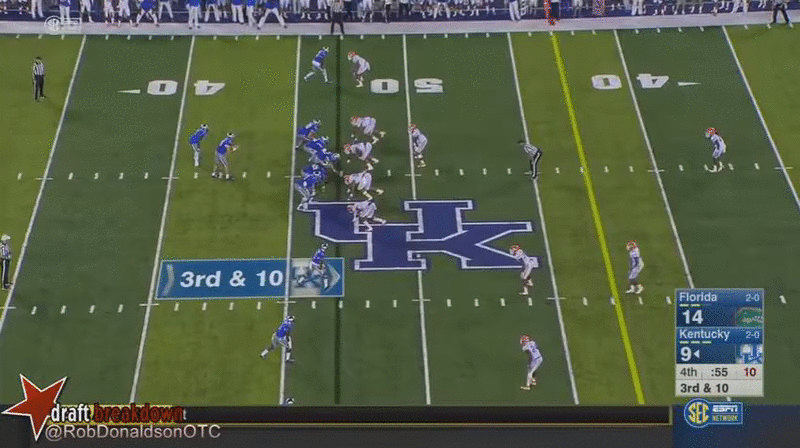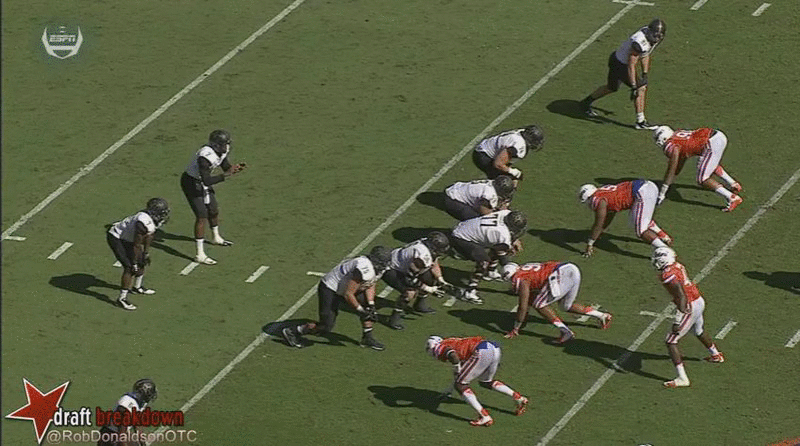 At first, McCalister doesn't know how to utilize his long arms to his advantage, but as the season progressed, the junior learned to use his great length to his advantage, keeping opponents out of his thin frame, giving him a chance to try and work around the tackle for a sack.
He's not a powerful guy, so the created extension doesn't knock the linemen off-balance, but what it does is allow McCalister to keep the tackles at bay while eating up a ton of ground off the edge.
However, when his initial burst, dip or extension doesn't work, McCalister offers very, very little to the defense, essentially taking up space.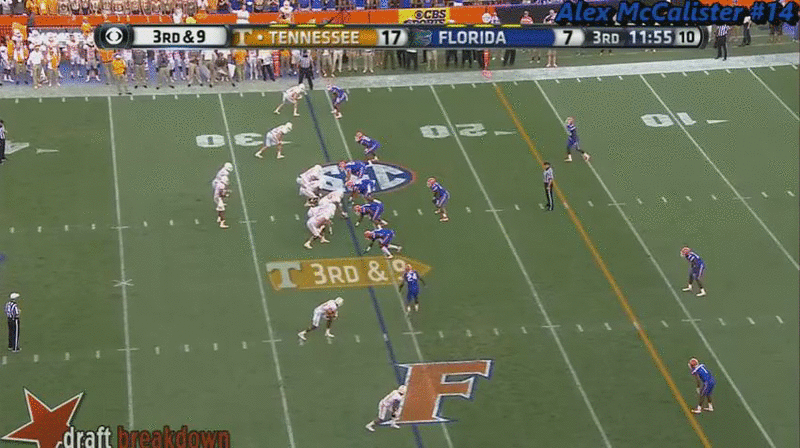 As a pass rusher with nearly 20 career sacks, you would think McCalister has to have a decent pass rushing arsenal, but that simply isn't the case with the junior.
If his first move of the dip or extension doesn't work, McCalister simply gives up and just leans into his opponent, making for an easy block.
As a guy who plays less than 50 percent of the snaps, watching him loaf it after his first rush doesn't work is really discouraging, regardless of the number of sacks he recorded during his time in Gainesville.
That's just simply not going to cut it.
Overall, McCalister is too lean of a player and doesn't have anything to contribute outside of the occasional great pass rush.
Add into the mix his discipline issues with the Gators and he's looking like a guy who won't be drafted.
The height, reach and wingspan is really intriguing, but he's a major boom-or-bust guy that isn't worth a draft pick at this point.
He's a situational pass rusher who can be picked up as an undrafted free agent.
Projection: Undrafted Free Agent
Games Watched: at Kentucky ('15), vs. Tennessee ('15), vs. Vanderbilt ('15)