As you should know by now, our attention has now shifted to the 2016 NFL Draft as it relates to the prospects. From now until the draft takes place, we hope to profile as many draft prospects as we possibly can for you. Most of these player profiles will be centered around prospects the Pittsburgh Steelers are likely to have interest in.
Look at sleeper safety Kevin Byard.
#20 – Kevin Byard/S Middle Tennessee St: 5'11/2 212
The Good
– Big, thick frame, NFL makeup
– Strong, reliable tackler, finishes plays quickly and hard to get out of his grasp
– Proper angles to the football in both phases, smart player who doesn't waste steps
– Shows technique in coverage, gets in-phase with receiver and capable of playing the pocket
– Tracks the football exceptionally well in the air, times his jumps and high points the football
– Fluid hips and turn while showing ability to get out of pedal and break downhill
– Hard hitter and fills the alley against the run
– Underrated long speed
– Played well against top competition
– Crazy amount of starting experience, high character, and regarded as a leader by his team
– Productive career
The Bad
– Will have to work on lowering his aiming point, avoid illegal hits
– Has to do better job understanding route concepts and depth, can get beat
– Better in zone than man coverage, agility and short-area quickness is only average and became more exposed against better competition
– Played at a smaller school, didn't receive a Combine invite to get perfect comparison times
Bio
– Four year starter, 46 games overall
– 2015: 66 tackles, 4 INTs
– 19 career interceptions, most in school history (6 in 2014, 5 in 2013)
– 2015 team captain, named to C-USA First Team
– Grew up a Steelers' fan
Tape Breakdown
The fine people at Draft Breakdown just put up a second game of Byard, giving me just enough of a view to feel comfortable watching him, even if I wish I had more. Byard, despite playing at a "small" school, is awfully impressive on tape and balled out against Alabama, one of the best teams in football.
He's strong against the run, showing the ability to fill the alley and make the tackle in the hole. Comes up and takes Derrick Henry down by the ankles.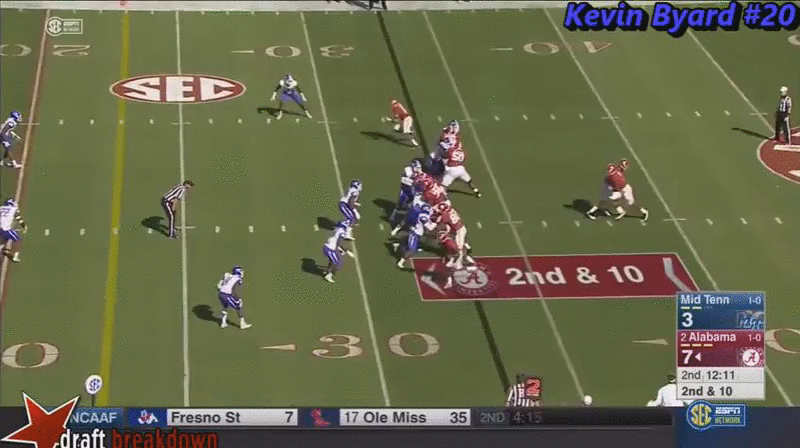 Though many don't think about speed when associating it with Byard, he ran a 4.46 at his Pro Day. See it on tape, chasing down Kenyan Drake (4.45 40 at the Combine) to save this touchdown.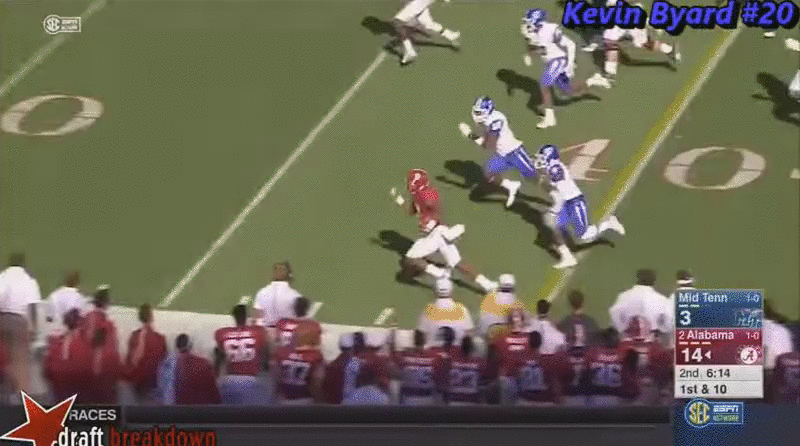 Love his ability to jump and high point the football in coverage, too. 19 interceptions don't just magically happen. 38 inch vert at his Pro Day and you see it translate to moments like this.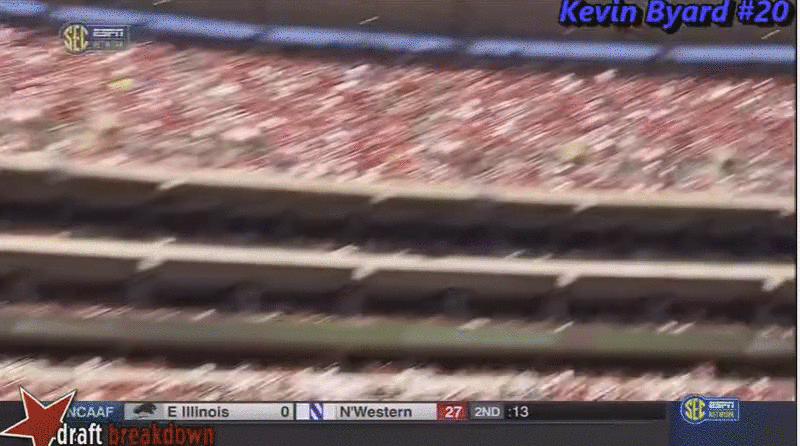 He made an even more impressive snag at the Senior Bowl, sending the coaching staff and his teammates into a frenzy.
I talked to Byard at the Senior Bowl. Came off as a great guy who relished taking on the challenge of playing a team like Alabama. This is what he said from a previous feature piece I wrote.
"I think bigger the game, the better you have to rise your level of intensity. Definitely competition always makes me play better. That was definitely a fun game that I had. That's the player you're going to see everyday on Sundays."
And as I mentioned in his bio, he says he's a Steelers' fan who loved watching Troy Polamalu growing up.
"Growing up, the Steelers were my favorite team. Growing up watching Troy Polamalu and those guys. I felt like they pretty much had the best defense in the league for a long time. Especially watching the effort he gave out on the field every day. It's definitely somebody I watched on film and tried to emulate in my time in college and trying to do it right now."
I didn't see a ton of negatives from him. Though this wasn't a malicious hit, he did get tossed in the Alabama game for targeting. This is the hit, a bit of bad luck by a late QB slide.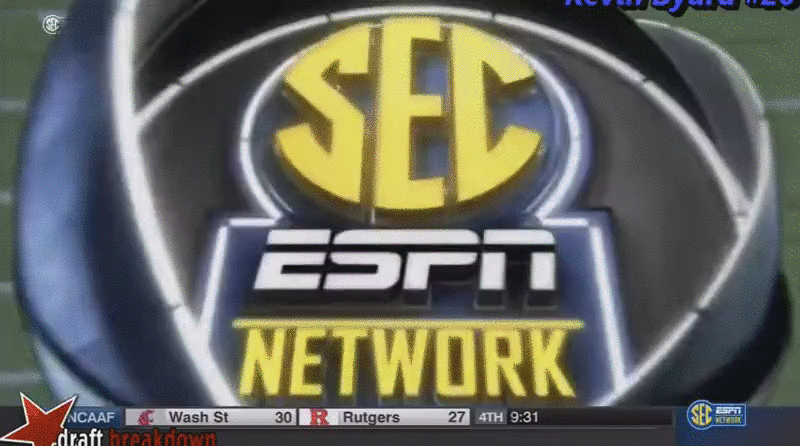 In the bowl game against Western Michigan, he got beat by this sluggo. Luckily was overthrown and incomplete.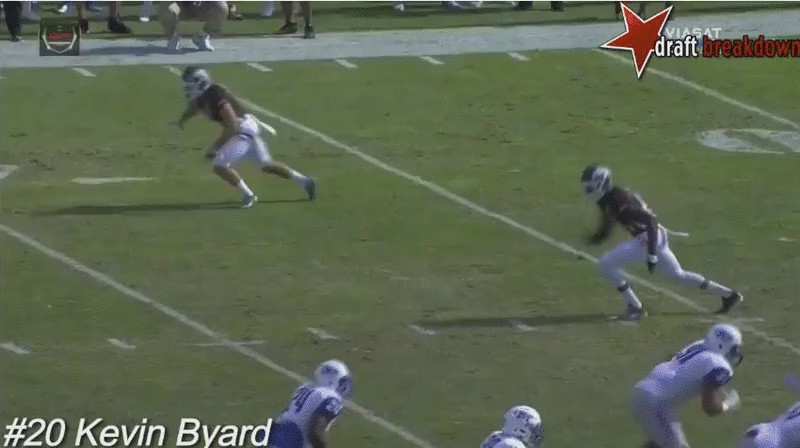 Byard is a popular sleeper pick and I am pretty disappointed to see him not get a Combine invite, he was one of its biggest snubs, or a pre-draft look from Pittsburgh. Knowing both and the team's history, it seems unlikely they'll take Byard. Don't often take non-Combine players and ones from small schools. Only ones under Mike Tomlin are Rob Blanchflower and Frank Summers.
But listen for Byard's name on Day 2. Bet he goes and whoever snags him will have a good player.
Projection: Mid-Late 3rd
Games Watched: at Alabama, vs Western Michigan (Bowl), Senior Bowl