As you should know by now, our attention has now shifted to the 2016 NFL Draft as it relates to the prospects. From now until the draft takes place, we hope to profile as many draft prospects as we possibly can for you. Most of these player profiles will be centered around prospects the Pittsburgh Steelers are likely to have interest in.
A breakdown of another corner the team has brought in for a visit. Texas A&M's Brandon Williams.
#21 Brandon Williams/CB Texas A&M: 5'11/3 197
The Good
– Decent enough frame for a corner with long arms, especially relative to height (32 1/2 inches)
– Straight line speed is excellent, timed very fast (4.37 at Combine)
– Physical, willing to mix things up in press man, like his attitude
– Shows quick feet and change of direction, able to stay on top of routes in man coverage, loose hips and turn
– Throws body around as a tackler, impactful hitter who explodes through contact
– Shuts catches down in a hurry, doesn't allow much YAC
– Works hard to use his hands and get off blocks in the run game
– Progressed well for how little experience he has at the position
– Has received reps on both sides and some work in the slot
The Bad
– Extremely raw, one year at the position, and making jump to NFL level so quickly is daunting
– Playing time in 2015 was limited, rotated out quite a bit
– Will struggle at the top of the route against bigger receivers, slighter frame and can get bumped off, allowing separation
– Makes mistakes that show he's new the position, loses track of the ball, quits on play before its over, mental blips but aren't effort related
– Statistically, not productive
– Barely any return experience, two career kicks for 16 yards
– Explosion numbers at Combine were unusually poor (30.5 vert, 9'10" broad)
Bio
– 2015: 37 tackles, 1 TFL, 0 INTs, 0 FF
– Moved from running back to cornerback in spring of 2015
– RB career: 870 yards rushing, one rush for 3 yards in 2015 with TAMU
– Originally committed to Oklahoma, transferred after 2011 season, forced to sit out 2012
– Will turn 24 in early September
– Five star recruit out of high school, rushed for over 2400 yards and 33 touchdowns senior year of high school
Tape Breakdown
Williams was certainly not someone who was on our prospect profile. That is, until the Steelers announced he was coming in for a visit. So I was anxious to see what the allure was.
Reading up on his background about him, like I wrote above, this is his first year playing corner. Or anywhere on defense. Read some feature pieces on him and you'll hear him say he hadn't played anywhere on defense since he was nine. So yeah, it's been a long time, and a tall task when Kevin Sumlin asked him to convert last spring.
But Williams made the transition and in all four games I watched, earned the starting nod. Certainly a lot to be said for someone who can do that, in a way, similar to Quinten Rollins last year. Though his playing time was inconsistent, I couldn't get a feel or read for the situations/personnel groups he played in.
The best I could gather, speaking overall, is that he was used in sub-package and taken out when teams went into 21/12 personnel, putting A&M in their base. Lot of red zone work saw Williams off the field too, perhaps from a lack of trust in him being able to handle the nuances red zone coverage brings. I'm not an A&M fan so if you are, maybe you can shed some better insight on a pattern.
What I like about him is the fearlessness he brings. He might have been a running back in a past life, the guys trying to avoid contact, but on defense, he has no problem popping you in the jaw.
Closes on the flat immediately to open up the game.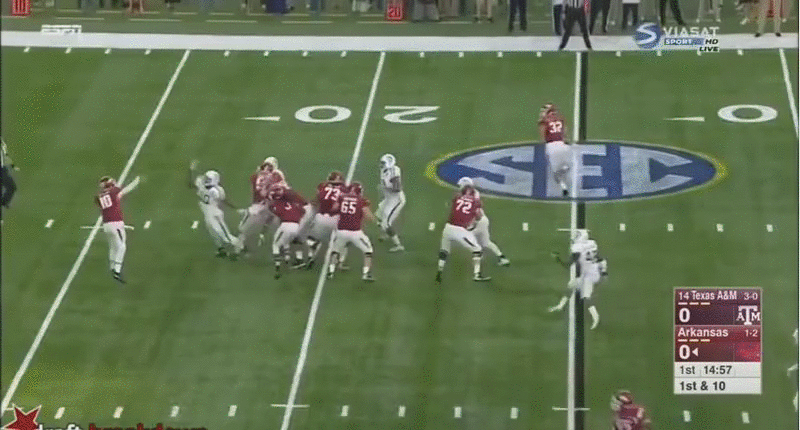 Like his ability to tackle and clean up passes quickly. Not one to allow YAC. Later in that Arkansas game, Williams makes the immediate tackle on this speed out.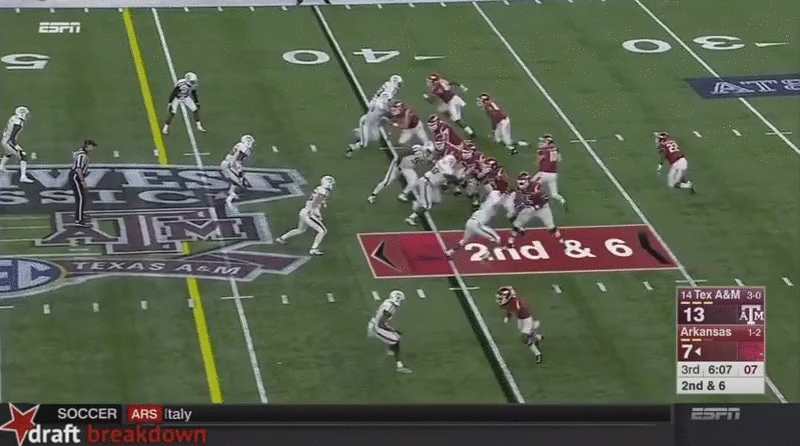 He has quick feet and loose hips, giving him the ability to mirror underneath routes. Watch him at the top of the screen change directions. Looks fluid, natural, and no doubt attributed to his running back background, getting in and out of the hole in a flash.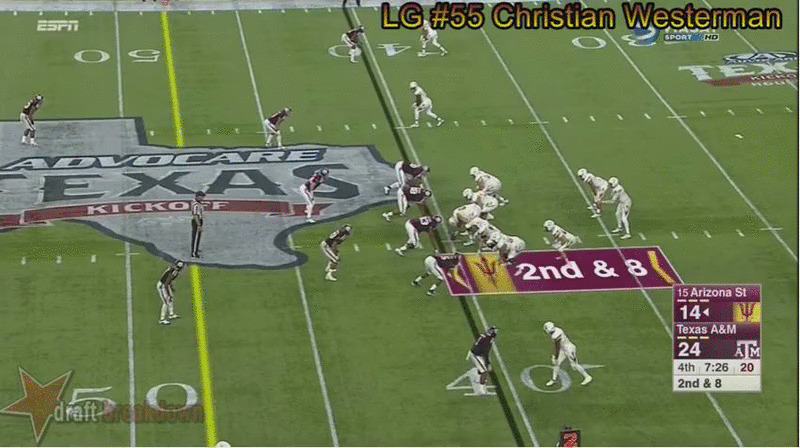 Though Williams has length and a physical desire, he is pretty skinny and can struggle against bigger receivers. Watch this shallow cross by the Ole Miss receiver coming from right to left, pushing Williams off and gaining separation. Plays results in a sack but after Williams is bumped off, he has no chance to recover. So hand use and strength are some areas he's going to have to get better in.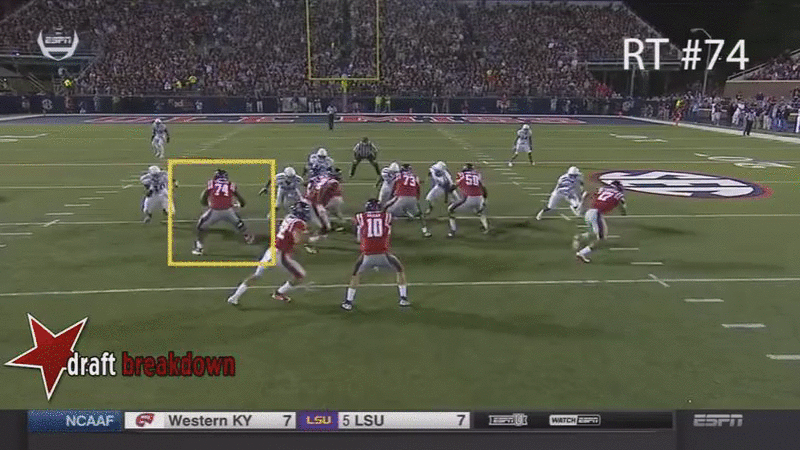 Other areas he has to get better in include…everything. Making the switch from RB to CB in a couple of months to play in the SEC is tough. Multiply that by ten and you get the jump to the NFL. He's going to struggle…a lot, and while I can't speak to this, he better be mentally tough.
That first year is going to chew him up. Could you imagine him going against Antonio Brown or Markus Wheaton, two guys who have honed their craft, in practice? No contest. We are talking about a project, even if the physical tools are there at a very baseline level.
We see that in our final clip, also against Ole Miss. This isn't him being lazy, you can see him have that "oh crap" moment. I just genuinely think he thought the play was over, gave up his coverage. Just quits on this play and is lucky the pass went down the seam and not outside.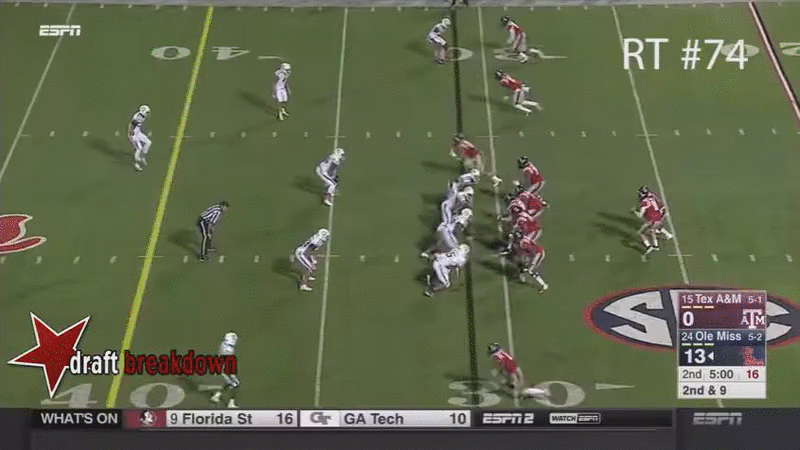 If you're drafting Williams, it is for those physical tools, your belief he is tough, to see returns you'll get a few years from now. If you want to take that approach, fine, but just understand what you're getting with him. That's how I view him.
Projection: Mid-Late 7th
Games Watched: vs Arizona St, at Arkansas, vs Alabama, at Ole Miss