As you should know by now, our attention has now shifted to the 2016 NFL Draft as it relates to the prospects. From now until the draft takes place, we hope to profile as many draft prospects as we possibly can for you. Most of these player profiles will be centered around prospects the Pittsburgh Steelers are likely to have interest in.
Look at Auburn receiver Ricardo Louis.
#5 – Ricardo Louis/WR Auburn: 6016, 215
The Good
– Soft hands, extends outside frame well
– Good footwork to get off the line
– Uses head well to sell routes
– When motivated, great blocker
– Used as ball carrier out of motion
The Bad
– Not a particularly advanced full-body route-runner
– Inconsistent blocker
– Not explosive out of breaks
– Underdeveloped route tree
– Needs to put two hands on the ball going into traffic
– Doesn't attack back to ball on hitches, too complacent
Bio
– Full combine results: 4.43 40 yard dash, 1.58 10 yard split, 18 bench press reps, 38 inch vertical jump, 11'0″ broad
– Saw action in 49 games
– Had 98 receptions for 1,338 yards and 8 TDs, 68 carries for 578 yards and 2 TDs
– Returned 11 kicks in college for 230 yards
– Rivals.com ranked him 183rd in the country coming out of Miami Beach Senior HS
Tape Breakdown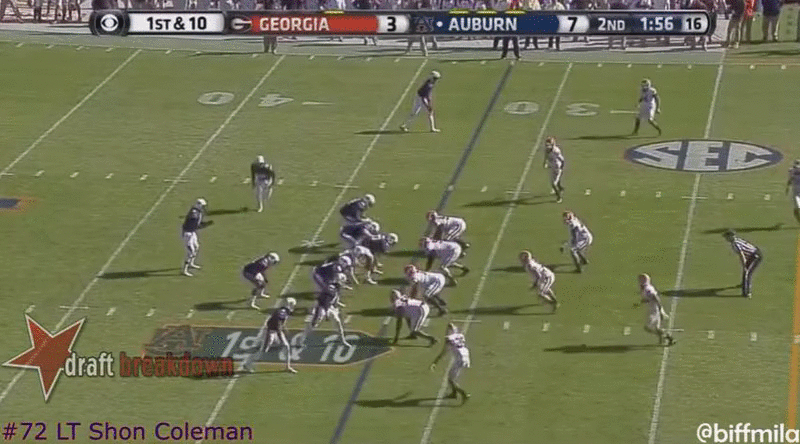 In many ways, Louis' greatest functionality was as a blocker. As the outside receiver in this bunch formation, he ends up coming back into the box to take out the dropping strong safety. He doesn't just stand in his way, but instead makes contact and takes the jolt for the run play.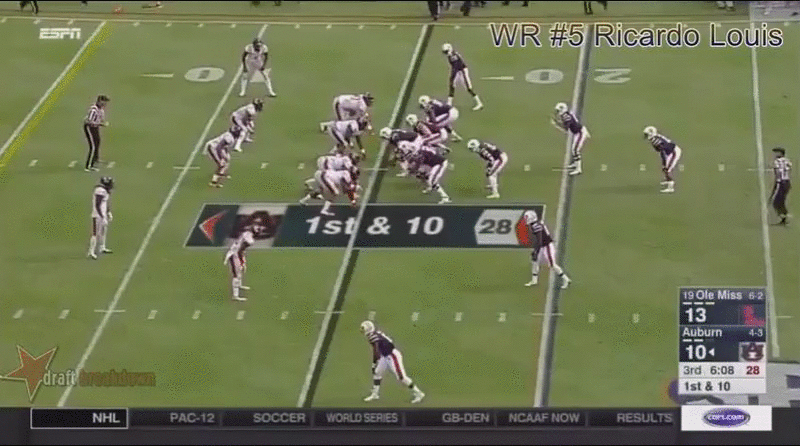 Louis shows some very nice fire and upside as a blocker. Here, he looks hesitant at first – the pen quivers, ready to write off another run down as being low-effort. However, look at the way he engages suddenly, firing his hands inside and surprising the defender. If he showed this kind of determination from the start on every snap, he'd be a far better blocker.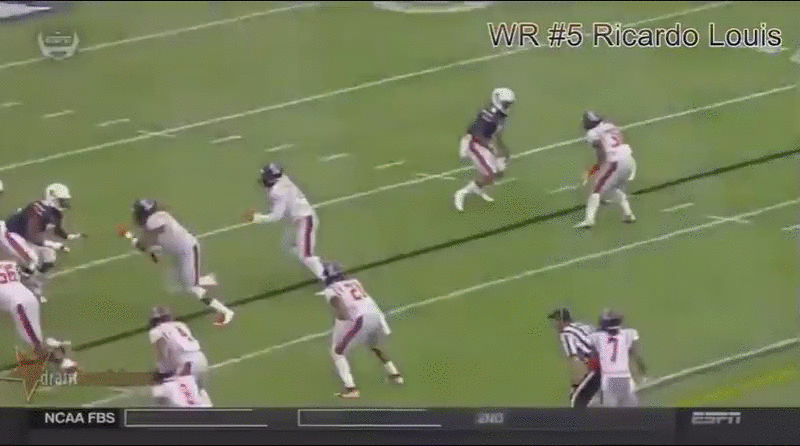 On the surface, this is an excellent route. Louis does a good job using it to clear space, with an effective head-stare to sell the post route before hitting the double move and going back outside. However, if you look closely, you'll notice his shoulder and hips never come around from that vertical stem. Yes, his head and eyes sell the inside-breaking route, but his shoulders and hips never stray from the vertical. Is it nit-picking? Sure, but you could also call it "NFL level of detail."
Also, great use of his hands and waiting to extend them until the last moment. He attacks the ball well and snags it out of the air. An aggressive stiff-arm to finish the play is also a nice touch.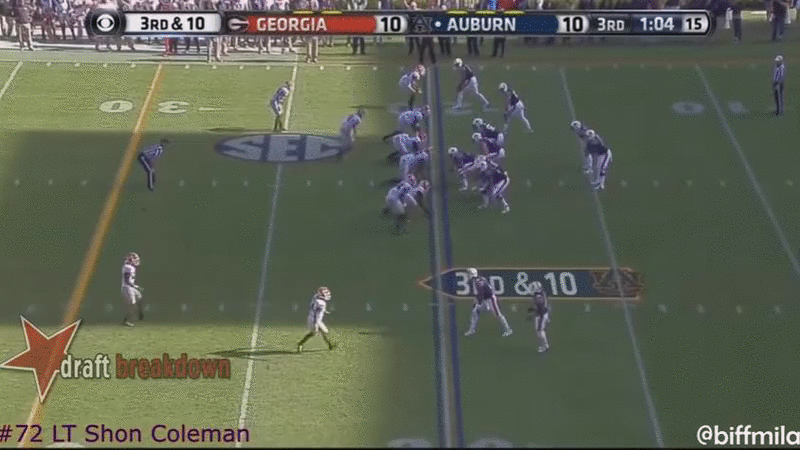 This is some very nice footwork to get off the line from Louis, lined up widest right. The cornerback lines up with inside leverage and basically gives him a free outside release, knowing he can come back to pin him to the sideline. Louis hesitates and jabs inside, giving him an extra step of room, crucial with such a wide split to start the play. He doesn't gain a lot of ground on the cornerback, and throttles down far too easily. His route is short of the sticks on a 3rd and 10 with a miscommunication with the QB to boot. This is a disappointing end to a route that got off to a great start.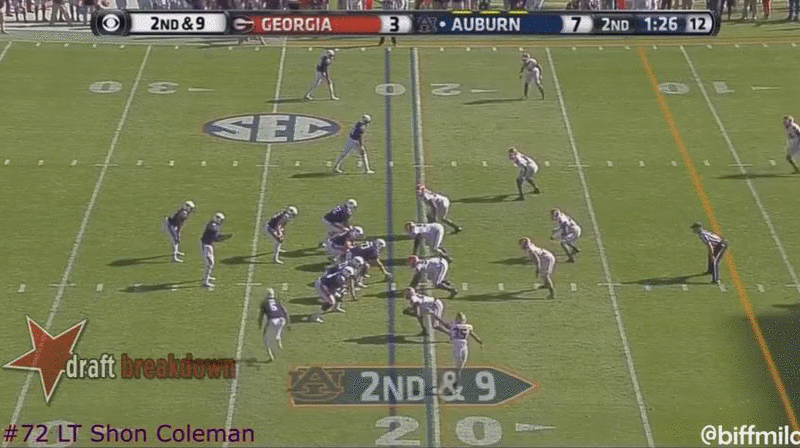 Honestly, there are some plays where I feel like Louis would have been better served giving running back a shot in college. He shows some very good field vision here, and ankles deft enough to make this cut-back. He had 68 carries in his college career, mostly on stretch runs similar to this – astronomical for a wide receiver, considering he caught 98 receptions total.
Summary
It's unusual that I should say this about a guy coming out of college who was a multi-year starter at an SEC school, but I just don't think he's in the right position. Louis may have the footwork to get off the line against press coverage, but I'm not sold on his route-running abilities right now. There's just too much he hasn't put together there, and too much he has yet to learn.
His blocking skills, size and running style would actually translate very well at running back. There, he would be able to use his aggressive style of play between the tackles, and that footwork that gets him off the line on the perimeter would help him carry the ball better. He's got a lot of development left at receiver, but he could also try putting that development towards running back, where Mock Draftable's athletic comparison database ranks him quite favorably.
Athletically, Louis had a standout combine, but that didn't translate into what he was on the field. He didn't play to most of the recorded drills and tests, but he still has that potential. For that reason, it's hard to call him just a guy.
Projection: Late Sixth Round
Games Watched: Georgia, Louisville, Mississippi