As we delve further into the Pittsburgh Steelers offseason, our attention has begun to shift towards the draft. Like we've done all offseason, these reports will cover the prospects of the 2015 NFL Draft, placing an emphasis on those who could help the Steelers the most.
A look at a potentially underrated guard from West Virginia. The Mountaineer's Mark Glowinski.
#64 – Mark Glowinski/OG West Virginia: 6'4/3 307
The Good
– Tremendous upper body strength, true throwback mold
– Generates fantastic push in the run game, able to drive and turn defenders out of their gap
– Excels in a phone booth, sticks to his blocks, and a plus drive blocker
– Consistently wins at the POA in the run game
– Superb job of setting his hips in the run game, helping him to seal
– Mean streak and has desire to finish, plays to the whistle
– Strength allows him to anchor in pass protection
– Gets his arms extended in both phases
The Bad
– Decent frame but probably maxed out without much more room to grow
– Limited athlete who occasionally shows a burst but overall has trouble hitting a moving target
– Below average lateral movement who struggles in pass protection, prone to getting bet against quicker DTs, trouble when asked to mirror
– Tends to lunge too often in pass protection
– On the ground too much when asked to reach the second level, uncoordinated who needs to keep his eyes up on contact
– Limited ceiling
Other
– Two year starter at RG
– Wilkes-Barre, PA native
– JUCO transfer, began career at local Lackawanna College
– Second-team JUCO All-American in 2011
– Moved from tackle to guard in 2013
– East/West Shrine Game participant
– Had official visits to East Carolina, South Florida, UConn, Kansas State, offers from the latter two
Tape Breakdown
Glowinski is the last late round offensive lineman prospect I'll look at for at least a little while. But like many of the others – B.J. Finney, Shaq Mason, and Jarvis Harrison – he's a worthwhile prospect.
If you're looking for a road-grading, throwback kid, look no further. That's who Mark Glowinski is. Love his upper body strength and ability to pave the way as a run blocker. Mean streak to finish his blocks. You see it all in this play below in the Mountaineers' bowl game against Texas A&M.
He will be the right guard in all the following clips.
He's the type of player that rarely loses at the line of scrimmage when asked to block the first level. Turns this Oklahoma DT out of the hole and out of the play. About as positive of a grade as you can get from a lineman on an individual play.
And here he is absorbing and anchoring against this bull rush in pass protection.
But like a lot of lineman who profile that way, Glowinski isn't a polarizing athlete. He isn't terrible and does show some short-area quickness to pull. And though it came at the JUCO level, he did play tackle and spent his redshirt year at WVU at that spot. He doesn't lumber around but doesn't excel either and becomes exposed in space. Not always able to reach the second level and when he does, has a tendency to fall off.
Glowinski shows success against stronger defensive tackles who try to run through him but has issue with quick ones with active hands. Struggles to slide laterally and is prone to getting beat. Similar to the issues we discussed with Texas A&M's Harrison.
Can't mirror the DT on the inside counter.
And you'll see him lunge more than you'd like in pass protection, failing to take advantage of his strong lower base where his power is derived.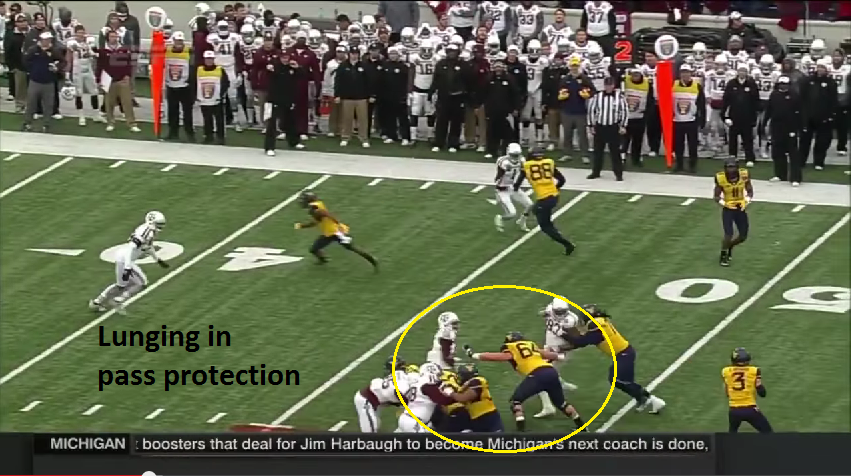 I don't think he has a huge ceiling and though he has some experience at tackle in his early years, he probably is going to have to solely be an interior swingman at the next level. Don't see him being capable of playing tackle, even in a pinch.
But put him in a power scheme and let him mash away in the run game, and you have a late-round pick that at the very least, will be a difficult cut come training camp.
Projection: 7th Round
Games Watched: at Maryland (2013), vs Oklahoma, vs TCU, vs Texas A&M (Bowl – Half)
Previous Scouting Reports
_