As we delve further into the Pittsburgh Steelers offseason, our attention has begun to shift towards the draft. Like we've done all offseason, these reports will cover the prospects of the 2015 NFL Draft, placing an emphasis on those who could help the Steelers the most.
Today, we're evaluating one of the few five techniques in the draft. Oregon's Arik Armstead.
#9 – Arik Armstead/DE Oregon – 6'7/1 292
The Good
– Unusual height for the position
– Fills out his frame and carries his weight well
– Can be a dominant player when he puts his game together
– Good overall athlete, moves well for his size
– Occasionally dropped into coverage
– Length creates separation that makes it easier for him to shed
– Shows better pad level than you'd anticipate
– Shows active hand use as a pass rusher
– Lots of upside
– Shows some versatility along the defensive line
– Experience playing in a 3-4 as the five tech
The Bad
– Still developing, drafting him on potential
– Far too inconsistent, makes it tough to get a read on him
– Needs to be quicker off the snap, slow to react to the ball, especially when lined up away from ball
– Gets stuck too often as a pass rusher
– Not a quick-twitch athlete
– Will get stuck on his blocks versus the run
– Must continue to develop a stronger upper body
– Rotated out, didn't play a high volume of snaps
– Limited starting experience
– Statistically unproductive, very underwhelming numbers
Other
– 19 career starts with the Ducks
– True junior, left school a year early
– Four career sacks and only 10 TFL
– Never had more than one sack in a game
– Suffered a broken wrist sophomore year at Oregon
– Played on Oregon's basketball team freshman year, once called the sport his "first love"
– Star recruit coming out of high school, top 15 prospect by ESPN
– Originally committed to USC
– 7.5 sacks from sophomore to senior year of high school
– Played left tackle and along the defensive line
– Father is a basketball trainer
Tape Breakdown
Armstead is hard to get a read on because of his inconsistent play. At his best, he has the look of a dominant 3-4 defensive end.
Watch him absolutely blow up the right guard and drive him into the quarterback. Flushes Jameis Winston and forces the throwaway.
He's a good athlete who again, at his best, can work down the line laterally, find the runner, and take him down. We saw all three of those components in the title game against Ohio State.
Bench presses the guard to shed against the run.
But that's the best of Armstead. The worst of it is disappointing. He must be more explosive off the ball. He flashes a quick first step but he's at times, slow reacting to the ball. Late out of stance, as we'll show below.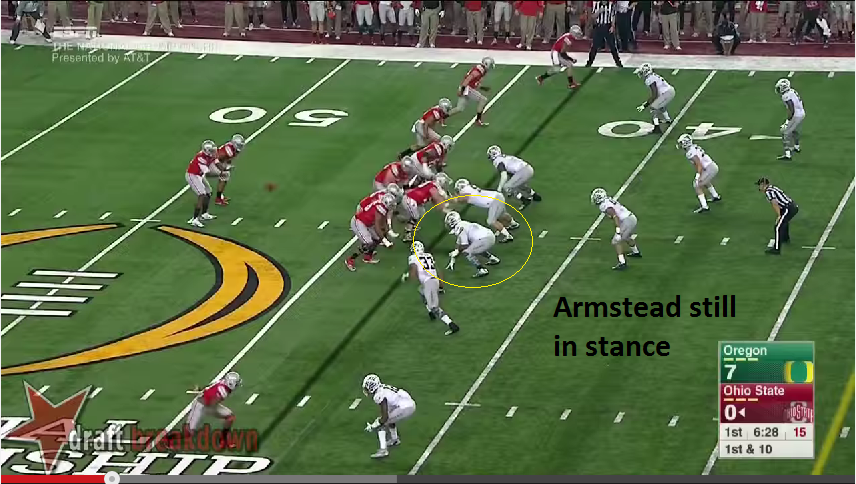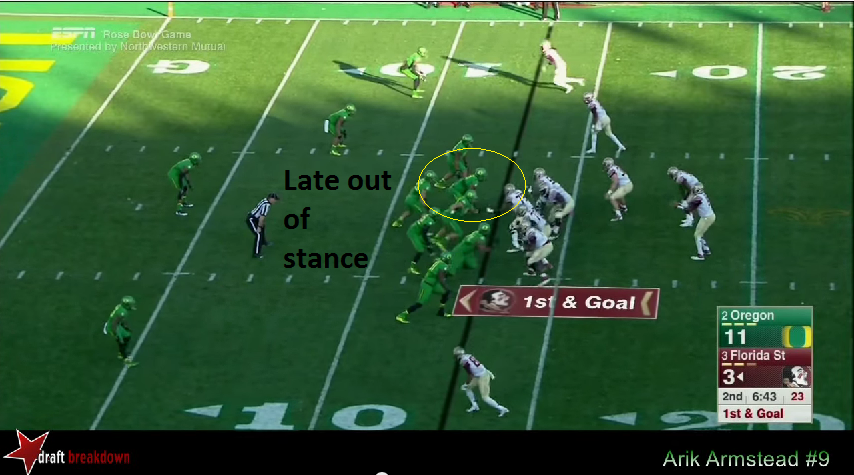 Armstead flashes strength but can also be washed too easily. This first clip from a game in 2013. Left end who gets washed, turned, and moved out of the hole.
And from this year. Completely moved down the line from his left end spot, creating an easy cutback lane for the Buckeye runner.
Isn't quick twitch because he's so long and it causes him to get stuck on blocks. Can't swiftly shed like some of the smaller, twitchier players.
Again, versus Ohio St. Left end.
Whoever drafts Armstead is drafting him on that potential. He's still a young guy and as noted, only a true junior. There's absolutely room for growth. But it's going to take time to tease out. He's far too inconsistent right now to be trusted in year one. He might be able to contribute in small doses but overall, his rookie year projects as a redshirt one.
That does make me more willing to give him a pass about his lack of productivity. If he reaches his ceiling, the numbers will obviously follow.
If the Steelers think they're in a place to do that, and depending on the status of Brett Keisel, then it's worth talking about him. But given Armstead's value, probably too high for pick 22 and someone who likely won't be there come the team's second pick, the odds of him landing in Pittsburgh seems slim.
Projection: Late 1st-Early 2nd
Games Watched: vs Texas (2013 – Bowl), vs Michigan St, vs Florida St, vs Ohio St
Previous Scouting Reports
_