As you should know by now, our attention has now shifted to the 2016 NFL Draft as it relates to the prospects. From now until the draft takes place, we hope to profile as many draft prospects as we possibly can for you. Most of these player profiles will be centered around prospects the Pittsburgh Steelers are likely to have interest in.
In this profile, we're breaking down inside linebacker Reggie Ragland.
#19 Reggie Ragland/ILB Alabama: 6'2 232
The Good
– Ferocious, physical player, who is at his best downhill and an impact run defender/tackler
– Explodes as a tackler, uncoils his hips and delivers a blow, capable of stopping running backs momentum almost immediately
– Can see film study translate to field, diagnoses quickly and is sound in his run fits, rarely out of position, sifts through trash and finds the football
– Strong hands, a forceful and reliable open field tackler
– Has upper body strength to take on lineman working towards the second level, not easily pushed around or washed
– Played end in subpackage situations and proved to be a successful pass rusher with a variety of moves, can dip/rip but also have ability to convert speed to power with a potent bullrush
– Coverage liabilities a bit overblown, not a strong suit but can carry the seam, and does well as underneath hook/zone defender, capable of using strength to reroute receivers
– Played against NFL's toughest competition, SEC pedigree, and a decorated career when given the opportunity
– Likable and humble personality, should do well in interviews
– Hungry, competitor, and appears to have desire all players need
The Bad
– Straight-line speed and lateral quickness are only average, has trouble on the perimeter and in open grass
– Has to continue to improve on using his hands more efficiently to work off blocks in the run game
– Won't be able to carry every coverage assignment, better in zone drops than he is in man, fair to wonder how he'll handle the frequent spread, 11 personnel that he didn't even see that often in the SEC
Bio
– Two year starter, 29 career games
– 2015: 102 tackles, 6.5 TFL, 2.5 sacks, 2 FF
– All-SEC First-Team by press and coaches and named conference DPOY
– Replaced graduated C.J. Mosley in starting lineup in 2014 at WILL linebacker, moved to MIKE in 2015
– Team-high 11 kick coverage tackles in 2013
– Four star prospect out of high school, chose Alabama over Auburn and Florida
Tape Breakdown
Ragland is going to be one of those players every team is going to love, and it's only a question of what team will fall for him the hardest. He's a 'Bama kid and you know he's the type of guy that's going to want to destroy you.
When you see Wisconsin vs Alabama pop up, you kknow you want to check it out. Power offense versus a top defender. Watch Ragland meet the running back in the hole, uncoil his hips, and drive the runner back.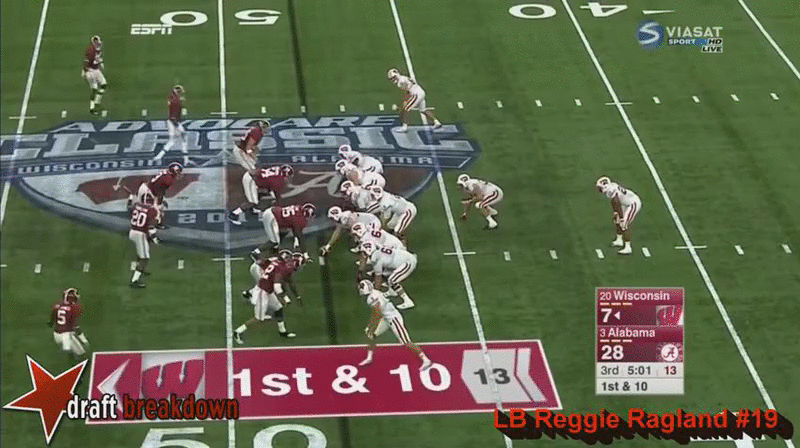 We see it again with a solo, monster smack on the Tennessee quarterback.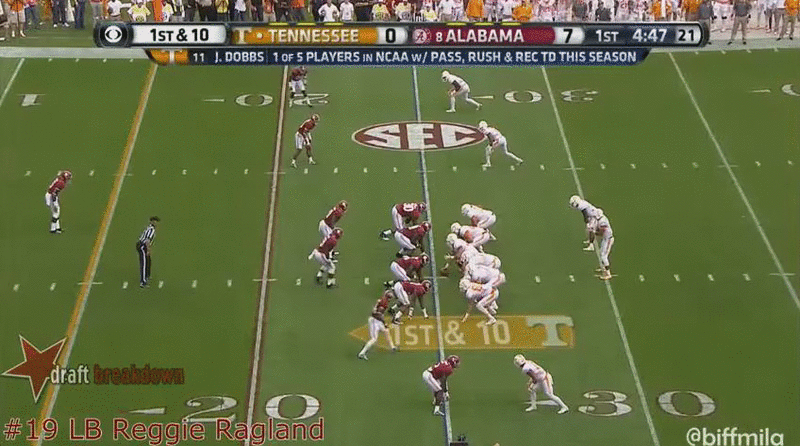 It's that ability to change direction, get downhill, and deliver a blow that makes me love Ragland. He's a great athlete in the sense that he's explosive with a powerful lower half. He just isn't going to do a phenomenal job downfield and in a lot of space.
He's also lined up as a pass rusher at right end in some subpackage situations and has shown to be a positive pass rusher. Watch him bull rush left tackle John Theus, also a senior, into the pocket, collapsing it and creating the sack, even if Ragland doesn't get credit for it.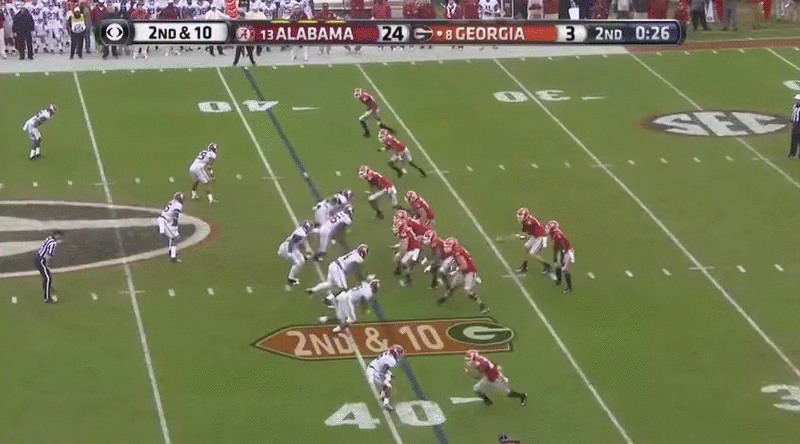 He can win in other ways as a pass rusher, too. Dips under the Badgers' left tackle and has the flexion to corner and get upfield.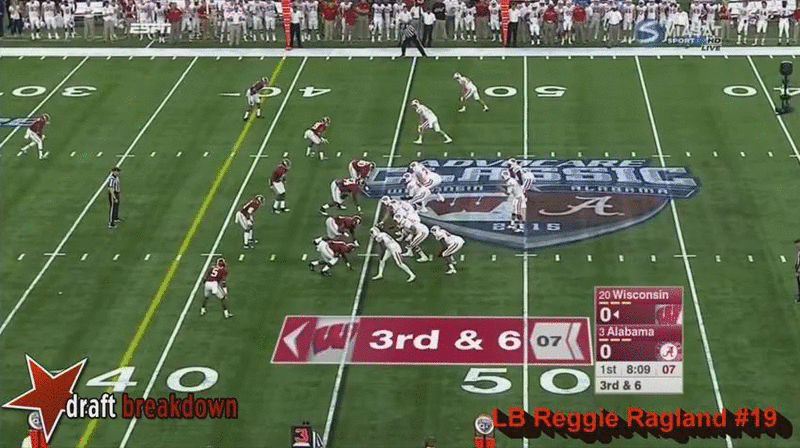 One negative. You can see the lack of speed out on the perimeter, unable to reach the back on this swing pass, missing the tackle.
But overall, I find few negatives in his game. At the Senior Bowl, he spoke humbly and deflected praise to others, calling C.J. Mosley the smartest player he's ever been around, but told stories of him hitting long home runs as a 12 year old and being able to dunk a basketball since 6th grade. During media day, one of the TV crews had him dribble a basketball and he took it in stride with a big smile. Obviously, me and him aren't best friends, but from the little I was able to gather during my time in Mobile, he'll be well-liked and respected by every team.
I love the fact he called Phil Savage and talked him he wanted to play outside linebacker at the Senior Bowl to try and show scouts he can rush the passer. It doesn't even much matter to me how successful he was – it was marginal, at best – I just love a guy wanting to compete and show something different.
He is going to be forced to play in space more often in the NFL than what he probably did in the SEC, seeing 11 personnel more often, but again, I don't think he's a terrible athlete that you can't put on the field without total liability. If 29 year old Lawrence Timmons can do it, if Vince Williams (I believe anyway) can do it, then Ragland certainly can, too. Just don't make him be your deep hole, Cover 2 linebacker.
Clearly, the Steelers don't have the most pressing need at the position, but because of Timmons' mileage, Ryan Shazier's injury history, and Ragland's potential versatility, I can see Pittsburgh falling for this guy. The board is muddy at 25, we've seen it go in different directions, and if there isn't a player that fills a position of need that jumps out, seeing them take Ragland wouldn't shock me one bit.
Projection: Top 20
Games Watched: vs Wisconsin, at Georgia, vs Tennessee, Senior Bowl