From now until the 2020 NFL Draft takes place, we hope to showcase as many prospects as possible and examine both their strengths and weaknesses. Most of these profiles will feature individuals that the Pittsburgh Steelers are likely to have an interest in, while a few others will be top-ranked players. If there is a player you would like us to analyze, let us know in the comments below.
# 53 Davon Hamilton/IDL Ohio State – 6'4", 310 lbs
The Good
Really good play strength with a solid bull-rush

Good explosive athlete

First step is solid, quick off the line

Does a great job with his hands to stack and shed blocks 

Absolutely destroys double teams by getting skinny and splitting them

Some surprising flexibility to dip and change direction

Really good field vision

Solid length for the position 

High IQ player with great gap discipline

A guy that can shift all along the line from NT to 5T

Motor runs hot all day long

Experienced player that played over 40 games

Some really good moves with a swim, club-rip, and push-pull
The Bad
Lack of production

Tries to be a little too fancy at times rather than using his strength and athleticism

Would like to see him go to punch the ball more often

Could stand to work on his counters 

A little slim, not too trunky 

Could stand to use his length fully 
Bio 
2019: 28 tackles, 9.5 TFL, 6 sacks

Career: 66 tackles, 20 TFL, 7 sacks

Used as a rotational guy his whole career

Described by Ohio State HC

Ryan Day

as a "glue guy"

Senior Bowl invitee
I guess we might finally have to start recognizing Ohio State as a defensive line juggernaut that is producing NFL caliber defensive lineman at a rapid rate. Between this year with Chase Young, last year with Nick Bosa and Dre'Mont Jones, and even going back to guys like Joey Bosa, this Ohio State team has produced some of the youngest and brightest young talent that are currently in the NFL's trenches. 
Now, an experienced, rotational stalwart on the Buckeyes line will be Mobile next week and has proven to be quite the player this year in his upped workload. That man would be Davon Hamilton, who while he does not have flashy stats, the tape is flashy and fun to watch. Hamilton has gotten just about as many pressures as most defensive lineman I have watched this draft season and the reason he does not get more is largely because someone like Young beats him to the punch. But this is a disruptive player that can play all over the line.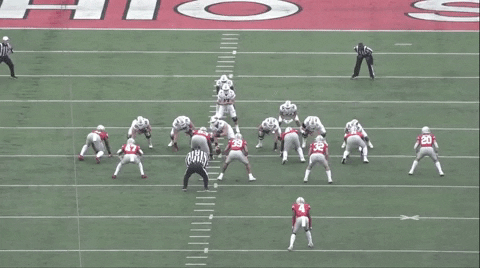 This is as technically perfect as you can get on a run defense rep for an interior defensive lineman. Hamilton flies off the ball with an explosive first step but even more importantly he is engaging his length here and giving himself room to operate. He wins the pad level, too, as he comes off the ball really flat-backed and with his hands now inside the shoulder pads on the chest of lineman, Hamilton controls the gap and the point of attack. He has good field vision and does a nice swim move in order to stack and shed and make the tackle. Really nice rep from him.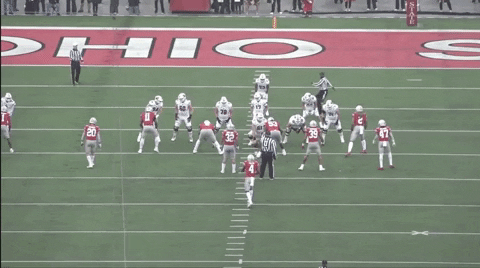 When I say he takes double teams on like a bull, I am not kidding. Check him just stop the movement laterally to plug the gaps with ease so that Jonathan Taylor has absolutely nowhere to go. Getting skinny and really disrupting that mesh point where the lineman's shoulders and hips come together on a double team is something Hamilton does a really great job of doing. That allows the linebackers to filter down the line and plug the rest of the gaps and this goes nowhere. Really good work by Hamilton.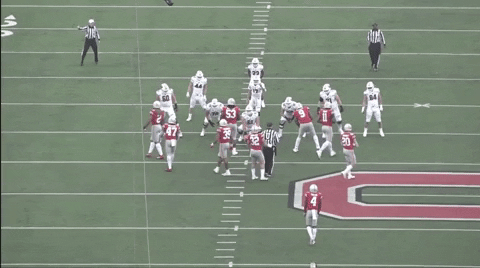 Man, check out that hand speed. Hamilton has lightning-quick hands and catches the center lunging and takes full advantage of it by just swimming through and getting right in on the tackle because of that. That speaks to his mental processing and ability to really take advantage of technical issues on the other side of the ball. Hand usage and explosiveness are two massive things for anyone working on the interior and Hamilton has both. 
He has a little bit of something for everyone it seems. This right here is just pure strength and leg drive from Hamilton. He wins the leverage battle, converts the explosiveness from his first step into power and drives the center back into the quarterback with a really impressive bull rush. Then he simply sheds and gets the sack on the quarterback after a great rep.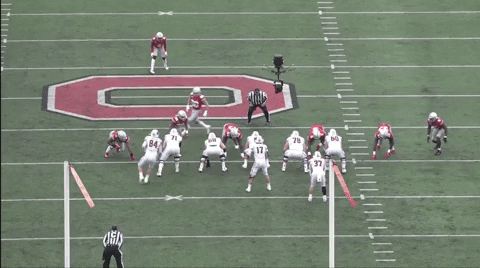 And to sprinkle in lastly, here is a little bit of football IQ and overall field awareness as Hamilton identifies the Tight End screen creeping into the middle of the field and absolutely blows this thing up even if it were completed. Lays the wood pretty good on this play too, and while he is not exactly a big hitter, he can get a few good ones in on guys per game. Really good stuff from a guy who impressed me on every watch I had,
Prediction: Mid-Late Day 2
Games Watched: vs Wisconsin, vs Nebraska, vs Northwestern, vs Clemson, vs Penn State, at Indiana