From now until the 2020 NFL Draft takes place, we hope to showcase as many prospects as possible and examine both their strengths and weaknesses. Most of these profiles will feature individuals that the Pittsburgh Steelers are likely to have an interest in, while a few others will be top-ranked players. If there is a player you would like us to analyze, let us know in the comments below.
# 1 Jalen Hurts/QB Oklahoma – 6'2", 220 lbs
The Good
Great athleticism for the Quarterback position

Dynamic open field athlete

Good vision and contact balance in the open field

Some shiftiness, especially for his size

Great improvisation ability to do things off-script

Keeps his eyes downfield when scrambling out of the pocket

More than enough arm talent to make tight-window throws

Great ability to feel for pressure

Really good toughness

Phenomenal intangibles

Clean release

Good, technical footwork

Good touch on most of his passes

Can show good poise and take a hit in the pocket
The Bad
Too slow when going through his progressions

Pocket movement is suspect, can roll right into pressure

Tries to do too much outside of the pocket at times

Decision-making needs to get much better

Does use his eyes well enough to manipulate the defense

Has general accuracy, but not precise accuracy, can miss some throws

Needs to improve his ball security

Too often locks onto a guy and panics when it's not there

Needs to learn to throw the ball away and out of harm's way

Development is somewhat capped
Bio
2019: 3851 yards, 32 TD, 8 INT, 1298 rushing yards, 20 TD

Career: 9477 yards, 80 TD, 20 INT, 3274 rushing yards, 25 TD

Finished second in Heisman voting in 2019

Invited and will play in the Senior Bowl

Named SEC Freshman of the Year
In a year where there is a myriad of divisive quarterback prospects, Jalen Hurts is no exception to that rule this year. Hurts, after backing up Tua Tagovailoa for a year, transferred to Oklahoma and put on a show with the Sooners that ended in the College Football Playoff after a loss to Joe Burrow and the LSU Tigers. Still, even with his lackluster second half to the season after a fantastic start to the year, Hurts is going to get a lot of opportunities to prove himself this draft season.
The first of those steps will be to show out at the Senior Bowl in about a week, where a good week would catapult his stock perhaps into the first-round conversation if he can really answer a lot of questions that scouts will have about him. He will test well at the combine, but the other big step will be at his Pro Day, where scouts are going to want to individually work with him to test his skills and limitations. Still, his tape reveals a player that is going to have an NFL career, but a lot of his development will depend on how he works within his skills and improves his mental game over time.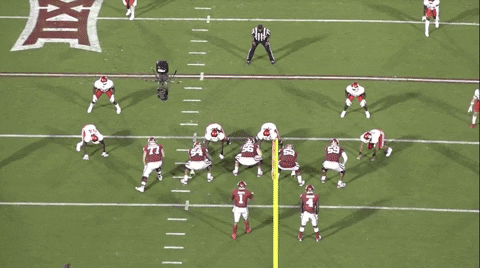 The very obvious trait that sticks out when watching Hurts is his fantastic mobility. He makes magic happen with his legs and can really be a dangerous threat in the open field once he gets there. Here on this play, he does a nice job of feeling the pressure from both sides and steps up enough to where he can use his slipperiness, break a tackle, and get into the open field. This is the first of many examples where you can tell Hurts has fantastic pocket awareness. Still, he does a nice job of cutting upfield and following his blockers, which shows off good patience and vision to allow him to absolutely bust this thing wide open. Hurts will be able to do this at the next level, whether that is with designed runs or not.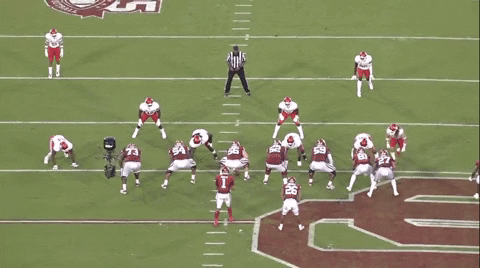 Back to the point of pocket presence, you want to talk about having eyes in the back of your head? Hurts has to have them in order to feel the penetration coming off the edge here. This is an awesome rep to step up into the pocket, keep your eyes downfield, and then on the run to fire an absolute laser to your receiver for a touchdown. There are not a lot of quarterbacks coming out that can make this play and it is all because they truly lack the pocket presence, but Hurts does not lack that ability to feel the pressure.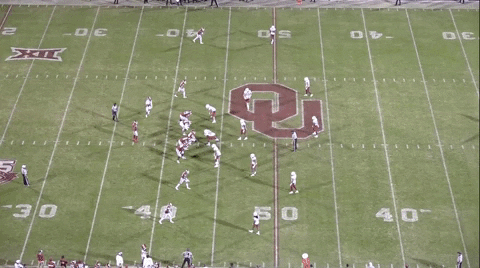 Not everything can be great with Hurts, however, especially with his mental game. His progressions and ability to really react when the picture changes pre-snap to post-snap are big concerns. Iowa State looks like they are going to run man coverage across the board here with the running back motioning out and having a guy man upon him. Instead, they rotate back out and drop the defensive back out to essentially bracket coverage the running back and leave the near middle of the field to the linebacker. Once Hurts saw that happen, his immediate two reads should be the two hitches, but he locks onto the seam too long and misses his opportunity to hit the outside of the shoulder of the slot receiver away from the linebacker and gain an easy seven or eight yards. Instead, now he has to bail and try to make something happen. It is just an example of bad process. 
Here is another example of bad process. He does not miss any reads here, this is mostly blanket coverage, but what he does outside of the pocket is just too much. He first slides out so the spy can pursue him, which is just creating unnecessary pressure bearing down on you. He rolls right into it. The biggest mistake is just heaving this one up the sideline with reckless abandon, especially when this was late in the fourth quarter and Oklahoma had a one-touchdown lead. He simply can not do stuff like this. He has to eat the play and throw it away, but instead, it results in an awful interception.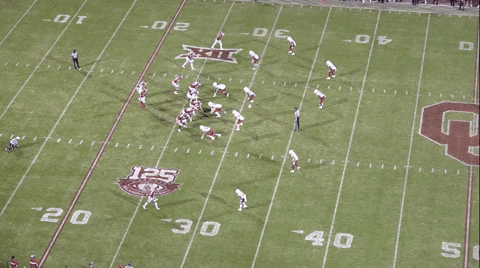 This is where I talk about the fact that he has a lot more general accuracy than precise accuracy. That in and of itself caps his ceiling to a decent starter level quarterback, but the fact that he does not hit throws like this with consistency does worry me. This is a wide-open deep ball that likely would have been a touchdown had Hurts not sailed this one. There are other examples of him, not leading guys and costing Oklahoma points, and thus, while he has the arm strength to throw into tight windows, it is probably not wise for him to test those throws with his lack of precise accuracy.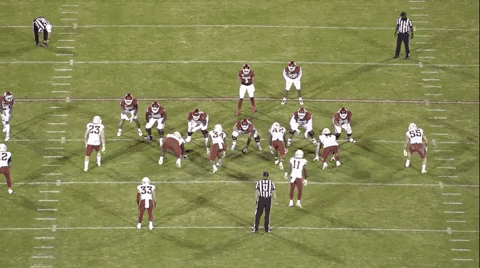 This is where Hurts is going to make his money in this league. You want to talk about a heck of play where you make something out of nothing off-script? That is exactly what Hurts brings to the table. He uses his legs to extend the play and puts this thing perfectly to where his receiver is the only one who can catch this ball. Hurts has some absolutely fantastic flashes outside of the pocket, so, if you decide he is a quarterback you want to play and groom, you are going to have to live with both the good and the bad that Hurts brings to the table.
Projection: Early Day Two
Games Watched: vs Houston, at UCLA, vs Iowa State, vs LSU, at Baylor, at TCU