From now until the 2020 NFL Draft takes place, we hope to showcase as many prospects as possible and examine both their strengths and weaknesses. Most of these profiles will feature individuals that the Pittsburgh Steelers are likely to have an interest in, while a few others will be top-ranked players. If there is a player you would like us to analyze, let us know in the comments below.
# 2 J.K. Dobbins/RB Ohio State – 5'10" 217 lbs
The Good
Dynamic in the open field

Good vision, processes the defense well

Physical player that will dish out the punishment

Plays with great intensity and grinds out every yard he can

Adequate long speed, builds up steam 

Good burst to get around the edge

Soft, natural hands

Split out of the backfield into the slot and out wide often

Slippery runner with above-average contact balance

Sharp cutting ability, good footwork

Patient runner that works well off of his offensive line

Identifies most dangerous defender in pass pro
The Bad
Tries to do too much at times

Somewhat stiff when changing direction

Lacks high-end lateral agility

Lazy route runner 

Not a dynamic runner in between the tackles

Not quick enough to execute moves in succession

Inconsistent anchor in pass protection
Bio
2019: 301 carries, 2003 yards, 21 TD, 23 receptions, 247 yards, 2 TD

Career: 725 carries, 4459 yards, 38 TD, 71 receptions, 645 yards, 5 TD

Freshman All-American

Set Ohio State rushing record for a Freshman

Two-time second-team All-Big 10
JK Dobbins is already a popular name among Steelers fans for who the Steelers could potentially look at to draft in the second round if they look towards addressing running back. Dobbins had a rough Sophomore year after an explosive Freshman season but rebounded in a thunderous way for his Junior year as he was arguably one of the best running backs in the nation. 
And once I dove into the film it is not hard to see why Dobbins did so much this year at Ohio State. They did a good job of using the threat of Justin Fields' legs in addition to scheming the run game up so Dobbins faced lighter boxes more often than not. And I view that as a key objective for the Steelers to accomplish if they do bring Dobbins aboard. Dobbins can run well between the tackles, but ask him to be dynamic between the tackles and break something out of it? He probably will not be able to do that. But get him into open space and Dobbins can use the wiggle he has in the open field to really break things.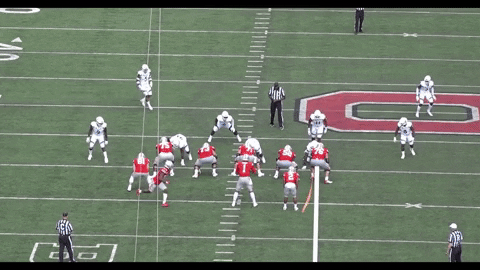 Dobbins is so comfortable in the open field because he understands the importance of angles and manipulating defenders' angles. He does a masterful job of that here and in other plays on his tape. It is so subtle, but you can see how Dobbins starts out after he turns through the hole as if he is going to keep it straight up the numbers and then slowly drifts out towards the sideline as he gets closer to the end zone. That is an example of him understanding how angles work and manipulating the Cincinnati defender's angle. Dobbins also shows off his long speed here and you can see him really accelerate once he has built up steam on this play. Not elite by any means, but yeah, he can still scoot. 
When I say Dobbins is slippery, I mean it. He has excellent contact balance largely due to the fact that he just is so strong and well-built. Sometimes plays like this can come back to bite him as he tries to do too much, but the magic he can create by ad-libbing is undeniable. Dobbins is an extremely hard man to bring down and his spin move, in particular, is quite potent. Creating yards after contact is always desirable for teams.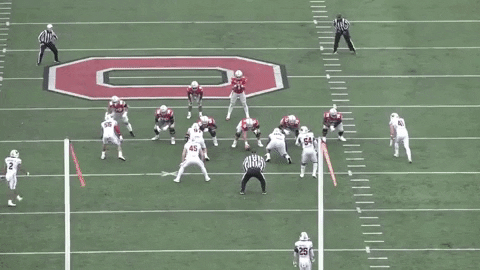 This is the type of stuff that Dobbins can do in space. When he gets into a one-on-one opportunity with spades of green grass around him, he is just a terror to bring down because of cutting ability. These are sharp, fluid cuts that made this defender just look silly. That comes off of Dobbins quick feet and it always him to create the deceptiveness that allows his cuts in space to be so effective.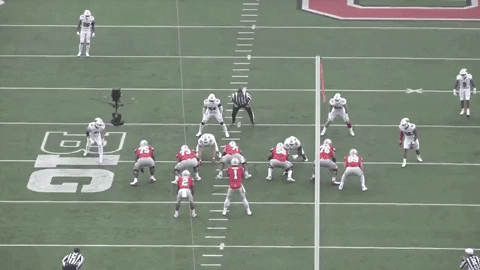 This is not exactly an example of him getting too cute. I understand why he thought he could he break something out of this despite backside pursuit off the edge. The thing I want to highlight here is how slow and stiff his hips are when he is changing direction here. It takes him too many steps to gather and try to turn rather than a quick pivot. The lateral agility he has is just average, which is fine, but he just does not have that elite ability to make eye-popping cuts on a dime like this. His hips are a bit stiff and that probably is why he lags behind a little bit and he needs to learn his limitations and play within in them rather than try to make more happen.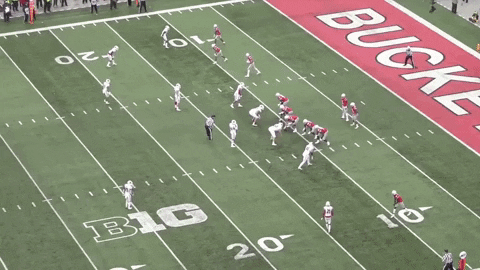 I am a fan of how Dobbins is used as a receiver and what he does in that role. The Buckeyes split Dobbins out wide and had him available to use on a variety of routes, even if he is not a fantastic route runner and somewhat lulls around. However, he works incredibly well with his quarterback in the scramble drill and finds open zones and spots really well. His soft hands help a ton as well. Watch him release out of the backfield here and slowly drift down the field with Fields on the scramble drill and he settles once he finds an open spot and gets a massive gain because of it.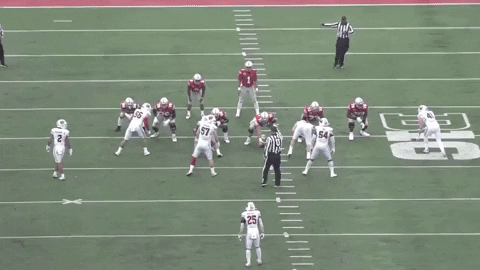 Same deal as before with the scramble drill. He is attentive and looks to give Fields an open target in the field as he scrambles to where Dobbins settles down here. This is a nice job to high point this ball as well and shows the ability to catch the ball away from his frame. The nice burst as well to get the edge and nearly around it are good traits. But the best part of this play are Dobbins' hands. 
Pass protection is always a battle for a lot of running backs. You wish a lot of these guys were able to pick it up sooner but for a lot of guys, the process is longer because they have to be able to recognize the most dangerous guy in the scheme before they can even really work on the blocking technique. Dobbins is fantastic at seeing the most dangerous pass rusher and does a nice job of sniffing out this linebacker blitz. This is a good rep of blocking as well since Dobbins has good pad level here and holds of the blitzer enough to let Fields step up and scramble, but at times he can just be overpowered due to an inconsistent base. 
Projection: Early Day Two
Games Watched: vs Wisconsin, vs Cincinnati, at Nebraska, at Michigan, vs Penn State