From now until the 2020 NFL Draft takes place, we hope to showcase as many prospects as possible and examine both their strengths and weaknesses. Most of these profiles will feature individuals that the Pittsburgh Steelers are likely to have an interest in, while a few others will be top-ranked players. If there is a player you would like us to analyze, let us know in the comments below.
# 84 Cole Kmet/TE Notre Dame – 6'5" 250 lbs
The Good
Versatility is a massive plus, was used split out, in-line, and as an H-Back at Notre Dame

Will rumble in the open field, will grind out yards through sheer effort

Smooth mover in open space and off the line

Great seam buster from multiple alignments

High points and rises up for contested balls

A fantastic red zone threat

Flies off the ball in blocking

Has good power at the point of attack 

Tough as nails

Sure hands, even through contact
The Bad
An unspectacular athlete that is not overly fast

Clearly uses his frame to help him catch balls, body catcher

Pad level is an issue in blocking

Not dynamic after the catch

Not a detailed route runner

Inconsistent hand placement while blocking

Could stand to show better body control

Has some inconsistent ball tracking
Bio
2019: 43 receptions, 515 yards, 6 TD

Career: 60 receptions, 691 yards, 6 TD

A two-sport athlete that plays baseball in addition to football

Former basketball player as well

Former High School All-American
In a somewhat weak tight end class, Cole Kmet has been one of the guys in the discussion for that top tight end spot in this upcoming draft. And while Kmet does not have those eye-popping traits that some of the early first-round tight ends like T.J. Hockenson and Noah Fant had last year, Kmet has proven throughout this year and in his tape that he is a solid player that can condense many roles that a tight end could be asked to do at the next level. 
Kmet's film shows that in a tight end class chock full of tight ends that are only able to do condense one role into what they will be asked to do at the NFL, Kmet is an outlier. There are many guys in this class that are too lean and lack the blocking skills to be in-line. Instead, many will have to be flexed out wide and used as another receiver, which granted, absolutely has its place in the NFL, but it is not what every team is looking for in their tight ends. Because of that combined with an all-around solid skillset, Kmet is going to see a major boost in his stock compared to other years. 
This is one of the ways Notre Dame deployed Kmet. He was often sent in motion to identify defensive looks as an H-Back that also had the mobility to pull and lead runners into space if need be. That is why he can be an effective H-Back. Thus, when you are asking him to also be a receiver out of the H-Back role and it is the end zone? It is going to be highly effective given how smooth Kmet is off the line and in space. Kmet's versatility adds to his ability to open up the game for the offense simply because he can condense a role like H-Back due to that skillset he possesses.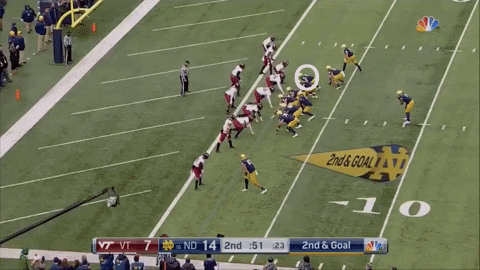 Kmet has a lot of issues in blocking. There are some reps that I watch and I am genuinely not certain what he is doing. But he has good size and the tenacity to really go after guys and bury them into the dirt as he does right here. Kmet flying off the ball with a flat back that allows him to win the leverage battle at the point of attack is a maddening point of inconsistency. However, he has plenty of strength and toughness to have that mauler mentality when everything strikes itself together. And while the end result of this play is not a net positive for Notre Dame, Kmet absolutely won his individual battle because he had good pad level and hand placement on this rep, which is why he has that in-line capability.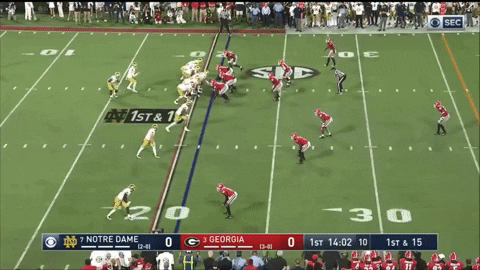 Kmet does a lot of his damage underneath it seems on film. He can sneak behind the defense at times and won't really separate all that often if he is asked to use his route running ability to separate, because that part of skillset is dirt raw. His breaks are clunky and he just is not a fluid athlete while he is cutting. He is not even dynamic after the catch, really, even though he has considerable contact balance. But that toughness and strength really come into effect when he gets into situations like this. He can drag guys for multiple yards and puts up a ton of fight anytime he is in a one-on-one opportunity in the open field. Every yard counts in the game of football, and that is why a trait like this is so desirable, even if Kmet will not really do much after the catch other than this.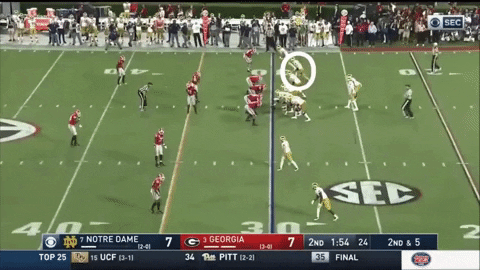 Here he is split out into the slot and working up the seam in zone coverage is where he absolutely thrives. Kmet knows how to exploit seams better than anyone else I have seen in this class. Add in the fact that he has no problem taking on contact and holding onto the ball through contact and you have a guy who you can trust over the middle of the field to really come up with these tough catches that will require that toughness. He does have an issue with body catching, which could come back to bite him in the NFL if he is not careful in traffic. Still, when you are asked to be the 'Y-receiver' in an offense, this is the type of stuff you will be expected to do, and Kmet can do that just fine.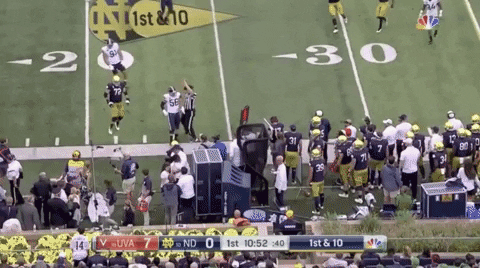 This is a blocking rep that I am sure Kmet wishes he could have back as he is executing a kick-out block and trying to seal off the edge here. So, why does he fail to do that? That is pretty simple by the fact that Kmet pops up right at the snap. Good luck winning any battle when you are standing straight up against a shorter guy with just as much power as you. Then, his hands get outside, which allows the defender to control the line of scrimmage and then rip across his face to shed this block and make the tackle. When the inconsistencies show up, you can really tell they do.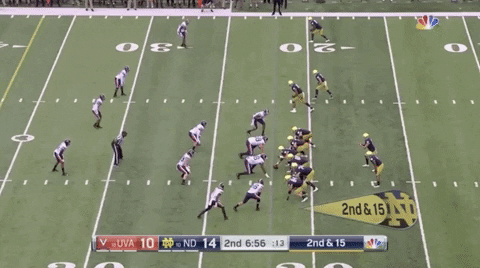 I really like to highlight this play because it shows what he can do at the top of his routes, and that is separate. Yes, he can win a contested-catch ball with a guy in his face, but if you do not have to go through that pain, there is no reason to do that. Because of a subtle push at the top of his route he gets enough space to turn around, tuck this ball into his body, and make the grab. Kmet will not go and sky over a ton of guys simply because he is not a spectacular athlete, but his ability to subtlety works within his limits is going to be a big plus for his longevity at the next level. 
Projection: Late Round One / Early Day Two
Games Watched: at Georgia, vs Virginia, vs Virginia Tech, vs USC, at Michigan