From now until the 2020 NFL Draft takes place, we hope to showcase as many prospects as possible and examine both their strengths and weaknesses. Most of these profiles will feature individuals that the Pittsburgh Steelers are likely to have an interest in, while a few others will be top-ranked players. If there is a player you would like us to analyze, let us know in the comments below.
# 6 Michael Pittman Jr/WR USC – 6'4", 220 lbs
The Good
Has great size to work with on the perimeter

Plays with a real mean streak of physicality 

Superb blocker for the wide receiver position

Might be wearing stickum, fantastic hands

Good catch radius to complement long frame

Has some good contact balance

Makes catches through contact with ease

Really good ability to track the ball and make adjustments

Fantastic body control on the sideline

Shows the ability to rise and win above the rim

Able to find the open zone in zone coverage

Uses his frame well to deceive DBs in his routes

Some suddenness in his quick cuts while running routes

Knows how to use his physicality to separate

Fantastic special teams ability

Punt and kick return experience
The Bad
Average long speed

Very little explosiveness or additional 'juice'

Does not separate as often as you would like

Not overly dynamic after the catch

Releases are somewhat labored as he tries to muscle his way through press coverage

Needs to use hands better off the line to help against lengthier corners

Some tightness in his hips that inhibit his overall change of direction

Needs to add more variety of releases 
Bio
2019: 101 receptions, 1275 yards, 11 TD

Career: 171 receptions, 2519 yards, 19 TD

2020 Senior Bowl invitee

Two-time First-Team All-Pac 12, once as a special teamer and once as a receiver

Father, Michael Pittman, played at Fresno State and then a decade in the NFL
Among a loaded wide receiver, there is a rich crop of senior wide receivers that will get a chance to prove just how good they are at the Senior Bowl next week. Still, however, it is the alma mater of JuJu Smith-Schuster in USC that provides the draft with one of the more intriguing receiver prospects in the entire draft in Michael Pittman Jr. 
Pittman, who has all the pedigree of a true football player due to his father being a ten-year veteran in the NFL, has shown out in his senior year and has lit the PAC-12 on fire. But before he became a hot sensation at receiver and got praise and an invitation to the Senior Bowl, Pittman was a star on the Trojans special teams his first two years in Los Angeles. That will be appealing to a lot of teams that watch Pittman.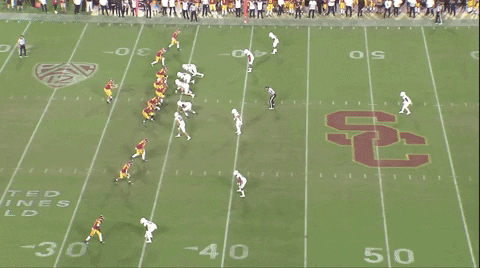 I said earlier that Pittman was not overly dynamic after the catch, and that much is very true. He is not going to bust a big play and house it, that much is true. But he certainly shows some nice contact balance and the ability to lower his shoulder right into guys to gain some yards after the catch if he wants to, as he does here. Pittman thrives at hitches since he has some really nice suddenness to snap off his routes and really take advantage of those cushions that defensive backs give him. Some of his movements are a bit labored and you can some hip tightness, but that does not cause him to round off the routes. These are sharp and precise and that allows him to get into position to turn and take this thing another ten yards.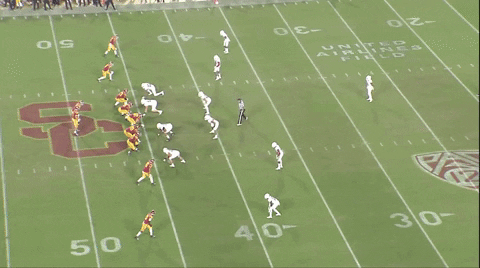 The very next play Pittman does a nice job of getting onto the cornerback's toes and really opening up this window to the outside by the angle he snapped off this route. Off-man coverage is something that Pittman thrives against because his feet are really quick and that is what allows him to really snap these routes off so sharply despite some limitations in his natural athleticism. I love the effort and competitive toughness to fight for this first down as well.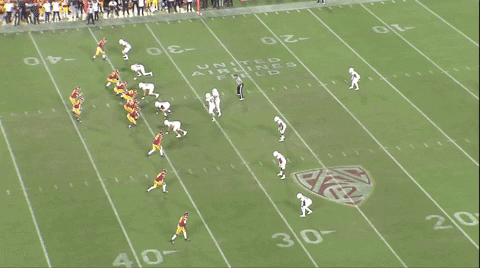 This is where Pittman thrives when he is in the position to get jump balls. This shows that he does not have great long speed and that his releases are pretty labored without the help from his hands as well since this corner stays step for step with him, but to fight back for this football, high point it, and just snag it shows the type of stuff Pittman can do even when he is blanketed in man coverage. Pittman is can do this stuff simply because he is an elite ball tracker and almost always beats the defensive back to the catch point because of those elite ball skills he possesses.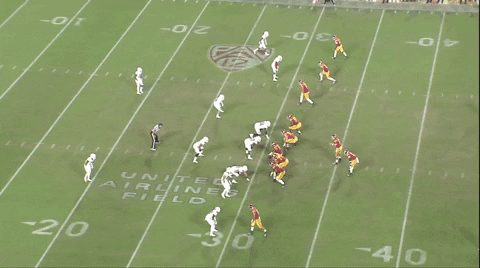 Here is that physicality that he can separate with and a good example of what he can do against press coverage if he employs his hands more often. That slap down of the hands and push out of the break on the slant is exactly how Pittman creates separation and gives open windows out of the slot and on these in-breaking routes for his quarterback. You see JuJu Smith-Schuster does this as well at the top of his routes and in similar situations. Pittman's willingness to just throw his body around for separation is something that not many receivers will possess in this class.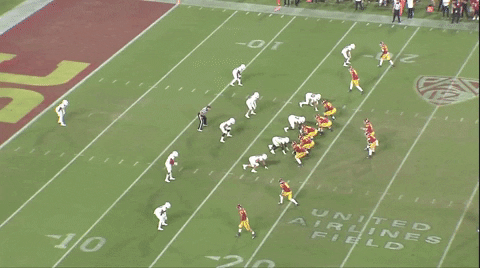 And of course, he can block too. The Trojans have to have a wide receivers coach that emphasizes blocking because all of their receivers can get after it when blocking these defensive backs. This is a good job by Pittman to really drive and finish the block due to good functional strength and hand placement. He springs plays for their running backs on the edge as well, and this is certainly something that is exciting to see, because not every wide receiver is as willing to throw blocks like this. 
Projection: Mid-Late Day 2
Games Watched: vs Stanford, vs Fresno State, at Notre Dame, vs Utah, vs Iowa