From now until the 2020 NFL Draft takes place, we hope to showcase as many prospects as possible and examine both their strengths and weaknesses. Most of these profiles will feature individuals that the Pittsburgh Steelers are likely to have an interest in, while a few others will be top-ranked players. If there is a player you would like us to analyze, let us know in the comments below.
# 74 Josh Jones/OT Houston – 6'4", 310 lbs
The Good
Great functional athleticism that allows him to reach the second level with ease

Smooth, quick, and fleet footwork that show up in his pass sets

Great aggressiveness and gets after it in the trenches

Great snatch and trap move that buries defenders into the dirt

Really good mover in space on pulls or reaches

Flexibility in his hips is fantastic 

Elite length has all the physical tools to be a tackle in the NFL

A good processor that can stop twists 

Clearly improved his hands this year, placement is much more consistent

Really experienced guy who has taken leaps each year

Packs a real punch with his punches

Good strength at the point of attack

Love the anchor he possesses when getting bull-rushed
The Bad
Wish he had better grip strength so he could really just drive guys

Has flashes of great pad level, but pops up far too often

While placement got better, the timing of his punches must improve

Leaves his chest too open to strikes

Lunges forward too often and leaves himself prone to inside counters

Tries to muscle guys too often instead of going through proper technique

Kick-slide strides are often off-beat and wild

When he pops up, struggles to a hat on a hat in the run game
Bio
A four-year starter, all games at LT

Senior Bowl Invitee

Missed three games in his Sophomore year with a knee injury

Former basketball player in high school

Team Captain his Senior year
When looking at tackles, athleticism is something that either stands out in a very good way or an extremely bad way, and you can tell right off the bat which is the case. They are each key to really cementing a tackle's overall ceiling. Last year, you saw now Eagles Tackle Andre Dillard have a meteoric rise due to his functional athleticism and really what he was able to do as a whole there with his tools.
This year, Houston Tackle Josh Jones may very well be that guy to rise up boards in the process due to phenomenal athleticism. Jones, who is a four-year starter at Left Tackle for the Cougars, already holds a Senior Bowl invite, and with a good week in Mobile and a solid testing day at the combine, the big man should see his draft stock rise considerably, possibly even into the bottom end of the first-round if everything works out.
The thing that could stop him? Some technical issues that clearly are holding him back from being an elite level player, although, with a good coach that can develop some of those shortcomings, Jones certainly can reach that ceiling that he wants to reach.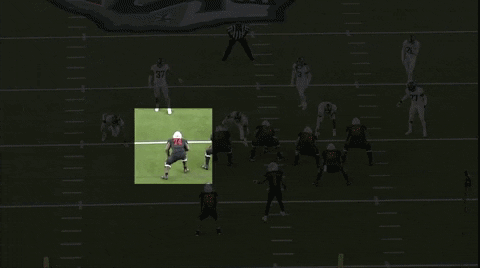 That mauler mentality is firmly implanted in the mind of Jones as he makes some awesome pancakes on every game of his that I watched. His leg drive and strength, specifically in his lower body, is really fantastic. It gets him rewarded with a good anchor and the ability to become a people-mover and open up holes in the run game. On this rep, you see him do a great job of staying low with his pads and driving his hands through the defensive tackles chest and just drive him back into the ground. Explosive, impressive technical job to achieve this result. 
Man, you can see the athleticism here as he reaches to the 3-technique here on the defensive line. Check out how well he moves horizontally down the line to not only get a head up on this defensive lineman but to deliver a sharp jab right the center of his chest and then absolutely drive him out of his gap to open up a hole for the running back to cut up into. These are the benefits of having great athleticism in the trenches.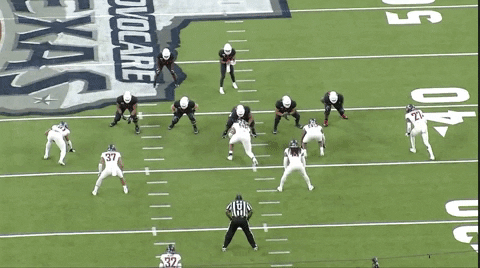 Football IQ, however, especially in pass protection, is just a huge key for a lot of these guys. Jones is experienced and so it is not a shock that he has experience passing off stunts and really dominating these blitzes. They will not fool him upfront as he does a great job of reading the stunt here and passing it with a powerful punch and taking the defender off his pass rush track. It's hard to say you could get that much better of rep since Jones allows his quarterback to step up in the pocket.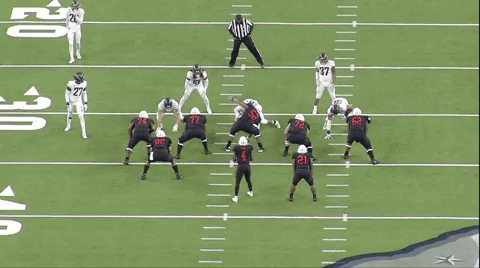 Here is where the issues start to come in for Jones. He sees that there is a free blitzer, yes, but the technical aggressiveness to lunge forward when this is a standard jump set dooms him from the start. He is lucky that the defender did not come back inside and swim over him since he left his inside wide open by lunging forward. The strike is off time with his kick-slide as well and he gets beat to the outside. Not a great rep at all for him.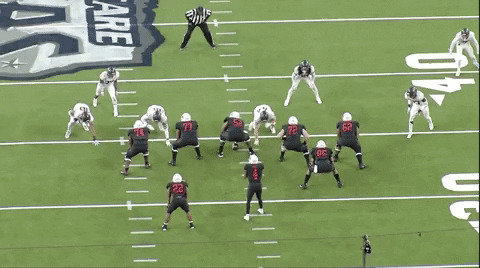 Still, when he picks up on those blitzers from the second level, whether that be the nickel corner or linebacker, he loves to show off the fact that pass pro is not passive and throw people right off the screen. He pancakes this nickel corner that comes and absolutely ends any thought of a blitz getting home here. Jones is an impressive player.
Projection: Early Day Two
Games Watched: vs Washington State, at Oklahoma, vs Cincinnati, at Tulane, vs SMU