Series we're bringing back to Steelers Depot that we began last year. A snapshot of the Pittsburgh Steelers 2018 season, a look at the singular best and worst play from each player on the roster. If I wanted to sum up a players season in 30 seconds, these are the plays I would look at.
Flipping to the defensive side of the football to check out defensive end Stephon Tuitt.
Best Play: Sack Of Andy Dalton 
These are the plays I want to see from Tuitt more often this year. He takes advantage of an excellent matchup, RG Alex Redmond was one of the worst interior players I watched last year, and comes in clutch with this 4th quarter sack. Nice hand use to punch, club, and shed Redmond and work downhill to finish the play.
Obviously substantial pressure on Tuitt to come through with a career year. His hand use is the best along the defensive line and the potential is there for him to be a double-digit sack guy. He's just gotta put it together.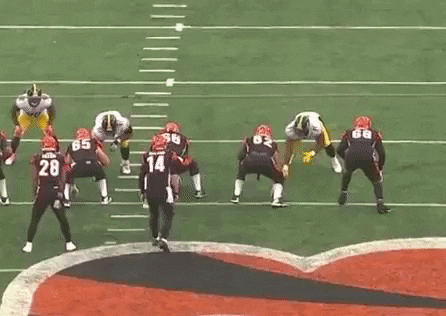 Worst Play: Failed Contain Versus Baker Mayfield, Browns
3rd and 6. Get off down for the defense. Against most quarterbacks, especially mobile ones, you have to contain the pocket. Steelers running a nickel blitz with Mike Hilton flying in from the right side. And like most of these fire zones, the backside linebacker drops out. That means someone has to become the new contain man to keep the QB from being flushed out.
It was supposed to be Tuitt. But he gets knocked inside by the RT, giving Baker Mayfield an escape lane to run away from pressure, extend the play, and complete this pass for a 21 yard pickup. Know it might look like this is on Cam Heyward, that's what I thought too, but Heyward told me on Twitter at the time he was compensating for Tuitt getting sealed.
Had this been executed correctly by Tuitt, Bud Dupree likely is rewarded with a sack. A strong pass rush begins with rush lane discipline and integrity. Here, it failed, and you see the consequences for when it does.